Il faut attendre la toute fin du XVIIIème siècle pour que le thème de l'homme mené par la femme, jusqu'alors illustré par toute une série de volatiles (voir L'oiseau chéri), trouve une nouvelle incarnation.

Le Pantin (El Pelele)
Goya, 1792, Prado, Madrid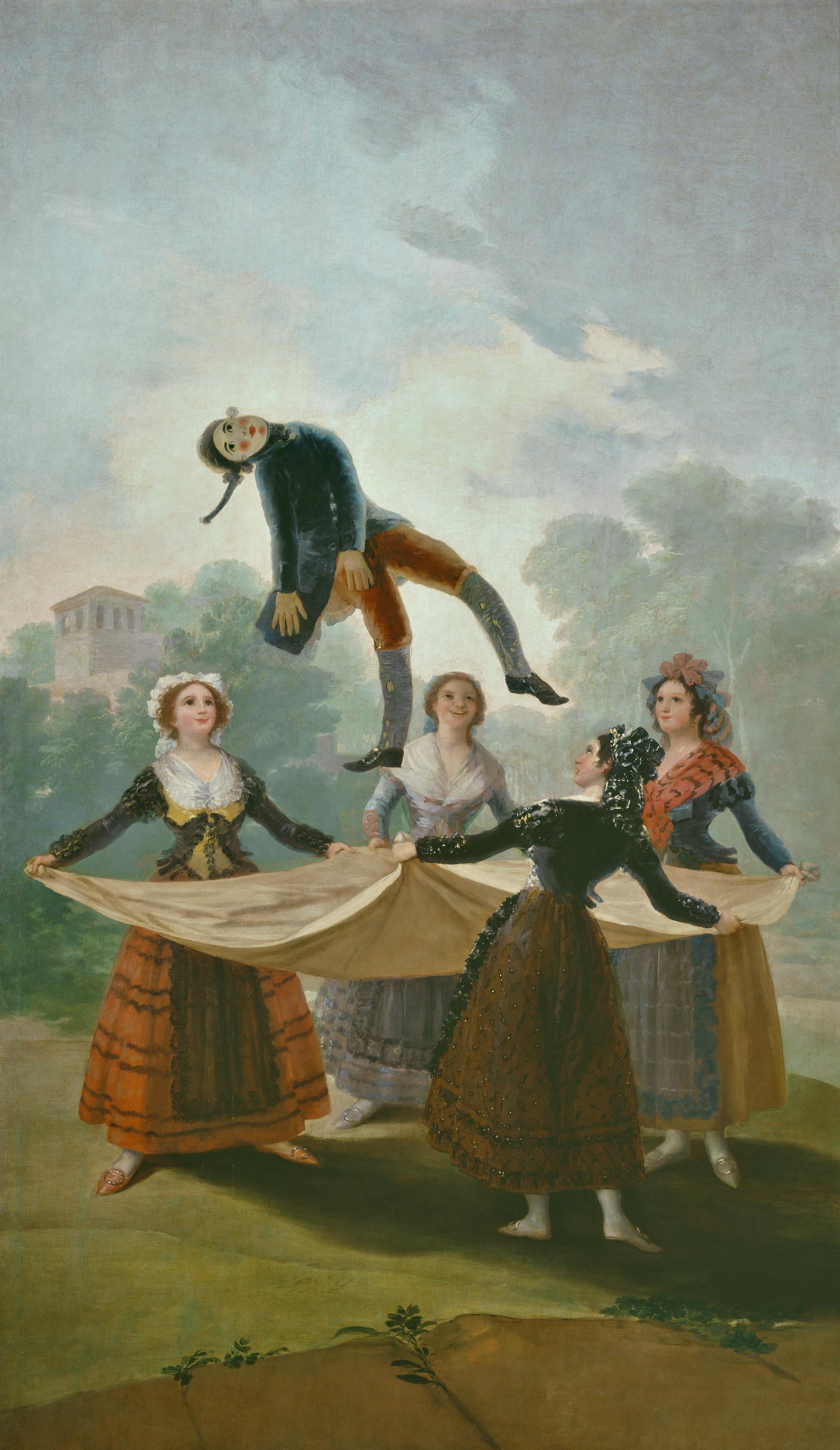 Cette peinture fait partie de la septième série de cartons pour tapisserie destinée au bureau de Charles IV dans le palais de l'Escurial.
« Le plaisir cruel consistant à faire sauter un individu dans une couverture porte un nom en français, c'est l'action de berner. « Berner », c'est selon le Trésor de la Langue Française,  « Molester quelqu'un », le faire sauter dans une « berne » c'est-à-dire une « grande pièce d'étoffe et particulièrement de laine ». Jean-Yves Cordier, voir son blog  lavieb-aile.com.
Ainsi, selon le contexte et les époques, on a pu  berner des gens (par exemple Sancho Panza), des chiens, ou plus paisiblement un  pantin. Ce jeu, pratiqué pratiqué lors des fêtes populaires comme rite d'adieu au célibat, avait aussi une portée symbolique : illustrer le pouvoir des femmes sur les hommes.
Remarquons qu'en cette fin du XVIIIème siècle, ce pouvoir reste singulièrement limité : il faut s'y mettre à quatre pour faire s'envoyer en l'air la marionnette. D'où l'impression que cette image équivoque, plutôt que d'illustrer l'impuissance de l'Homme, montrerait l'effet mécanique que font sur lui toutes ces filles.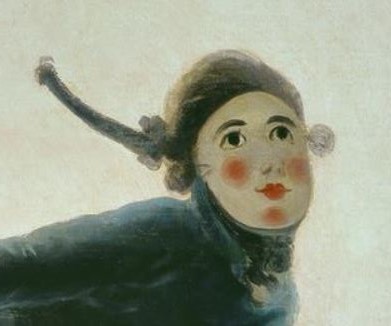 Ejecté du drap de lit pour s'y renfoncer aussitôt, le Pantin, trahi par sa natte,  est transformé en engin de coït.
Site du Prado : https://www.museodelprado.es/coleccion/obra-de-arte/el-pelele/a1af2133-ff7b-4f47-a4ac-030cb23cb5b6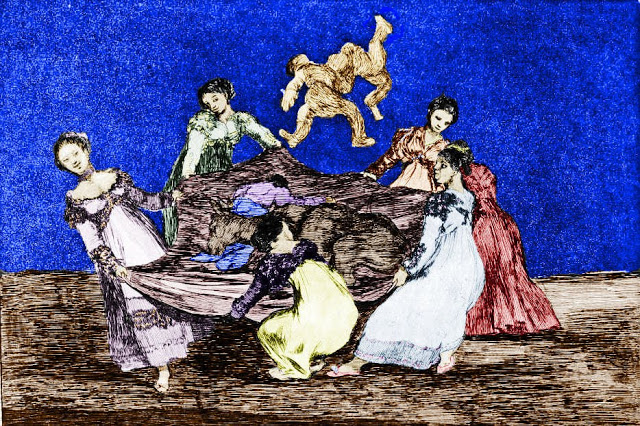 Goya
Série Los Disparates  1815-1823
Dans ce remake post-napoléonien, l'esprit  léger et souriant  a disparu. En compagnie d'un âne, réduits à des silhouettes informes, les pantins ne se réaniment pas plus que des cadavres secoués dans un linceul.
English Ladies Dandy Toy
Cruikshank, 1818
De la même époque, cette gravure anglaise met en place avec crudité tous les éléments du thème : la femme géante manipule du bout des gants   le pantin-dandy avec sa canne, son  haut-de forme et la queue de pie de sa redingote qui lui bat ridiculement les fesses : caractères virils minuscules face à la plénitude de la poitrine, de la robe et à la turgescence ironique de la plume d'autruche rose.
| Madame Gargantua, Daumier, 1866 | Madame Gargantua, Art Hazelwood, 2016 |
| --- | --- |
Au delà de la figure convenue de la croqueuse d'hommes, c'est bien un système de consommation  déréglé et autophage qui est dénoncé : d'où la transposition aisée du Second Empire et des billets de 100 00 francs, à l'Empire Américain et à son billet vert.
La Courtisane moderne (The Thorny Path)
Thomas Couture, 1873, Philadelphia Museum of Art.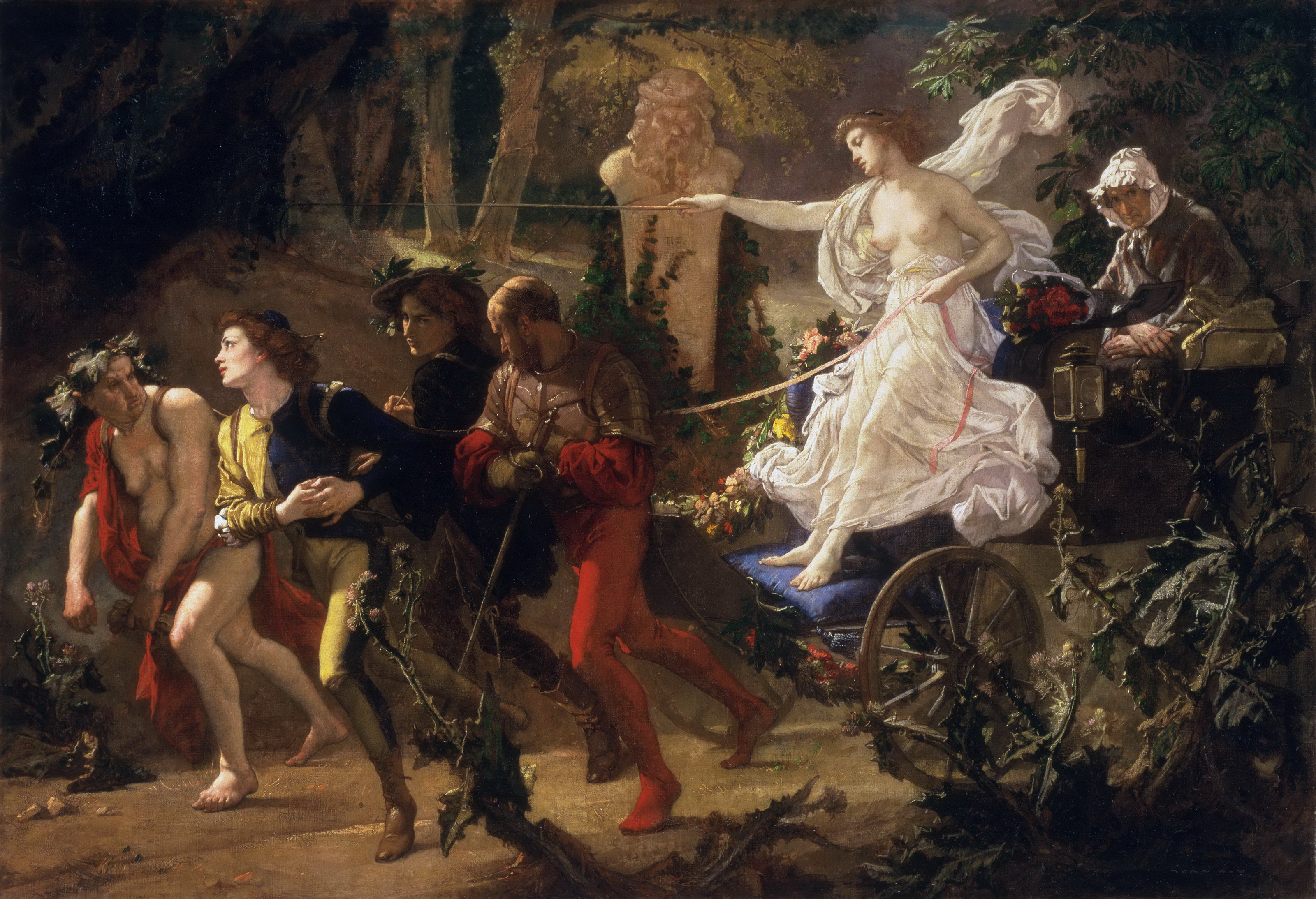 Rendu célèbre par sa grande composition sur les Romains de la Décadence, Couture critique ici une autre forme de décadence, éternelle et universelle.
L'attelage
Un phaéton est tiré par quatre mâles captifs représentant différents âges et états de la société :
un vieux riche ventripotent mène l'attelage, sa bourse à la main, une couronne de Bacchus  sur la tête ;
un jeune fou avec clochette tourne son sublime visage vers l'Idéal,  sans sentir les liens sur son pourpoint ;
un jeune poète couronné de lauriers continue d'écrire malgré l'esclavage ;
un soldat d'âge mur tire lui-aussi, sans songer à trancher les liens avec sa lame.
Selon le catalogue de l'exposition, ils représentent respectivement la richesse, la jeunesse, la poésie et le courage [1].
Les  regards s'évitent, ne se tournent ni vers l'avant, ni vers la cause unique qui les dirige par derrière : isolés chacun dans sa manie, ils avancent entre les chardons.
Le véhicule
 Une sublime jeune femme tient d'une main la bride, de l'autre le fouet. Les initiales TC, gravées sur le piédestal du faune, placent le peintre sous la même égide. Aiguillonnant les hommes, elle-même est poussée vers l'avant par son destin qui la surveille par derrière : une vieille femme emmitouflée et aigrie, avec pour dernier plaisir la carafe de vin dans le panier.
Epineux pour les marionnettes, le chemin l'est tout autant pour celles qui tirent les ficelles.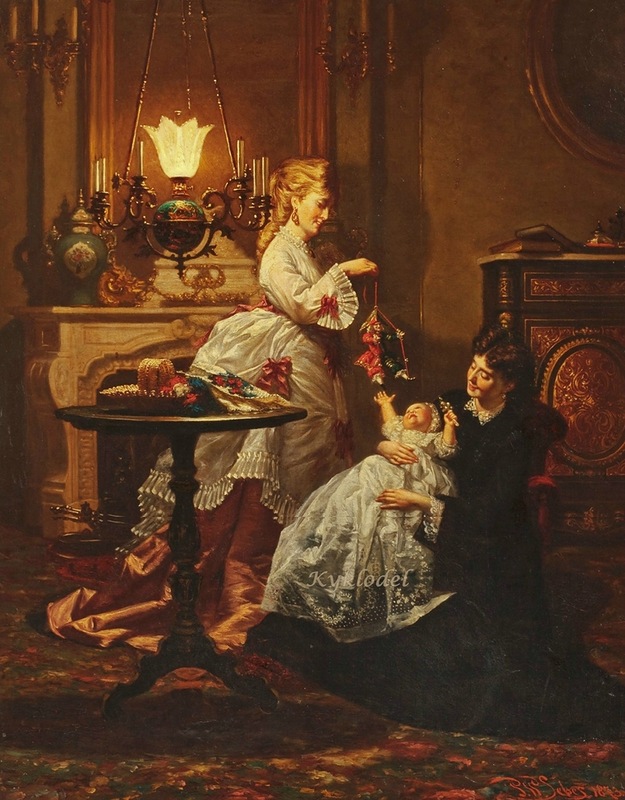 Pour amuser bébé (Amusing the baby)
1873, Pieter Willem Sebes, collection privée
De la même époque, cette scène de genre qui se veut touchante cache peut-être un sous-texte  : de même que la lionne donne tôt le goût de la viande à ses petits, la Femme Fin de siècle apprend à sa progéniture que manipuler un Pantin est plus amusant qu'un hochet.
 Image en haute définition : https://www.bonhams.com/auctions/17644/lot/210/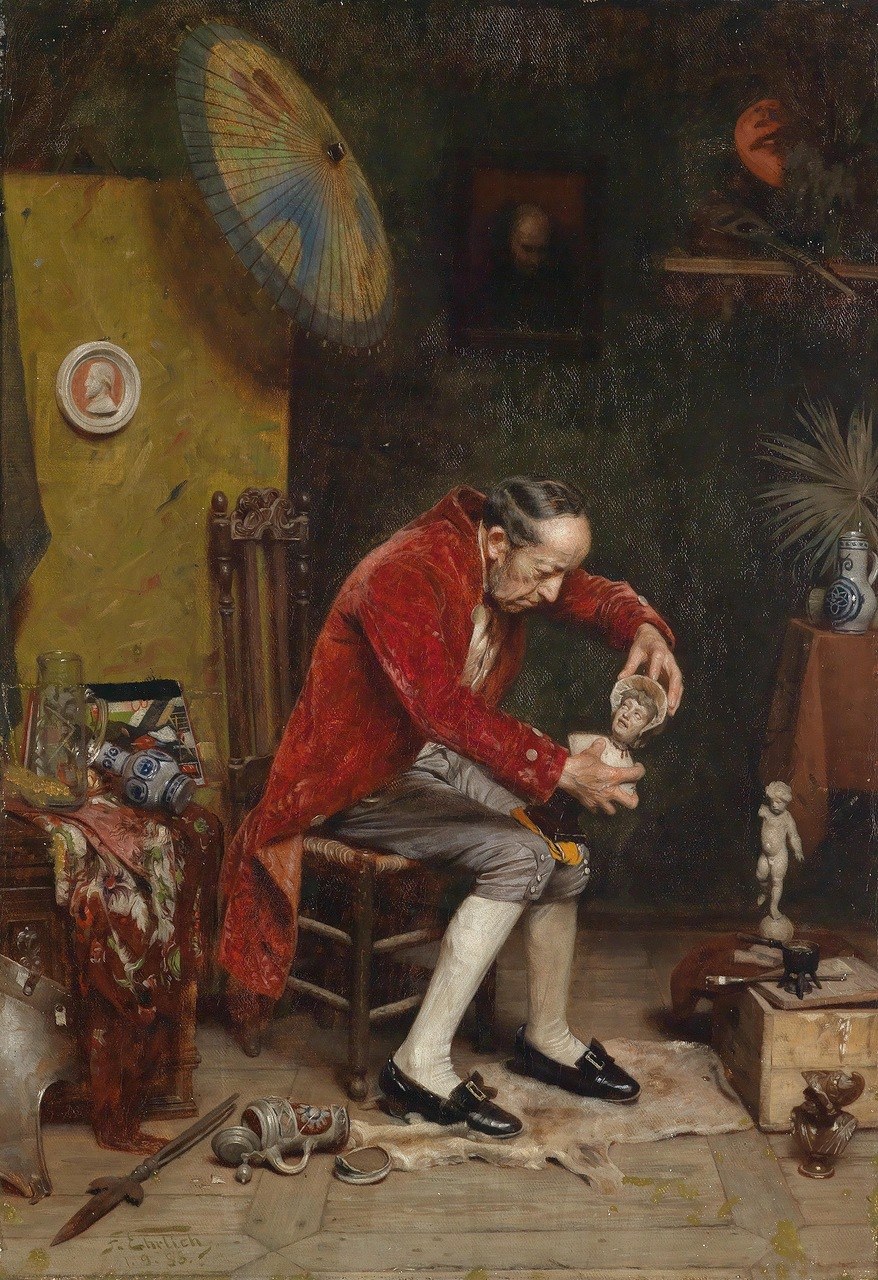 L'amoureux de l'Art
Félix Ehrlich, 1888, Collection privée
Ce tableau très original explore le thème inverse, celui du vieil homme à la poupée.  La lance, la chope de bière et le bras du Cupidon sont cassés : on comprend bien qu'il ne reste pas grand chose de la virilité, des plaisirs et de l'Amour. Seule chauffe la colle sur le petit réchaud. La tête à peine recollée semble prête à apostropher le vieux misogyne,  qui se demande s'il n'aurait pas mieux fait de s'abstenir.

Dans les années 1880,  Henry Somm va se spécialiser dans un fétichisme particulier : une Parisienne au profil callipyge ridiculisant diversement un petit homme.

| Les droits de la Femme | La corde raide |
| --- | --- |
| | |
| Papillon | Poisson |
| Parisiens | |
Moqueuse,
L.Artigue, 1882

Jeune femme jouant avec un pantin
Louis Charles Verwee, avant 1882

Tous ces artistes mineurs se contentent d'exploiter paresseusement  le masochisme du thème, sans grandes conséquences.  Pour enfin dégager l'énergie explosive  que Goya et Couture avaient subodoré,  il va falloir la succession de deux grands dynamiteurs fin de siècle  :  Rops d'abord dans les arts graphiques, puis Pierre Louÿs en  littérature.

[1] « O beauté vénale ! Jadis tu faisais des martyrs et des héros, tu ne fais plus que des martyrs et des laquais. O courtisane dégénérée ! Enfant gâtée de ma portière ! Qu'as-tu fait de la poésie, de la richesse, de la jeunesse et du courage qui te servaient d'escorte autrefois?… Un attelage! «  Gazette des beaux-arts: 1860, Volume 1, p 116