L'artiste ici accompagne le modèle dans le miroir  : tantôt il prend presque autant de place que lui, tantôt il se rapetisse dans l'arrière-plan : mais l'important est de partager avec lui le même cadre.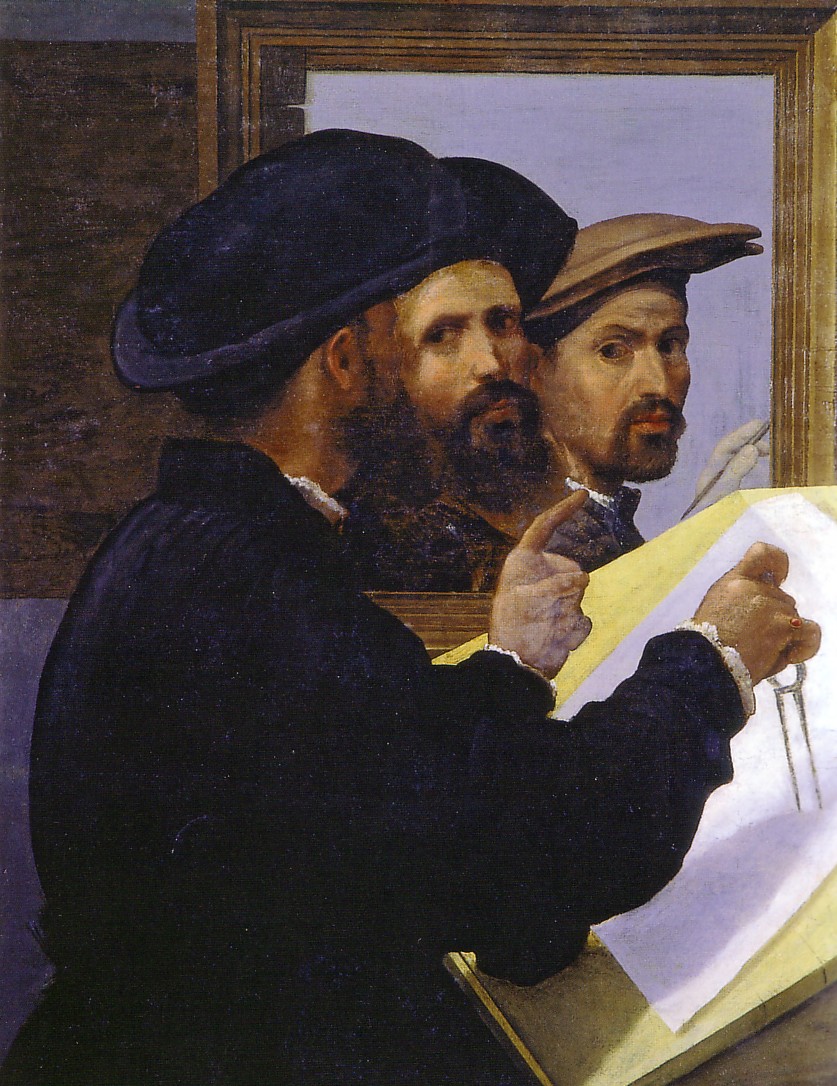 Portrait d'un architecte avec un autoportrait en arrière plan
Bernardino Licinio, vers  1520-1530, Martin von Wagner Museum, Würzburg
Dans cet exemple précoce, la technique ne suit pas encore  : la tête du peintre dans le miroir est trop grande, les lignes qui joignent l'architecte et de son reflet (haut du  béret, oeil)   ne tombent pas sur un point de fuite situé entre les yeux du peintre, mais bien plus à droite.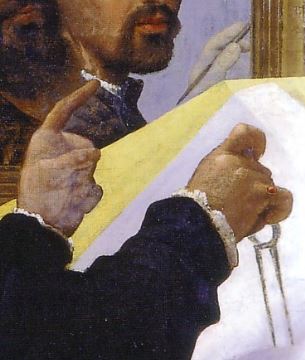 En revanche, l'idée est très astucieuse. Le miroir montre une main gauche tenant un pinceau, reflet inversé de la main droite du peintre, en hors champ : ainsi cette main unique du peintre correspond simultanément aux deux mains de l'architecte :
en tant que main droite réelle, à celle qui tient le compas ;
en tant que main gauche virtuelle, à  celle qui lève l'index.
L'architecte conçoit avec le compas et donne ses directives avec son index.

Le peintre en revanche, qui ne commande qu'à lui-même, n'a besoin que d'un seul instrument : son index qui fait corps avec son pinceau.

Du coup, il devient possible d'inscrire cette peinture dans le débat (dit du paragone), qui faisait rage à l'époque : de l'Architecture et de la Peinture, quel est l'Art supérieur ? La réponse de Bernardino est limpide : la Peinture.

Larsson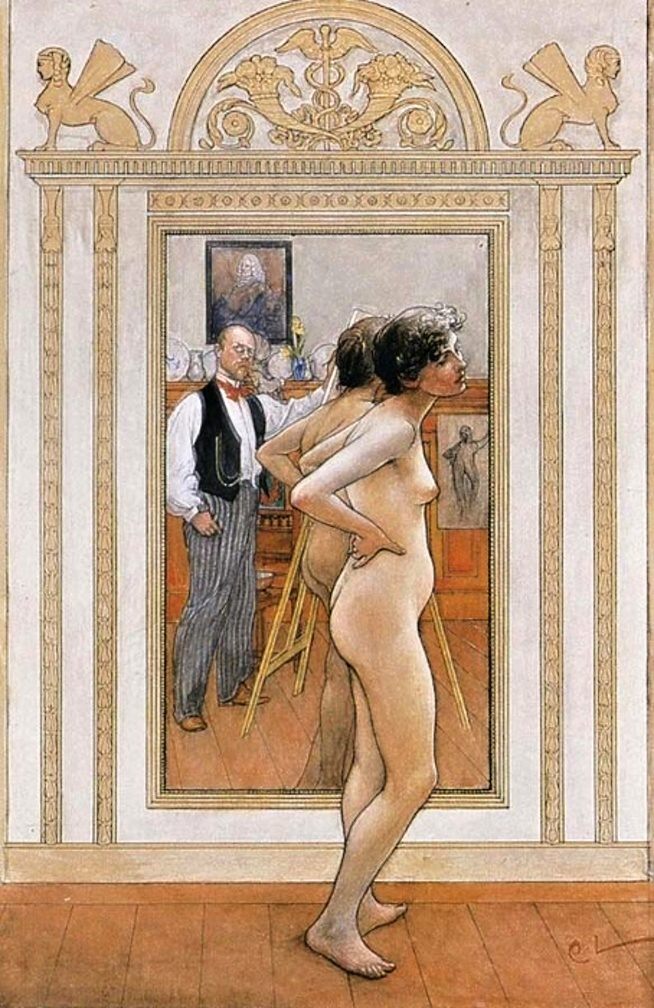 Devant le miroir
Carl Larsson, 1898
Le reflet du Peintre, encadré par une série de rectangles, semble vouloir confiner le reflet du Modèle dans le triangle de son chevalet. Tandis que le modèle en chair, campé à l'extérieur, résiste à cette attraction combinée de la Peinture et du Miroir.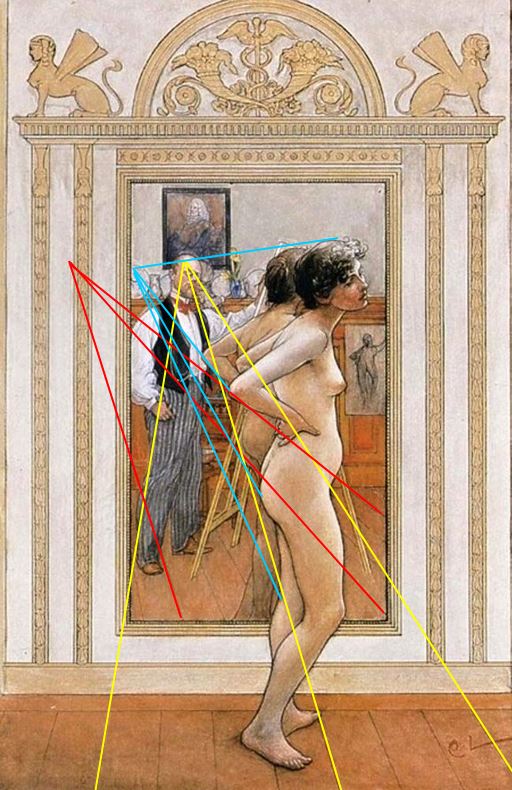 Cette composition qui semble impeccable est en fait totalement fabriquée, avec trois points de fuite distincts :
le point de fuite externe (en jaune) se trouve un peu au dessus de l'oeil du peintre ;
celui des reflets (en bleu) un peu plus à gauche, sans doute pour « décoller » le modèle de son reflet ;
celui du reflet du parquet (en rouge) encore plus à gauche, comme pour éviter de tout soumette au contrôle de l'oeil du Maître.

Matisse
La leçon de peinture
Matisse, 1919, Scottish National Gallery of Modern Art,Edimbourg
Vermeer, L'art de la Peinture, vers 1666, Kunsthistorisches Museum, Vienne
Peint dans une chambre d'hôtel à Nice, ce tableau montre la jeune modèle de 18 ans, Antoinette Arnoux, lisant en compagnie de Matisse qui la peint. Un pinceau posé sur la table fait le lien entre le tableau dans le tableau et la modèle.
La  composition pourrait être une piètre resucée de Vermeer, sans  la présence centrale du miroir, qui associe dans son ovale le bouquet et un palmier. Comme si Matisse avait trouvé là  une première solution graphique pour unifier le modèle et l'artiste, ce dernier symbolisé par l'arbre en forme de pinceau.
A partir de 1935, le dessin au trait va lui permettre,  en s'exonérant de la précision optique, d'exploiter magistralement le pouvoir  unificateur du miroir .
| 1935, L'artiste et le modèle reflétés dans un miroir | 1936, La modèle dans le miroir |
| --- | --- |
| 1935, Le peintre et son modèle | 1937, Femme nue couchée au miroir |
| --- | --- |
| 1939, Nu agenouillé devant un miroir | |
| --- | --- |

  Petit, mais supérieur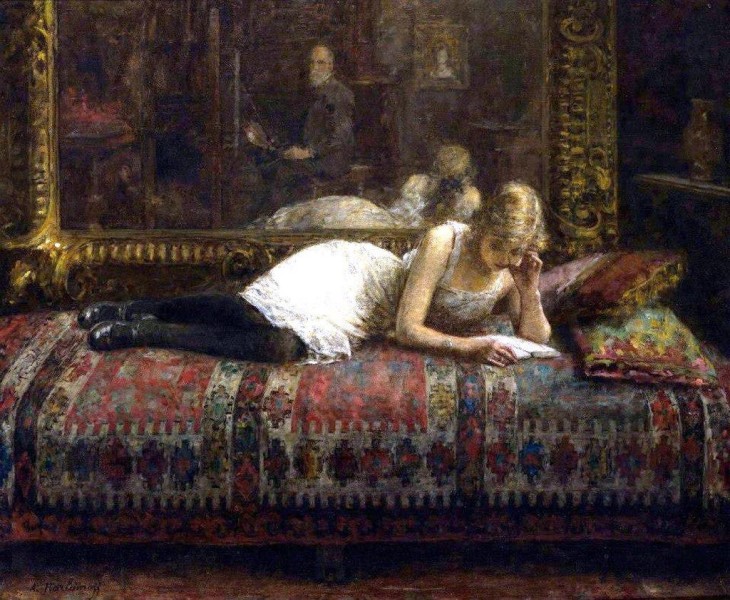 L'artiste et son modèle Alexei Alexeivich Harlamoff, 1875, collection particulière
Cette composition place Harlamoff,  grand spécialiste des portraits de petites filles, dans une position de supériorité et d'intimité quelque peu audacieuse avec cette jeune lectrice aux cheveux d'or.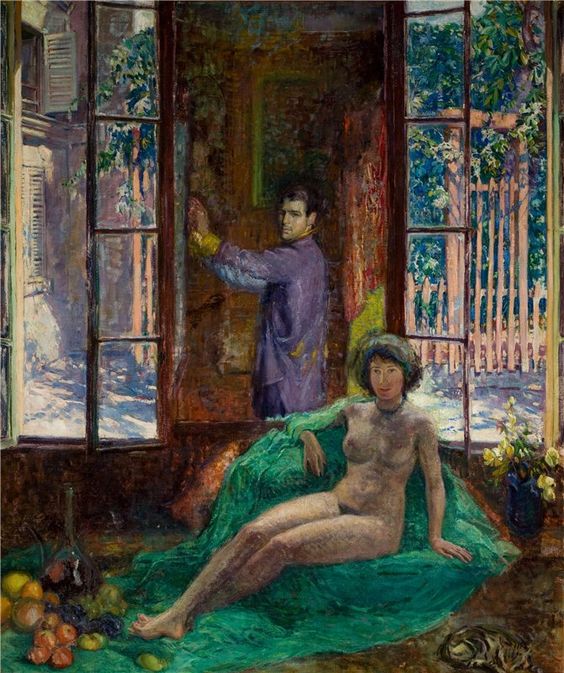 Artiste et modèle, Frederick Carl Frieseke, date inconnue
Un demi-siècle après, la modèle se dévêt sans scandale, entre ces  symboles sensuels que sont les fruits avec la carafe de vin, le bouquet de fleurs et le chat qui ronronne. A moins que plus subtilement ils ne représentent le Goût, l'Odorat et l'Ouïe – la Vue étant quant à elle associée au miroir et le Toucher… à la peau dénudée de la modèle.

lement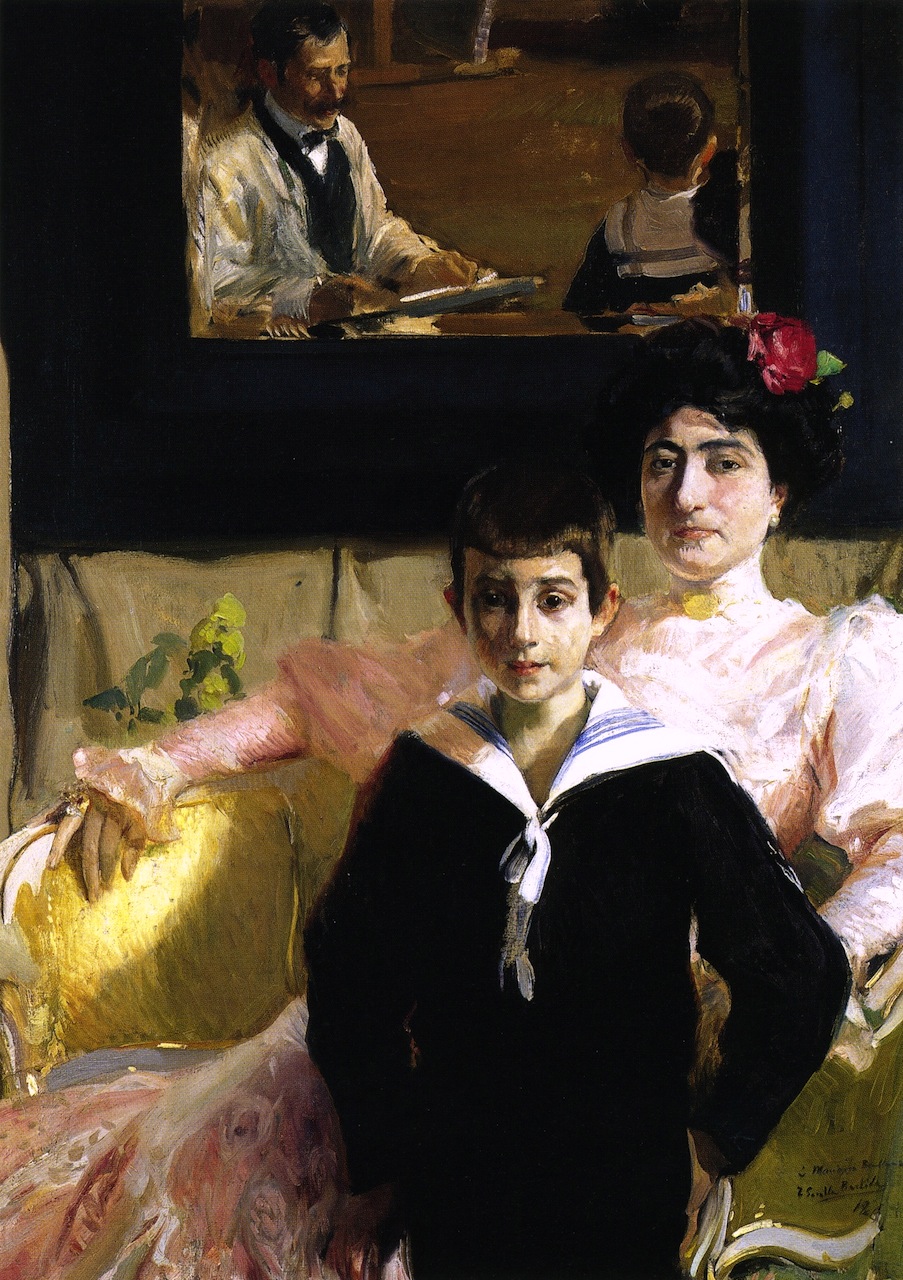 Lucrecia Arana avec son fils, Joaquin Sorolla y Bastida, 1906, Collection privée
La mère serre contre elle son fils dans le réel, mais le confie dans le virtuel aux bons soins d'un peintre qui sait garder sa distance.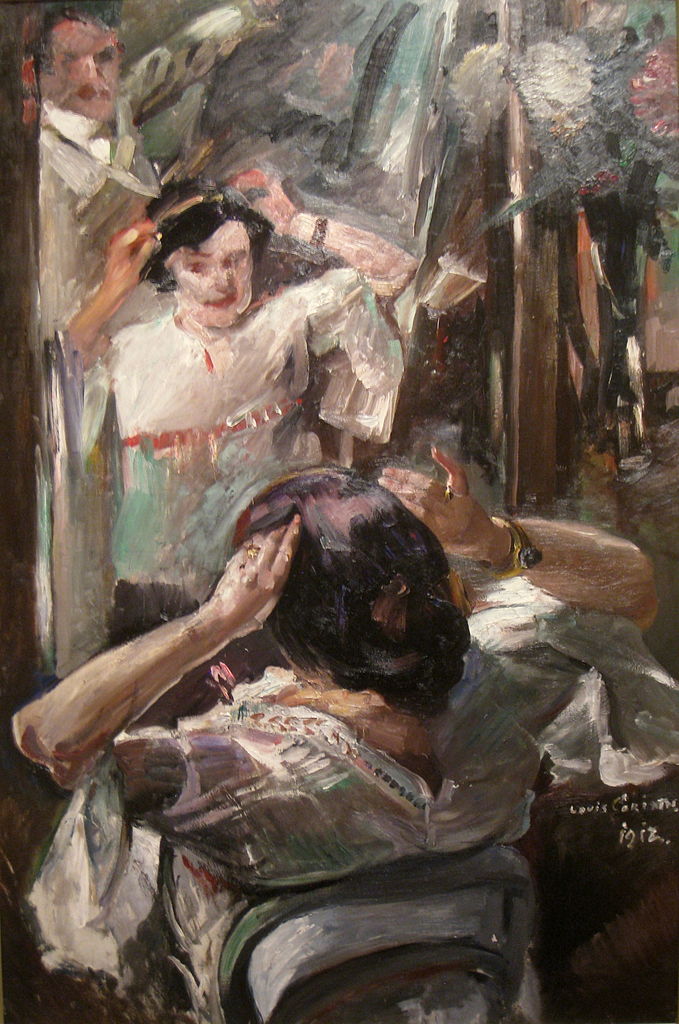 Au miroir Corinth, 1912, Worcester Art Museum
L'artiste a esquissé son image en haut de la pyramide, de moins en moins distincte,  qui mène de la modèle au reflet. Le miroir a ainsi l'effet paradoxal de transformer la  vue en plongée vers le modèle, en une contreplongée vers le peintre.

Double portrait avec Jo
Ernst Oppler, 1928, Collection privée
Modèle au miroir
Mela Muter, vers 1930, Collection privée
Occupant la position dominante en haut à gauche (d'où vient  généralement la lumière), Oppler  affirme son double ascendant sur le modèle : en tant que peintre et en tant que père.
Composition similaire chez Mela Muter, mais avec un effet inverse : en se regardant dans le miroir et en tournant le dos au peintre, la modèle  acquiert une autonomie et une supériorité numérique.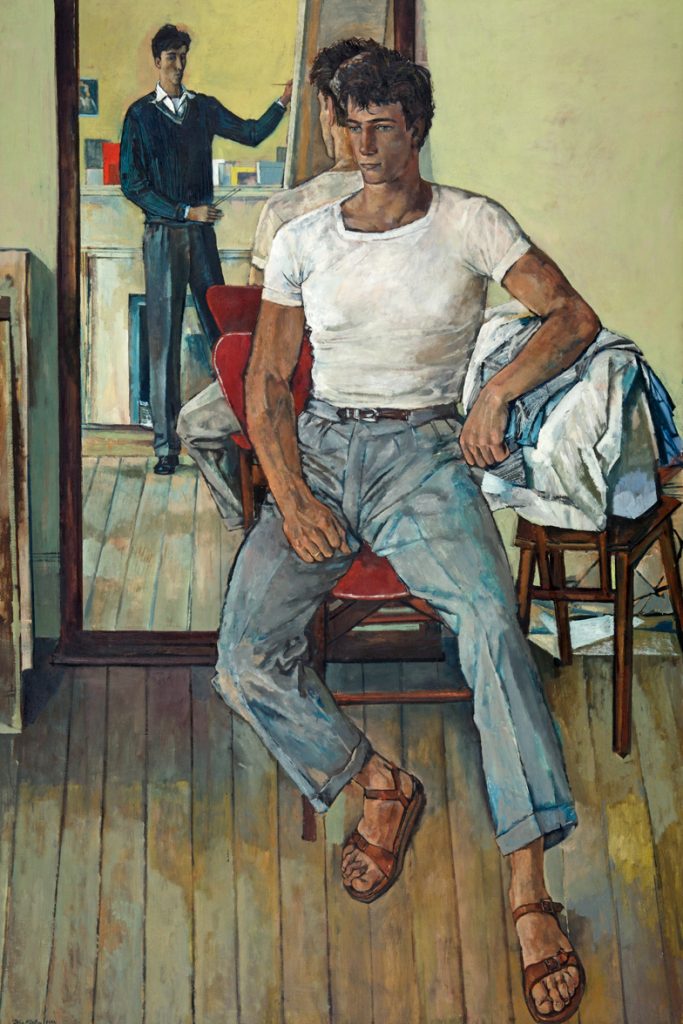 Painter and Model John Minton, 1953, Russell-Cotes Art Gallery and Museum, Bournemouth
Composition similaire, mais cadrage et esthétique bien différents : en donnant l'essentiel de l'espace au garçon barraqué, assis en jean et en maillot de corps  blanc, bras et pieds nus,  le peintre longiligne, debout en pantalon strict et chandail noir, semble s'abstraire de toute présence physique et reculer devant une sexualité interdite. Tout le tragique de la destinée de Minton s'inscrit déjà dans ce tableau.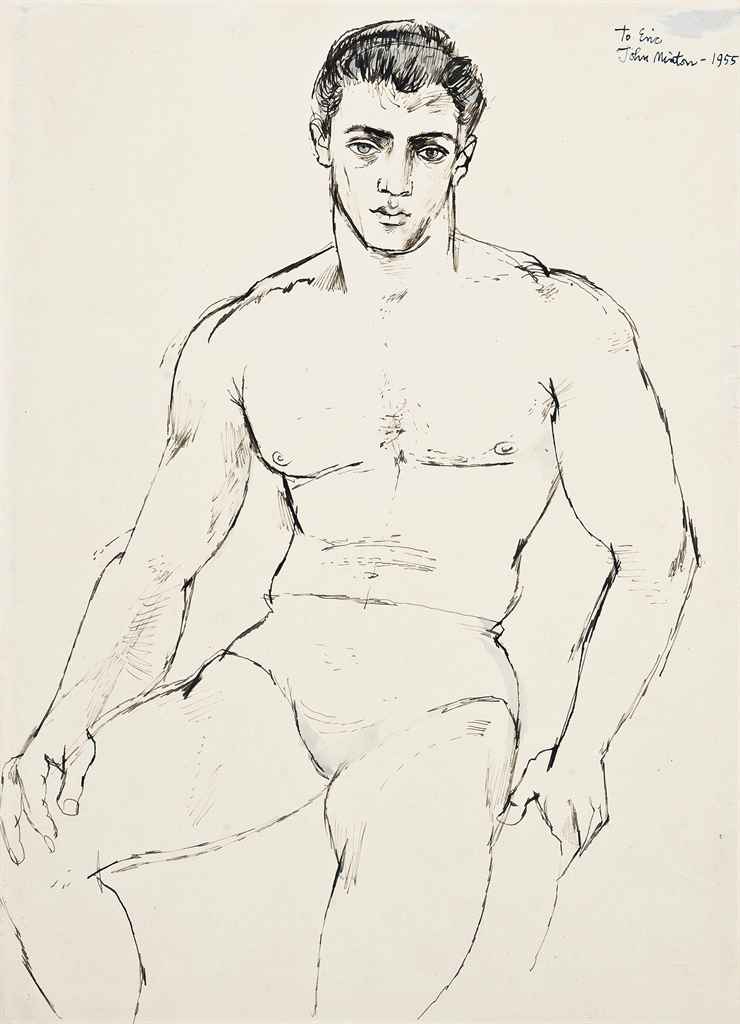 Portrait de Norman Bowler
John Minton, 1955, Collection privée

Le jeune homme est Norman Bowler, un bodybuilder des années 50 qui  était à cette époque le mari d'une des meilleures amies de Minton, Henrietta Moraes.  Figure connue de Soho, elle eut une vie cahotique entre Bacon, Lucian Freund et les drogues. Minton quant à lui se suicida en 1957, car Henrietta lui avait ravi un homme dont il était lui-même secrètement amoureux.
Sur les aspects biographiques du tableau, on peut consulter :
https://peterjamesfield.wordpress.com/2017/01/16/john-minton-and-david-tindle/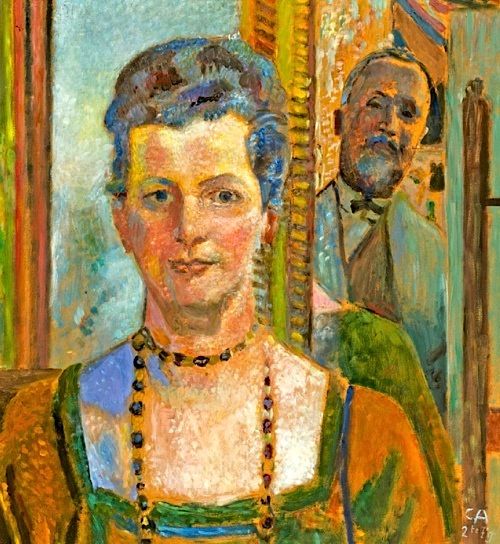 Autoportrait avec sa femme
Cuno Amiet, 1930,  Collection particulière
En se positionnant à la hauteur du visage de son épouse, et en éliminant  la vue de dos du modèle, Cuno Amiet supprime tout effet de suprématie ou de menace et nous offre un portrait de couple harmonieux, où le peintre et mari se met en retrait derrière la beauté de sa femme pour l'admirer en souriant.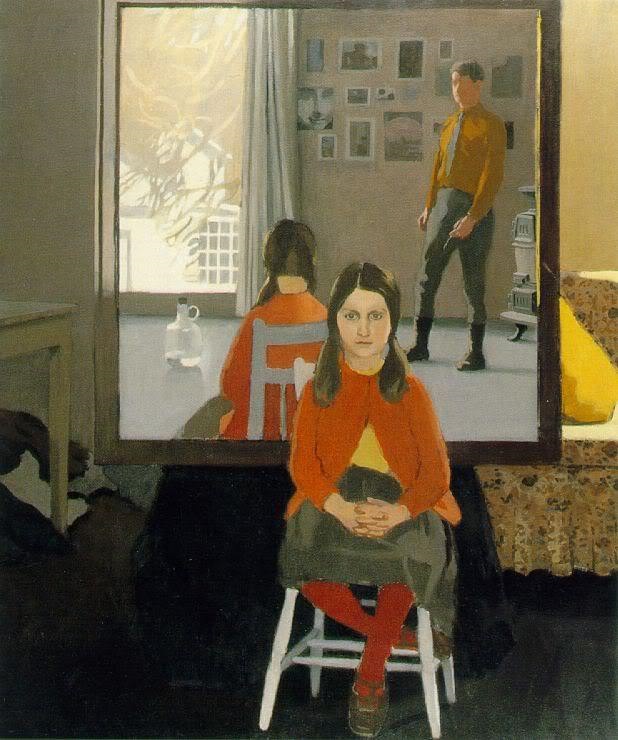 Le miroir
Fairfield Porter, 1966
Porter a choisi  un point de vue plongeant déconnecté de la position du peintre : celui-ci n'est d'ailleurs pas montré en train de peindre à côté de son chevalet, mais planté à côté du poêle, prenant du recul pour évaluer son oeuvre.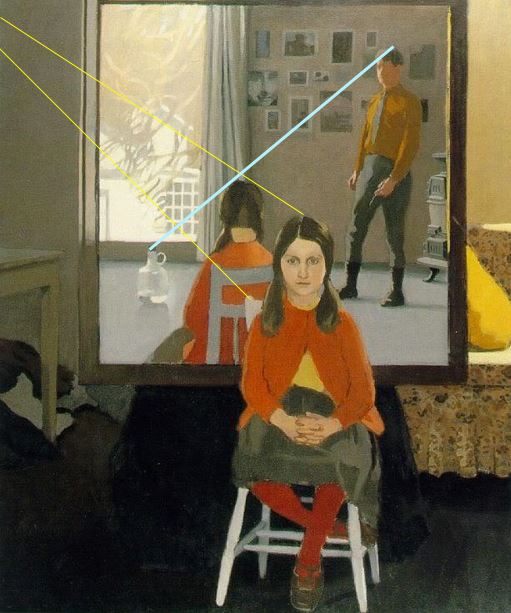 Du coup se crée un effet d'escalier entre la petite bouteille, la petite fille et le peintre, qui échappe à la miniaturisation et reste maître en son royaume.
Viktor Alexandrovich Lyapkalo
| 1989 | |
| --- | --- |
| Katya, 1998 | |
| --- | --- |
Viktor Alexandrovich Lyapkalo
A contrario, dans ces quatre variations , le point de fuite se confond avec l'oeil de l'artiste, ce qui exclut le spectateur  de cet intimisme spéculaire.
Ce point de vue subjectif et empathique est particulièrement marqué dans les deux derniers tableaux, où le modèle et l'artiste s'assoient et se lèvent conjointement.
Robert Lenkiewicz
| 1990 The Painter with Karen | 1992 The Painter with Karen. St Antony Theme |
| --- | --- |
| 1993 The Painter with Anna. St Antony Theme | 1993 The Painter With Lisa Stokes |
| --- | --- |
| 1994 Reflections, Painter with Anna | Anna in Yellow Kimono at Lower Compton. St Antony theme |
| --- | --- |
| Roxana With Painter St Anthony Theme | |
| --- | --- |

 Petit et dominé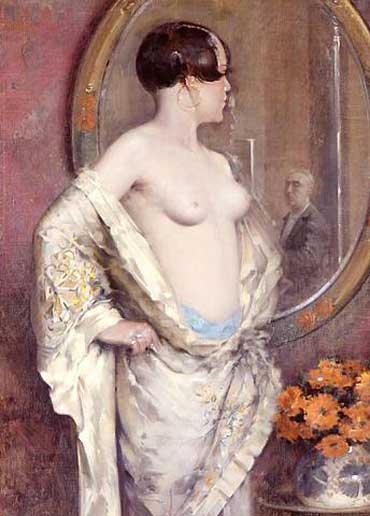 Autoportait avec modèle
Henri Moreau, vers 1930
Rare exemple de domination manifeste : le peintre sans mains et sans cheveux est réduit à la tétée par cette imposante garçonne. Pour autant qu'on puisse en juger par le reflet de son nez, le point de fuite se situe bien en dessous de la ceinture…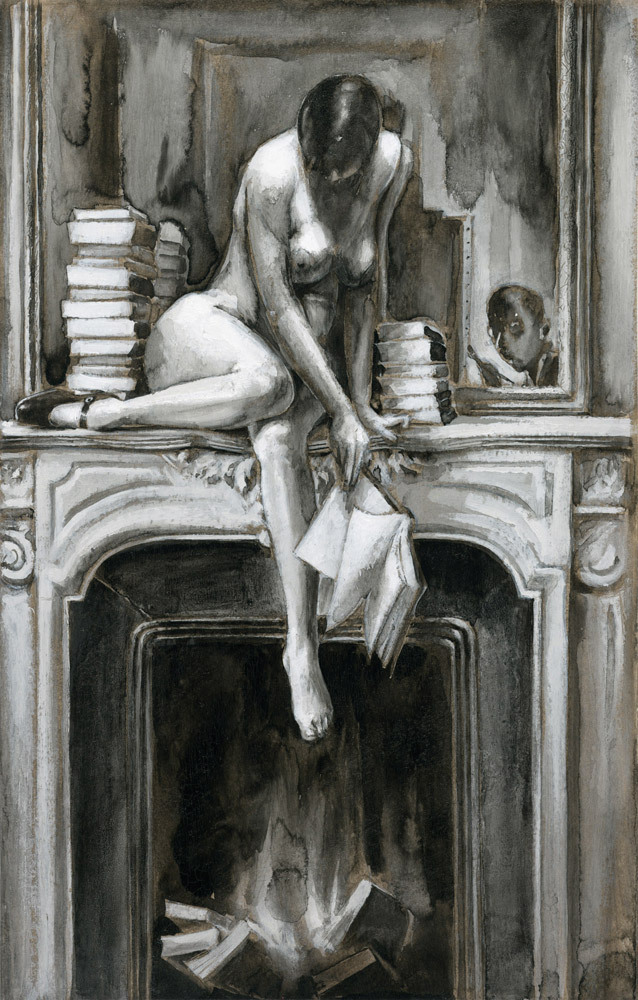 Sans titre, Jan De Maesschalck, 1998
Assise sur le marbre de la cheminée, la femme chauffe son pied nu au dessus du cadre de l'âtre, dans lequel elle a déjà jeté une demi-pile de livres ;  et de son pied chaussé elle désigne une autre pile, laquelle semble menacée de se liquéfier dans le miroir.
A l'opposé de l'escarpin, coincé entre le cadre et le reflet du châssis, le peintre semble être le seul à résister, par son regard, à cette dissolution généralisée par la flamme et par la glace.

Voir la suite : 2b L'Artiste comme détail