Cet article traite d'objets particulièrement adaptés à la Vanité des richesses, et dans lesquels apparaît de loin en loin, de manière épisodique, l'idée de faire surgir la Mort sous le précieux :

retourner la médaille fait voir  la Mort en face.

Les trois médailles de Boldù

A la Renaissance, les personnages importants font réaliser une médaille commémorative à leur effigie, avec côté pile une scène ou une allégorie personnalisée.

Médaille de Jean VIII Paléologue
Pisanello, 1438, Staatliche Museen Berlin

Giovanni Boldù est le premier à oser, expérimentalement et en l'appliquant à lui-même, introduire la Mort à son revers [1].
Première médaille funèbre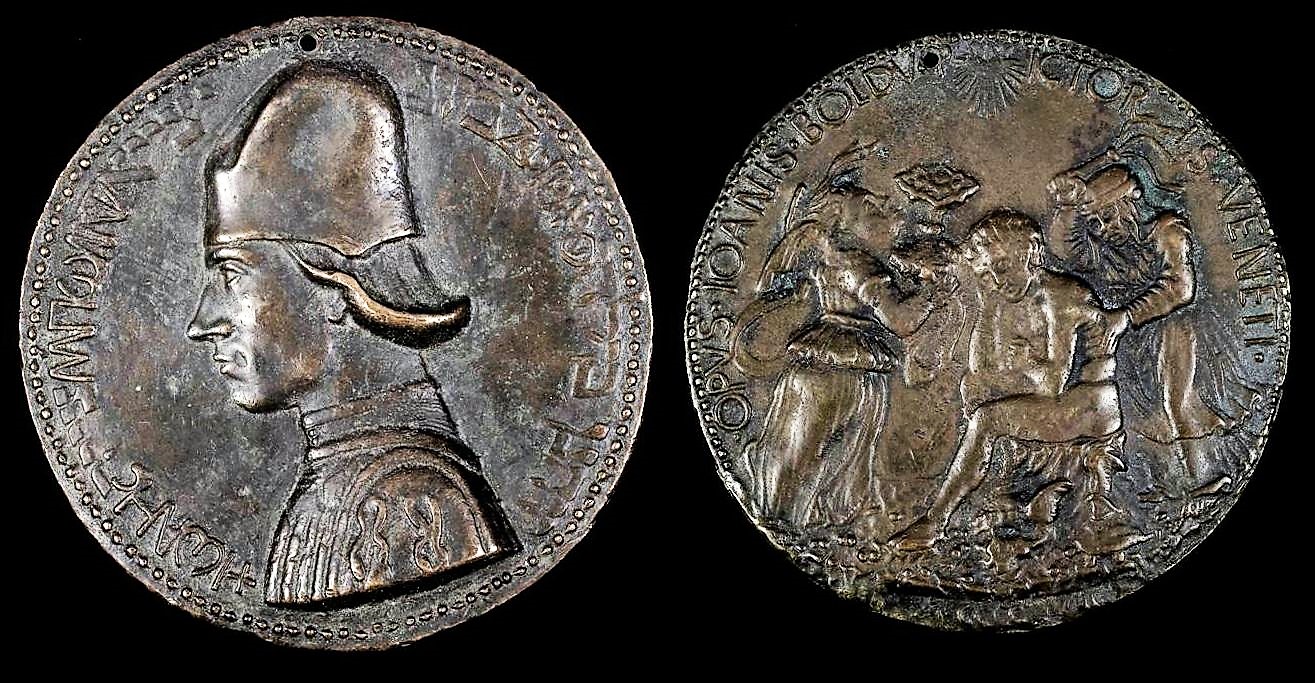 Médaille commémorative de lui-même
Giovanni Boldù, 1458, National Gallery of Art, Washington
Imitant Pisanello, Boldù inscrit en latin, côté pile : « Giovanni Boldù de Venise, peintre » ; et pour pousser encore plus loin l'érudition humaniste, il inscrit côté face, au dessus de son profil en costume contemporain, la même mention en grec alternant avec l'hébreu, non sans quelques erreurs [2] :
ΙΩΑΝΝΗΣ ΜΠΩMΤΟN ΖΩΓΡΑΦΟΣ BENAITIA
yochanan boldu me veneziya zayyar
Au revers il se montre assis nu sur un tertre, en posture mélancolique, châtié par la Repentance (la vieille femme au fouet) et secouru par la Foi (l'Ange avec le calice), entre en haut un soleil rayonnant (Dieu, la Vie, le Jour à son zénith) et en bas, très peu visible suite à l'usure, une tête de mort ailée (l'Enfer, la Mort, la Nuit, l'Eternité).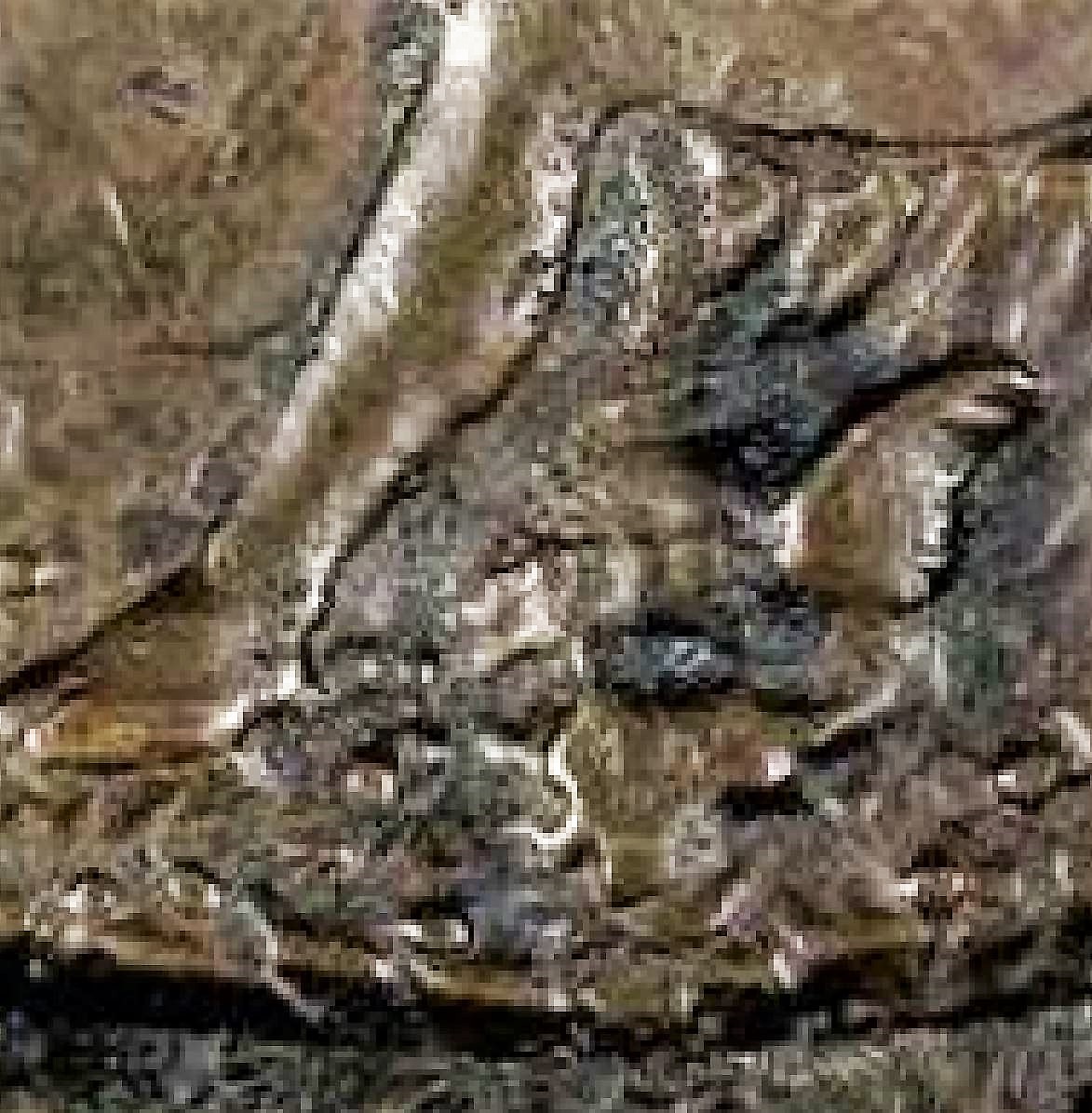 Deuxième médaille funèbre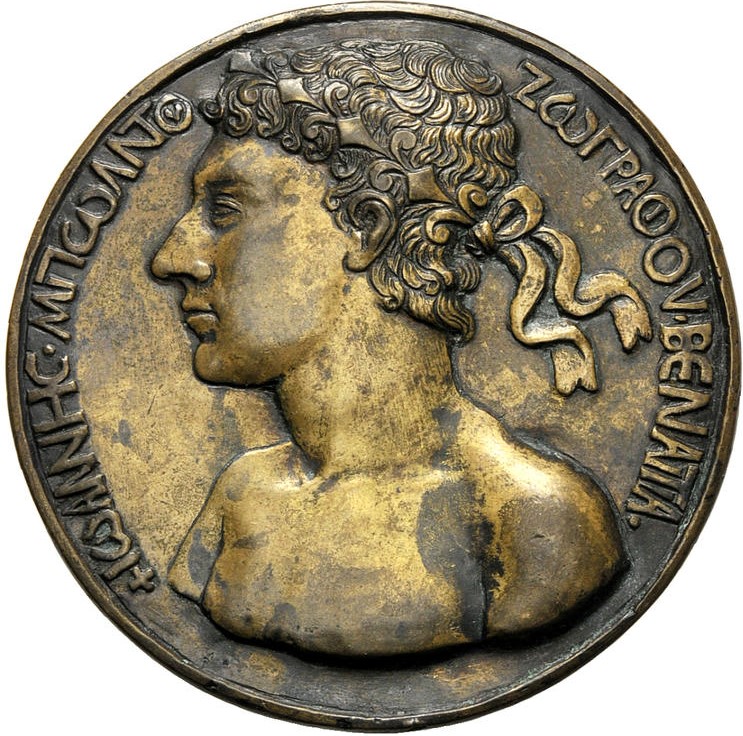 Médaille commémorative de lui-même
Giovanni Boldù, 1458, National Gallery of Art, Washington
La même année, il réalise une seconde version, non plus chrétienne mais antiquisante :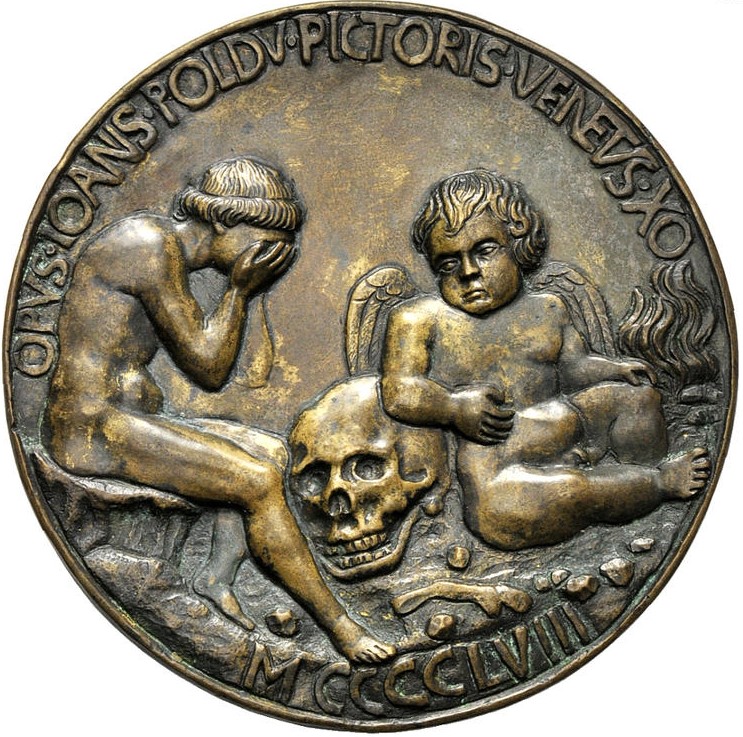 côté pile, remplacement des deux allégories chrétiennes par une païenne (un putto ailé à l'air méchant) et composition horizontale : Boldù se cache le visage parce que le Génie de la Mort , (accoudé au crâne) l'empêche d'accéder à la source de vie (le brasier).
Troisième médaille funèbre
Médaille de Caracalla (Antoninus Pius ), Giovanni Boldù, 1461
Trois ans plus tard, il explicite la signification du putto ailé en l'appliquant, non plus à lui-même en jeune homme, mais à Caracalla enfant :
| | |
| --- | --- |
| Je suis la Fin | IO SON FINE |
Le mot IO désigne le jeune homme affligé, et le mot FINE le putto, ici légèrement modifié puisqu'il tient maintenant la flamme dans sa main gauche : métaphore de l'âme qui n'a plus sa demeure dans le crâne.
L'invention d'un motif
Le motif de l'Enfant au crâne va devenir un des standards de la Renaissance et du Baroque, et Horst W. Janson a bien montré par quelles voies il dérive de l'invention de Boldù. Celui-ci a créé un type original, tout en reprenant graphiquement une médaille antérieure :
| Ludovico Gonzaga da Mantova | Ne me touche pas (Noli me tangere) |
| --- | --- |
Pietro de Fano, 1452-57
Le porc-épic, qui symbolise l'amour marital inexpugnable du Duc de Mantoue, prévient Cupidon (sans ailes) de ne pas s'approcher.
Une transposition de l'antique (SCOOP !)
Comme le note Horst W. Janson, Boldù n'a pas transposé le Génie de la Mort romain (un jeune homme ailé debout et tenant une torche renversée à la main), mais a réellement inventé un emblème nouveau, que la figure de l'Enfant assis par terre rend plus frappante encore.
Si la pose du putto recopie à l'évidence la composition de Pietro de Fano, l'irruption du crâne s'explique difficilement par la seule transformation du porc-épic.
| Aureus à l'effigie de Caracalla, 204 | |
| --- | --- |
Si l'on se souvient du côté pile de la monnaie de Caracalla, il est bien possible que la Victoire ait inspiré ce qui manque chez Pietro de Fano :
par ses ailes, celles du putto ;
par sa couronne de lauriers dans la main droite, le crâne ;
par sa palme dans la main gauche, la flamme.
Médaille de Fra Paolo Albertini
Antonio Marescotti, 1462, Scher Collection
Marescotti prend le contre-pied de Boldù en rechristianisant son jeune homme affligé : habillé en moine et assis confortablement, il contemple sans effroi le crâne renversé à ses pieds.
Médaille de Fra Cesario di Ferrara, moine servite, NGA, Washington
Sperandio di Bartolommeo de' Savelli, 1467
De la sérénité chrétienne à l'exploitation de l'angoisse : le moine ici nous désigne la Mort du doigt et nous intime d'y songer.




Fragiles beautés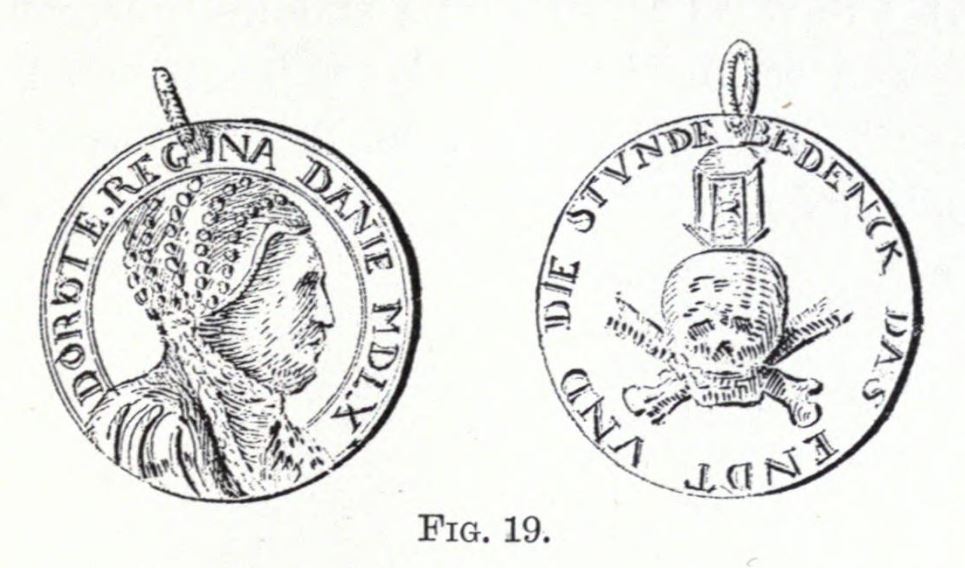 Reine Dorothée du Danemark, 1560
Dorothée de Saxe-Lauenbourg ne mourra qu'en 1571 : la médaille commémore le décès de son mari le roi Christian II, en 1559.
| | |
| --- | --- |
| Pense au jour et à l'heure | BENDENCK DAS ENDT UND DIE STUNDE |
Médailles pour la mort de Anna-Cathrina Munk (fille morganiatique de Christian IV du Danemark)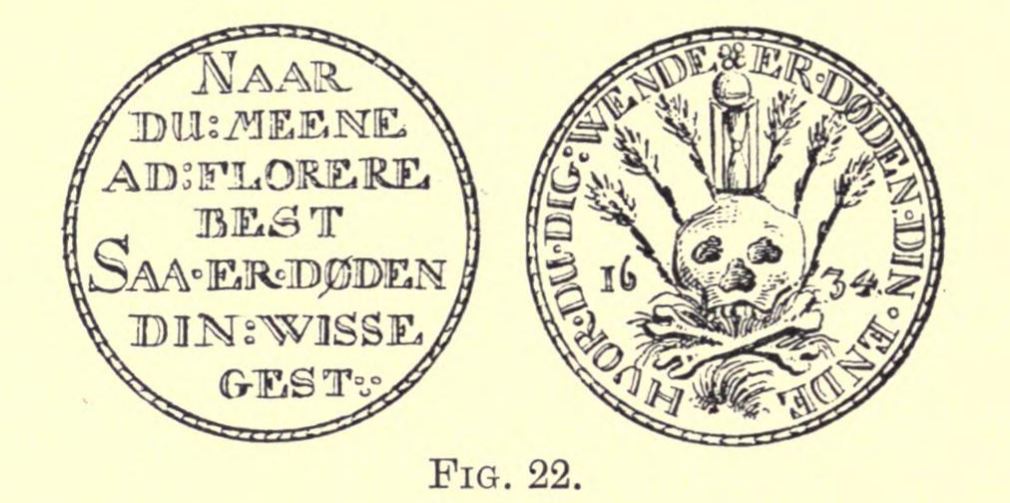 1634, Danemark ([3], p 86)
| | |
| --- | --- |
| Quand tu pense être au sommet de ta floraison, la Mort est ton hôte certain. | Où que tu te tournes, la Mort est ta fin |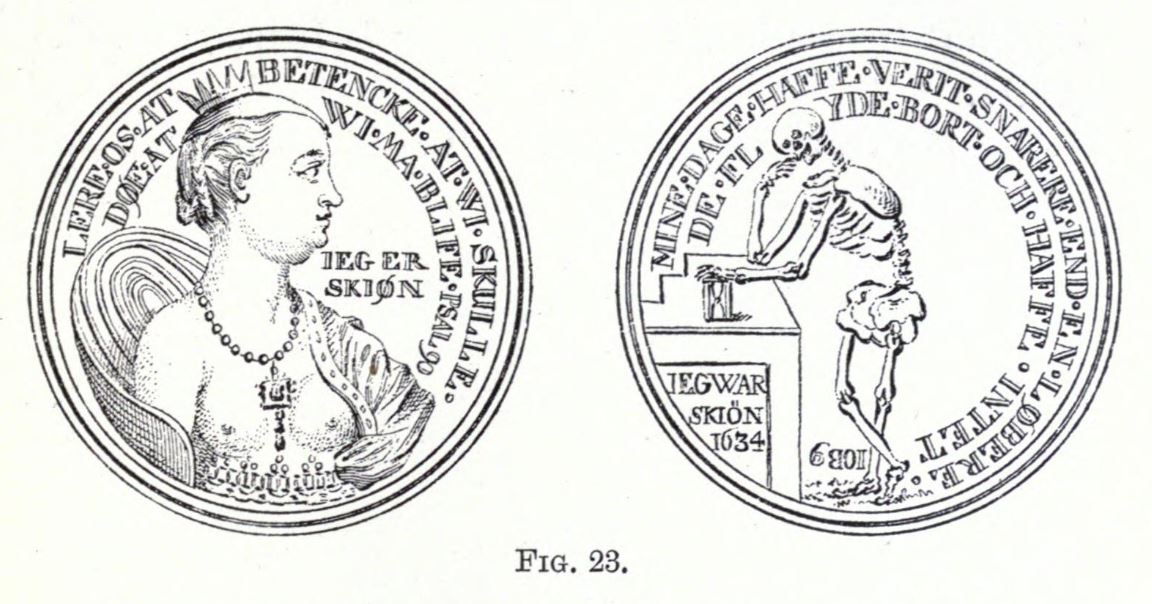 1634, Danemark ([3], p 87)
« Apprends-nous à nous souvenir que nous devons mourir, pour que nous connaissions la sagesse. »

Psaume 89,12

Je suis belle

« Mes jours sont plus rapides qu'un courrier; Ils fuient sans avoir vu le bonheur » 

 Job 9, 25

J'étais belle
Médaille dite d'Elizabeth Stuart, Reine de Bohème (copiée sur celle d'Anna Katherina Munk)
Vers 1635, Christian Maler, Nuremberg ([3], p 90)
| | |
| --- | --- |
| Quelle je suis, plus tard au verso vous le verrez | me voici maintenant, autrefois la plus belle |
| QUÆ SIM POST TERGA VIDEBIS  | SIC NVNC PVLCHERRIMA QVONDAM. |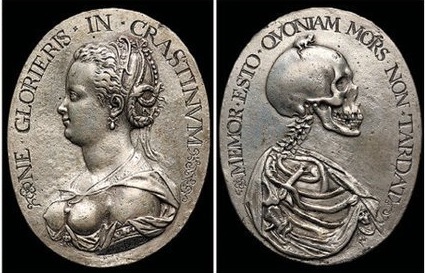 Médaille de la Fugacité, Jan de Vos, 1612
« Ne vous vantez pas de demain »

(Proverbes Salomon, 27: 1).

« Souvenez-vous que la mort ne tarde pas »

(Jésus Sirach 14:12).

NE GLORIERIS IN CRASTINUM

MEMOR ESTO QUONIAM MORS NON TARDAT

Médailles à l'occasion d'un décès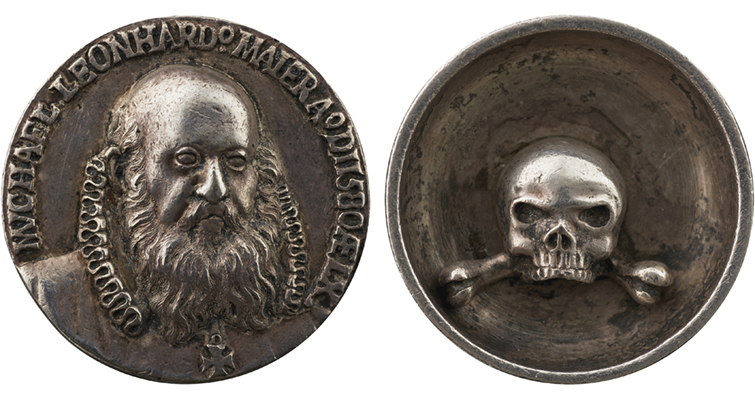 Médaille pour la mort de Michael Leonhard Maier, bourgmestre d'Augsbourg, par Baldwin Drentwett, 1580

Médaille funéraire de David Dorville, membre de la Guilde des Vigneons d'Amsterdam,
par Albert Frijlinck, 1621, Rijksmuseum
| | |
| --- | --- |
| Apprends à mourir | DISCE MORI |
« Pfennig de Bâle », vers 1640, atelier de Friedrich Fechter
| | |
| --- | --- |
| Aujourd'hui rouge, demain mort. | Heut rodt morn dodt |
Ces médailles semblent avoir servi de cadeau lors de funérailles. Il en existe plusieurs modèles. Celles qui ont un crâne au revers portent côté face soit le basilic avec les armes de Bâle, soit une vue de la ville ([3], p 92).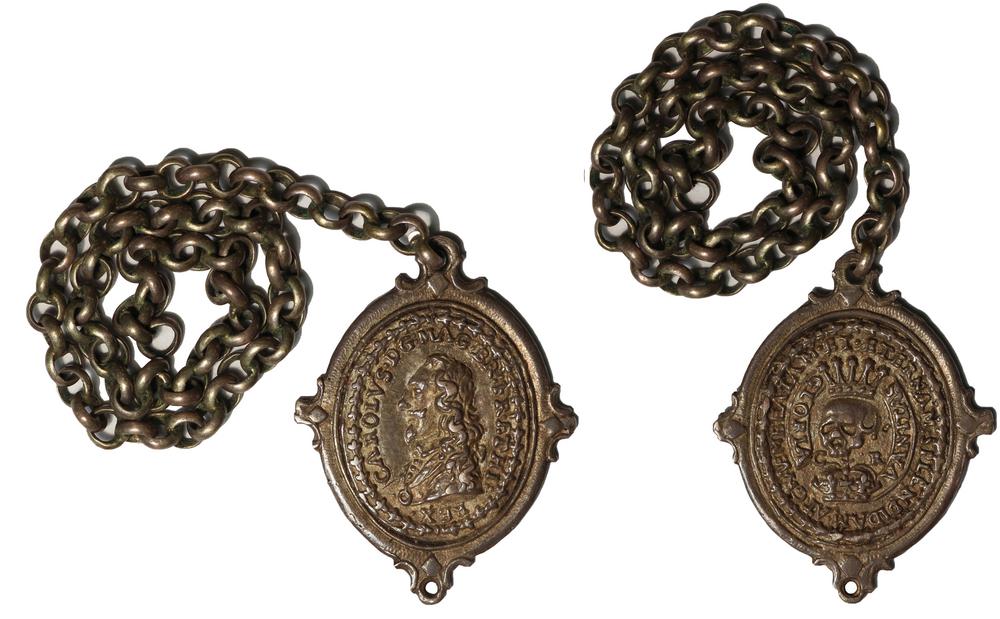 Médaille de Charles I, 1649, Bristish Museum
Frappée après la décapitation de Charles I
| | |
| --- | --- |
| Charles par la Grâce de Dieu Roi de Grande Bretagne, France et Irlande | <J'ai reçu une couronne> bénie et éternelle <J'en ai laissé une > splendide mais lourde. |
| CAROLVS . D : G : MAG : BR : FR : ET . HI : REX. | BEATAM . ET . ETERNAM . SPLENDIDAM . AT . GRAVEM |
Côté pile, le crâne est désigné par les initiales C et R (Carolus Rex) et les mots GLORIA et VANITAS. L'inscription est inspirée des derniers mots du roi : « I go from a corruptible to an uncorruptible crown, where no disturbance can be. »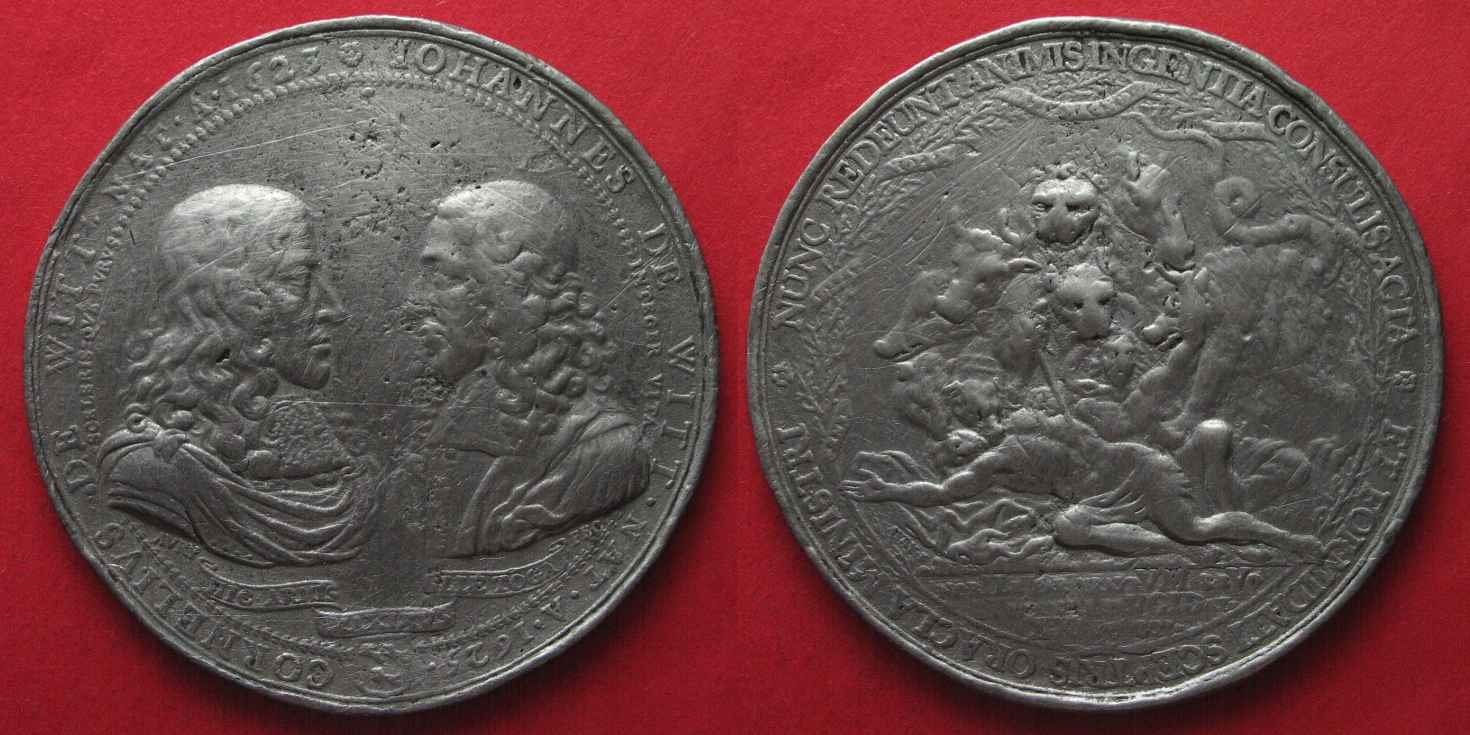 1672, Exécution de Cornelius et Johann de Witt,, Collection privée
1672, Exécution de Cornelius et Johann de Witt, Frick Collection
Il existe plusieurs modèles : le côté pile représente l'exécution de manière métaphorique (la populace représentée par des lions) ou bien réelle.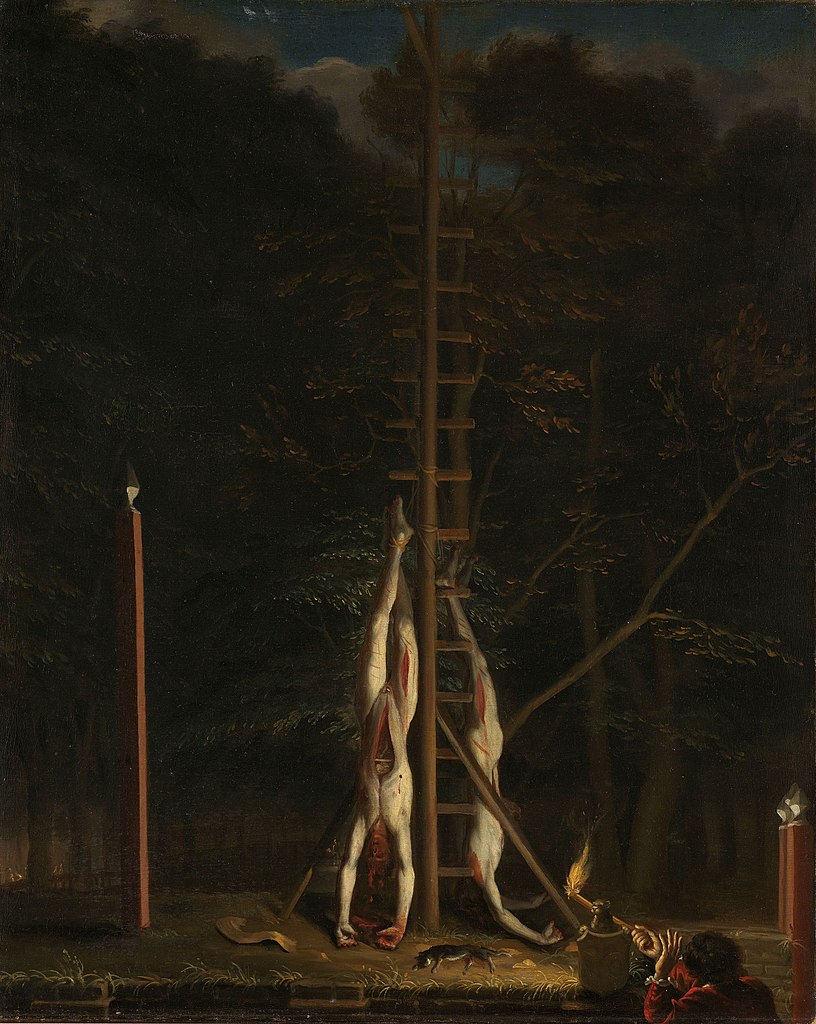 Les cadavres des frères de Witt
Jan de Baen, 1648, Rijksmuseum
 Médaille pour le décès de Charles II d'Angleterre le 6 février 1684
Pile : 
A la froide tombe, tous doivent venir

To the cold tomb all heads must come

James Shirley, The contention of Ajax and Ulysses, 1659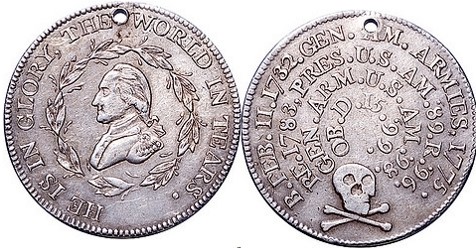 Médaille pour les funérailles de George Washington, 1799
Crânes honorifiques

Certains hommes particuliers méritent comme emblème un crâne ou un squelette.
Médaille ou jeton maçonnique allemande, 1682
Médaille d'appartenance à la Loge de la Parfaite Egalité, Rouen, 1795
Côté pile, les squelettes entre les dex colonnes sont le Roi David (avec sa houlette de berger) et le Roi Salomon (avec son sceptre).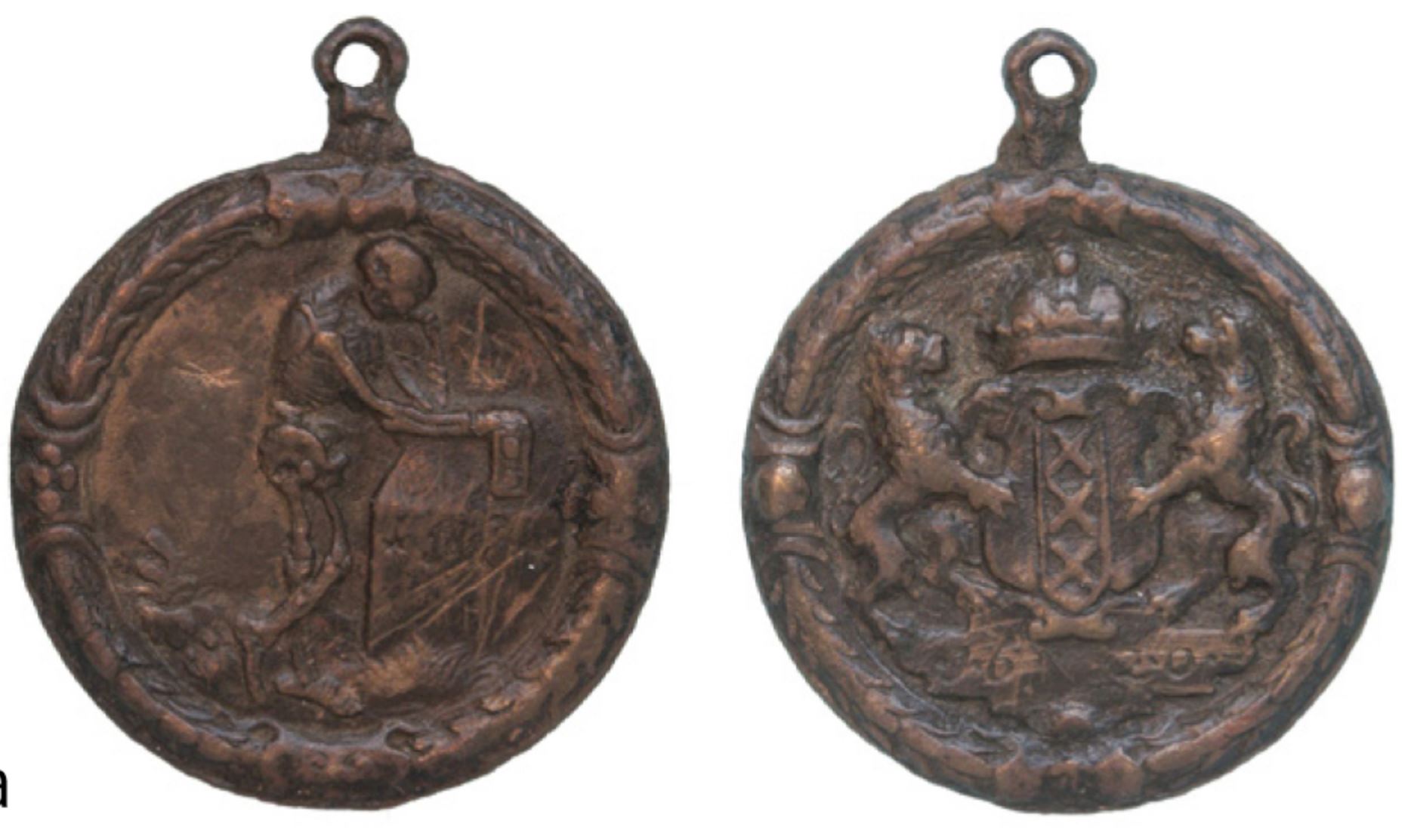 Jeton de présence de 1620 de la Guilde des Chirurgiens d'Amsterdam, collection particulière
Entre 1620 environ et la fin du XVIIIe siècle, les chirurgiens travaillant à Amsterdam recevaient après avoir réussi leurs examens, un jeton de présence leur donnant droit de participer aux réunions de la Guilde. [4]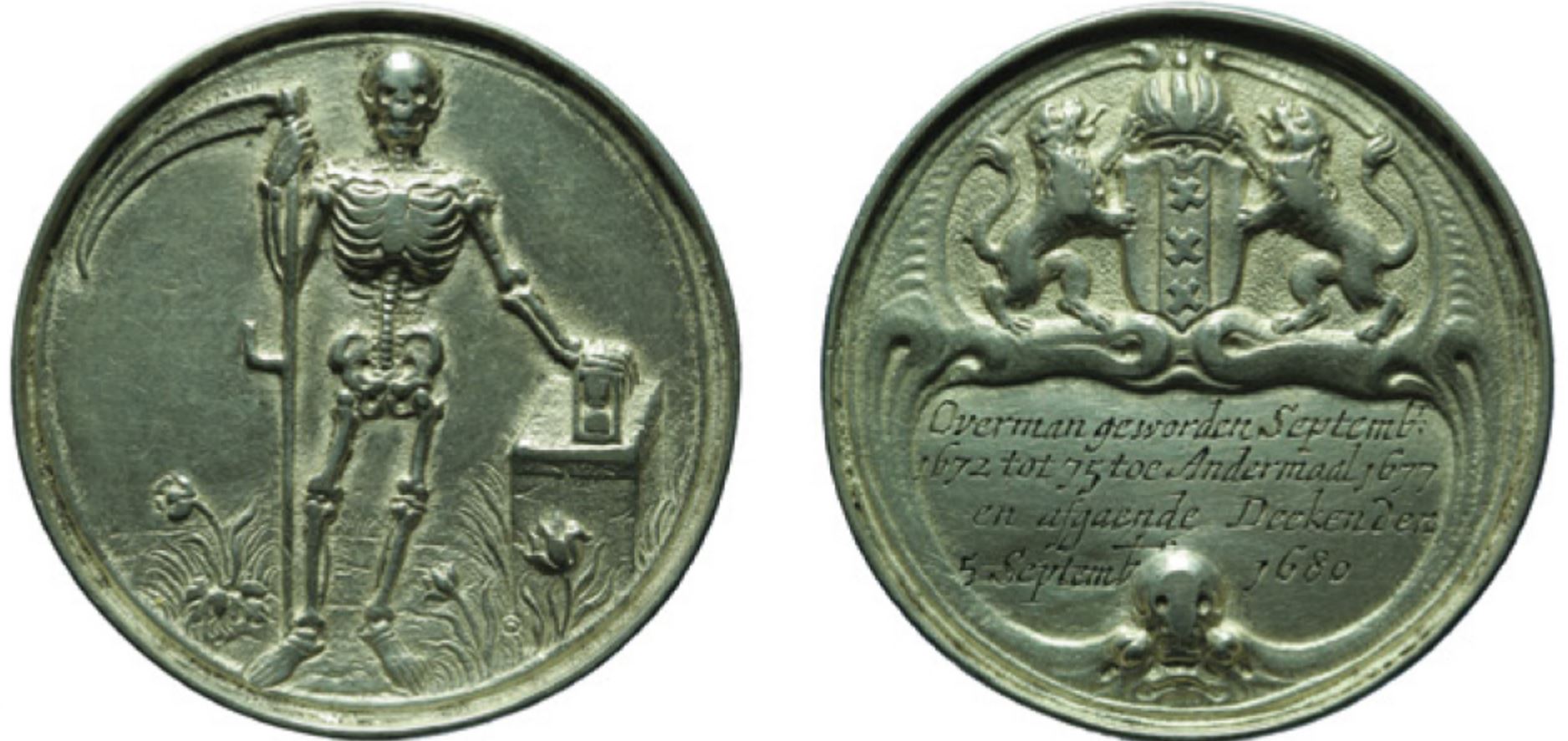 Jeton de présence de Isaac Hartmann
« devenu maître de septembre 1672 a 75. Encore en 1677, jusqu'à la fin le 5 septembre 1680 ».
Jeton de 1684 donnant accès au Jardin Botanique d'Amstardam (hortus medicus)
Gravé au nom d'Andreas Bonn, professeur d'anatomie et chirurgie, 1771, Rijksmuseum
À partir de 1684, ils recevaient également le jeton d'accès à l'Hortus Medicus.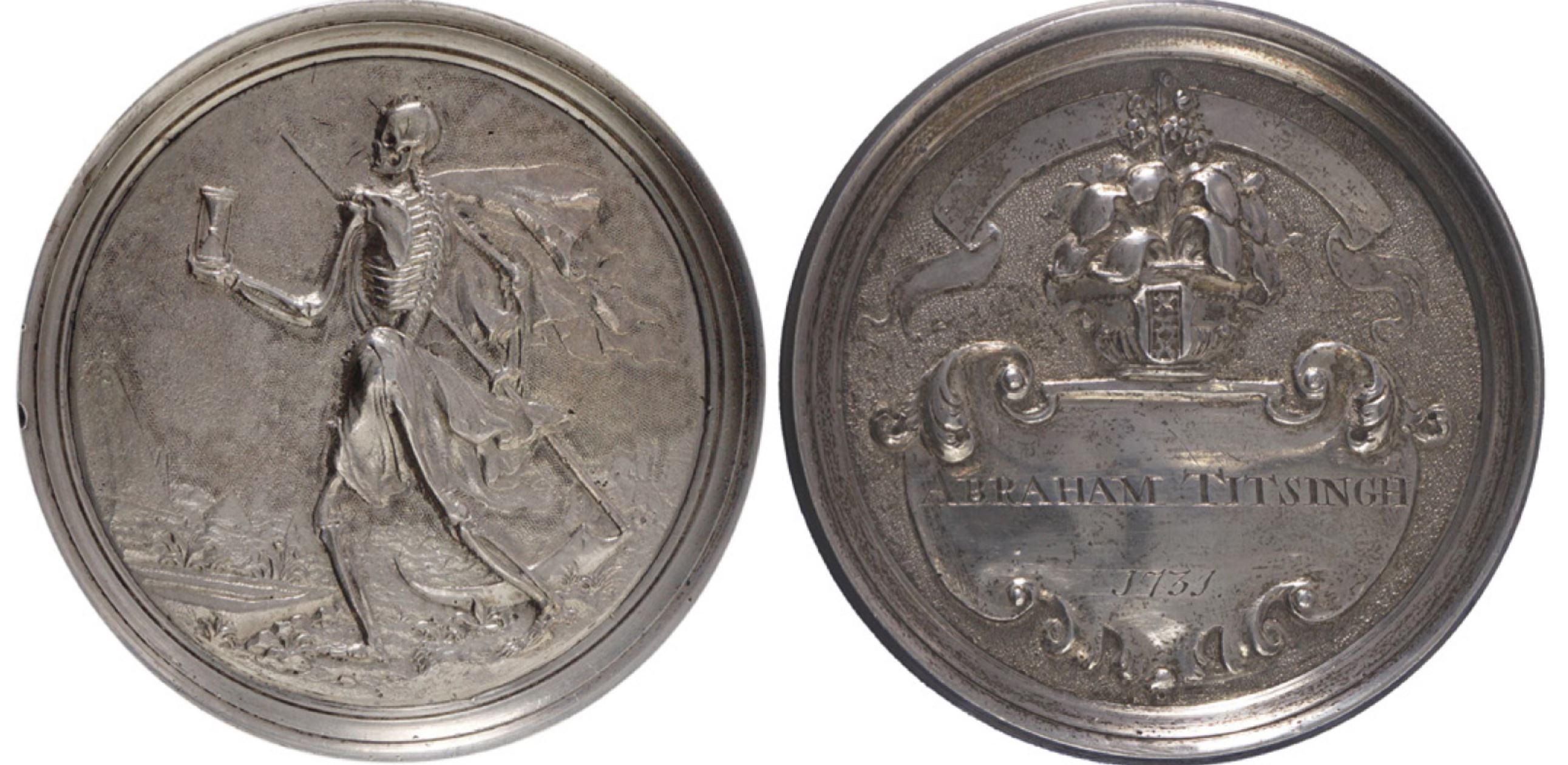 Médaille honorifique en l'honneur d'Abraham Titsingh, 1731
L'année 1731 est celle de sa nomination comme maître de la guilde, après avoir dénoncé et révoqué le précédent conseil, coupable de manoeuves frauduleuses.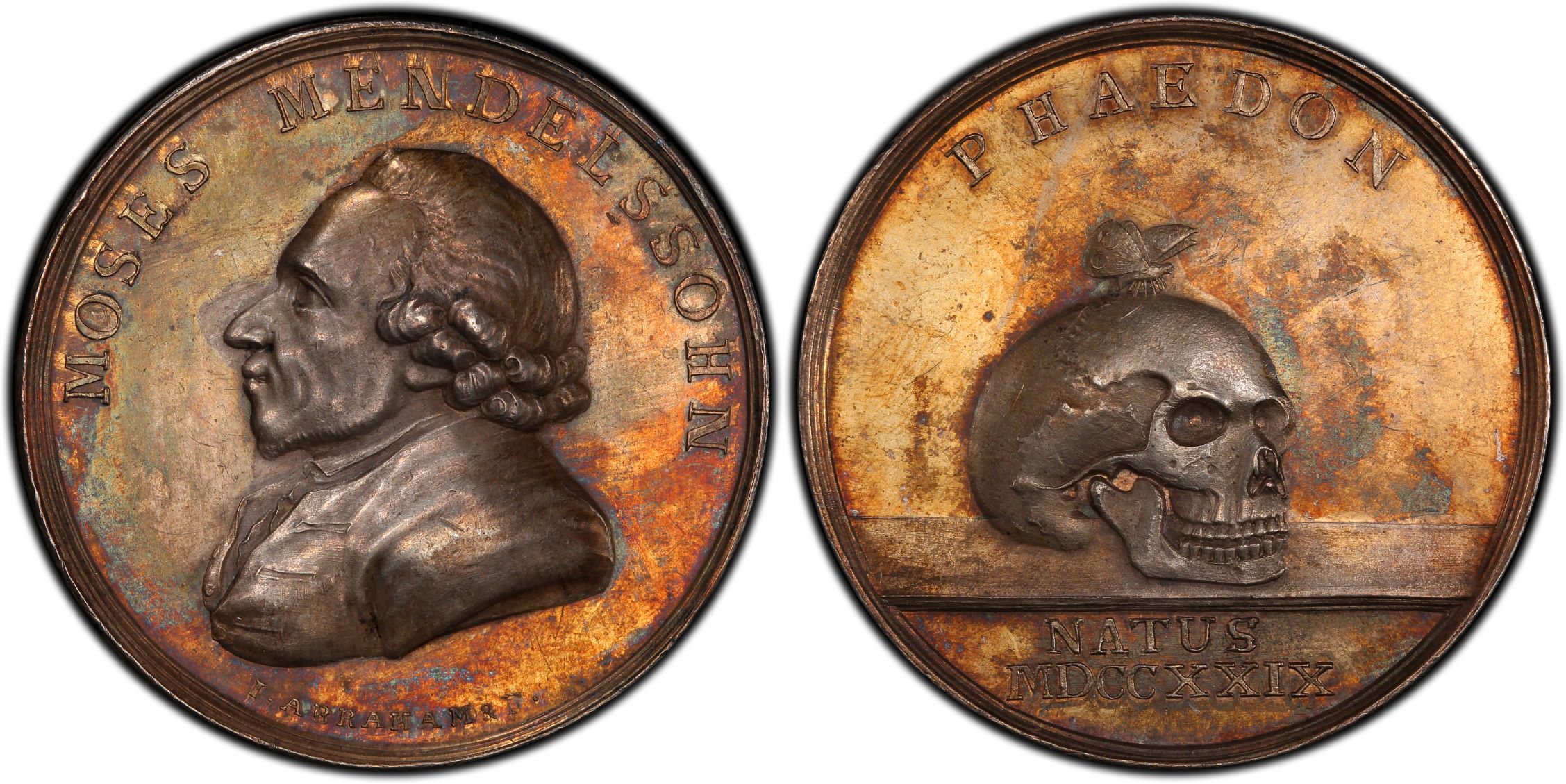 Médaille en l'honneur de Moïse Mendelssohn (natus 1729), 1774
Le crâne côté pile illustre une des oeuvres les plus célèbres du «Socrate allemand», « Phédon ou entretiens sur l'immortalité de l'âme » (1767). Il ne mourra qu'en 1786.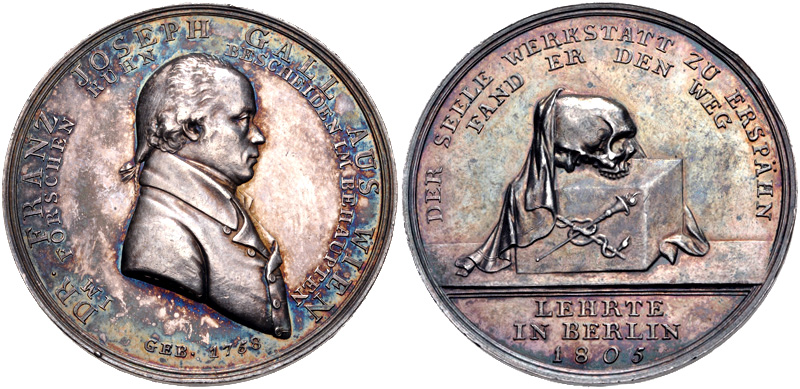 Médaille en l'honneur de Franz Joseph Gall, par Loos, Berlin, 1805.
Gall est le fondateur de la phrénologie, discipline qui prétendait déceler les facultés et les penchants des hommes par la palpation des reliefs du crâne.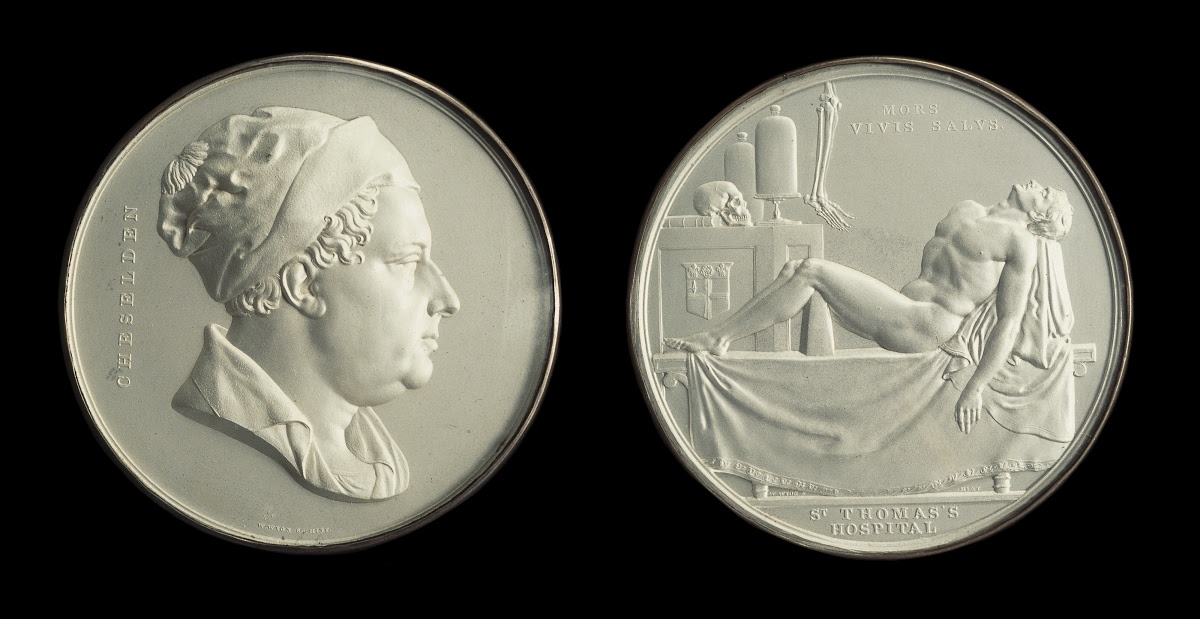 Médaille de St. Thomas's Hospital, en l'honneur du chirurgien Cheselden,
par William Wyon, 1829
La devise :
| | |
| --- | --- |
| La Mort salut les vivants | MORS VIVIS SALUS |
est illustrée par le crâne et la jambe d'un squelette, au dessus d'un cadavre qui vient d'être posé sur une table de dissection.




Les Hobos nickel [5]
Une autre manière de faire apparaître le crâne est, sans retourner la pièce, de le faire surgir du côté face : l'art du détournement de pièces s'est surtout développé en Angeterre et aux Etats-Unis, en plusieurs phases.
1851 Half cent
1878 One Dollar Morgan
Une des premières figures couramment détournée est celle de la Liberté : le crâne n'est pas la seule possibilité, mais une des plus courantes.
Victoria crown 1893 (un quart de livre, argent)
En Angleterre, la dérision macabre s'attaque à la reine Victoria elle-même.
1913, Buffalo Nickel (Five cents)
1927, Buffalo Nickel hobo
Emis aux USA partir de 1913, le « buffalo nickel » se prêtait particulièrement aux détournements. L'origine du terme « hobo nickel » vient peut être du port d'Hobonek, par lequel ont transité trois millions de soldats durant la Première Guerre Mondiale, qui passaient leur temps comme ils pouvaient. Une autre explication est que ces pièces de peu de valeur étaient retravaillées et échangées par les clochards (hobos) [6]. Même si elle avait commencé auparavant, la popularité des crânes « buffalo » date de l'époque de la Grande Dépression.
1948, Jefferson Five Cents
Le Jefferson nickel, qui a remplacé le Buffalo Nickel à partir se 1938, s'est révélé tout aussi propice.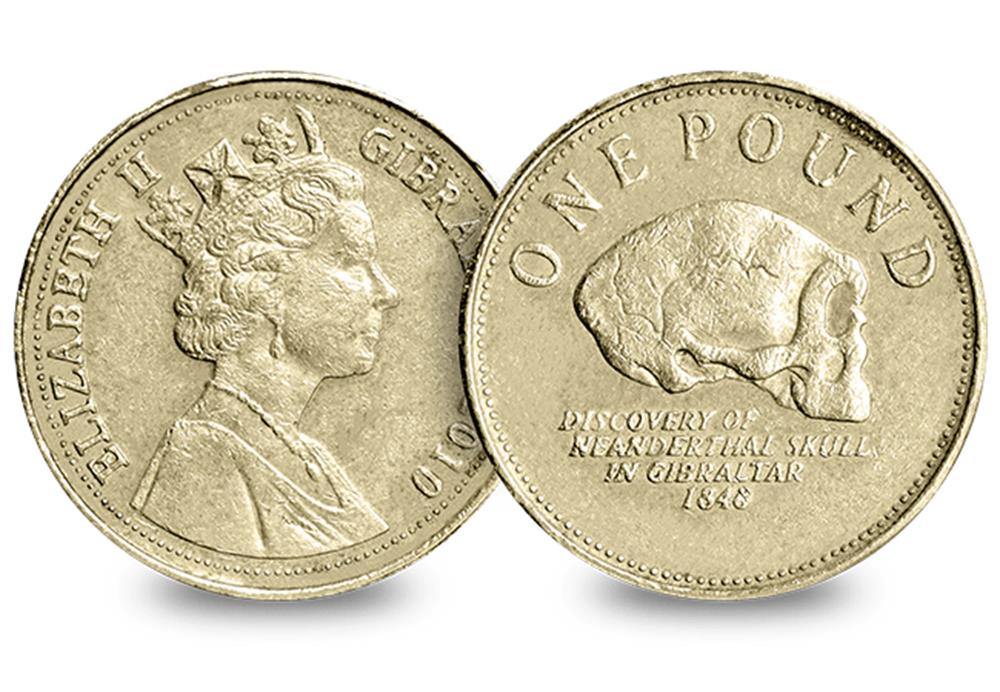 One Pound avec le crâne de l'homme de Néanderthal, Gibraltar, 2010
Détournement officiel (et involontaire) du profil de la reine Elisabeth.