L'influence du cinéma sur la pub compte  d'innombrables aspects. On se limite ici aux formules dans lesquels le format double-page joue un rôle privilégié :

le mouvement décomposé ;
l'arrêt sur image ;
la profondeur de champ ;
un cas particulier : la profondeur de champ et le couple ;
les jeux avec l'ombre

1 Le mouvement décomposé

1.1 Images en séquence

| Bière George Killian's, 1991 | Louis Vuitton, 1996 |
| --- | --- |
Un effet de zoom, en deux clics…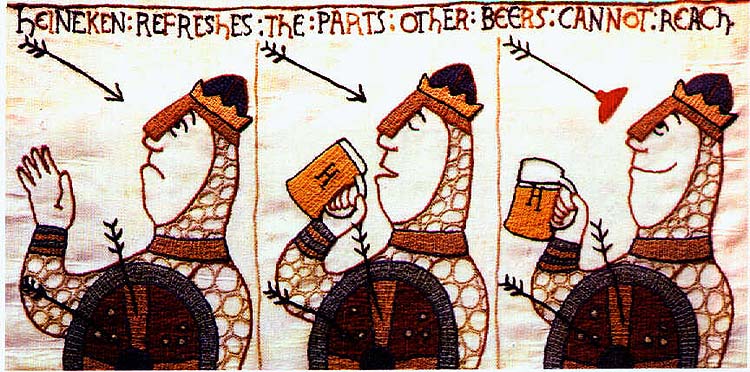 Heineken rafraîchit les parties que les autres bières ne peuvent pas atteindre, 1988
Un effet BD en trois images.
Cette histoire idiote invite à découvrir le slogan : « un tissu sur lequel vous pouvez vous appuyer ».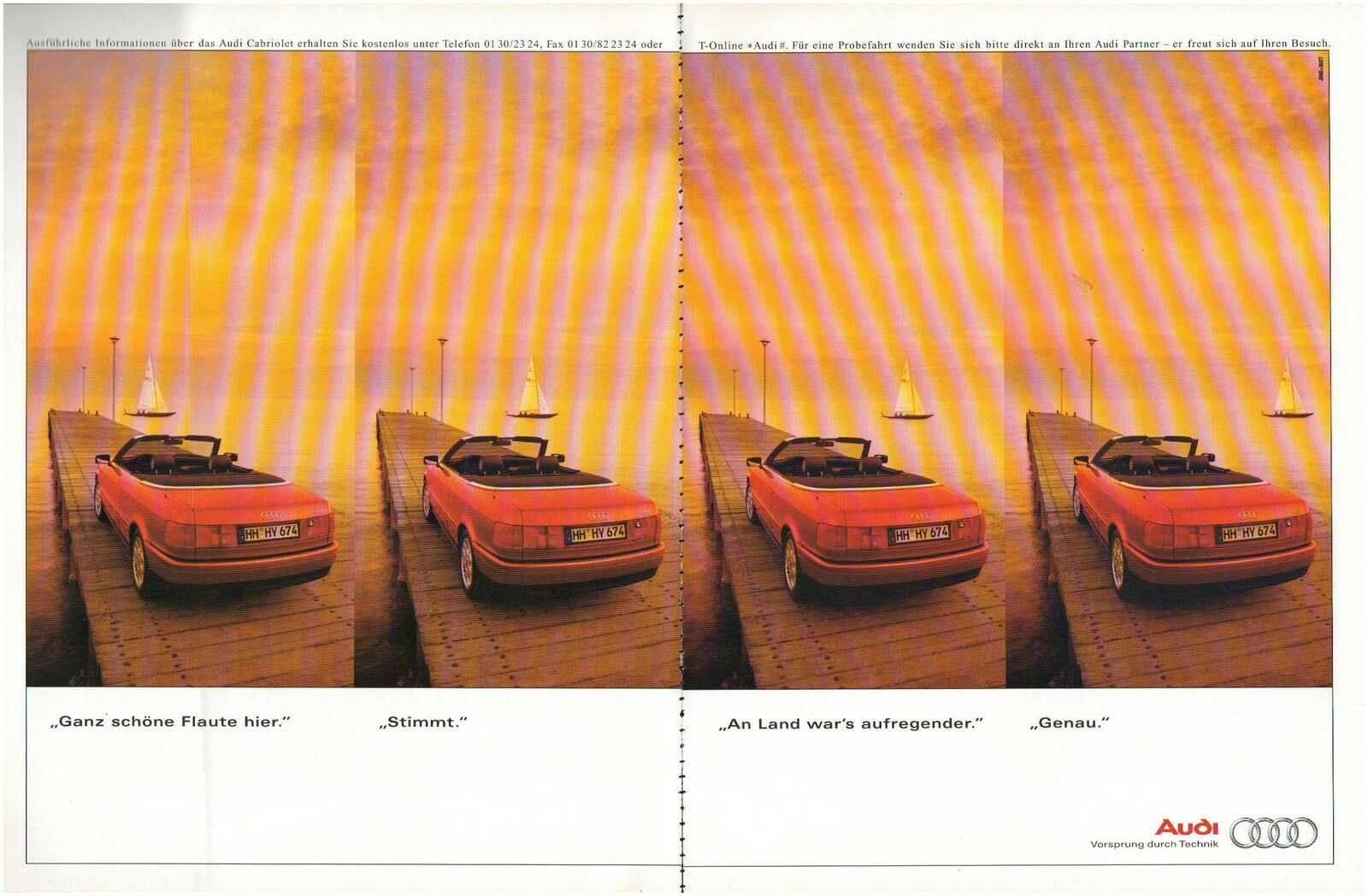 Audi, 1996
Une séquence en quatre images, qui illustre le regret des deux passagers sur le voilier sans vent :
– Plutôt le calme plat, ici…
– C'est vrai
– Sur terre c'était plus excitant
– Exactement
| Chambourcy, le yogourt au goût bulgare, 1964 | Gervais, crème fraiche en coque, 1968 |
| --- | --- |
La gourmandise rationalisée
1.2 Images en superposition

Sorte de chronophotographie compactée, cet effet apporte au message une caution rationnelle.

| IBM Quiktran 2, 1967 | Affiche SNCF |
| --- | --- |
Promotion de l'employé multi-tâche…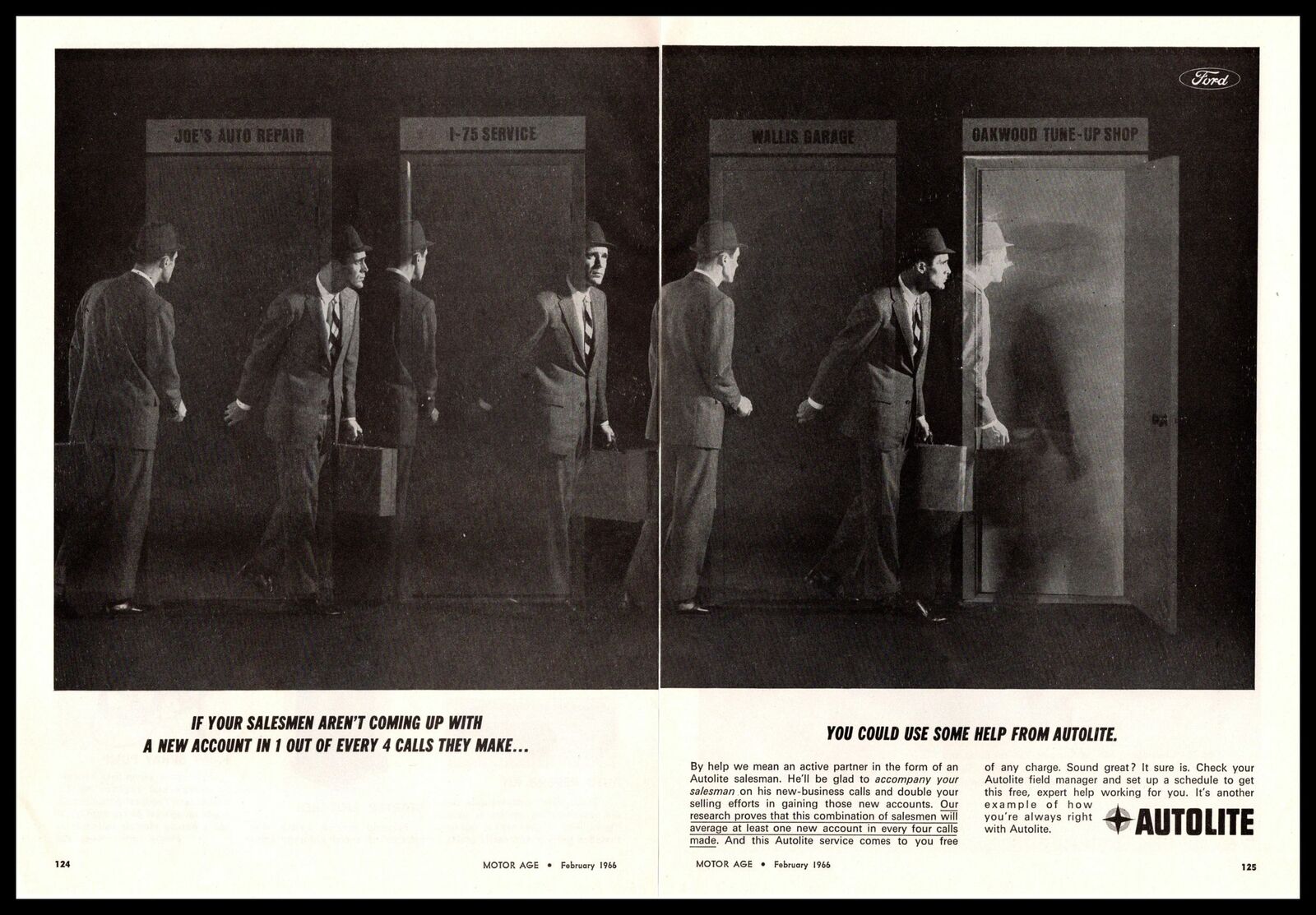 Ford Motors Autolite, 1966
…ou du représentant de commerce méritant : la quatrième porte, ouverte, indique que, grâce au Autolite, il a atteint son objectif : un contact réussi sur quatre.


| Levi Strauss Stretch Comfort, 1963 | Ferrodo, Le Ventoux enfer des freins, 1968 |
| --- | --- |
Autre domaine privilégié pour cet effet : le sport.
Gardez de la place pour le plaisir, BMW série 3 Touring, 2005
Conduire prolonge le plaisir que du vélo ou du ski, en plus intense.
| Skate Rick McCrank 2009 |  Elections présidentielles 2012 |
| --- | --- |
La formule n'intéresse plus désormais que quelques publicités  de niche particulièrement acrobatiques.

1.3 Le mouvement suggéré

| 1995 | 1998 |
| --- | --- |
Guy Laroche
Imitation du stroboscope dans une boîte de nuit…
| Chaussures Bally, photographie Guespin, 1968 | L'Oréal, laque Elnett Satin, 1968 |
| --- | --- |
…ou du flou d'une photo ratée.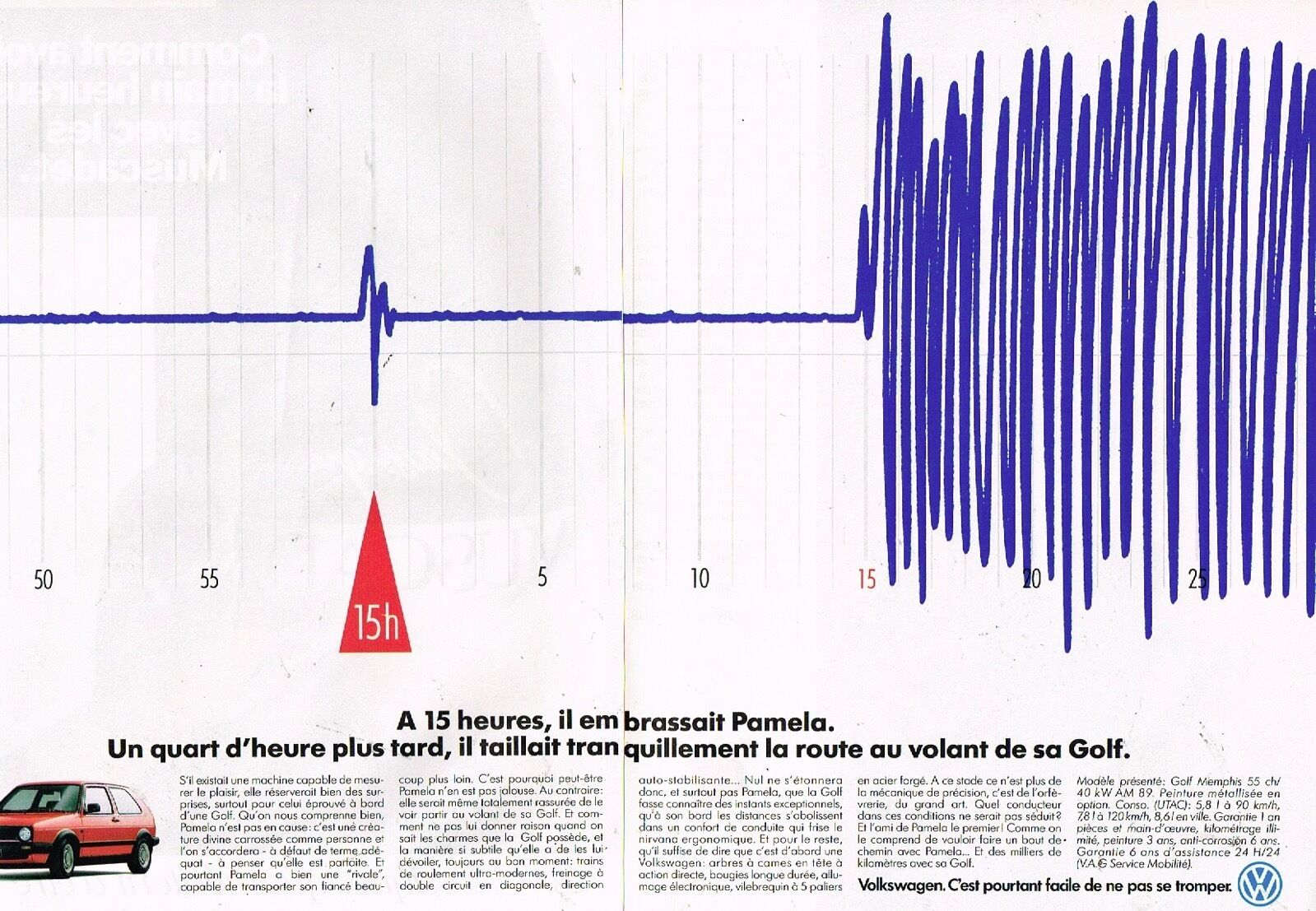 Volkswagen Golf, 1989
Un électrocardiogramme qui s'affole.
Il manquait encore une oeuvre décisive à la musique contemporaine, Volkswagen Golf GTI à compresseur, 1990
L'année suivante, Volkswagen reprend l'idée du tracé révélateur : la montée en puissance du compresseur est transcrite par un crescendo et une montée dans l'aigu.
| Eau fraîche | Eau tendre |
| --- | --- |
Parfum Chanel Chance, 2007
Cette eau de toilette pour jeune fille a malencontreusement déclenché deux éjections paraboliques…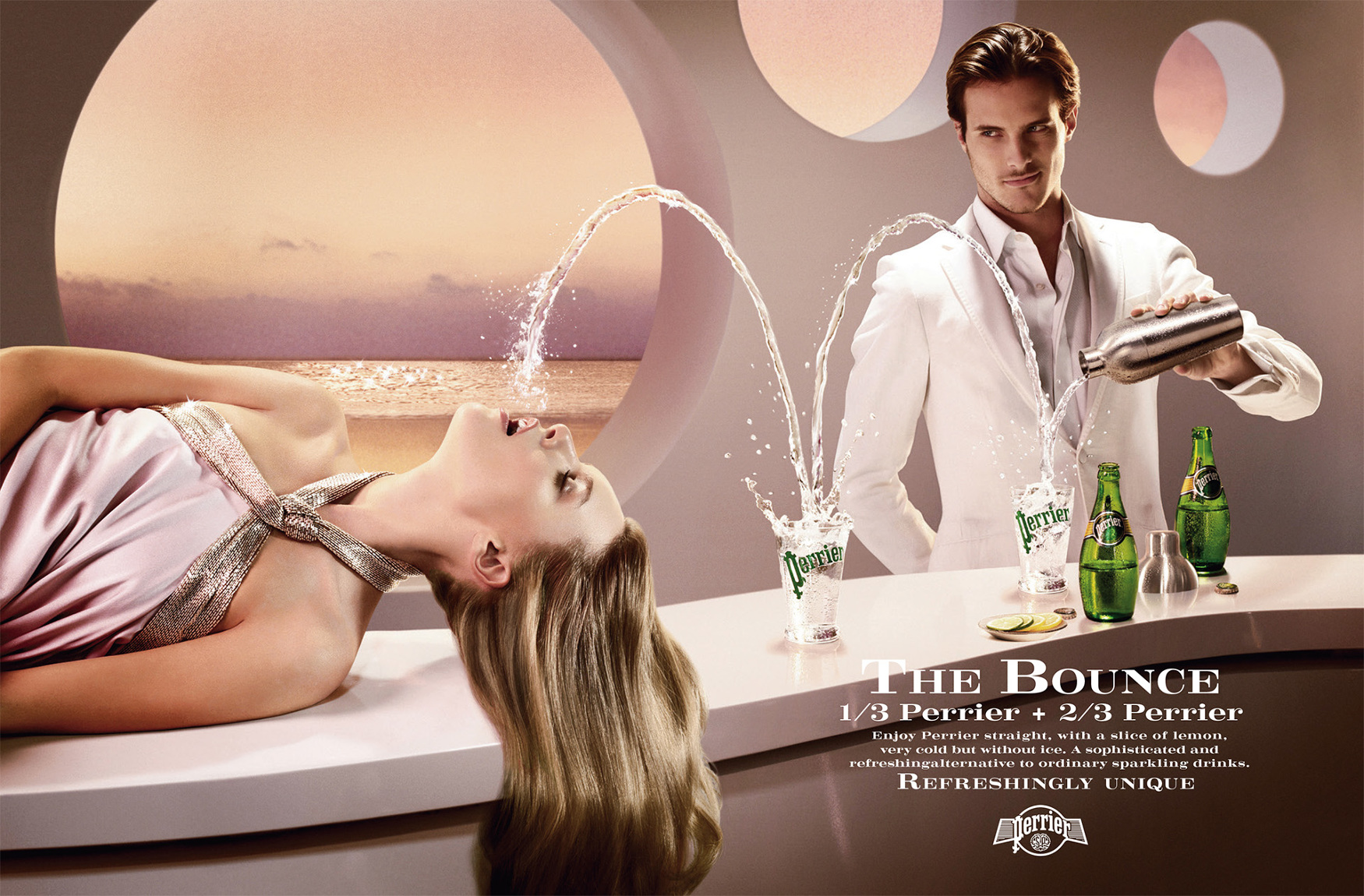 Perrier, cocktail Bounce, 2011
Plus contrôlée chez Perrier, celle-ci se produit en ricochet, dont les hublots rythment la progression : deux célestes pour les rebonds (bounce) , un maritime pour la cible.

1.4 Un cas particulier : décomposition de la femme

Bas Kayser, vers 1950
Pour présenter plusieurs variantes, certains produits féminins se prêtent bien à la stratégie « chorus girls » (gestes simultanés de plusieurs modèles) ou « rafale » (gestes successifs d'un même modèle).
| Maidenform, 1969 | Norlyn, 1972, museumhosiery.com |
| --- | --- |
A l'étroit en monopage, ces pseudo-rafales vont se déployer plus facilement en double-page.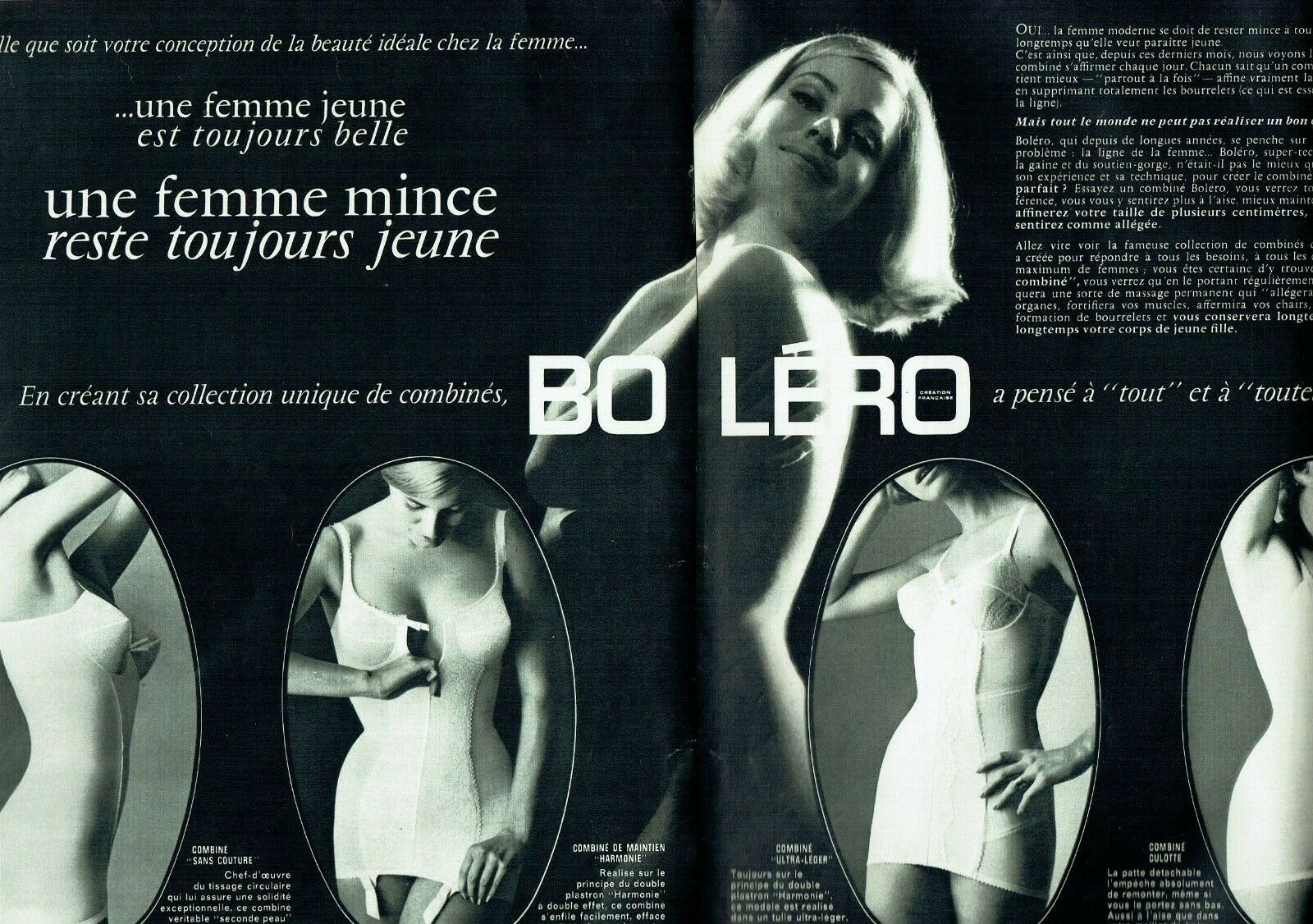 Combiné-gaine Boléro, 1965
En disposant sous l'image centrale de la femme nue quatre médaillons d'une femme en gaine, l'image fait croire à un déshabillage en en quatre étapes.
| Rosy, 1965 | Lingerie Aubade 1984 |
| --- | --- |
Un vrai striptease cette fois, en solo ou en couple.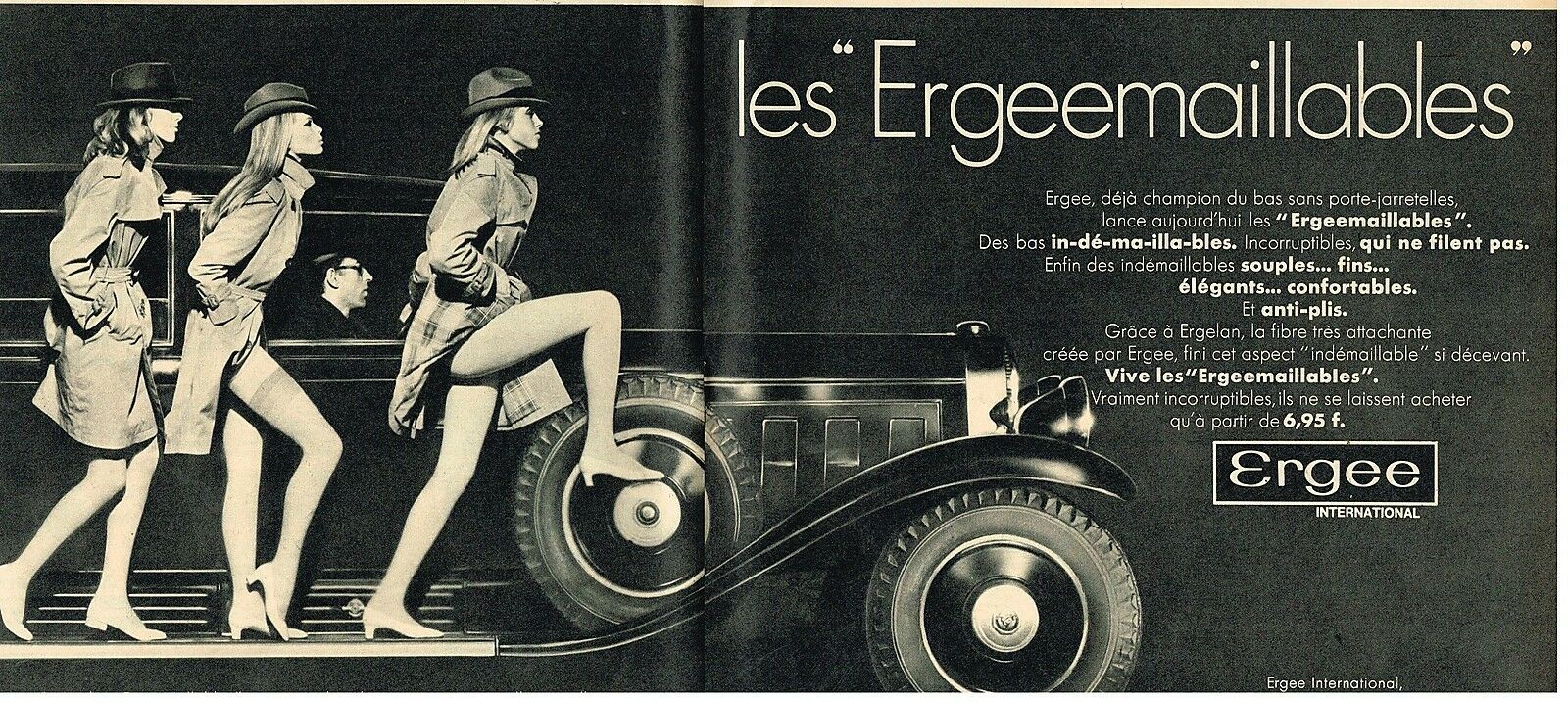 Les Ergeemaillables, Ergee, 1967
Incorruptible mais aguichante.
| Tendrelle, 1968, museumhosiery | Beauty Mist, 1972 |
| --- | --- |
La bonne tenue des bas démontrée par la pellicule, la pression bénéfique du collant démontrée par la superposition.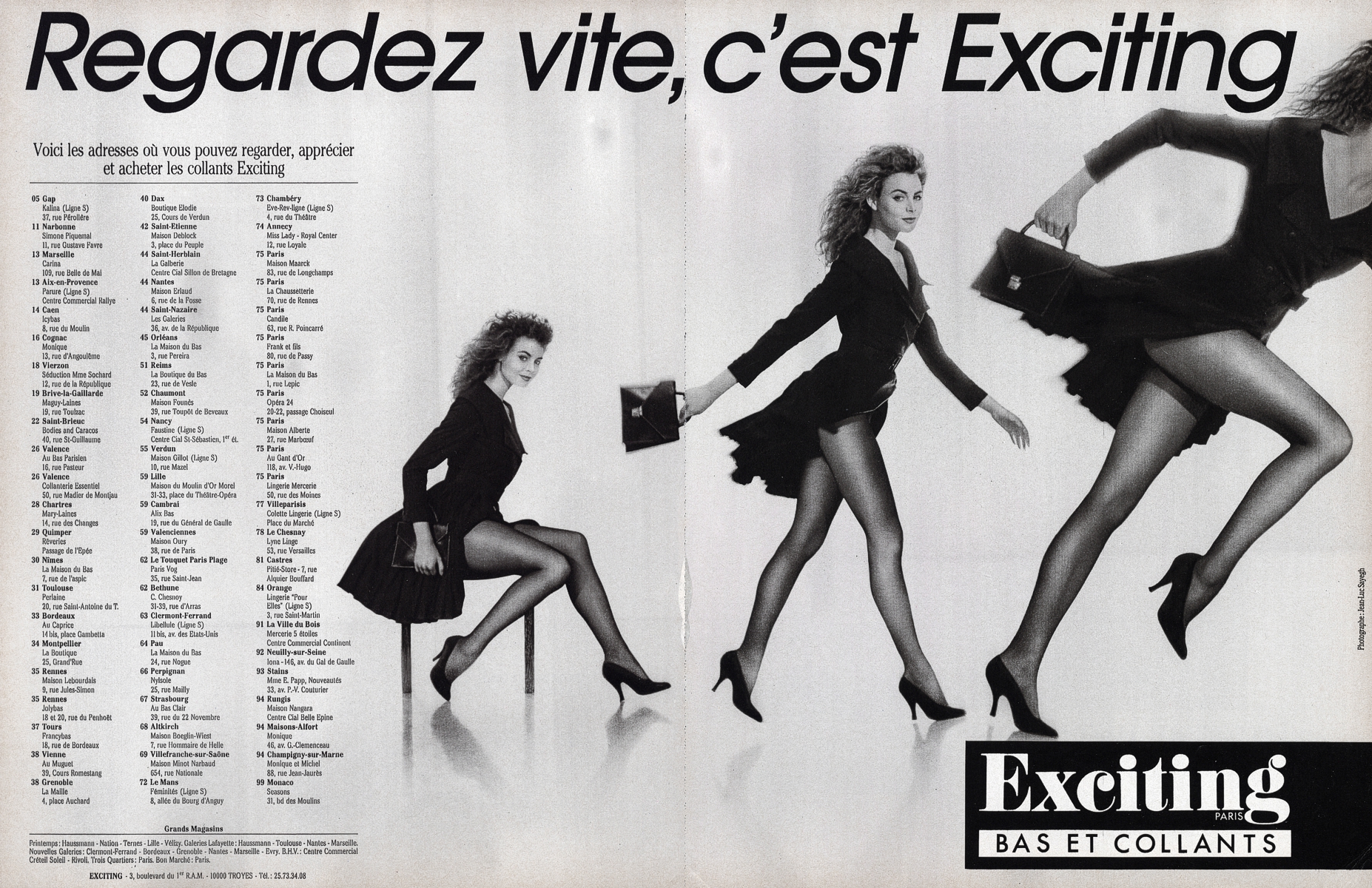 Collants Exciting, 1988, museumhosiery.co
La multiplication des points de vente, illustrés par le bond et par la croissance.

2 L'arrêt sur image

Par son amplitude dans le sens de la lecture, le format paysage se prête particulièrement aux compositions qui, telles un arrêt sur image judicieux, résument toute une action.

Scènes de poursuite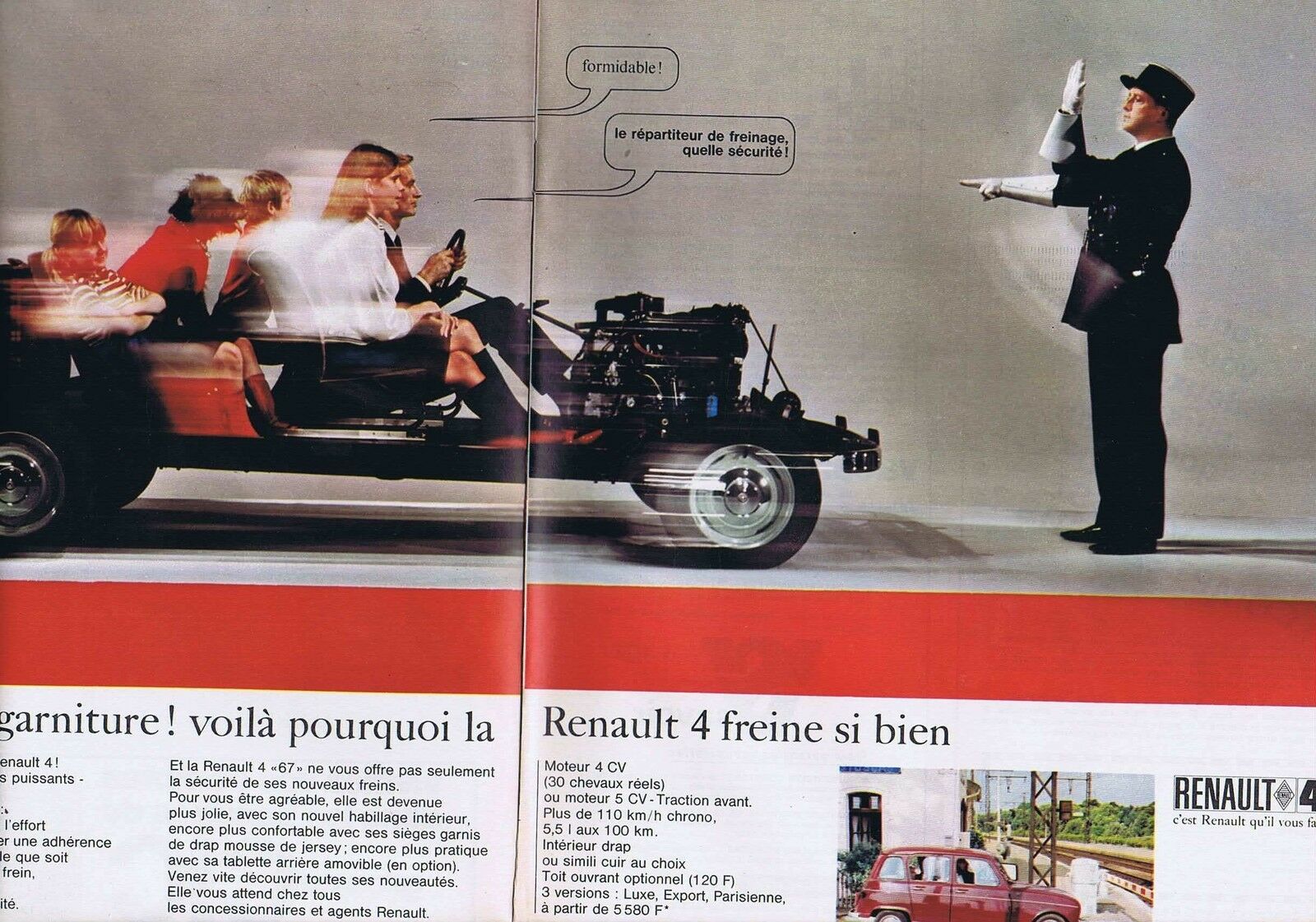 La Renault 4 freine si bien, 1967
Arrêt impeccable…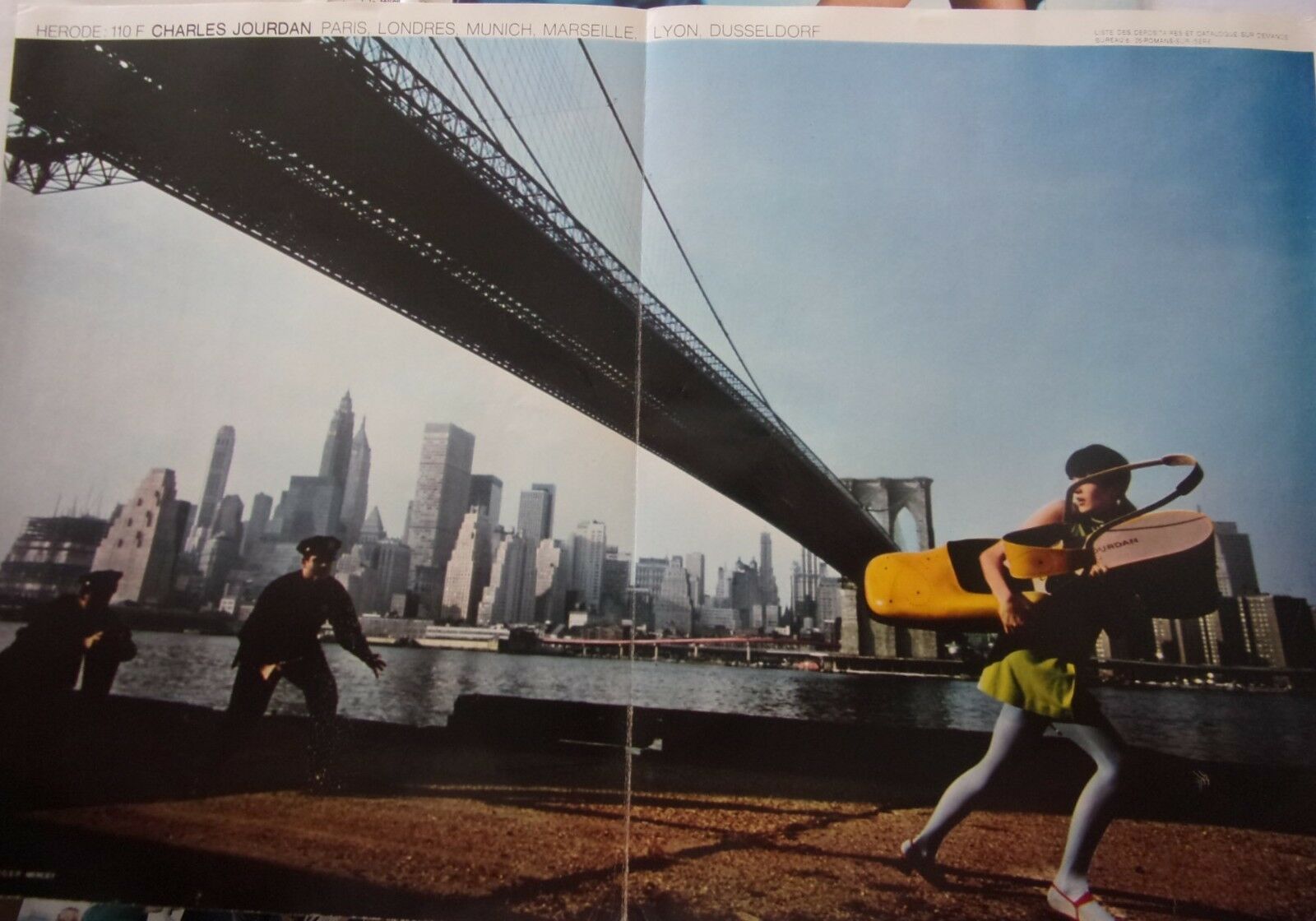 Charles Jourdan, 1968
...arrestation manquée : en contrariant la poursuite, le tablier du pont laisse entendre que la consommatrice compulsive s'est déjà, d'une certaine manière, échappée sur l'autre rive.
| Whisky Grant's,1988 | BMW 530d, 2002 |
| --- | --- |
Descente périlleuse ou saut spectaculaire vers la cible.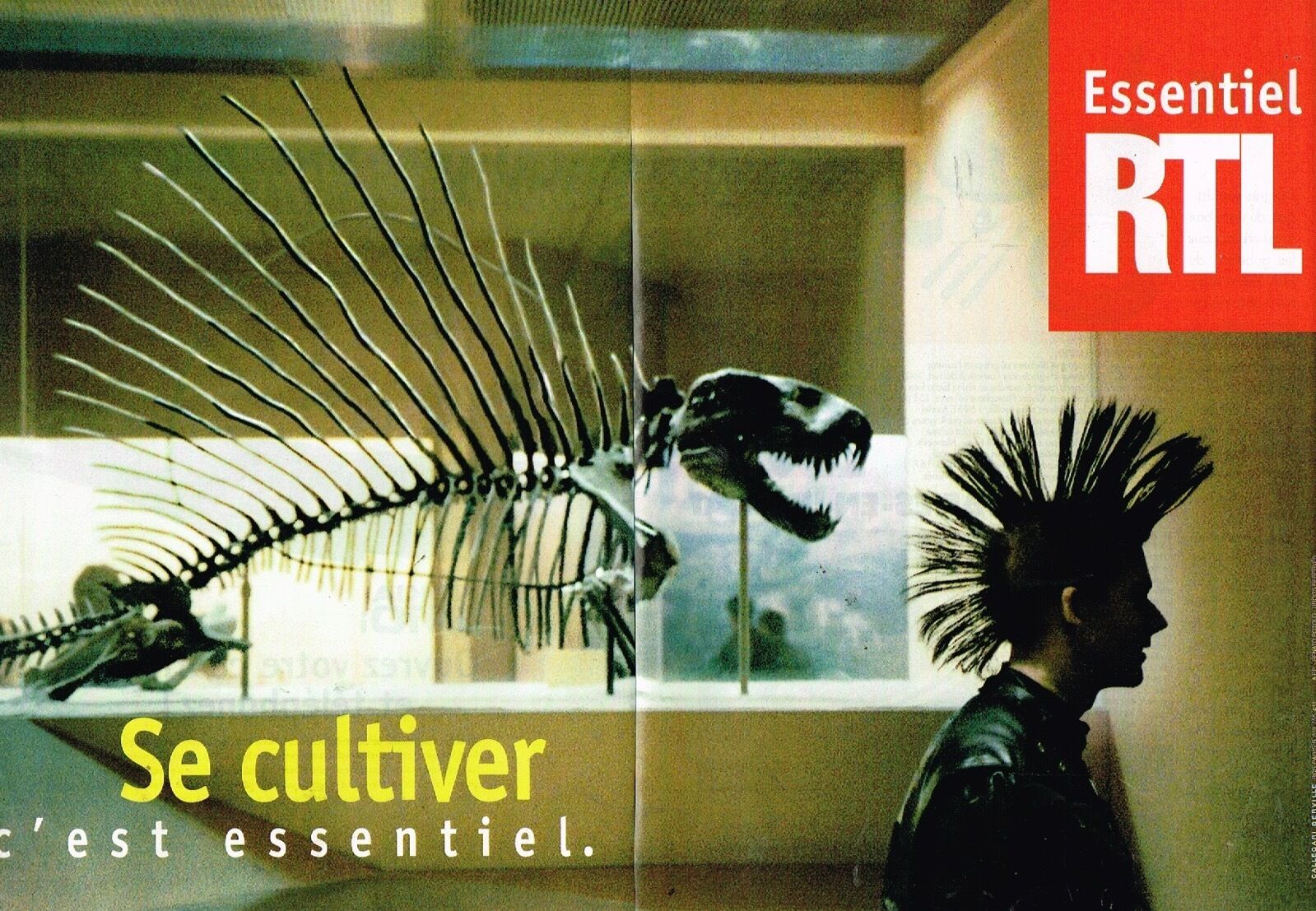 RTL, 1997
Dans ce mouvement panoramique malicieux, le punk échappe à cet alter ego monstrueux qui le poursuit.
Scènes de catastrophe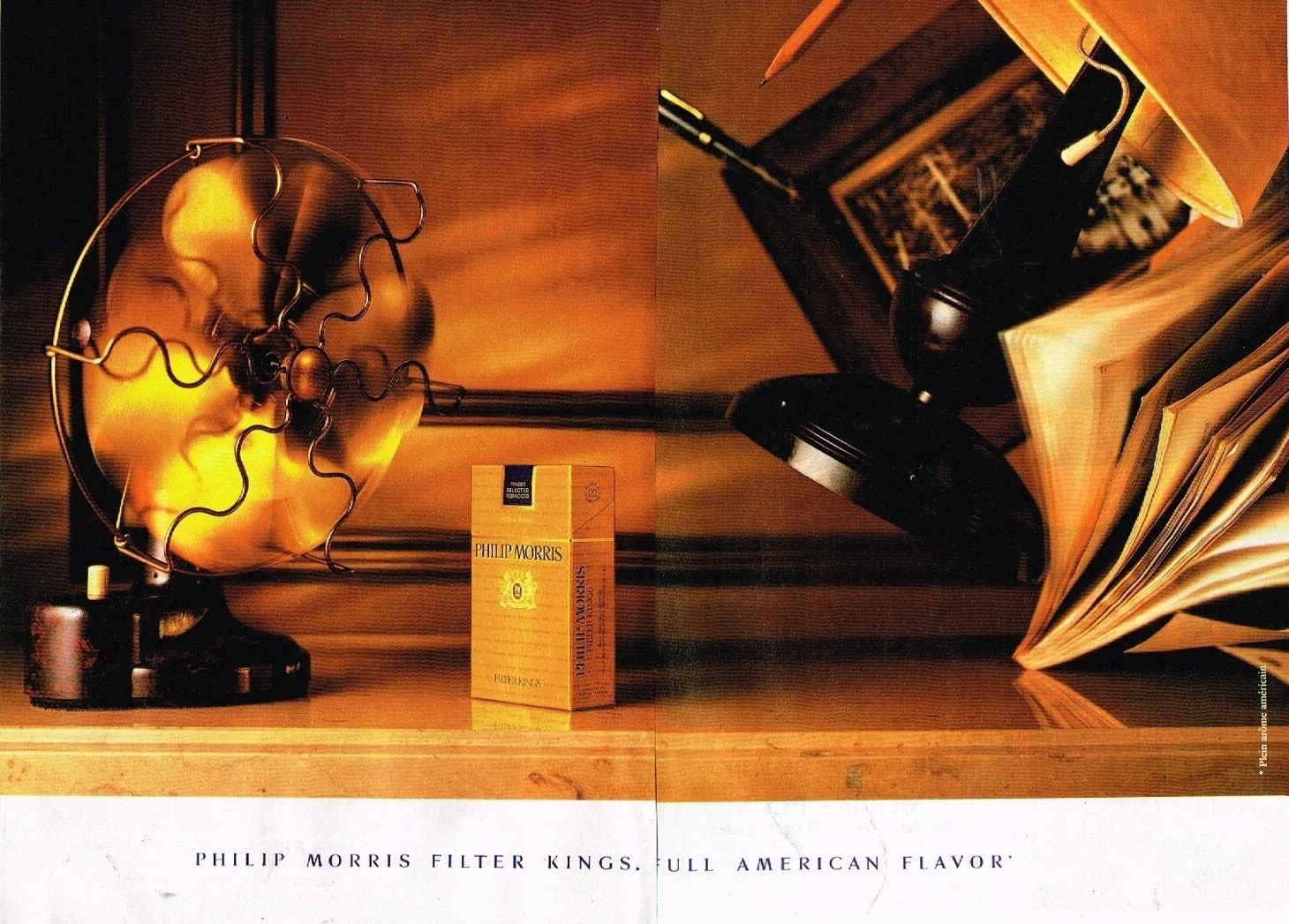 Cigarettes Philip Morris version US, 1991
Dans sa version américaine, l'image assimile l'effet de la « full american flavor » à celui d'un ventilateur surpuissant.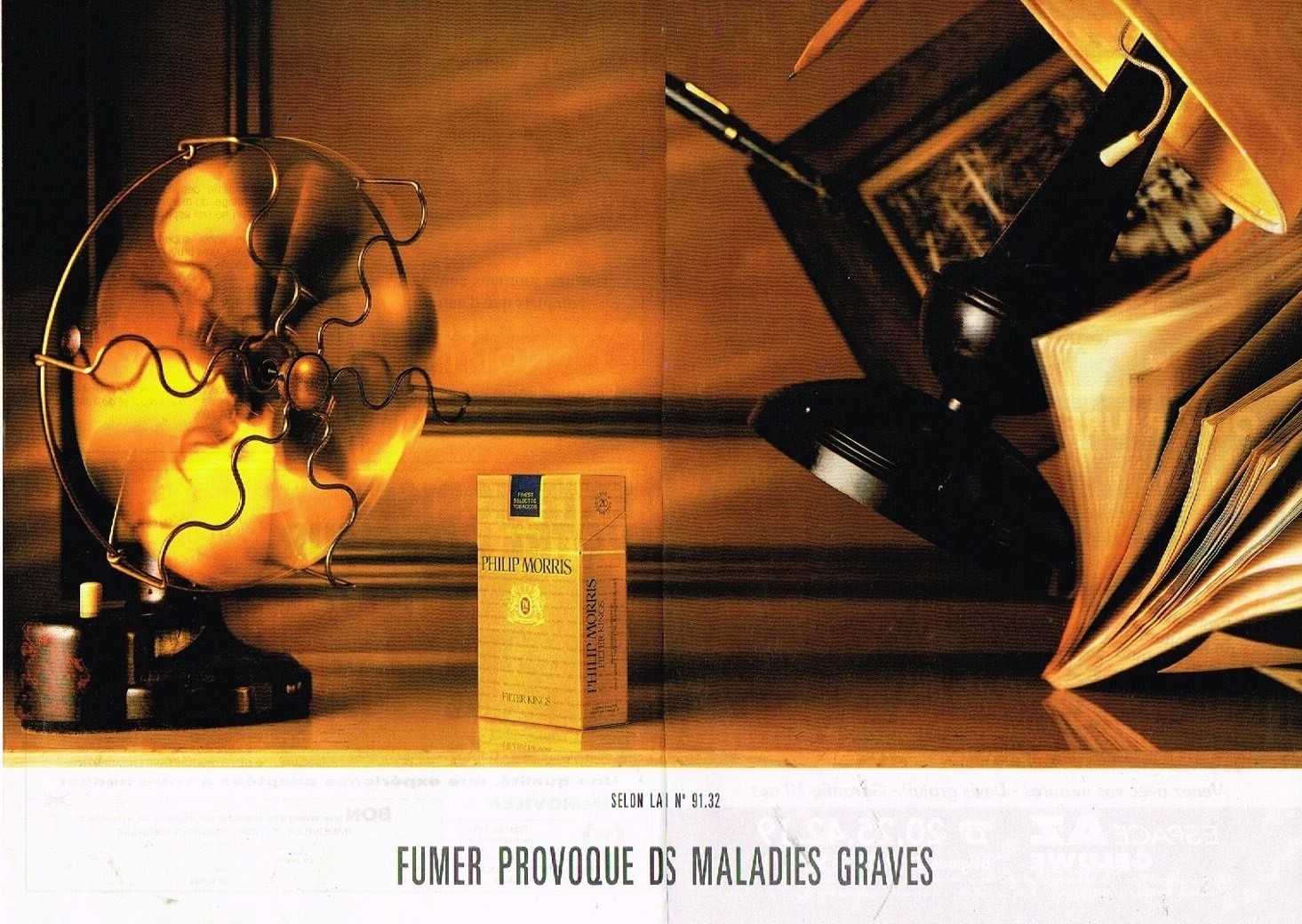 Cigarettes Philip Morris, 1991
Dans sa version française, la même image sert un propos ouvertement frondeur. Contrairement à ce que prétend la loi, le paquet de cigarette ne provoque pas de désordre grave : la preuve, il lui résiste. Le ventilateur devient ainsi la métaphore de la maladie, ou même de cette loi malvenue qui bouleverse la marche habituelle des affaires.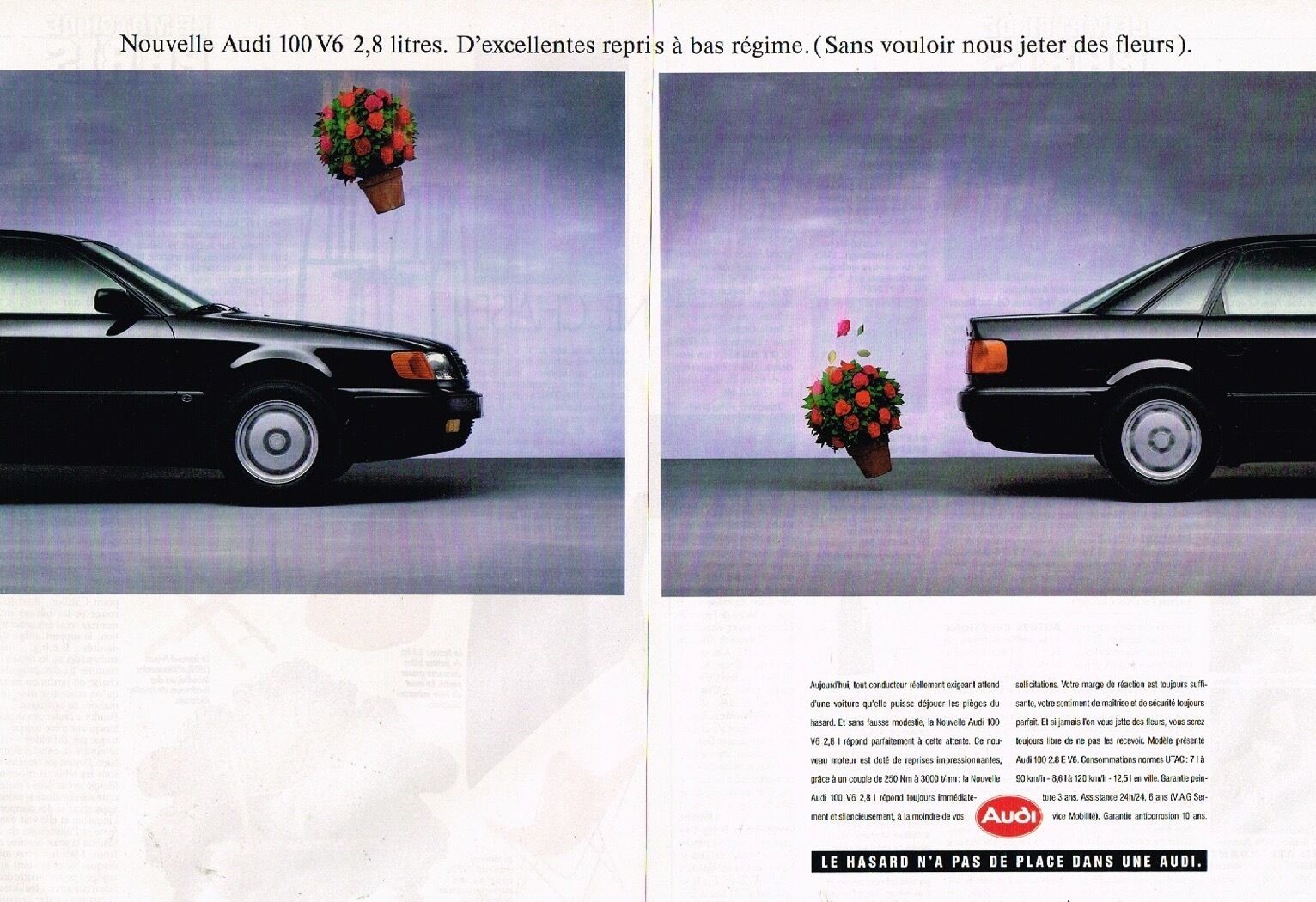 1991, Audi 100 V6 2,8
L'accident auquel vous avez échappé (mise en scène minimaliste)
2007, Mercedes Benz Système Pro-Safe A2
L'accident auquel vous avez échappé (mise en scène à grand spectacle)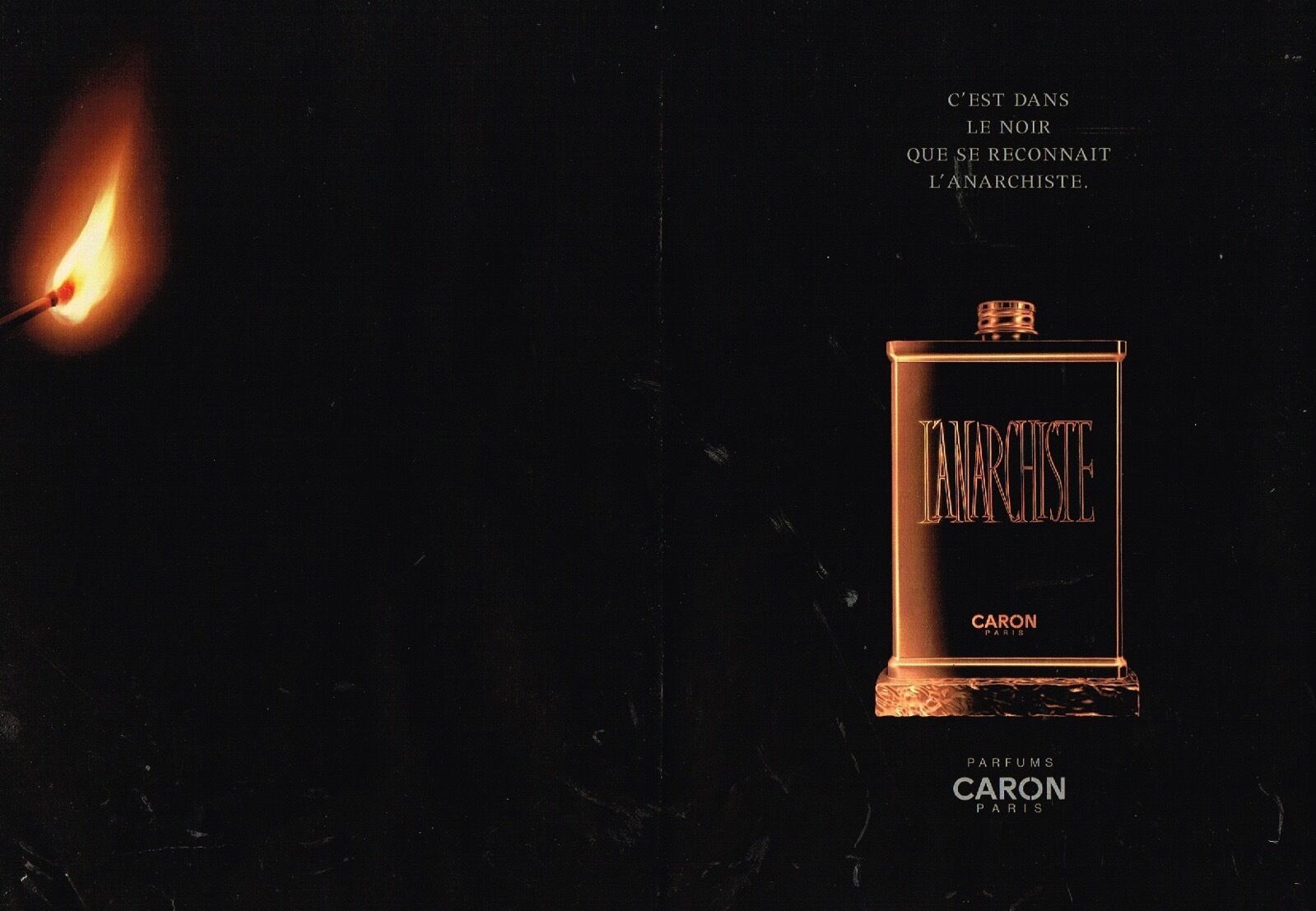 2000, Caron, Parfum Anarchiste
Catastrophe imminente.
De plus en plus, les pages dans les magazines ne sont plus que les résumés d'un clip qui en constitue l'essentiel : c'est le cas, avec quelques nuances, de la campagne pour le sac Lady Dior avec Marion Cotillard.

| image du clip d'Olivier Dahan | |
| --- | --- |
The Lady Noire Affair, Dior, 2009, photographie Peter Lindbergh
En supprimant la poutre horizontale et l'hélicoptère, l'image s'affranchit de l'histoire racontée par le clip pour rejoindre, en haut de la Tour Eiffel, l'imaginaire combiné de King Kong et de Hitchcock. Le paysage de l'arrière-plan à été modifié de manière à ce que, tout comme le V des poutrelles menace d'avaler l'actrice, celui de ses jambes prenne en ciseaux le Sacré Coeur.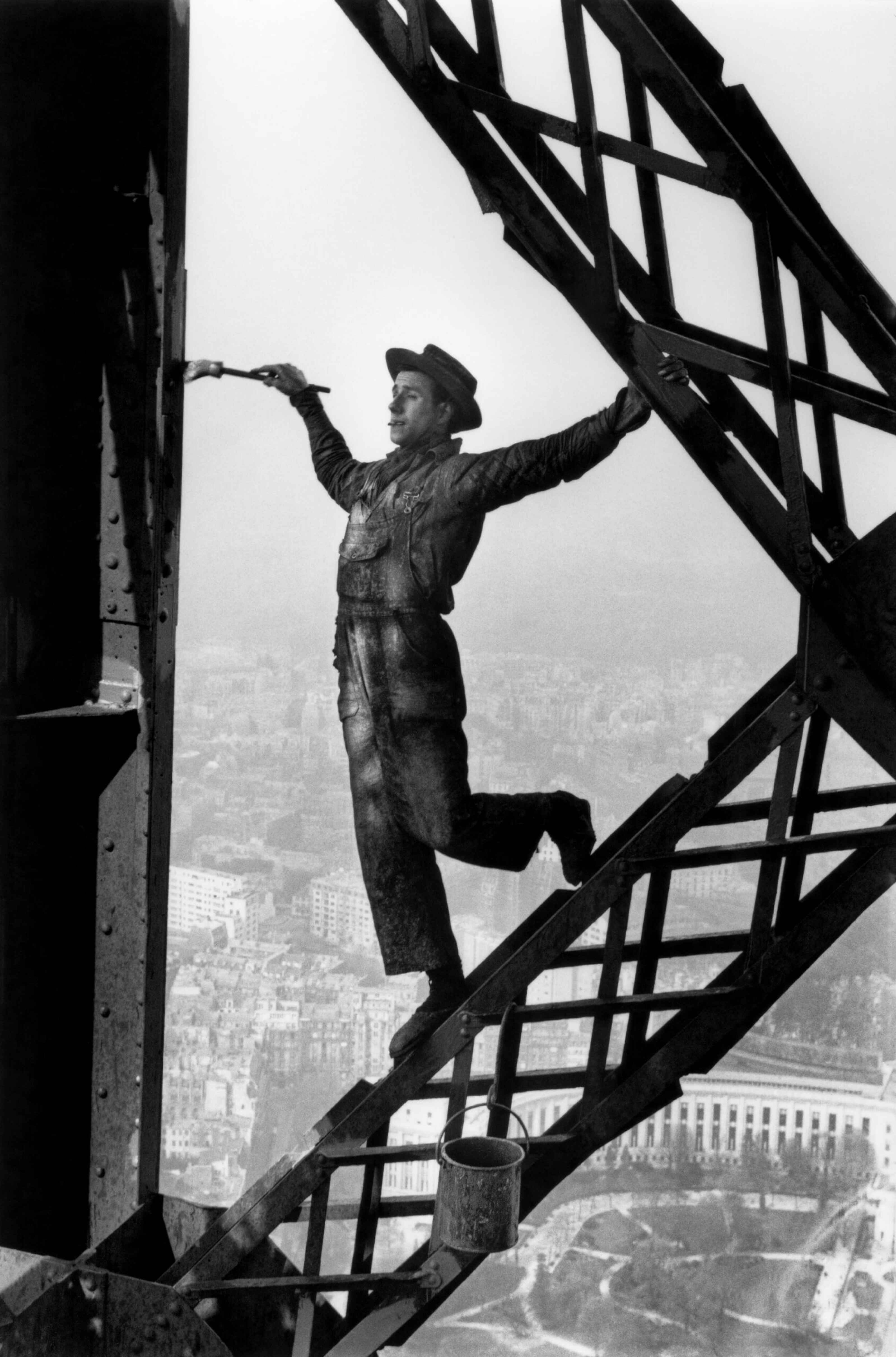 Le peintre de la tour Eiffel,, Marc Riboud, 1953
On n'oubliera pas de noter l'hommage à ce célèbre cliché.


Lady Red à New York, Dior, 2009, photographie Annie Leibovitz
La deuxième étape de la campagne se passe à New York. Ici les deux visuels ne s'appuient pas sur un clip, mais présentent deux vues opposées de Lay Red, en marche ou en introspection.
Les clichés, conçus pour être facilement scindés, donnent en monopage un puissant effet de mystère.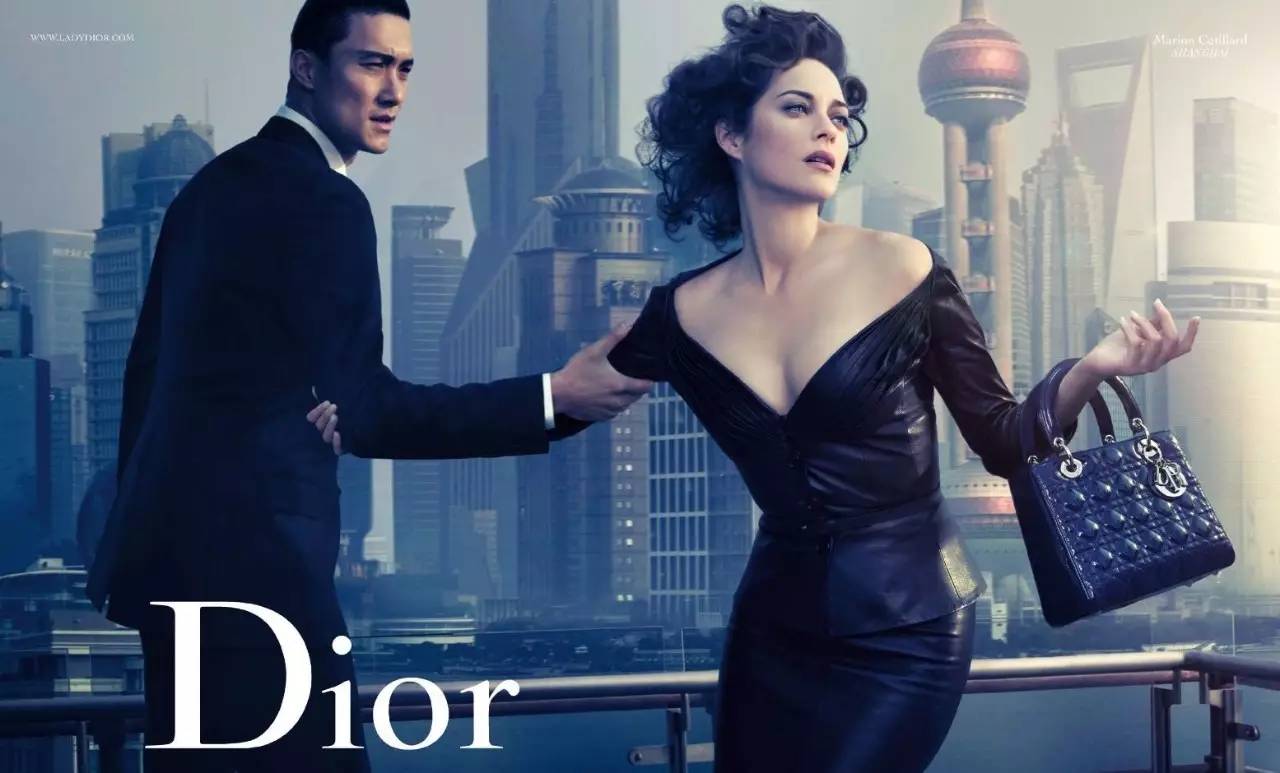 Lady Blue à Shanghai., Dior, 2010, photographie Steven Klein
Le troisième opus remonte en altitude dans un clip signé David Lynch.
Le visuel ne reprend du clip que le lieu, mais transforme l'aventure amoureuse en une poursuite en cul de sac (si j'ose dire). Les coupoles de l'arrière-plan sont utilisées pour exprimer d'un côté l'avancée du poursuivant, de l'autre la prise en étau de la poursuivie.


Lady Grey à Londres, Dior, 2010, photographie Mert Alas et Marcus Piggott
Les deux visuels du quatrième opus reprennent la fin du clip de John Cameron Mitchell, en haut de la Grande Roue de Londres, dans une ambiance Chapeau melon et bottes de cuir. En vue directe ou en reflet, la Lady s'approprie le soleil couchant.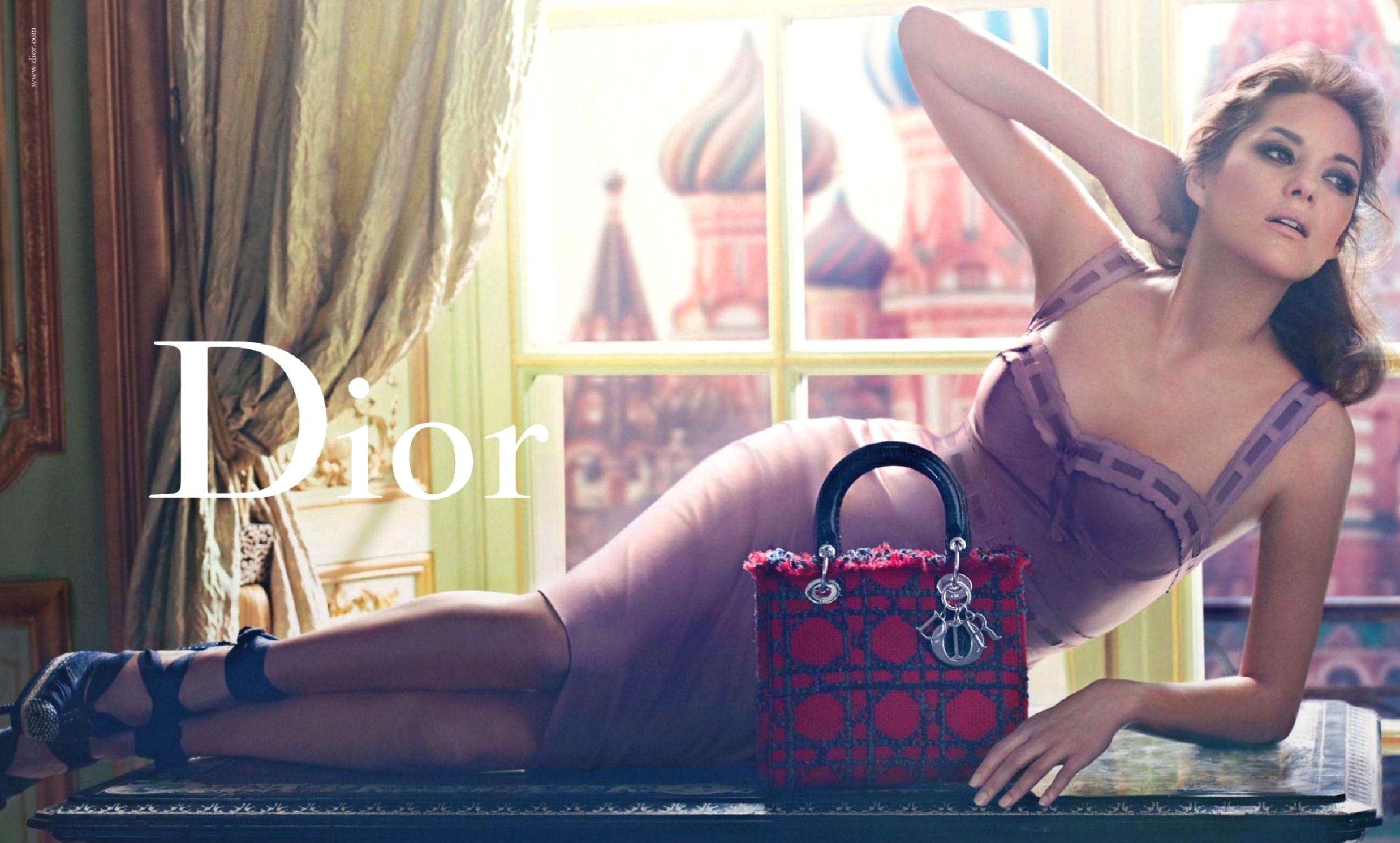 Lady Dior à Moscou, Dior, début 2011, photographie de Craig McDean
Le cinquième opus se limite à ce cliché, pris en fait à Paris, où les coupoles de Saint Basile s'étagent en harmonie avec les courbes de l'actrice, alors enceinte.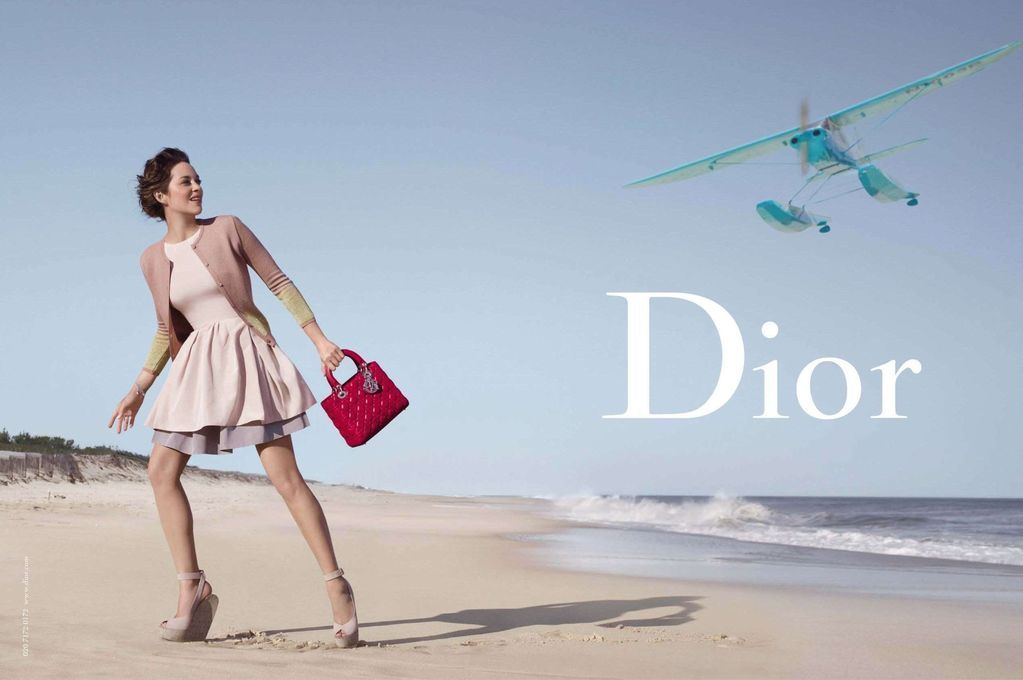 Lady Dior dans les Hamptons, Dior, 2012, Marion Cotillard, photographie de Jean-Baptiste Mondino
Interrompue par cette grossesse, la série reprend mollement en 2012 avec ce cliché hitchcockien.


| | dernière image du clip |
| --- | --- |
Lady Dior à Los Angeles, Dior, 2013, photographie Steven Klein
Pour sa dernière pérégrination géographique, Lady Di revient dans un clip humoristique de John Cameron Mitchell, « L.A.dy Dior », dont le visuel très sage n'a conservé que la piscine.
3 La profondeur de champ

3-1 Un procédé de mise en relation

| Avec Omo je suis bien récompensée | Ils finiront bien par le salir |
| --- | --- |
Lessive OMO, 1957, illustrations de Pierre Couronne
La perspective accentuée est un moyen de forcer le regard du spectateur à mettre en relation un grand élément et un petit. Pierre Couronne s'en sert ici brillamment au service du slogan :
la première image explique que la mère a pour récompense ses enfants,
la seconde que l'arrière-train du chien et l'avant-train du gamin forment le même « ils ».

3-2 L'effet repoussoir

Bien connu en peinture (voir par exemple Les pendants supposés de Vermeer ), le procédé consiste à placer un objet au premier plan, afin d'accentuer l'impression de profondeur.

| Pontiac, illustration de Bradshaw Crandell, 1939 | Oldsmobile 88, 1953 |
| --- | --- |
L'effet repoussoir se combine ici avec la contre-plongée pour placer sur un piédestal l'objet sacré, à savoir la voiture.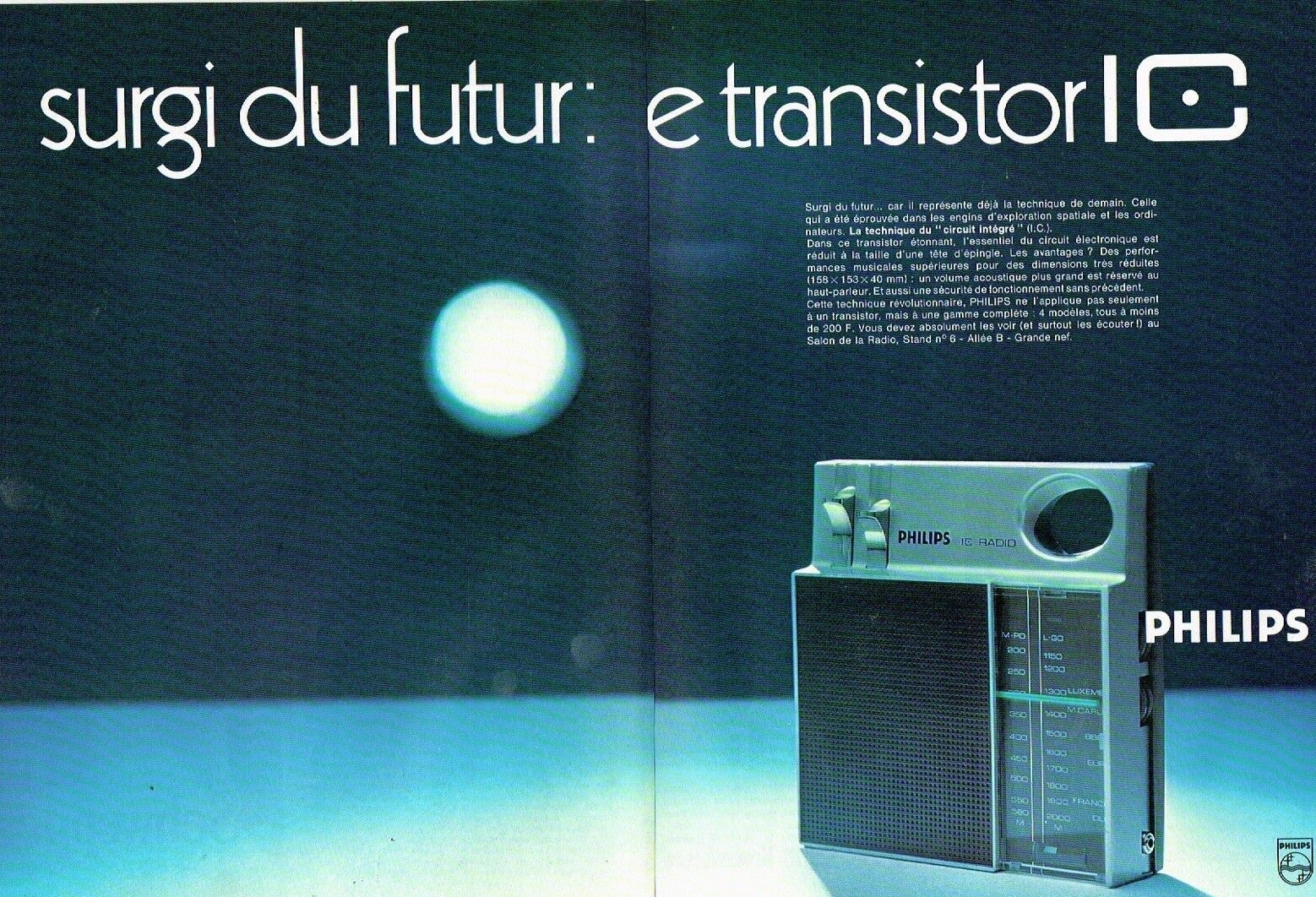 Surgi du futur : le transistor Philips IC, 1969
Profondeur de champ maximale, inspirée par l'actualité de l'année. Ici c'est l'objet sacré qui se trouve propulsé au premier plan.

3.3 Le racolage

| Oldsmobile, 1947 | Chrysler, Dodge Custom Royal, 1956 |
| --- | --- |
L'utilisation de la femme seule au premier plan est une longue tradition des publicités automobiles américaines :
la première fait comprendre au consommateur que la voiture est elle-aussi un objet de désir ;
la seconde enseigne à la consommatrice que la voiture est une accessoire assorti.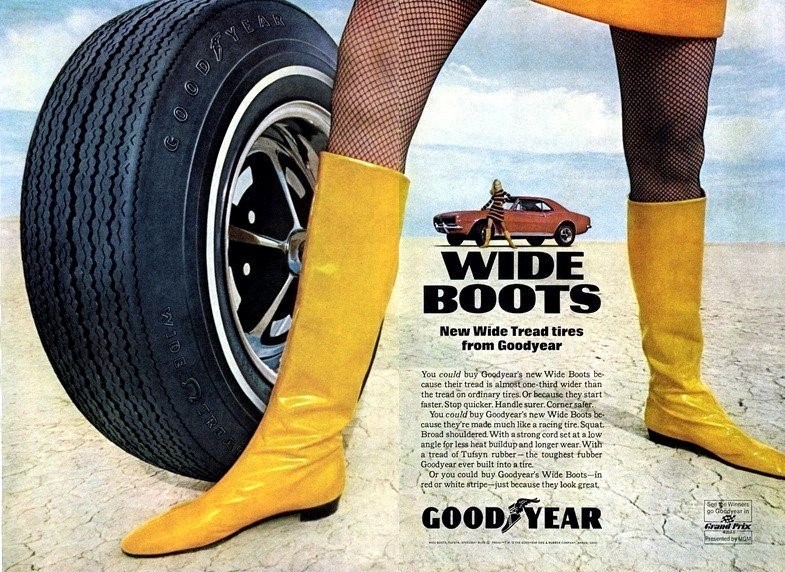 CHEVROLET CAMARO SS, 1967
Mais la campagne Goodyear innove par son intention ouvertement racoleuse, sous couvert du nom « Wide boots » : « wide »  justifie l'effet de grand angle, « boots » le reste. Objet symboliquement ingrat, le pneu acquiert ainsi, par frottement avec les bottes de femme, le statut de partenaire érotique ouvert à des combinaisons multiples.
| PLYMOUTH BARRACUDA | FORD MUSTANG |
| --- | --- |
Goodyear, 1967
Pneu et femme à égalité.
|  PLYMOUTH BARRACUDA, Goodyear, 1967 | DODGE CHARGER et PLYMOUTH BARRACUDA, Goodyear, 1968 |
| --- | --- |
Pneu contre un trio de femmes et un trio de couples
| AMC JAVELIN SST | FORD MUSTANG GT |
| --- | --- |
Goodyear, 1968
Pneu contre femme en couple
| DODGE HEMI CHARGER | AMERICAN MOTORS AMX |
| --- | --- |
Goodyear, 1968
Pneu dominé par un groupe de femmes.

Ces effets spéciaux mis à part, la profondeur de champ est surtout utilisée pour animer l'image : en se combinant avec le sens de la lecture, elle permet de contrôler les mouvements de l'oeil comme on le ferait d'une caméra.

3.4 Le « traveling arrière »

Cet effet fonctionne comme si l'oeil-caméra se reculait, élargissant le champ de vision jusqu'à faire apparaître le produit en grand au premier plan.

| Chambourcy, La laitière, 1996 | Parfum Miss Dior Chérie, Modèle Lily Donaldson, 2007 |
| --- | --- |
La profondeur de champ  est majoritairement utilisée en simple page, en incluant le produit en  avant-plan sur un un présentoir  plus ou moins fictif   :
 la première proposition, en prolongeant à l'extérieur du tableau  l'effet repoussoir amorcé par Vermeer, confère à la crème fraîche une profondeur historique ;
la seconde proposition met le précieux flacon en connexion avec le pavillon de musique de Madame du Barry (en passant entre les colonnes) et avec la Rolls (en passant entre les cuisses).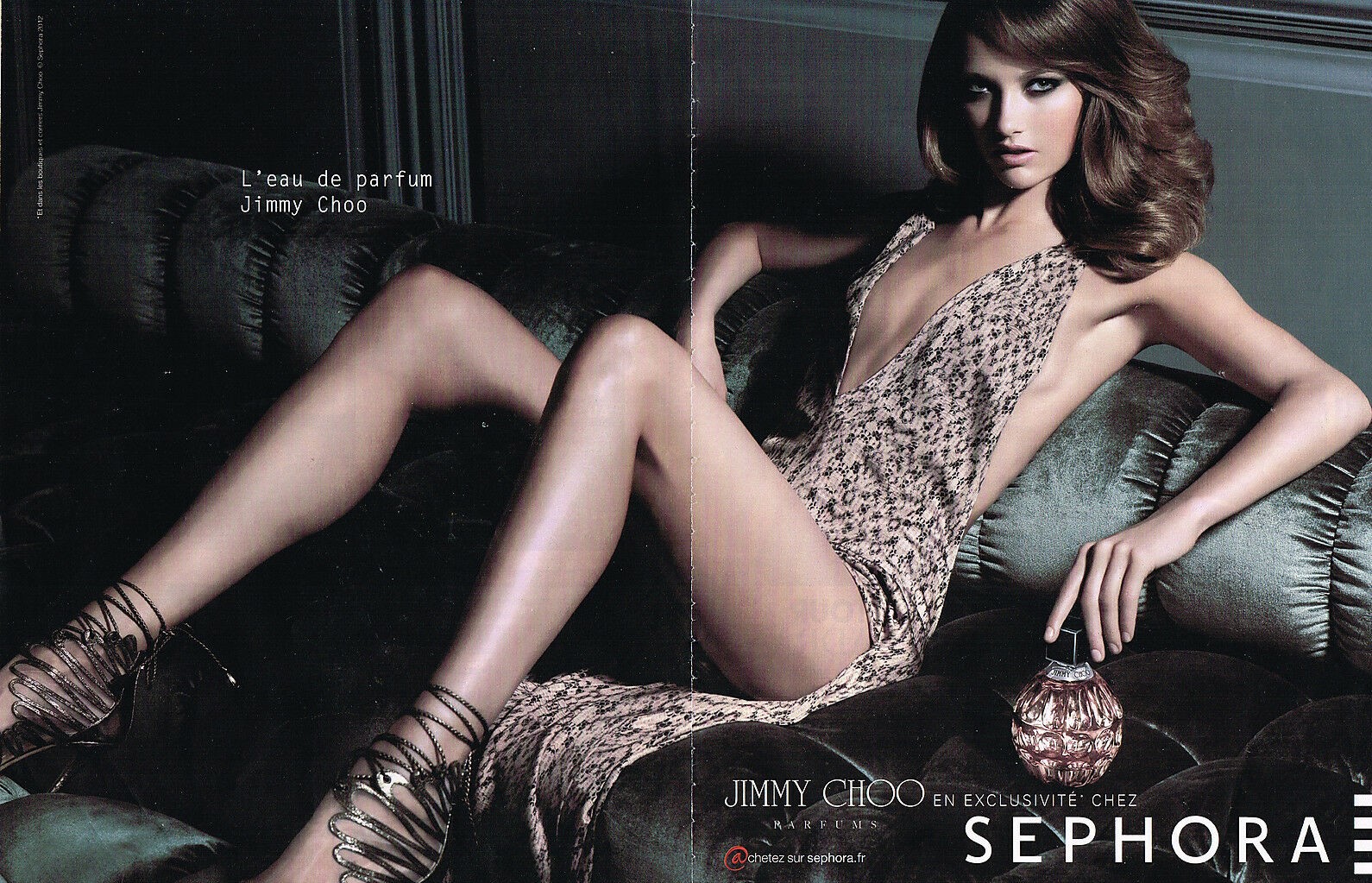 Parfum Jimmy Choo pour Séphora, 2012
Le format paysage facilite cette inclusion : ici le produit s'insère naturellement, tout en gardant  une taille acceptable.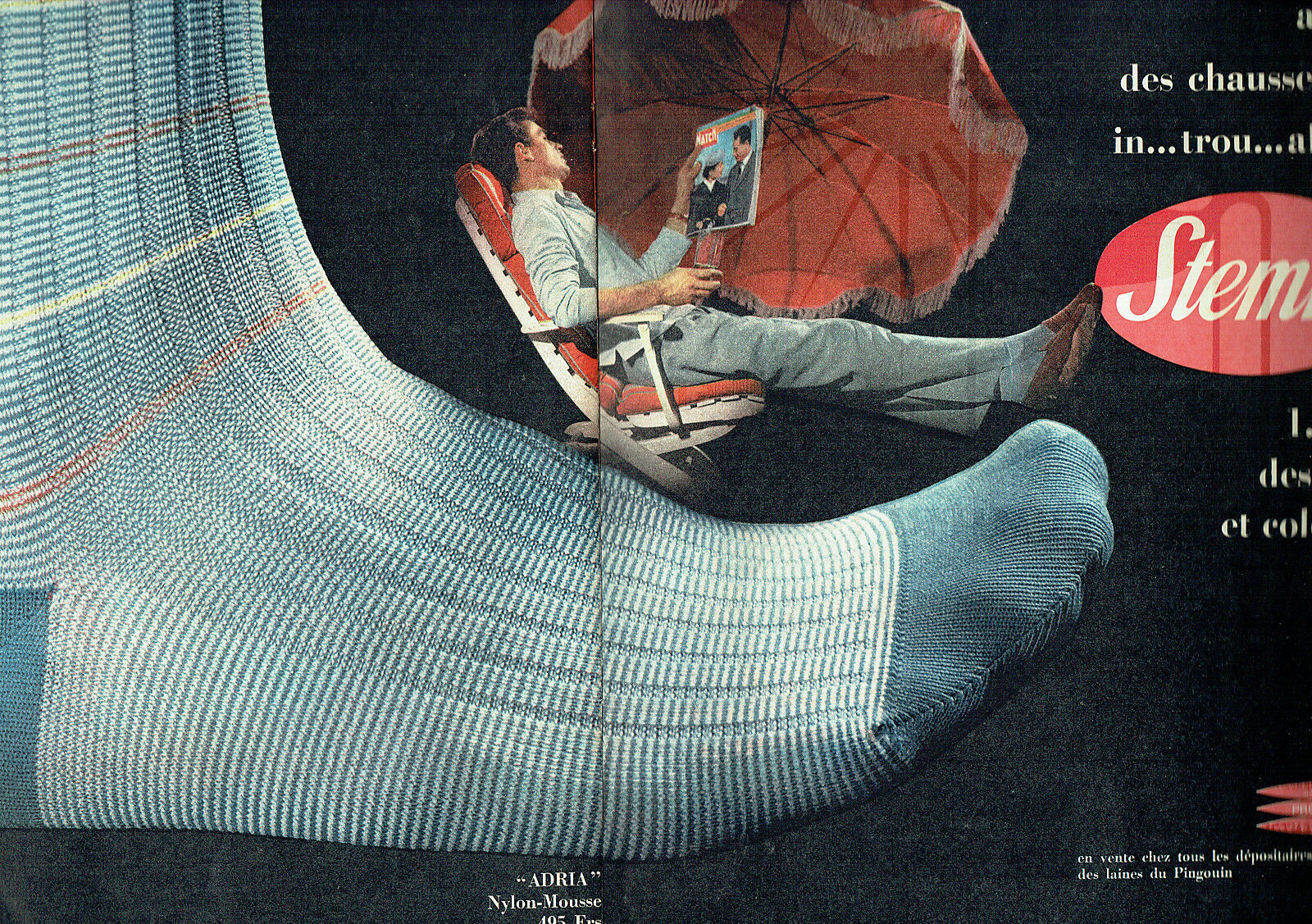 Chaussettes Stemm, 1957
Le « traveling arrière » fait surgir la chaussette comme un élément de confort…
Chaussettes Dim, 1985
…ou comme une proéminence pointant vers d'autres objets de désir.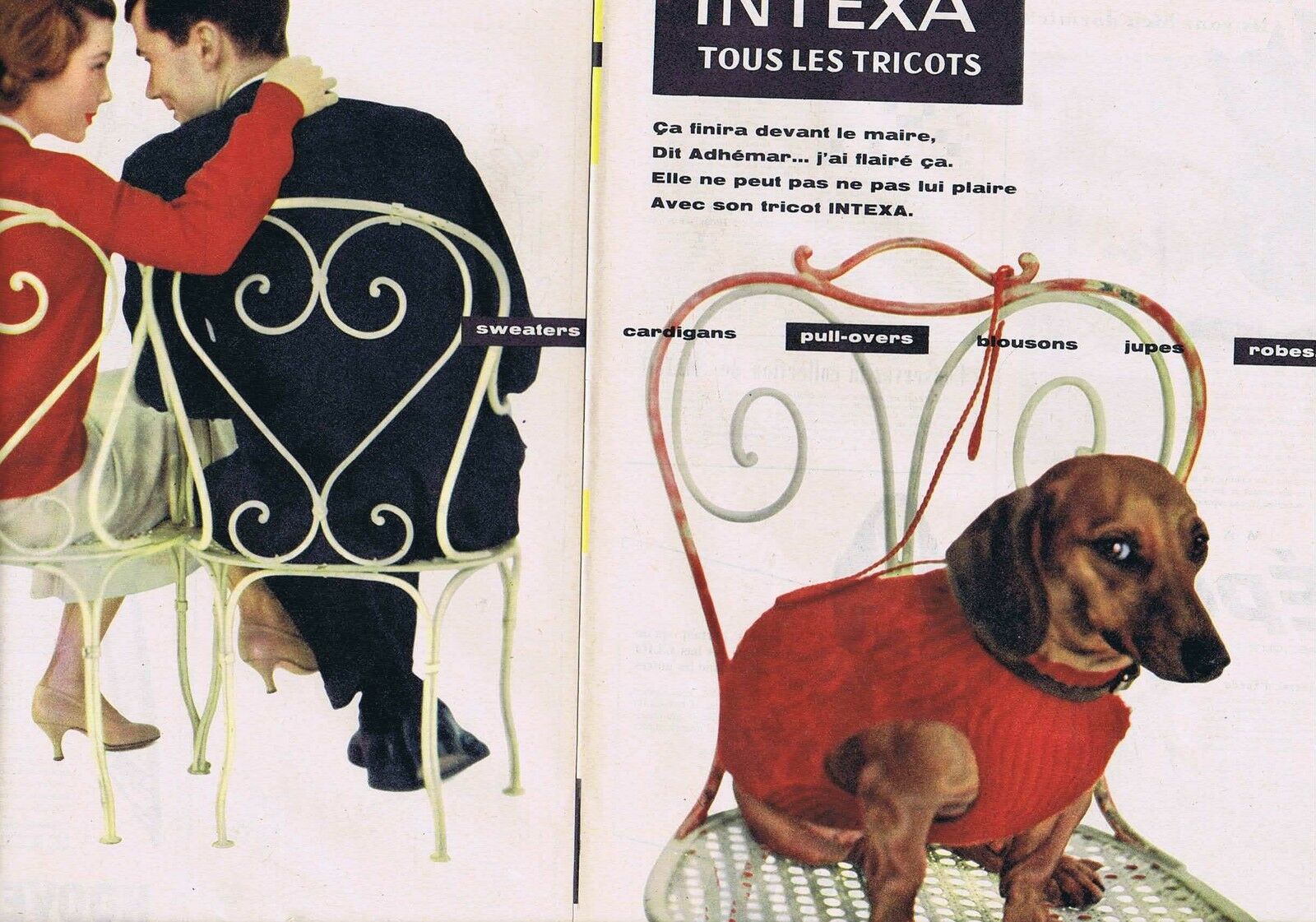 INTEXA, Tous les tricots, 1956
Il peut aboutir à un effet de surprise amusante, en passant du pull de la femme au pull du chien…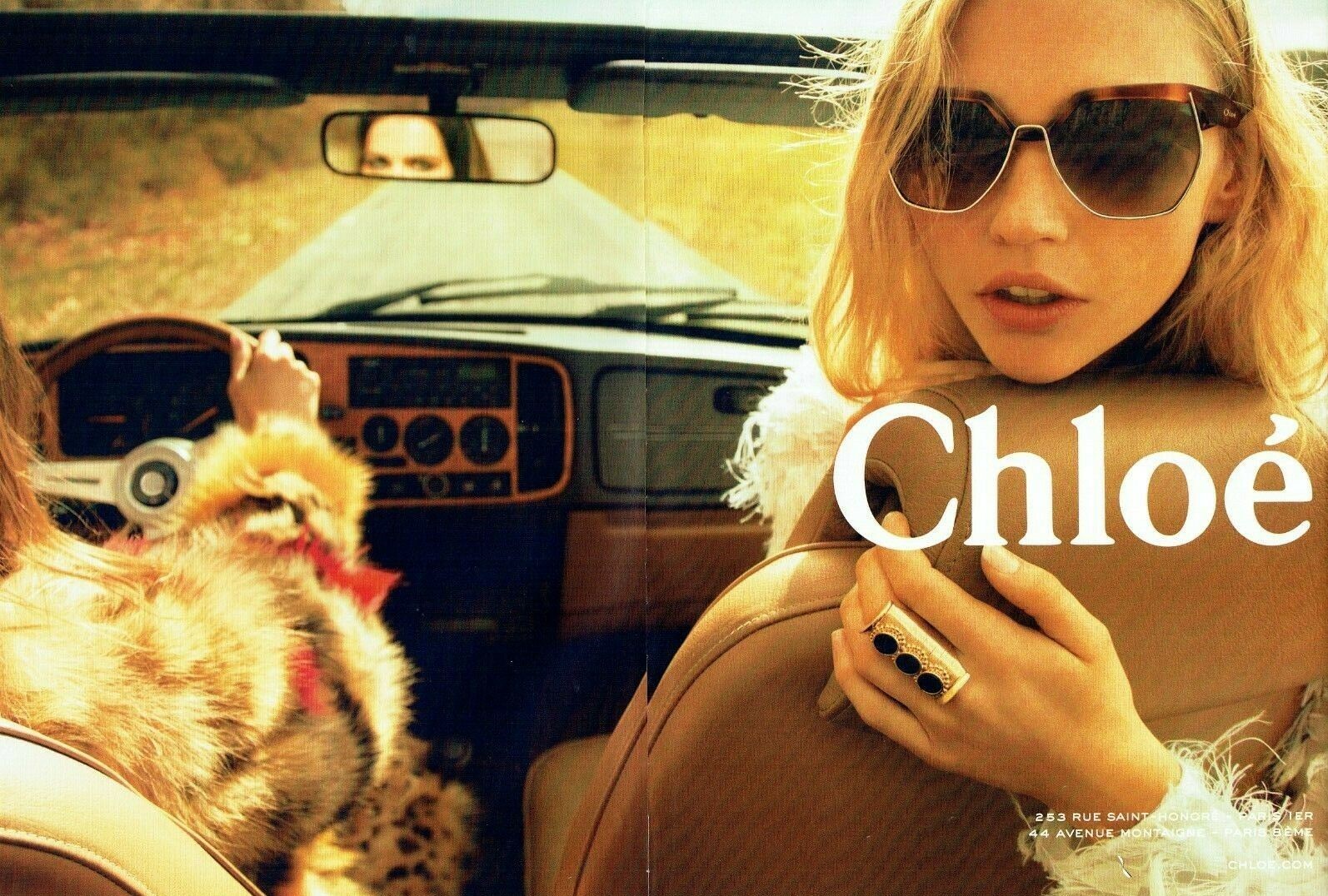 Lunettes solaires Chloe, 2014
…ou à une démonstration, en passant des yeux sans lunettes à ceux qui bénéficient du produit.
| Rouge à lèvres Revlon, 1966 | Linda Evangelista pour Kenar, 1991 |
| --- | --- |
| Marlboro,1962 | Lunettes Tom Ford, 2009 |
Parfois c'est le corps tout entier qu'il transforme en présentoir…
| Evian, 1999 (image inversée) | France Telecom, « Communiquer, çà ne guérit pas, mais cà aide », 1999 (image inversée) |
| --- | --- |
..voire une extrémité seulement. A noter que ces deux images, très efficaces puisque le produit apparaît en grand et en dernier, ne sont pas celles que les marques ont choisies.
Prudentes, elles ont préféré la formule où le produit se contente d'initier la lecture, qui se termine sur l'humain.
3.5 Le « traveling avant »

A l'inverse, cet effet force l'oeil à s'enfoncer vers le produit, qui l'attend à l'arrière-plan.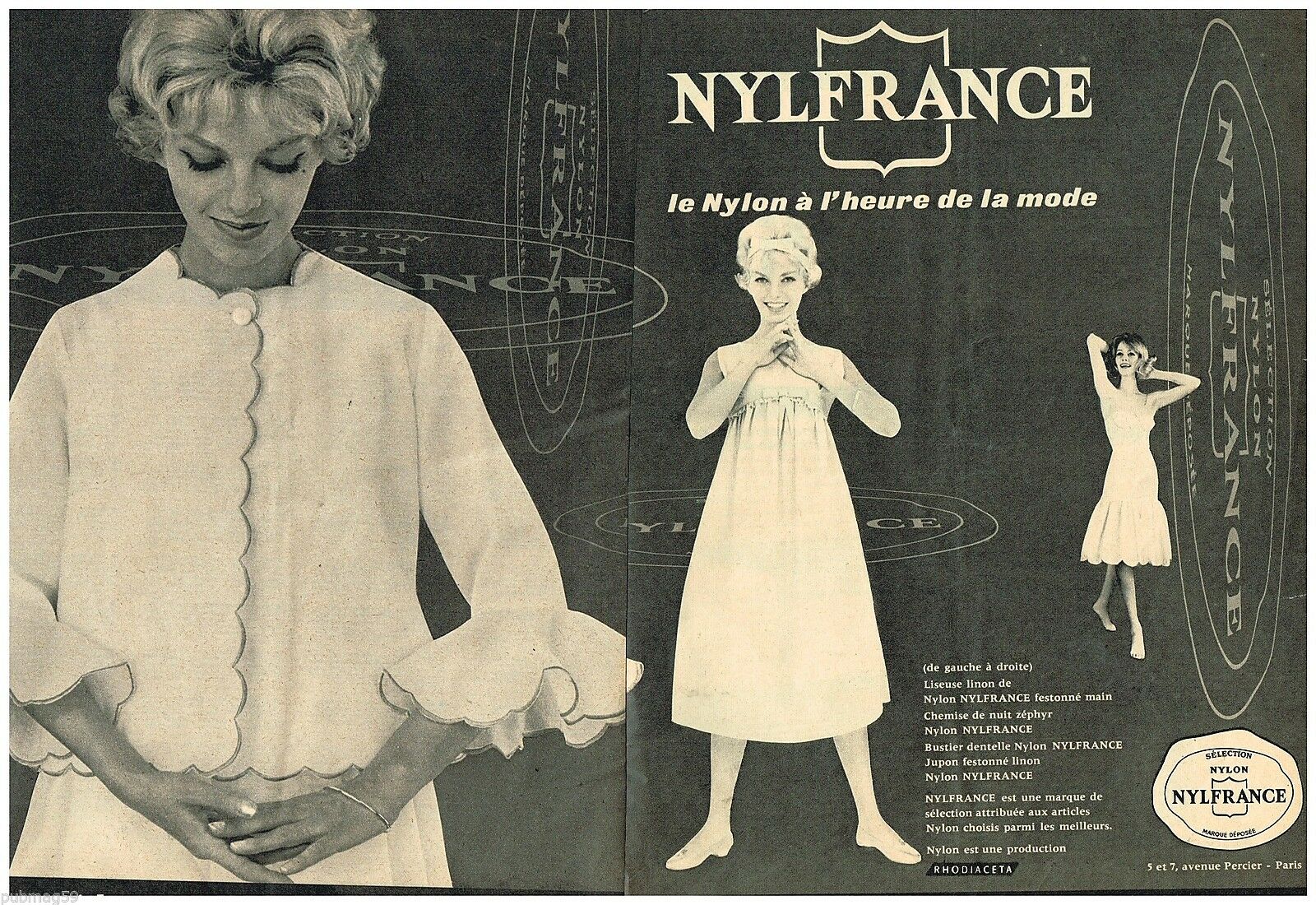 Nylfrance 1959
Par rapport à une présentation frontale des trois modèles, la profondeur simulée donne plus de dynamisme à l'image, au prix du sacrifice d'une partie du premier modèle et des détails pour le troisième.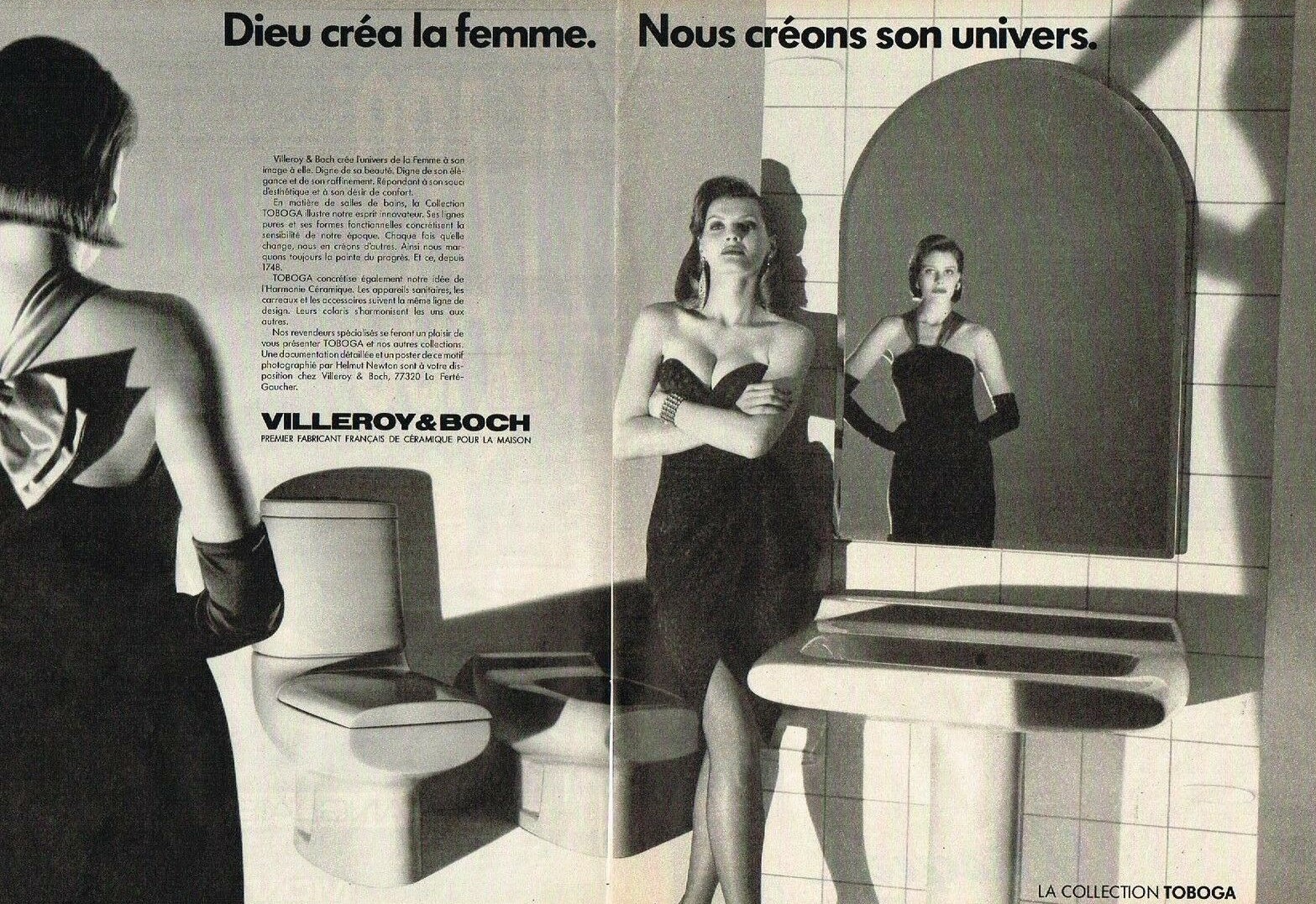 Villeroy et Boch, 1985
Tandis que l'ombre accroit la profondeur vers l'avant, le miroir attire l'oeil vers l'arrière.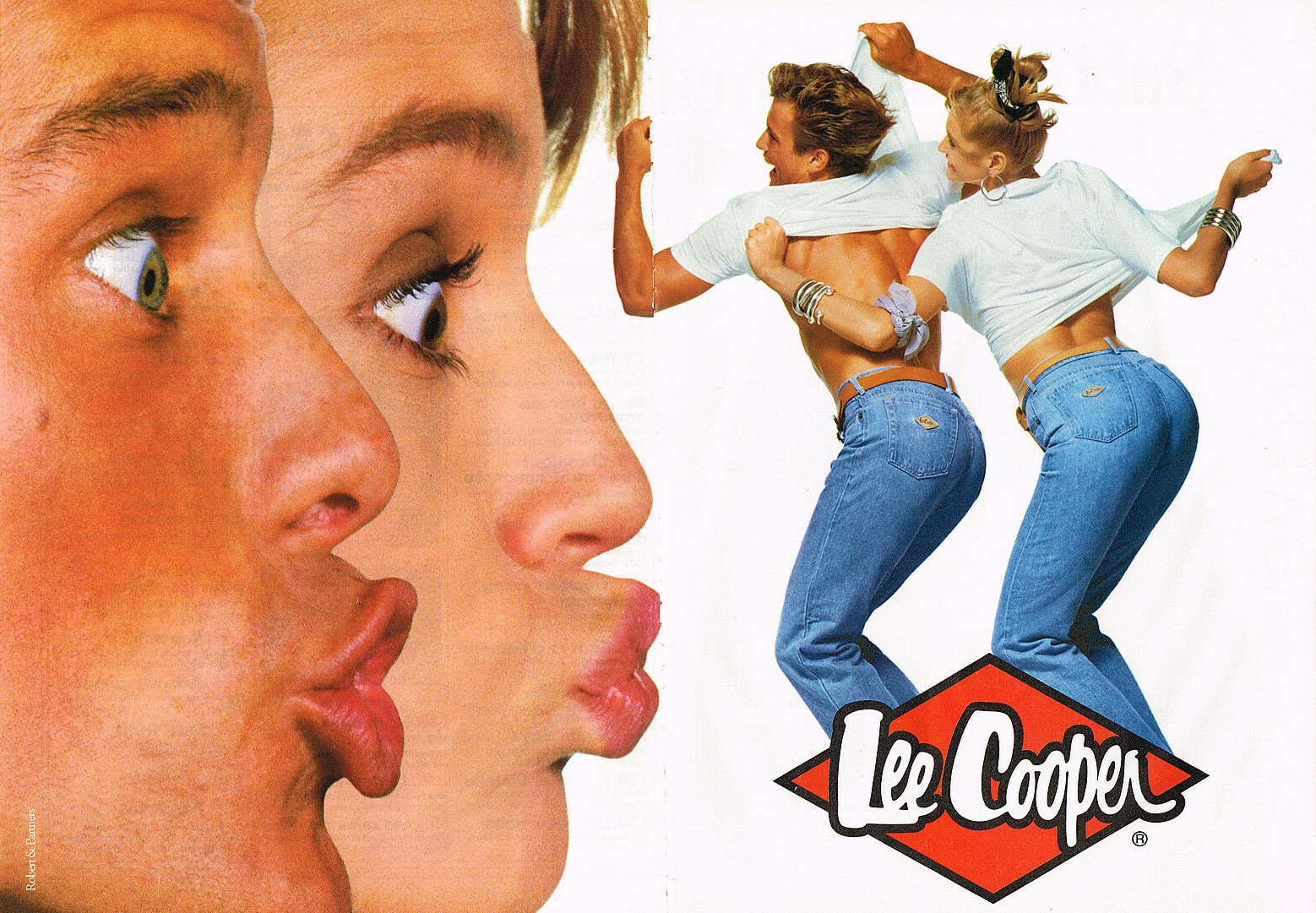 Jeans Lee Cooper, 1987
En passant des lèvres aux fesses, le « traveling  avant » effectue un baiser virtuel.
3.6 L'effet de chicane

Lorsque le changement de taille n'est pas homogène avec le sens de la lecture, le regard est conduit à osciller de part et d'autre, ce qui a pour avantage de le forcer à s'attarder sur l'image.

L'anita, 1971, museumhosiery.com

Exactement comme des chicanes ralentissent le conducteur.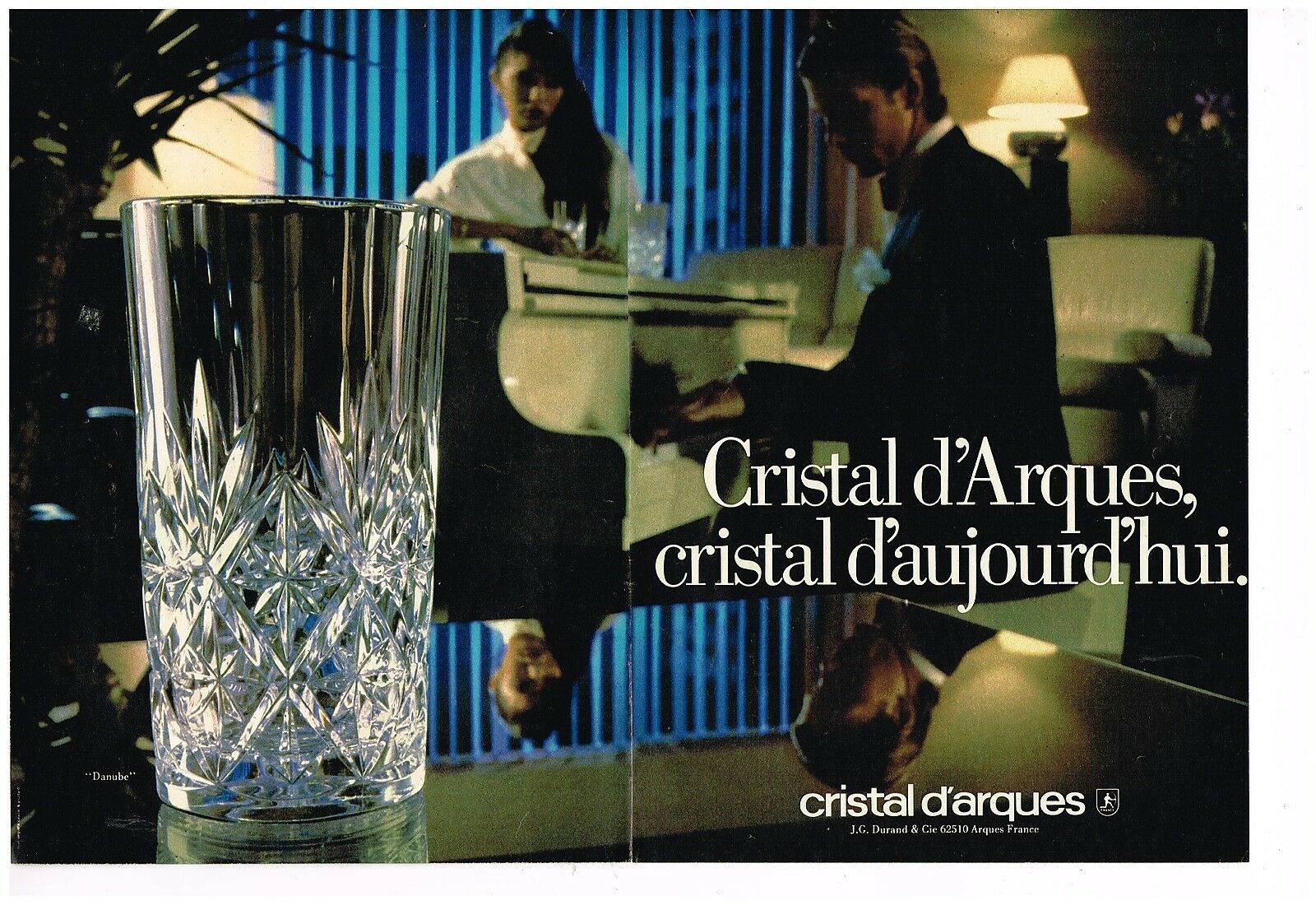 Cristal d'Arques, 1984
Le regard passe du verre du premier plan à celui du pianiste, puis ricoche vers celui de la spectatrice.
Air France, 1980
A l'inverse, le visage souriant de la passagère conduit le regard à remonter à gauche vers la bouteille, puis à droite vers la rose, jusqu'à découvrir au centre ce qui justifie ce sourire : les mains du couple qui se touchent.
Générale des Eaux, 1998
Des chicanes généralisées piègent le regard dans un parcours sans issue, illustrant l'omniprésence du produit.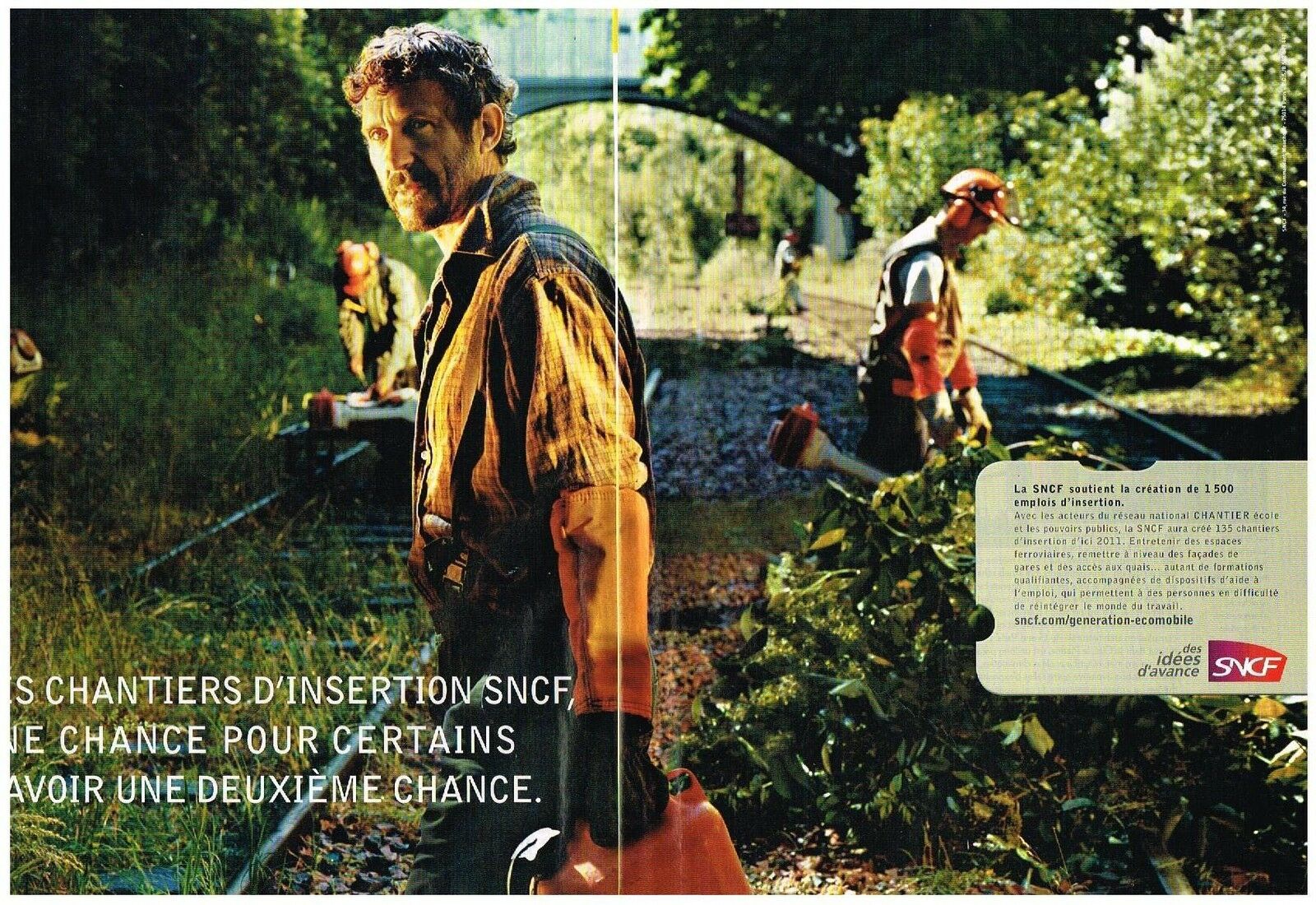 SNCF, 2009
L'effet de chicane sert ici à illustrer la variété des emplois offerts.
3.7 Le panoramique

Lorsque l'image comporte un élément mobile, la profondeur de champ transforme plutôt l'oeil en une caméra fixe, qui balaye l'image latéralement, toujours dans le sens de la lecture. De ce fait, quatre grands cas de figure peuvent se produire.

A) le mobile se dirige vers l'arrière-plan droit : effet d'accompagnement
| Lafuma, 1986 | Champagne LANSON, 1988 |
| --- | --- |
Houra le Cybermarché, 2000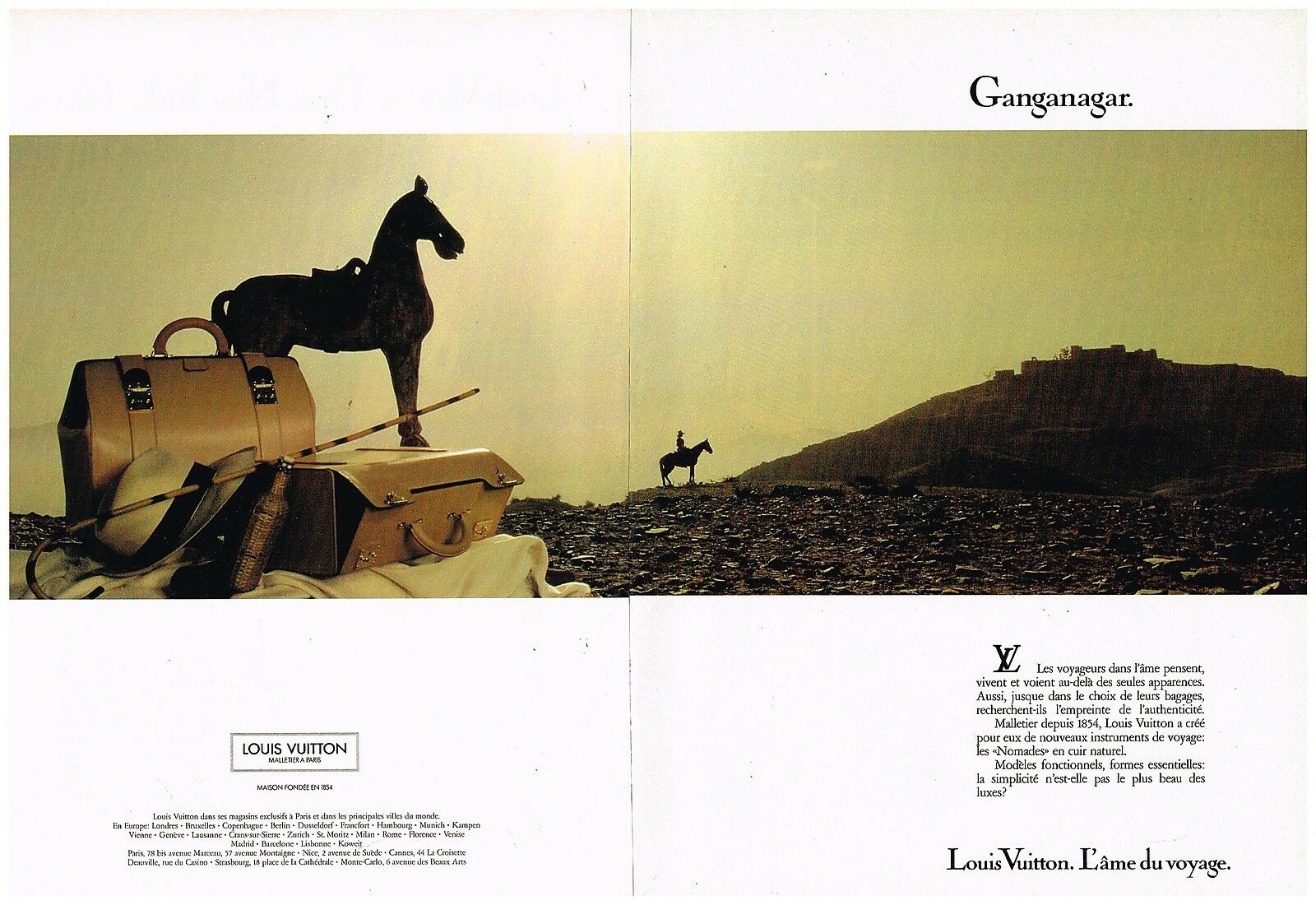 Bagages Louis Vuitton,1988
Dans cette variante, le mouvement est suggéré par les deux chevaux, et le produit est placé à la source, exprimant qu'on voyage accompagné par ses bagages.




B) le mobile se dirige vers l'avant-plan droit : effet de rencontre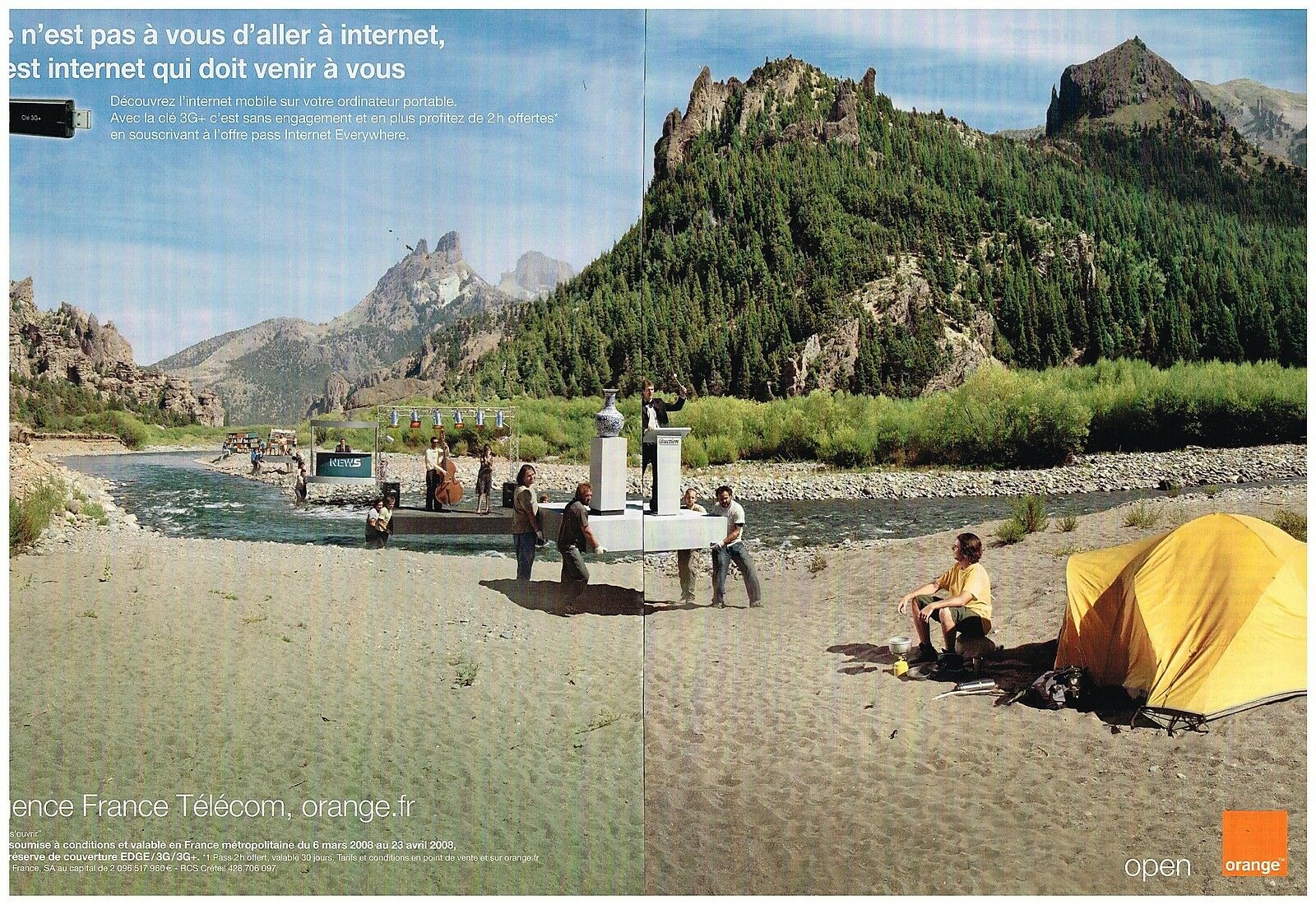 Orange France Telecom, 2008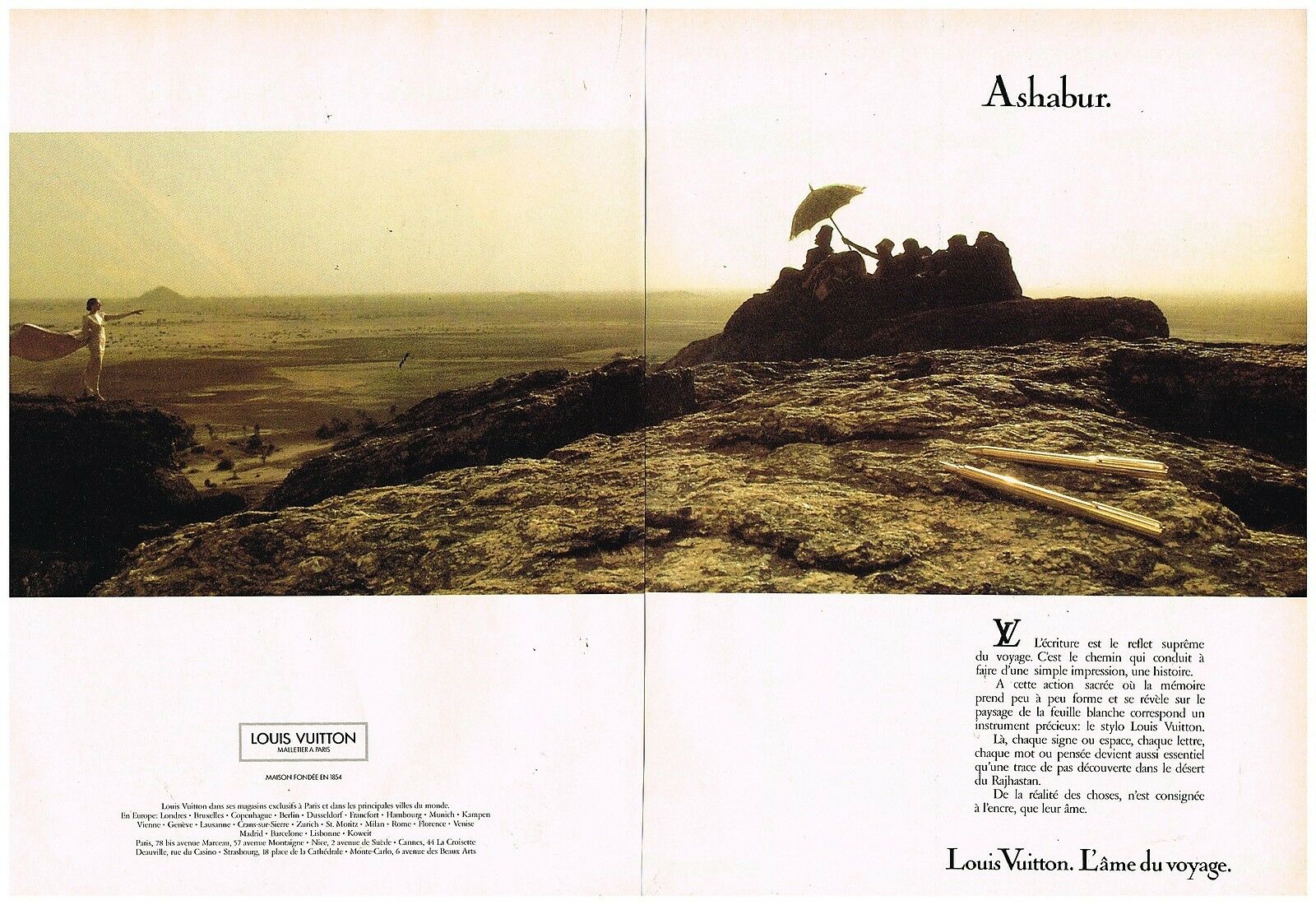 Stylos Louis Vuitton,1988
Variante où le mouvement est suggéré par le geste du bras, et ou le produit est placé à la cible, exprimant qu'on voyage pour rencontrer des richesses.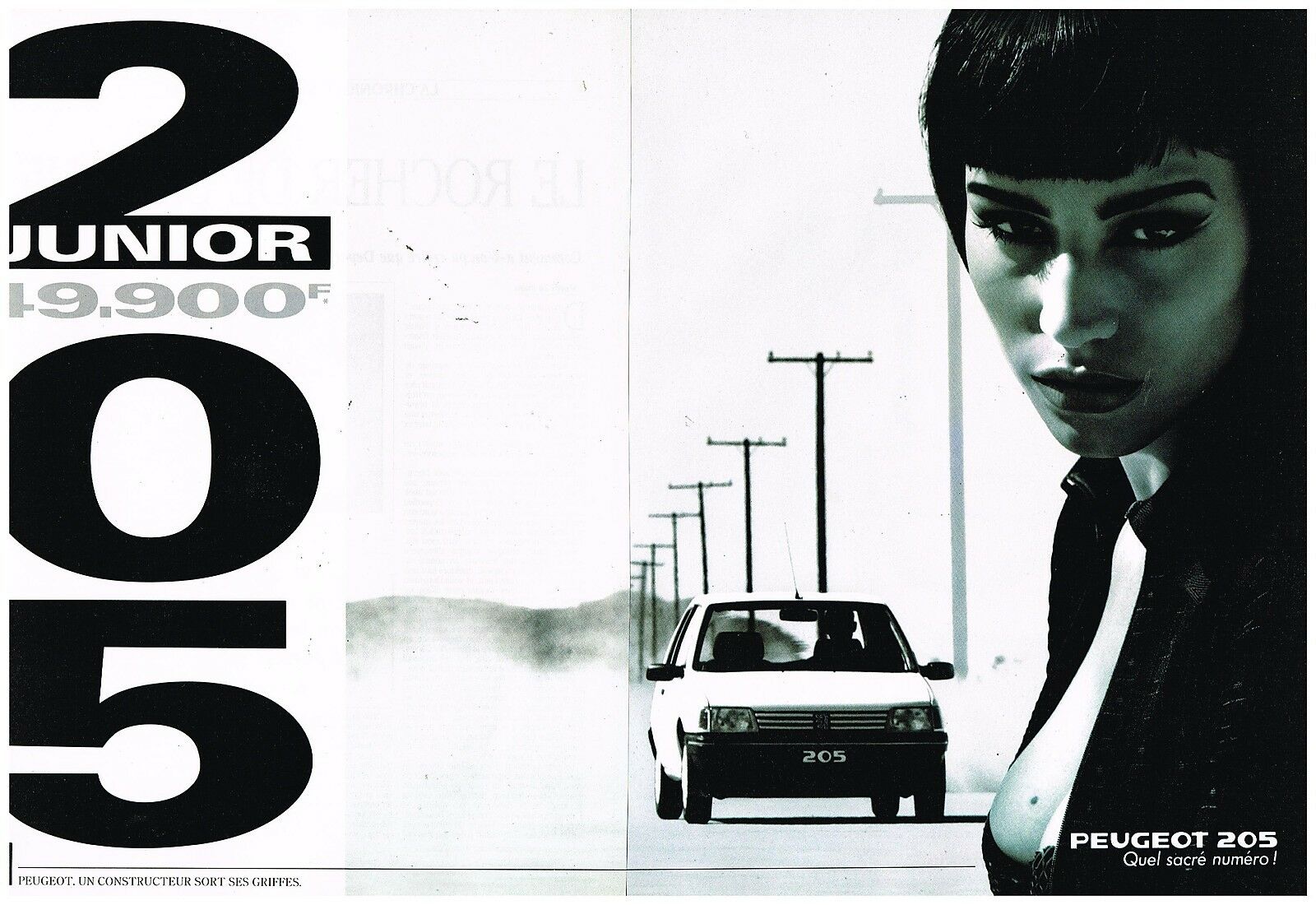 Peugeot 205 Junior, 1991
Ici l'oeil et la voiture convergent vers la même cible, la voluptueuse autostoppeuse.

L'extension à trois modèles aurait dû être celle-ci…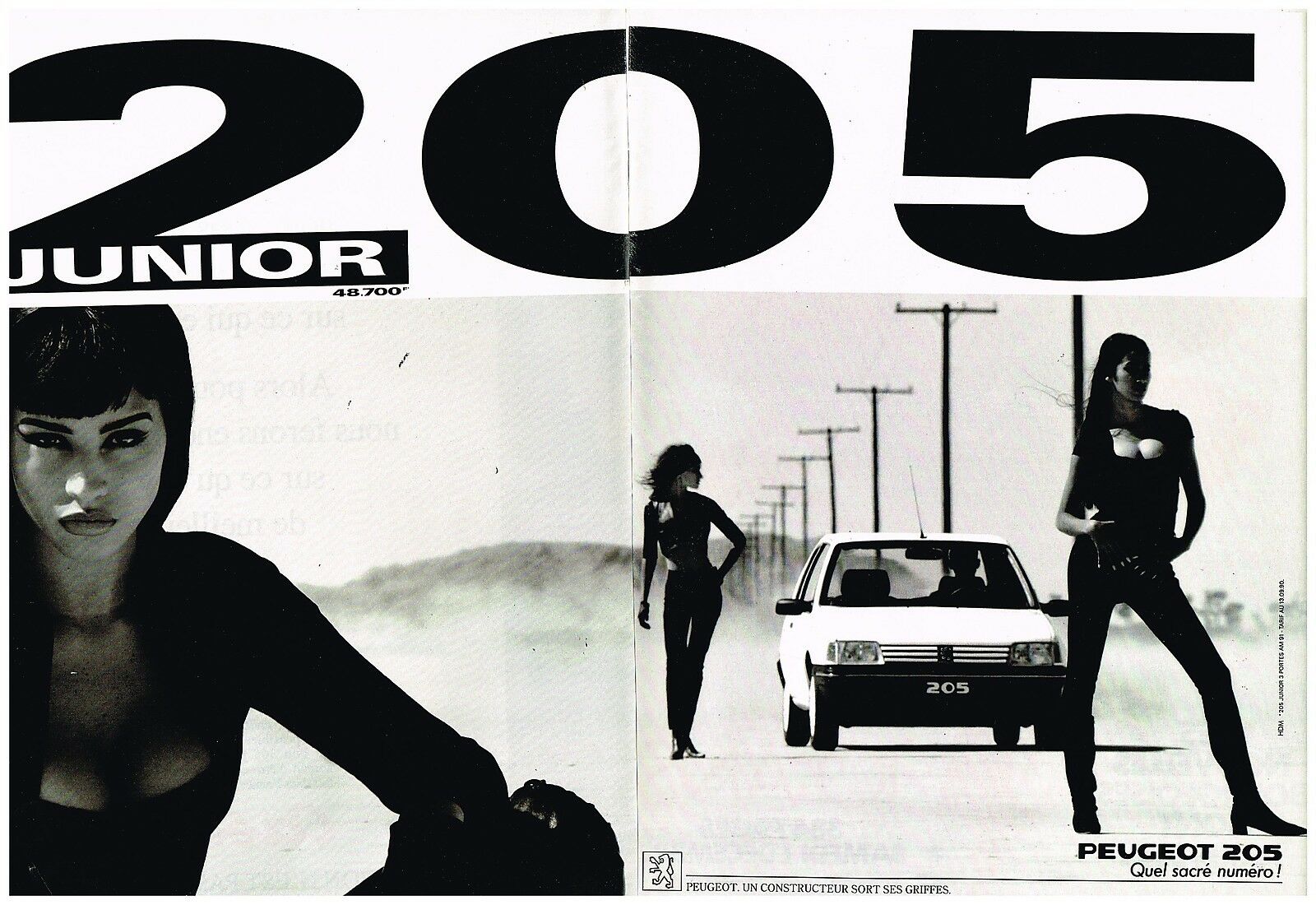 Peugeot 205 Junior, 1991
..mais l'agence lui a préféré cette image déceptive, qui force l'oeil au dernier stade à un grand écart entre les deux produits, tous deux équipés phares et pneus.




C) le mobile se dirige vers l'avant-plan gauche : effet de croisement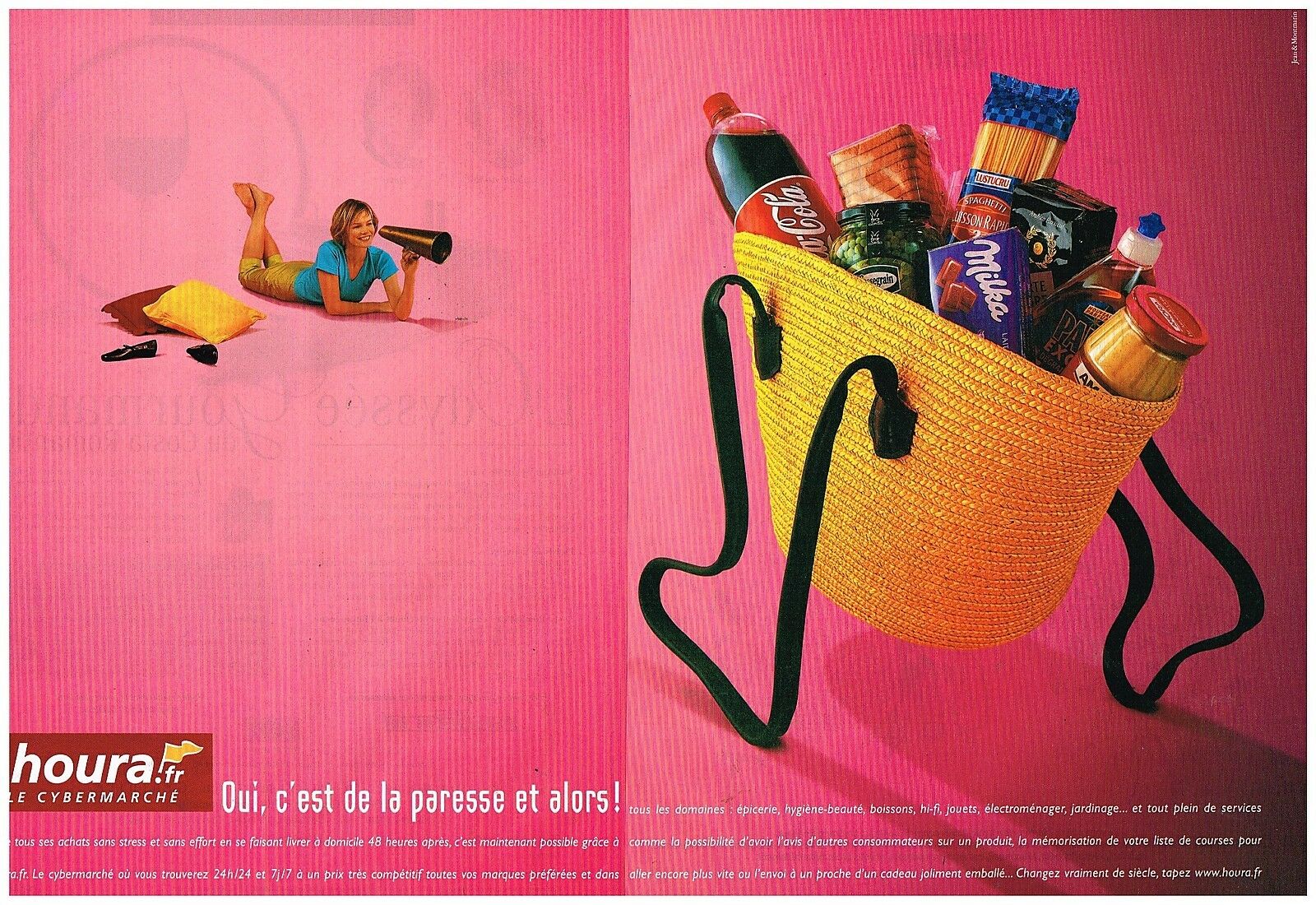 Houra le Cybermarché, 2000
Le déplacement du mobile, à contre-sens de la lecture, fait que l'oeil patiente prudemment côté gauche et découvre la paresseuse.




D) le mobile se dirige vers l'avant-plan gauche : effet de collision
| Audi V8, 1990 | Buffalo jeans, 1987 |
| --- | --- |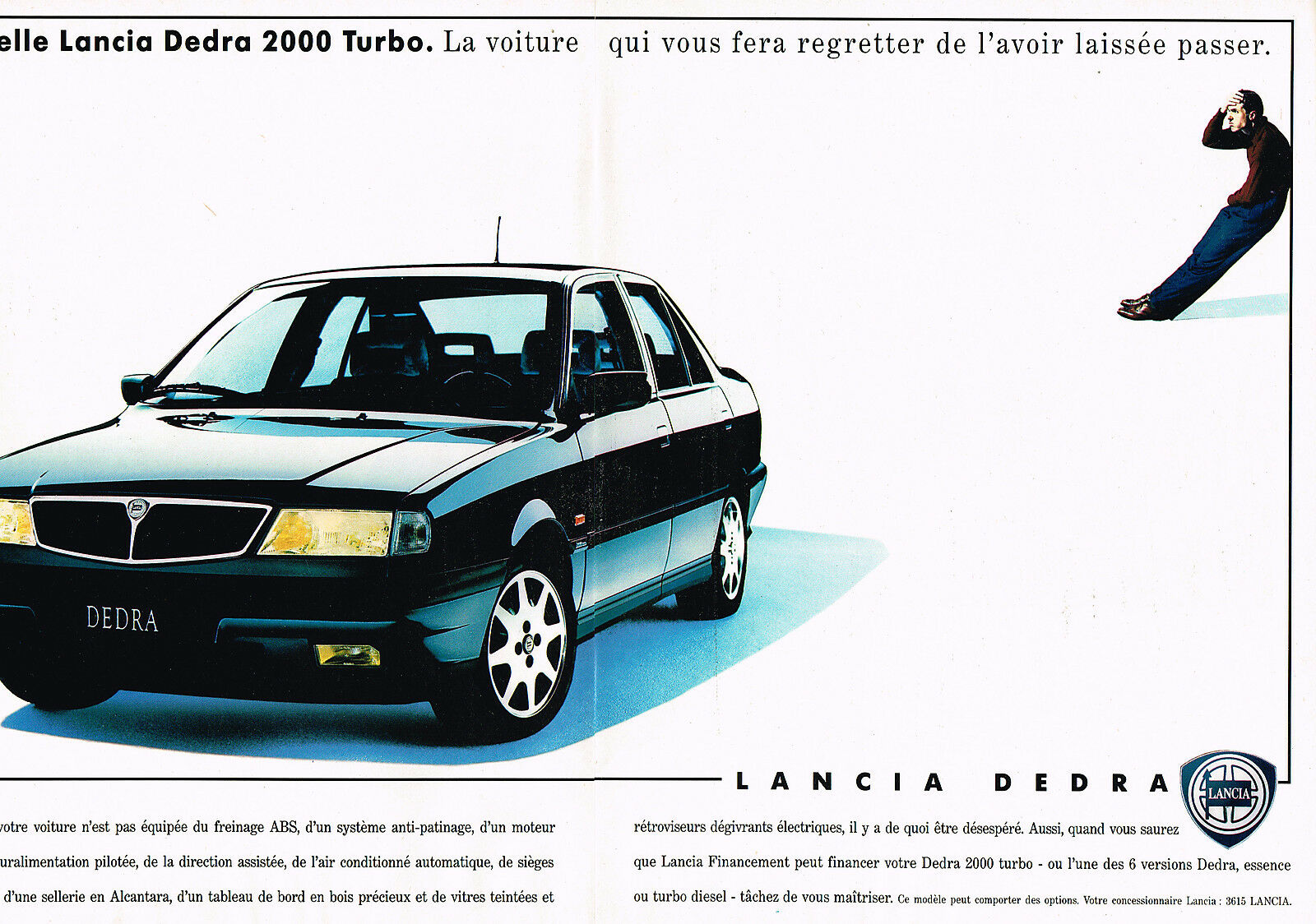 Lancia Dedra, 1991
Dans ce dernier cas, la voiture déjà parvenue au premier-plan bloque l'entrée de l'oeil dans l'image.

E) Autres cas de figure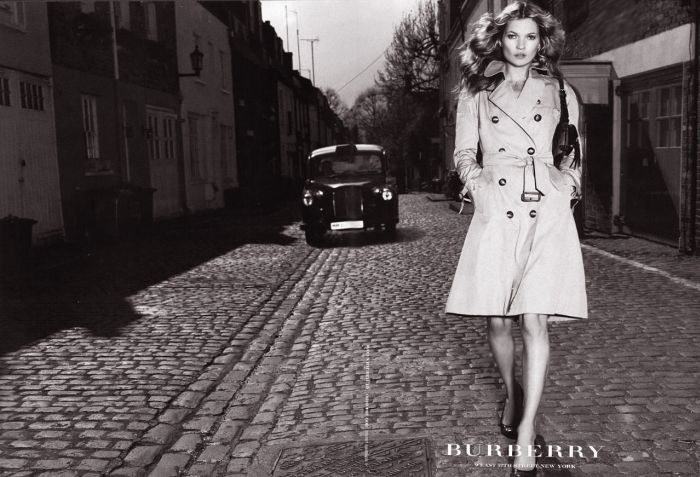 Burberry avec Kate Moss, 2005
Ici le mobile se dirige vers l'avant-plan centre, ce qui supprime l'interaction (positive ou négative) avec le sens de la lecture. Du coup l'oeil se fixe à la verticale du point de fuite, entre les deux trajectoires, et n'a plus qu'à lire la marque. Par son déplacement vers l'avant, Kate Moss, cible du taxi, révèle devant ses jambes la cible principale : Burberry.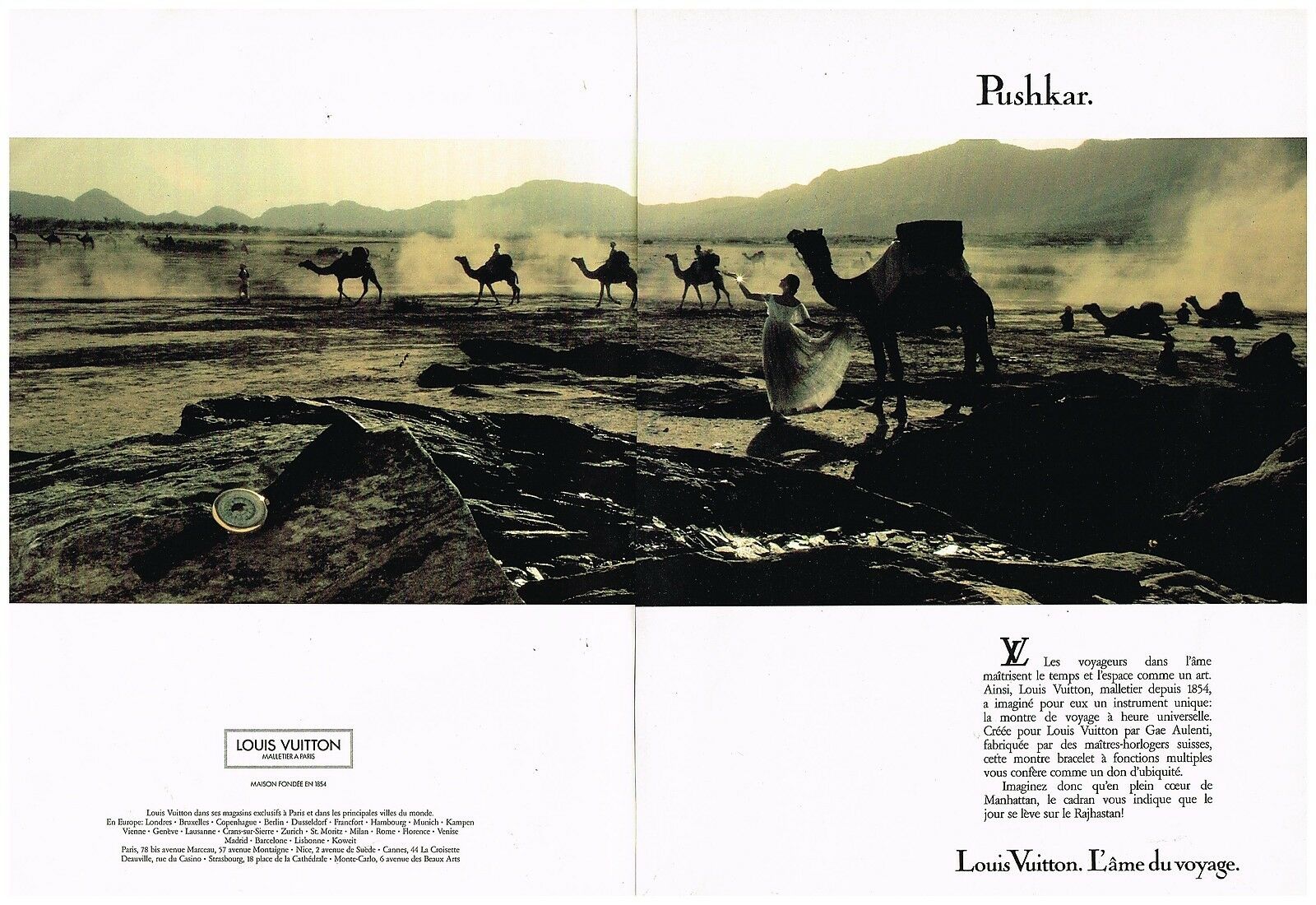 Montres Louis Vuitton, 1988
Ici, le déplacement à contre-sens de la lecture s'effectue dans le plan de l'image, supprimant l'impression de collision. Ainsi peut germer une idée plus complexe : en direction de la montre. la caravane est en train de remonter le temps.
 4 Un cas particulier : profondeur de champ et couple

Une utilisation typiquement cinématographique de la profondeur de champ est de présenter de manière disjointe deux scènes ou deux personnages fortement contrastés, dont on anticipe la conjonction prochaine.

L'intérêt est d'autant plus fort que les personnages sont de sexe opposé.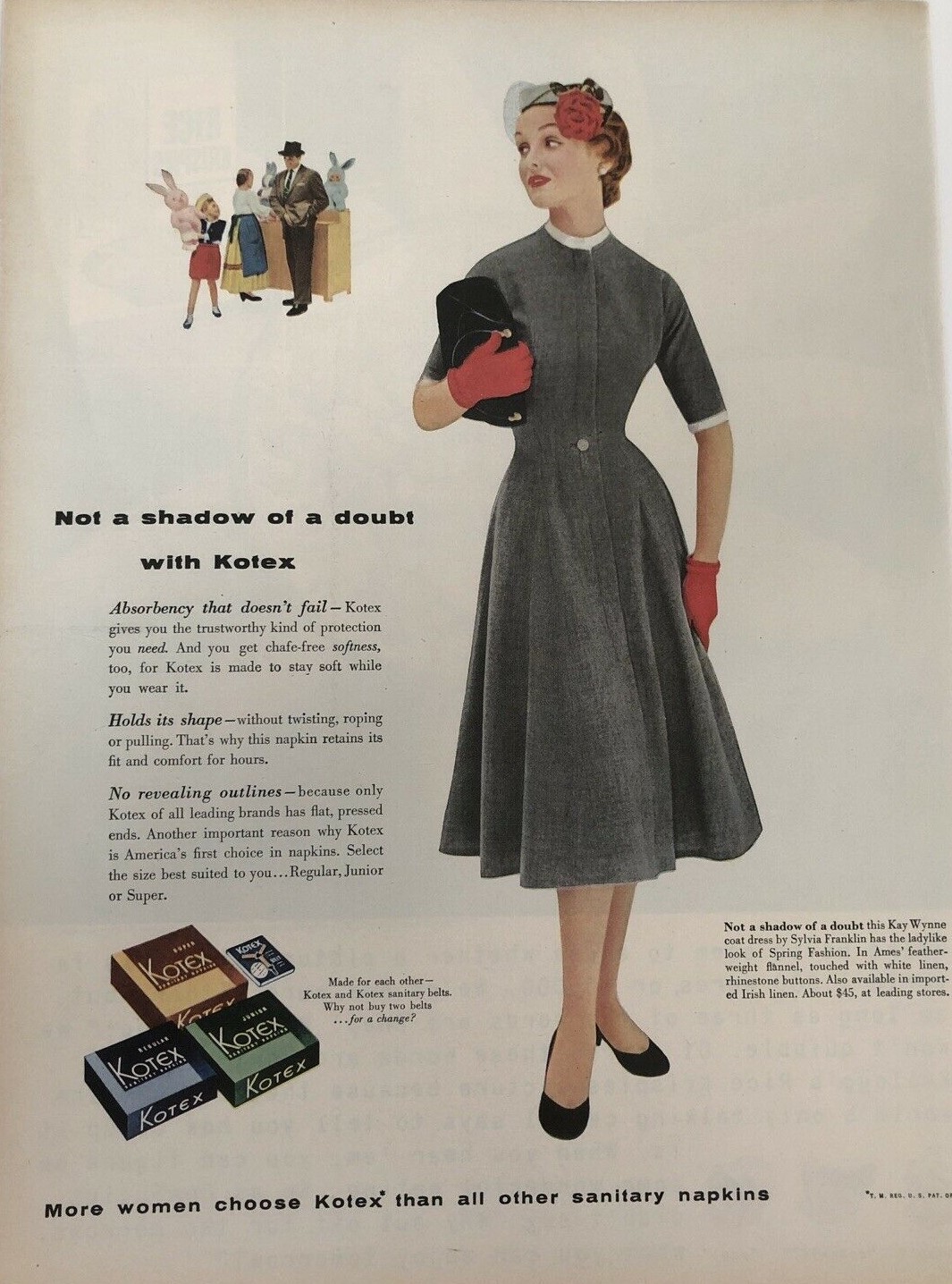 Pas l'Ombre d'un doute, Serviettes périodiques, KOTEX, 1954
Le couple disproportionné ne nécessite pas nécessairement une double-page. Dans une série de publicités des années 1950, Kotex place le mari en vignette, dans une profondeur de champ théorique : non pour exprimer une quelconque minimisation du l'homme, mais au contraire pour expliquer que le inconvénients purement féminins doivent être épargnés à sa tranquillité.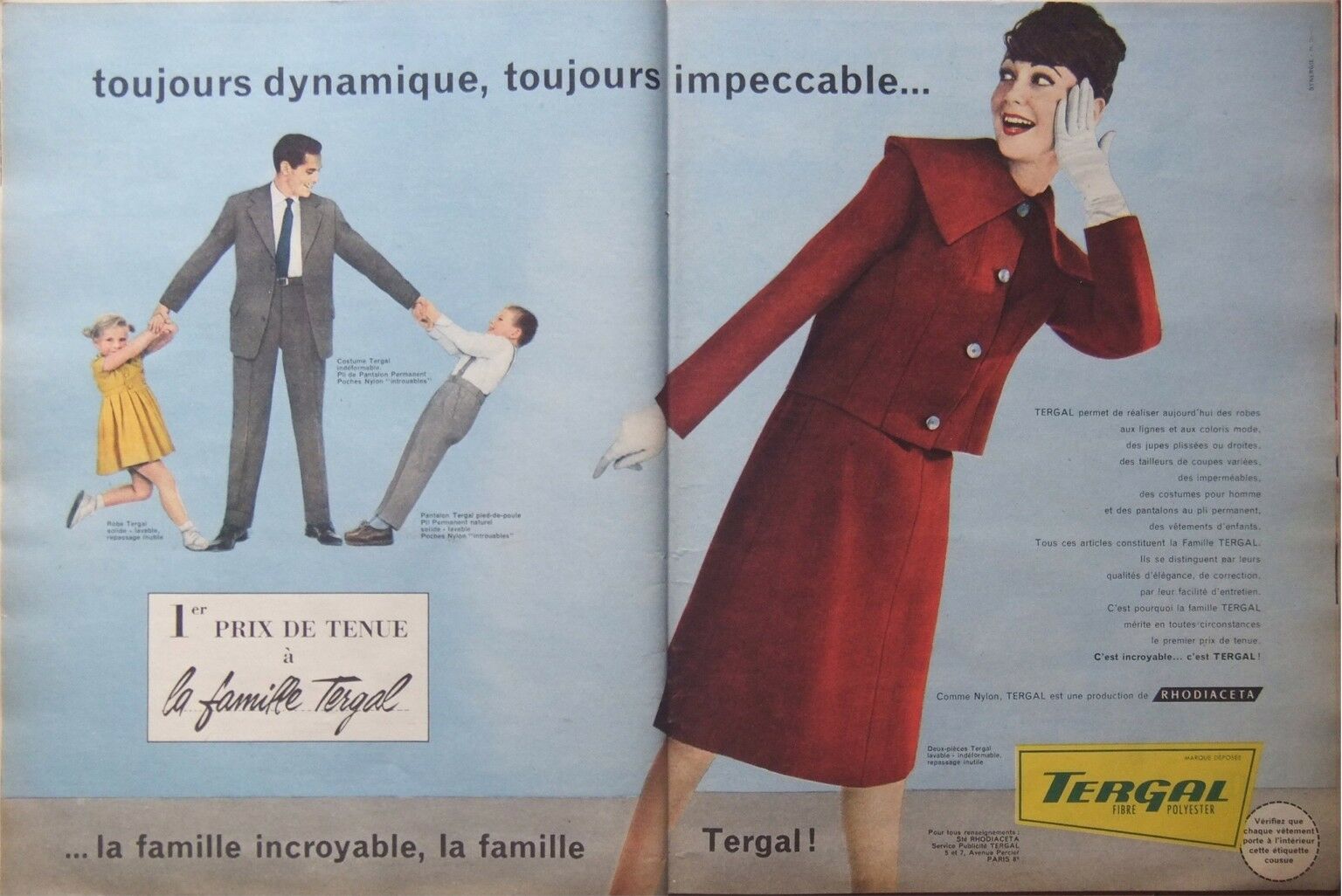 Toujours dynamique, toujours impeccable, Tergal, 1958
En revanche, cette image faussement naïve de la famille impeccable, en isolant la femme au premier plan sur sa propre page, prépare clairement son émancipation.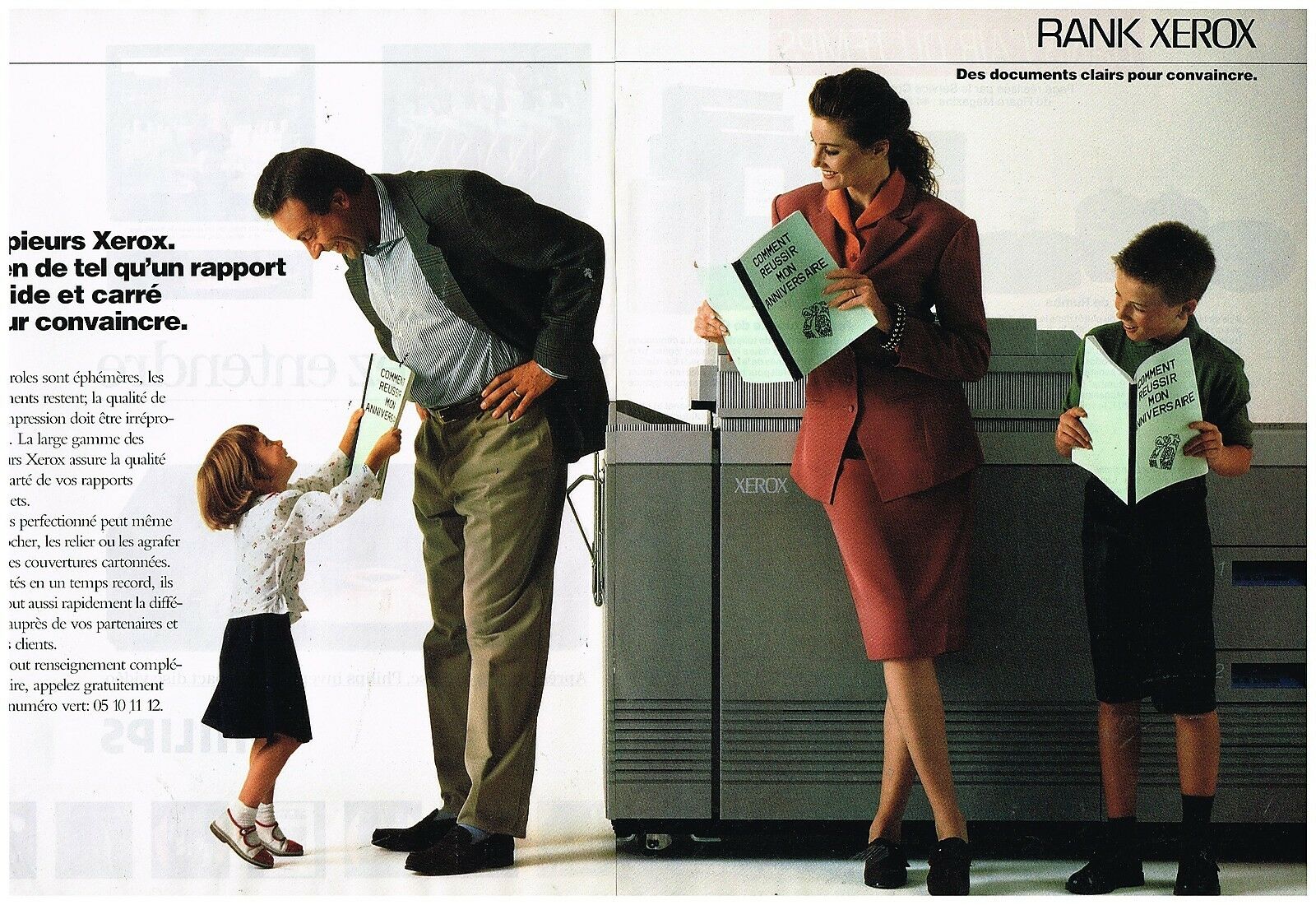 Les Copieurs Rank Xerox, 1989
Il est amusant de la comparer à cette autre image, trente ans plus tard, sans profondeur de champ, de la famille idéale, désormais strictement paritaire.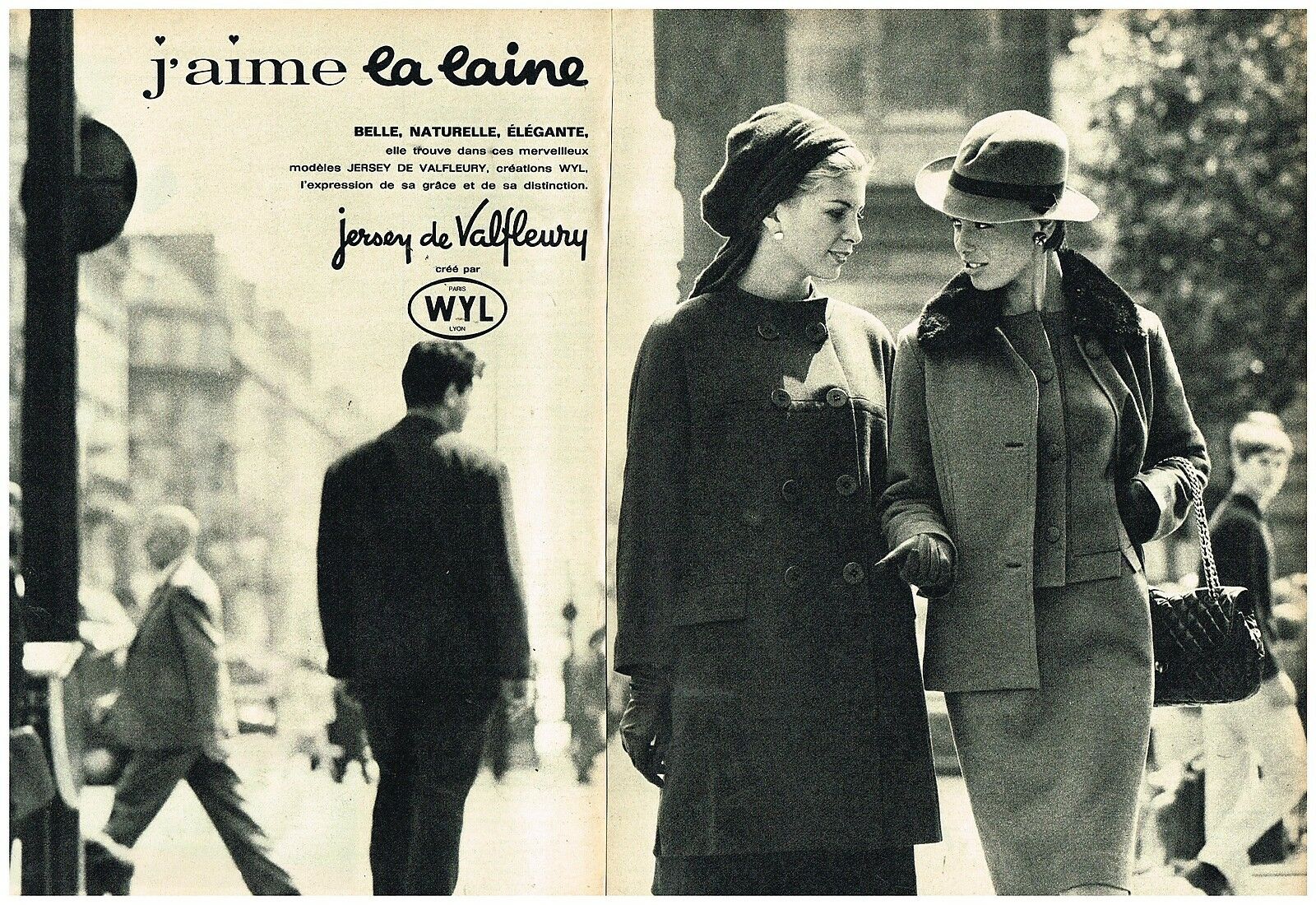 Prêt à porter Jersey de Valfleury, 1964
On reconnaît ici un effet de travelling arrière qui, en élargissant le champ sur les deux modèles, accentue le rapetissement du passant qui s'éloigne.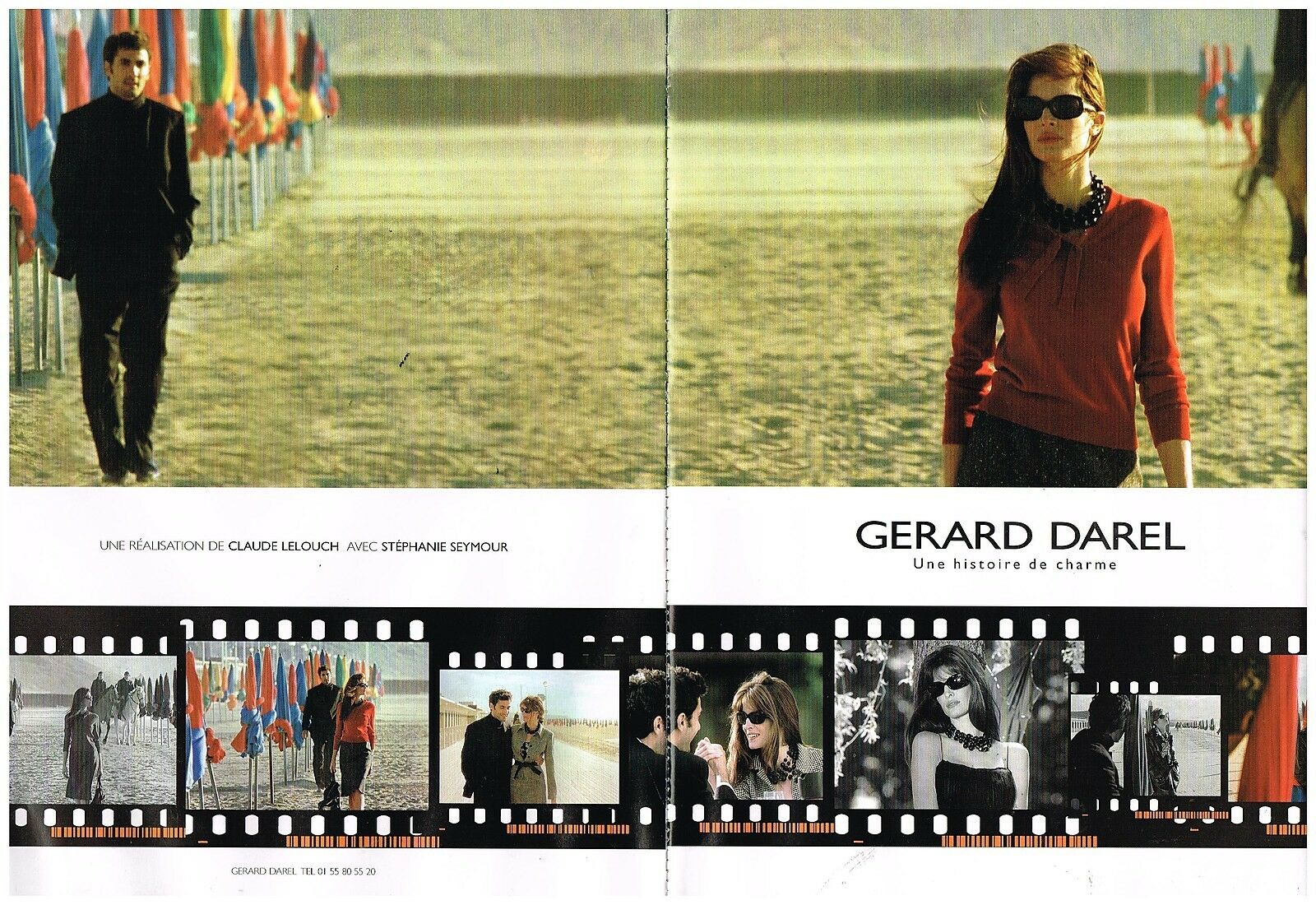 Prêt à porter Gerard Darel avec Stephanie Seymour, 2000
Là encore la comparaison est éclairante avec cette référence avouée au cinéma de Lelouch, où la modèle est seule et où le passant se rapproche.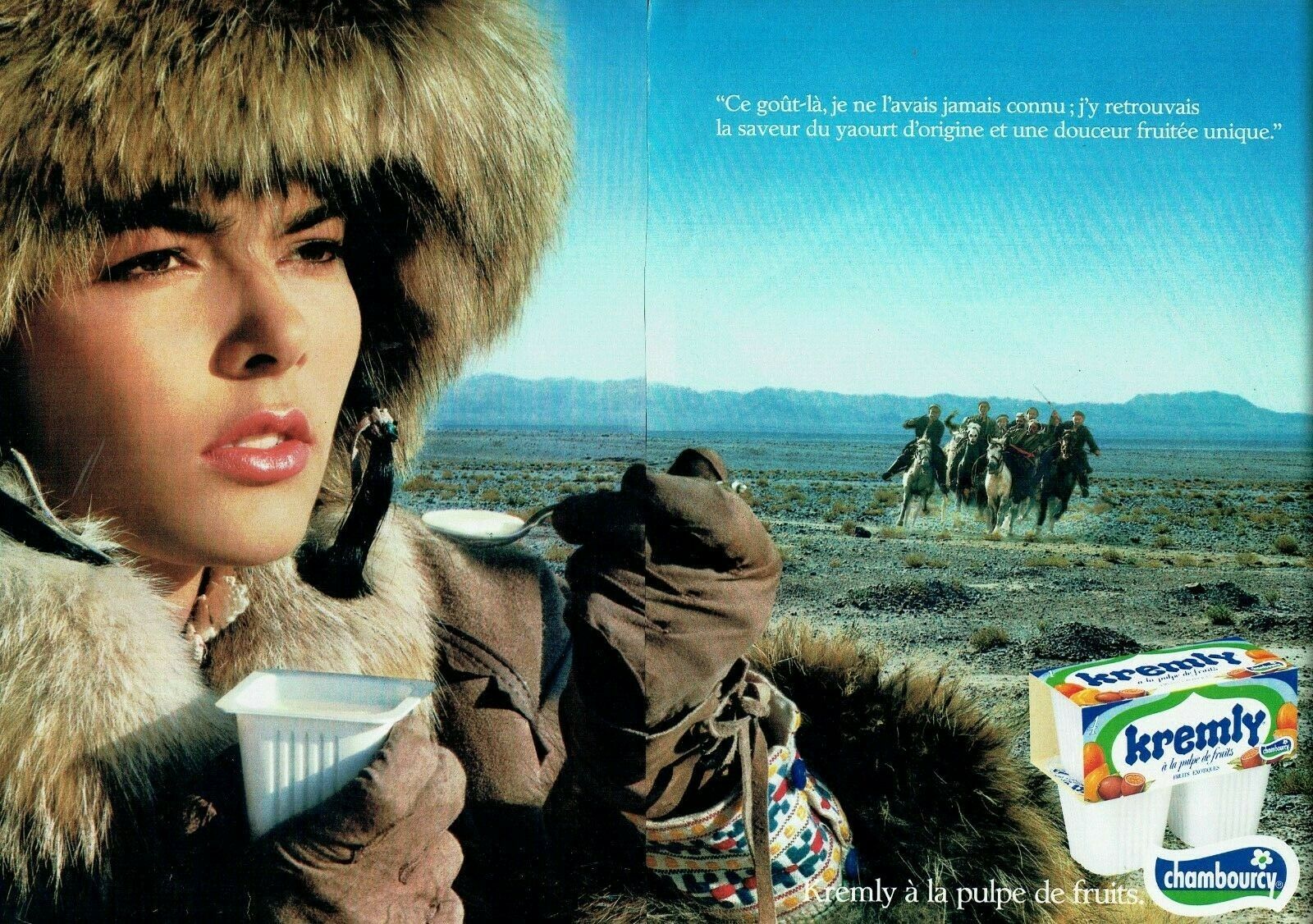 Chambourcy, yaourt au goût Bulgare, 1987
On reconnaît ici un effet de panoramique contrarié, dans lequel la douceur est sur le point se se voir percutée par le force et le nombre.
Mais la plupart des exemples que nous allons voir ne s'embarrassent pas de mouvements : la tension sexuelle se déploie d'autant plus dans le statique.
« En cas de malheur »

Au cinéma, l'exemple canonique est le film d'Autant-Lara, « En cas de malheur » (1958)

Le passage le plus émoustillant du film se structure entre deux plans opposés :
dans le premier, Bardot fait patienter le spectateur pendant de longues minutes, en agitant son pied devant un Gabin vu de dos, d'une impassibilité granitique ;
dans le second, la caméra passe derrière le bureau, inversant les positions assis/ debout et les tailles relatives.
C'est cette scène éclair, d'à peine quelques secondes, qui a servi pour les affiches quelque peu mensongères du film.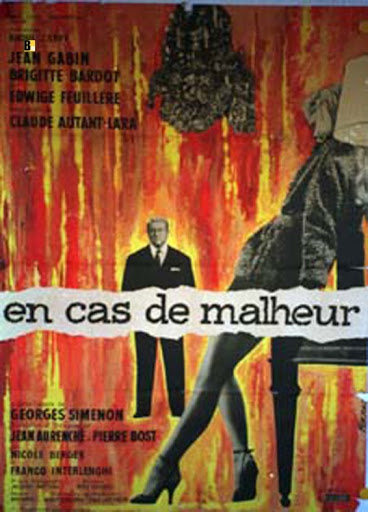 Une des affiches françaises respecte les proportions de l'image filmée, se contentant de détourer les personnages sur une fond d'incendie évoquant le danger, et insistant sur la symbolique lampe / lustre qui pourrait échapper au spectateur : l'une évoquant la sérénité du bureau, l'autre la beauté menaçante.
| Affiche pour l'Argentine | Affiche pour l'Allemagne |
| --- | --- |
Ces deux versions respectent également les proportions de l'image filmée, tout en mettant en évidence la composition diagonale.
Les deux autres affiches pour la France augmentent la taille de Gabin : dans la seconde, les deux vedettes sont quasiment mises à niveau, sous le bandeau égalitaire « Gabin – Bardot ».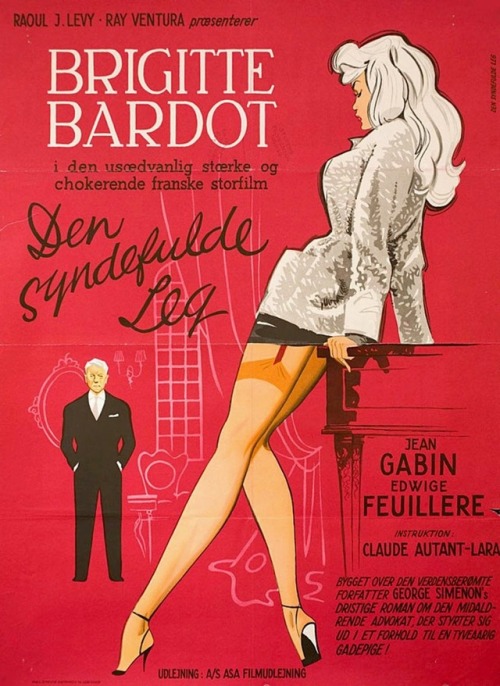 Seule l'affiche pour le Danemark ose aller dans l'autre sens, révélant derrière l'érotisme conventionnel du nylon le véritable ressort de l'image : le thème de la géante et de la dominante.



| Au commencement était l'image. Alors vint le téléviseur géant Panasonic,  1982 | |
| --- | --- |
L'image est typiquement Bardot / Gabin : galbé contre carré, vue partielle contre vue intégrale. Le slogan souligne le paradoxe visuel : le « géant » est celui dont la taille apparente est la plus petite.
Collants Chesterfield, Laissez jouer vos jambes, 1983
Cette campagne recycle efficacement le vieux souvenir : le cadrage à la ceinture accentue l'effet de gigantisme, et le format double-page repousse chaque sexe dans son camp.


Signez un pacte avec Jean d'Avèze
Pour des raisons bien compréhensibles, cette marque de maquillage a intérêt à se focaliser sur le visage plutôt que sur les jambes. La puissance imaginaire de la profondeur de champ fait le reste.
| Les Allumettes Gauloise, 1985 | Les Allumettes Stuyvesant, 1986 |
| --- | --- |
Après l'interdiction de la publicité sur le tabac, ces deux cigarettiers font appel à la profondeur de champ pour suggérer l'objet qui manque.
| Prêt à porter IKKS, 1999 | Cerruti, 2000 |
| --- | --- |
A la fin du XXème siècle, la profondeur de champ traduit la mise au rencart du désir masculin conventionnel : les filles s'occupent entre elles et regardent devant.
Zadig et Voltaire avec Sean Lennon et Charlotte Kemp, 2009
Ces deux images prennent comme exemple un couple célèbre pour laisser à l'homme du début du XXIème siècle le choix entre deux situations, que souligne la position de la tour Eiffel:
garder sa virilité, et devenir l'accessoire d'une femme pressée ;
la lui abandonner, et devenir sa muse.
L'homme au premier plan

Plus rare, ce dispositif replace l'homme à la position qu'il a perdue.

Un homme sur lequel on se retourne , Prêt à porter Jacques Pernet, 1980
En 1980, il paraissait encore inhabituel que l'homme fasse des efforts de coquetterie pour séduire. Pour promouvoir ce retournement de situation, la coloration vient à l'appui de la profondeur de champ, et la traction de la laisse donne à voir l'attraction inversée.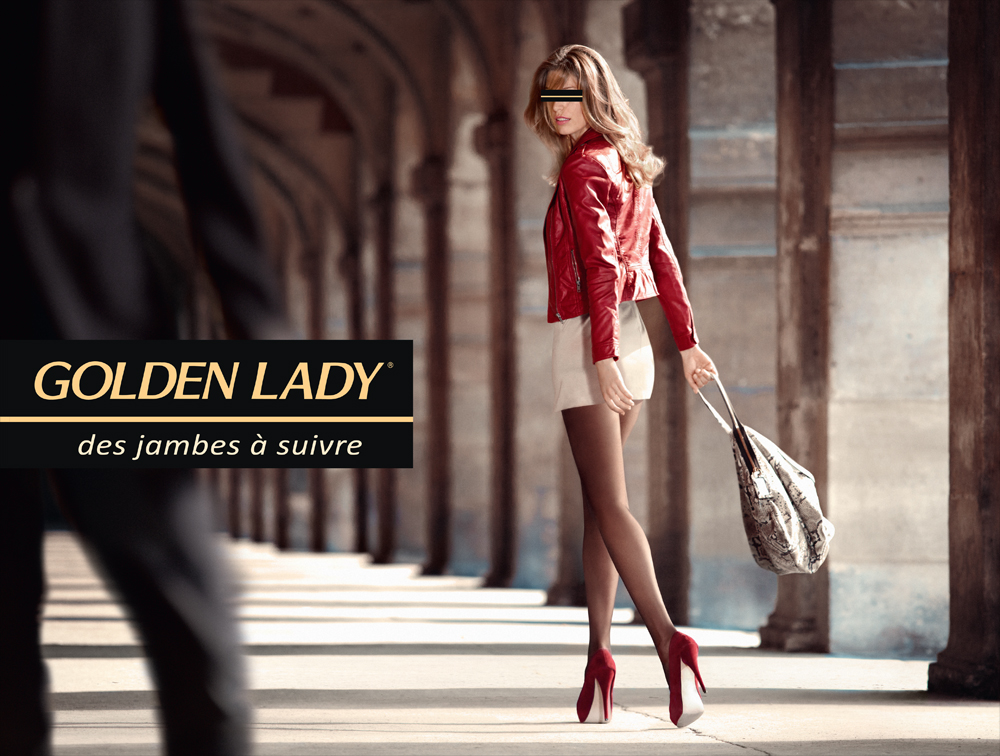 Collants Golden Lady, Des jambes à suivre, 2012
Trente ans plus tard, même décor pour un retour aux fondamentaux : l'idée de poursuite est servie par l'enfilade des colonnes et de leurs ombres, qui enserrent la souris dans un tunnel grillagé. La barre dorée sur les yeux de la Golden Lady, tel un repérage laser, l'identifie comme cible consentante.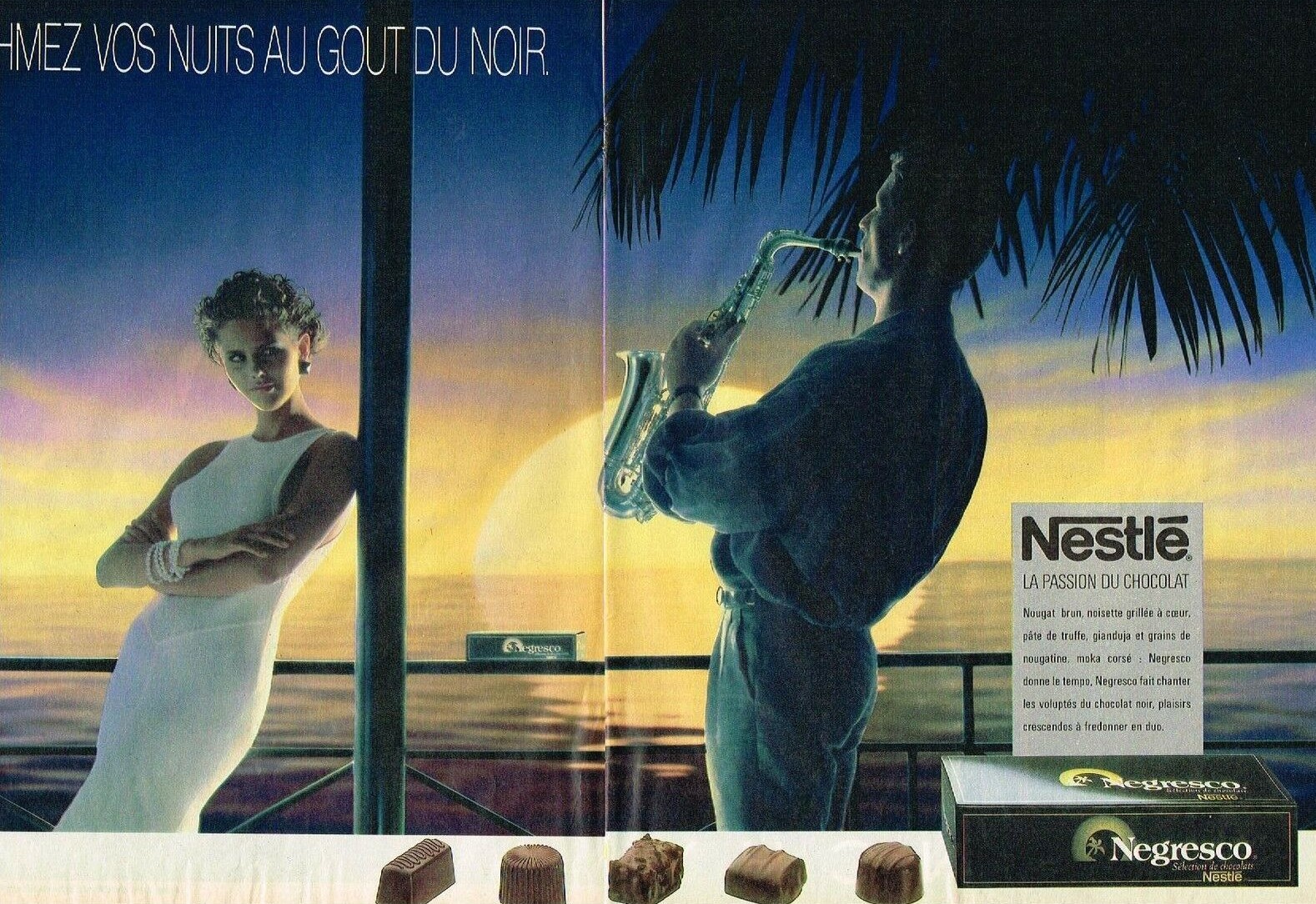 Nestlé, chocolat Négreco, 1985
Femme en blanc intéressée par un instrumentiste doué.
| Whisky William Lawson's, 1986 | Kriter, 1988 |
| --- | --- |
Femme en noir tentant d'intéresser un gentleman exigeant, ou subjuguant un admirateur qui la retient par l'escarpin.
Impossible de fixer plus fort sans coller, L'OREAL, Satya Oblette et Kate Moss, 1999
La femme qui désire est bienvenue, pourvu qu'elle ne s'attache pas.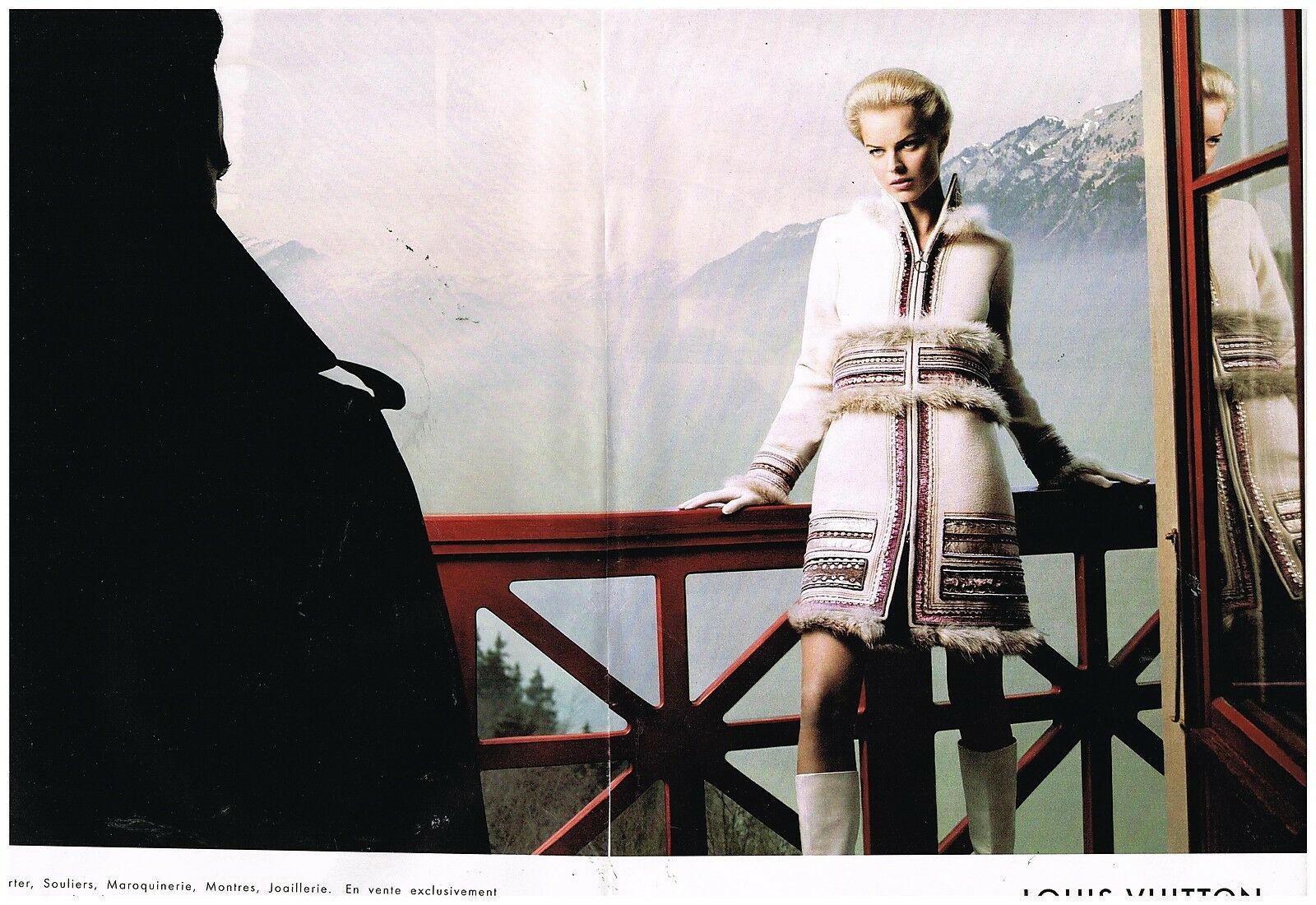 Louis Vuitton, 2002
Certaines, reculant devant le mystère, se font coincer par la barrière.


Parfum Dior Homme, 2010, modèle Jude Law
Sur la Côte comme à Paris, le play-boy préfère se placer du côté des objets allongés, la jetée ou la Tour Eiffel. Disposé dans la profondeur entre lui et sa proie, le flacon-appât garantit le succès de sa chasse.
5 Jeux avec l'ombre

La pub importe avec plus ou moins d'humour un effet favori du cinéma : le jeu avec l'ombre. Je n'ai retenu ici que les exemples en double-page, et  où l'ombre occupe sa propre moitié.

Pour d'autres exemples d'utilisation dans la publicité, voir XXX.

Ombres réalistes
| 1964 | 1968 |
| --- | --- |
Courvoisier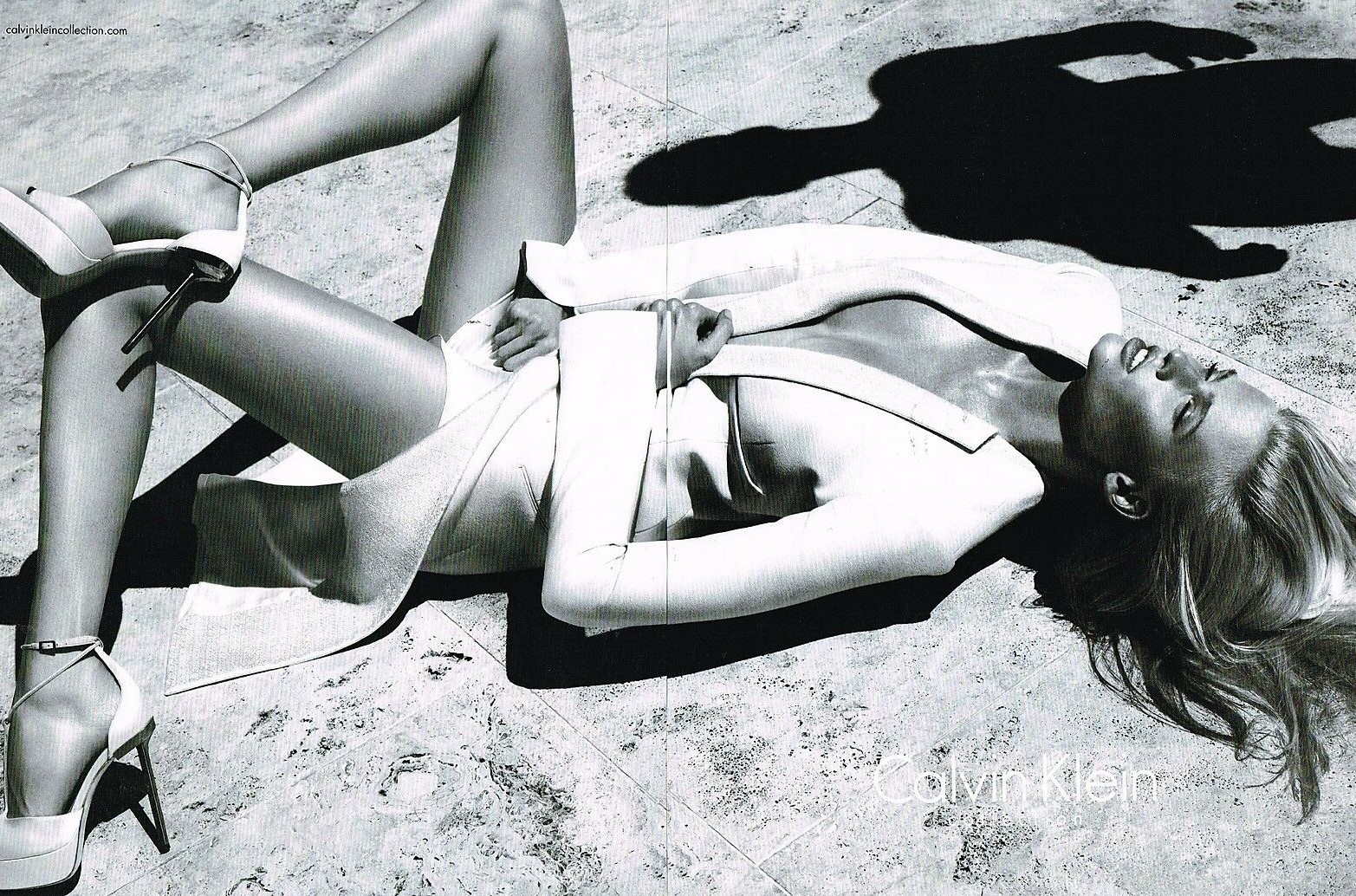 Calvin Klein, 2012
L'ombre de son maître.
Solex, 1969
Le film d'horreur parodié…
| Chesterfield, 1985 | Chesterfield, 1985 | Chesterfield, 1986, museumhosiery.com |
| --- | --- | --- |
L'ombre expressionniste.
Ombres truquées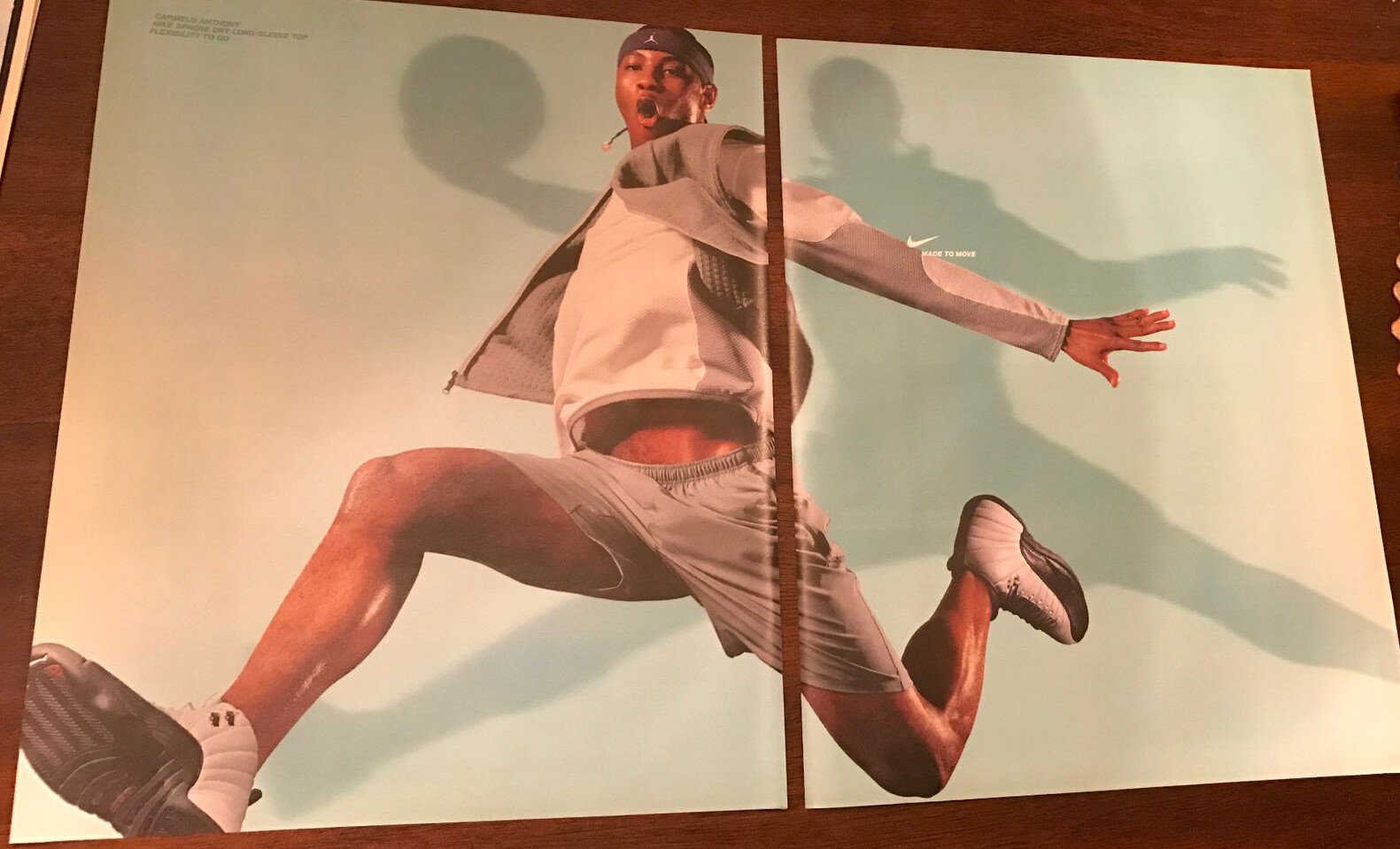 2003 Blouson Sphere de Nyke, avec le joueur de basket Carmelo Anthony
La « sphère » portée par l'ombre montre en grand ce que le texte dit en minuscules : cette illisibilité organisée crée un effet de connivence avec le spectateur, pour qui le blouson est supposé être déjà aussi célèbre que le basketteur.
L'esprit joueur, Nouvelle Swift Suzuki, 2005
Un « esprit » qui explicite le slogan…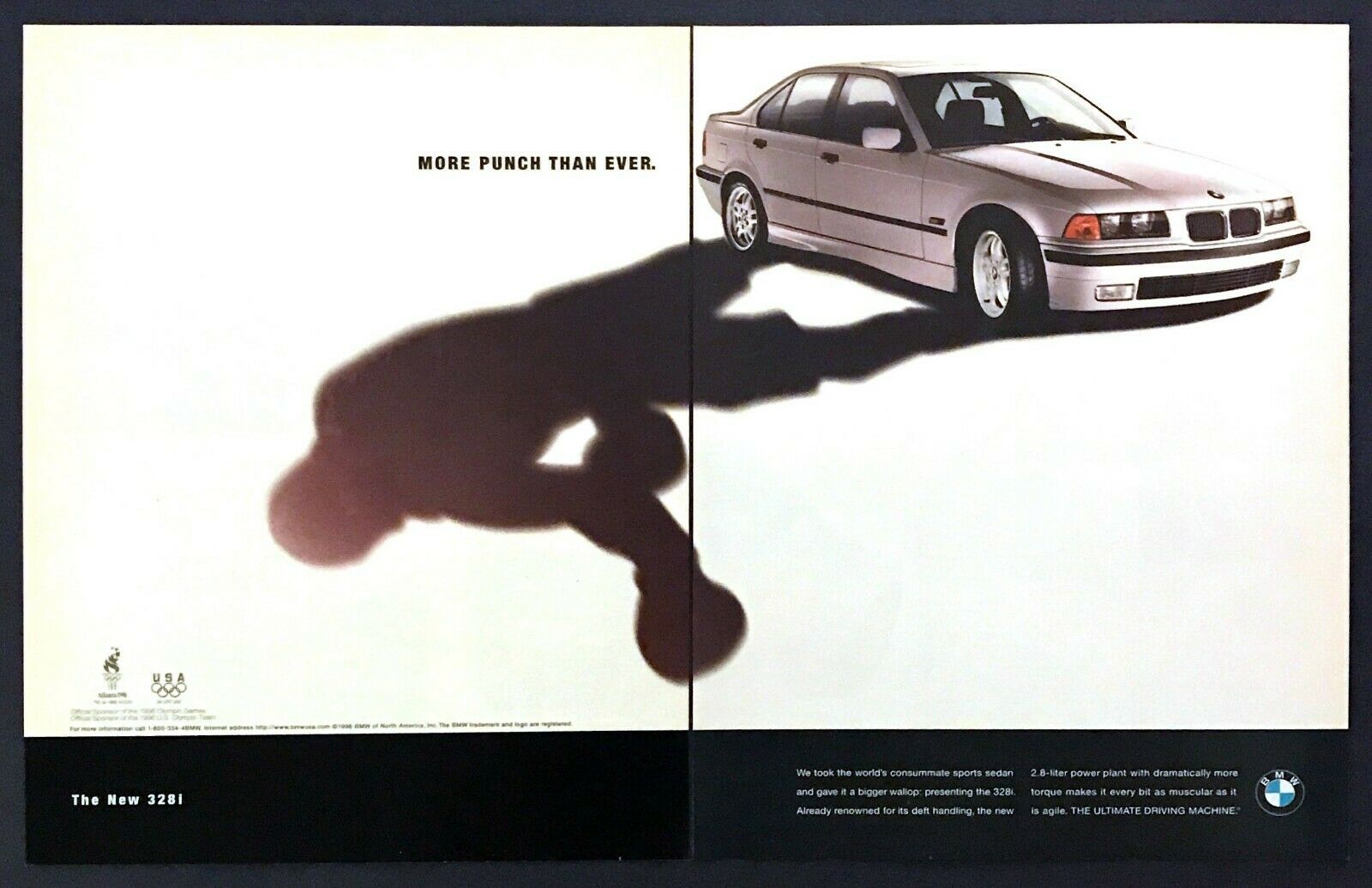 More punch than ever, BMW 328i Coupe, 1996
…ou le magnifie.
D and R, Turquie, 2013
Une apparition qui commente l'autre page…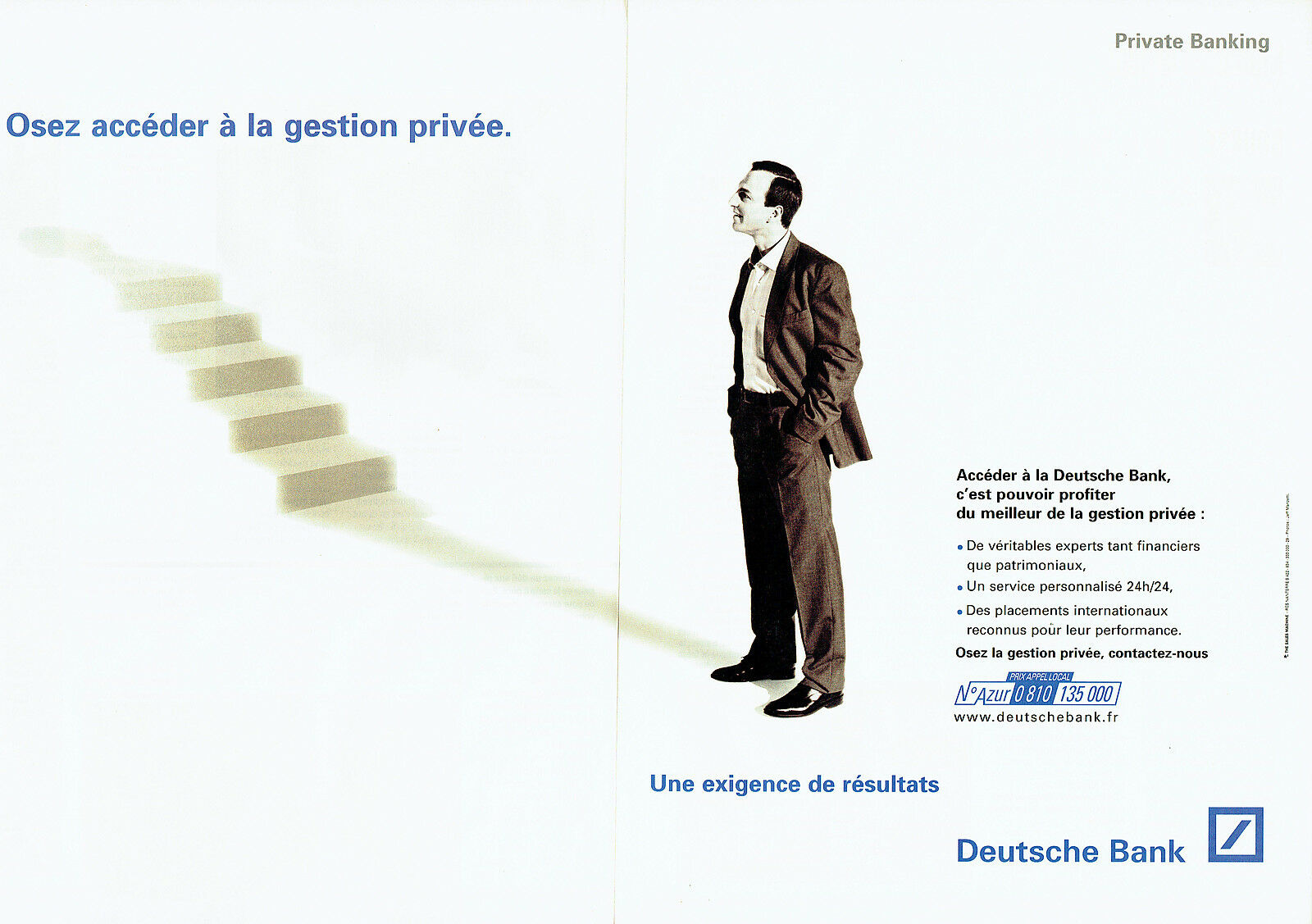 Deutsche Bank, Gestion privée,2000
…la complète…
| Gatorade | Powerbar |
| --- | --- |
Nestlé, 2003
…ou la contredit.