Ce qui avait tant intrigué les hommes des générations précédentes – la présence des seins sous le plastron et de la vaillance dans le coeur – va trouver une résolution soudaine, par la trouvaille d'un peintre : en posant un gros coeur rouge sur des gros seins blancs, il ramène l'escimeuse dans le registre de l'amoureuse… et les filles ne vont pas s'y tromper…

Article précédent : 1 L'Escrimeuse : premières passes
Les escrimeuses de Jean Béraud

A une date inconnue entre 1890 et 1900, le peintre parisien Jean Béraud a décliné une série de dix tableaux d'Escrimeuses, comme il le faisait pour tous les thèmes dont son pinceau prolifique s'emparait.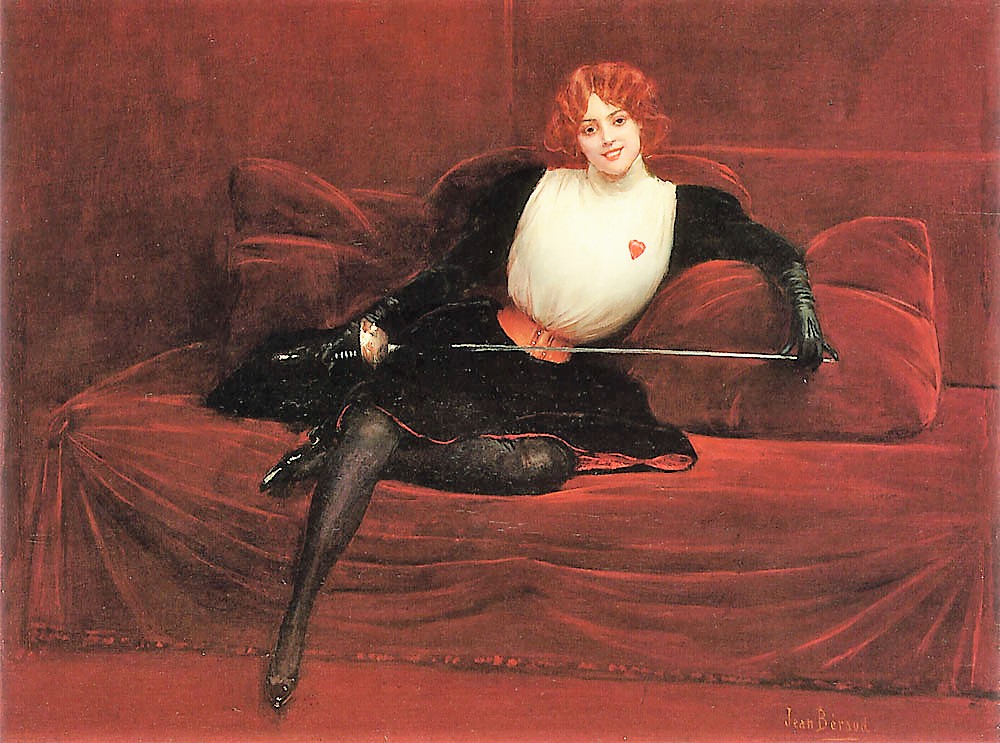 Escrimeuse, Jean Béraud
Le plus connu est peut être un portrait de la cantatrice Marguerita Sylva, en tout cas c'est ce qu'elle a raconté plus tard à un journal de Chicago lors de la tournée pour l'opérette « Princess Chic » :
« Miss Sylva estime que l'escrime est l'une des plus grandes aides au développement du corps féminin, et. comme la plupart des Françaises, a eu l'enseignement de bons professeurs à Paris. En fait, c'est dans une de ces écoles qu'elle a attiré l'attention de l'artiste Jean Béraud, qui en a fait son modèle pour la célèbre escrimeuse en noir, avec un cœur rouge vif sur le corsage, si familier à. ceux qui suivent les nouveautés dans les magasins d'art » nouveautés. » The Inter Ocean from Chicago, Illinois, December 23, 1900, p 19
L'assertion est plausible : Marguerita Sylva, née à Bruxelles en 1875, y a fait ses études de chant ; et avant de s'installer à Londres en 1896, elle a pu passer brièvement par Paris, vers 1894-95. Mais c'est aussi le moment où paraît l'article de la Revue illustrée, qui a pu attirer l'attention de Béraud.
| Marguerita Sylva, 1900, affiche pour « Princess Chic ». | Béraud, L'escrimeuse |
| --- | --- |
Béraud n'a peut être pas pris pour modèle Marguerita Sylva ; mais il est clair que celle-ci surfe, pour sa promotion auprès du public américain, sur l'image de Béraud comme peintre de charme des Parisiennes.
| Walters Art Museum, Baltimore | Collection privée |
| --- | --- |
Sur sofa rouge ou sofa vert, la trouvaille de Béraud est le petit coeur rouge vif sur la poitrine blousante, encore mis en valeur par la rousseur de la chevelure. Si la fille de gauche, avec son gant d'escrime, peut lointainement prétendre illustrer une sportive, celle de droite, avec ses longs gants noirs flattant la lame par les deux bouts, fait partie du club des femmes fatales.
C'est clairement le côté veuve flamboyante qui fait mouche : manquent la robe noire et le petit coeur, et l'image devient banale.
| Gouache | Pastel | Dessin à la plume, 1905 |
| --- | --- | --- |
Des escrimeuses meilleur marché sont disponibles, à l'unité…
…ou à la paire, comme dans ce duo nettement moins convaincant que ceux de Koppay. Que ce soit par paresse graphique ou par esprit anti-germanique, Béraud n'est pas intéressé par les duels de petites filles.
Arlequine Fin de Siècle
Jean Béraud, avril 1890, le Figaro illustré
Même lorsqu'il s'est frotté en 1890 au thème de la femme qui fouette, c'est sous l'aspect souriant d'une Arlequine plus facétieuse que sévère..
Elle est fournie en version face ou pile
| Danseuse assise, Degas , vers 1880, National Gallery of Victoria, Melbourne | Danseuse assise aux Bas roses, Henri de Toulouse-Lautrec, 1890, Dickinson Gallery |
| --- | --- |
Poitrine triomphante, crinière libérée, couvertes de noir de pied en cap, narquoises et sûres d'elles, arborant l'emblème de l'amour offert à celui qui sera assez habile, les Escrimeuses de Béraud apparaissent comme l'antitype des danseuses prolétaires et efflanquées de Degas ou de Toulouse-Lautrec.
L'amorçage d'un même

On dit que Florenz Ziegfeld, l'un des producteurs les plus influents de comédies musicales de Broadway tomba sur une des Escrimeuses de Béraud lors de l'Exposition universelle de Paris, en 1900.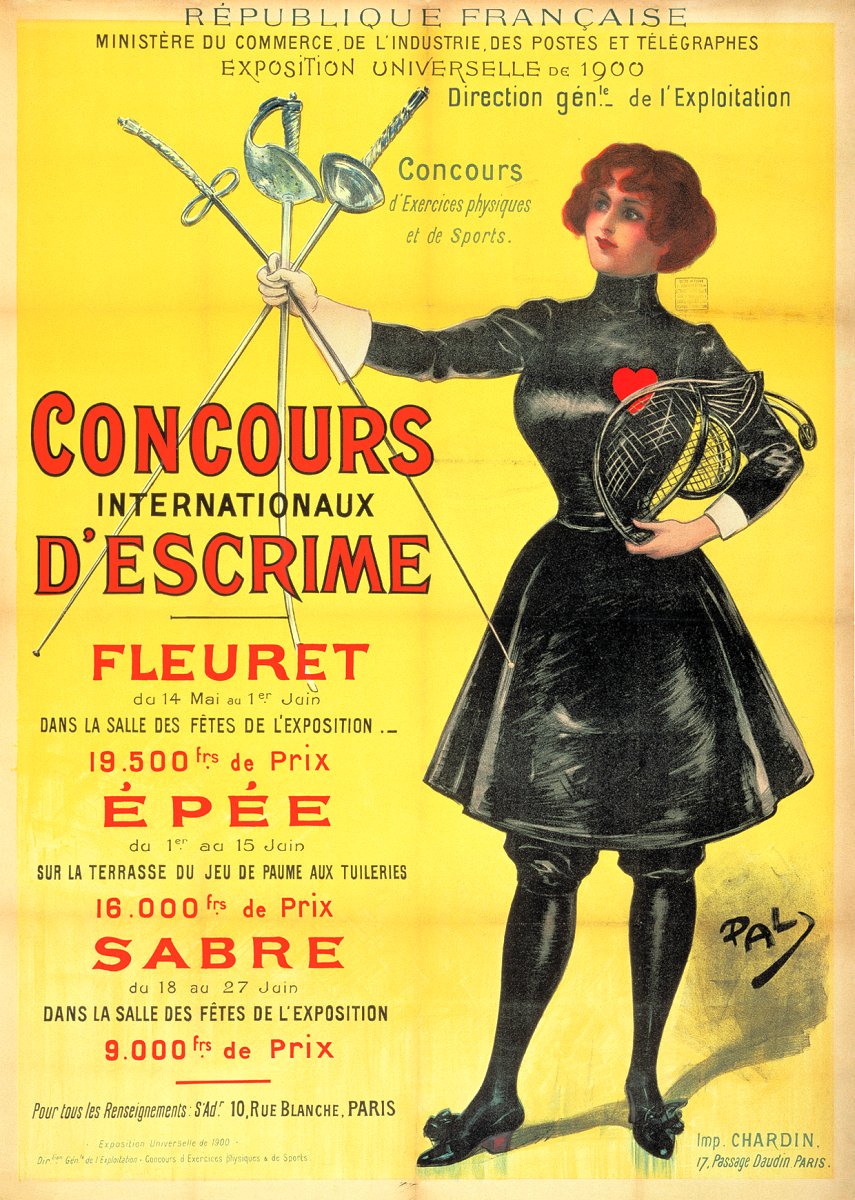 Affiche des Concours internationaux d'escrime, par Pal,1900
Sans doute vit-il aussi cette affiche. Toujours est-il que, conscient du potentiel érotique du costume, il en fit faire des copies à Paris.
1900, Blanche Mercredy (Blanche West), photographies de James Arthur
Une jeune actrice, Blanche West, devient la figure éponyme de la « Fencing girl ».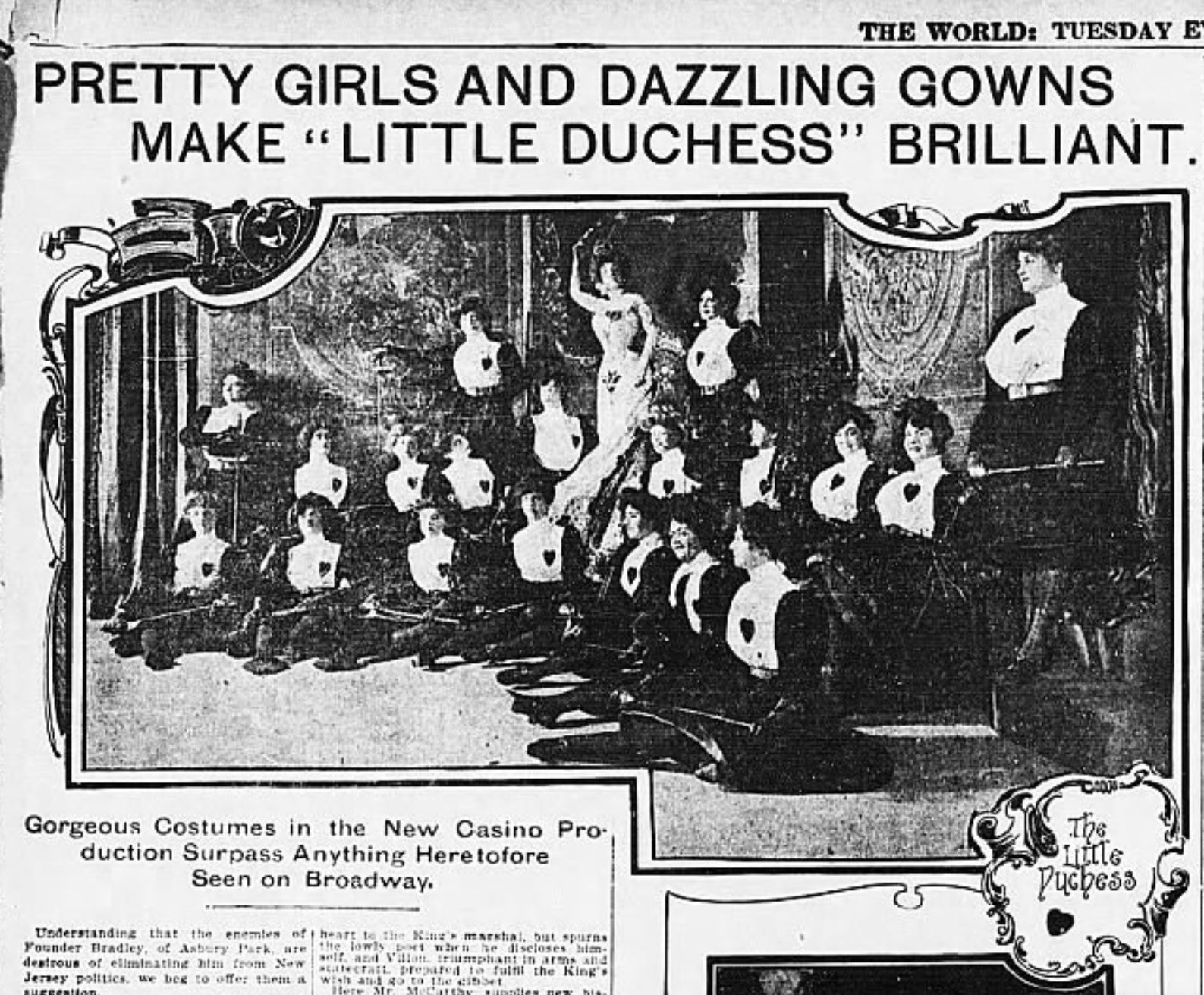 The little duchess
15 Oct 1901, The World Evening, New York
A l'automne 1901, Ziegfeld habille ainsi ses danseuses dans un numéro de sa comédie musicale « The little duchess », « un costume sompteux…qui surpasse tout ce qu'on a pu voir jusqu'ici à Broadway ».
On y avait déjà vu des jambes nues, mais l'effet multiplicateur du petit coeur n'est pas pour rien dans cet enthousiasme.
THE ATHLETIC GIRL IN THE SALLE D ' ARMES
Munsey's Magazine, Volume 25, 1901, p 725
1901, Emballage pour Hamilton King Tobacco
En 1901, tous les ingrédient de la formule étaient déjà connus : d'une part des jeunes filles sages à plaston marqué d'une coeur, d'autre part des battantes de charme, en satin écarlate, longs gants noirs et collier de chien
 C'est ce mélange des attributs de la sportive et de la séductrice qui va donner à l'invention de Ziegfeld toute sa force de frappe.
| Lillian Harris et Blanche West dans The little duchess », SATURDAY STANDARD, 18 février 1902 | Anna Held's girl, photo Gilbert et Bacon |
| --- | --- |
Début 1902, il confie à sa compagne Anna Held le soin de monter le troupe des Anna Held's girls, qui propage le costume dans tous les Etats-Unis.
« Repos », gravure colorée à la main
1901, Philadelphie
Satin noir, soie noire et genoux montrés « à la Béraud » font toute l'audace de l'image, comparée à ce qui était admissible un an plus tôt.
Les Anna Held's girls sont largement diffusées, et suscitent de nombreuses imitations…
| vers 1902, plaque emaillée publicitaire pour le Whisky Pure Rye, The McCart-Christy Co. Cleveland, O. The H.D. Beach Co. | Anonyme |
| --- | --- |
| Anonyme | Anonyme |
| Anonyme 1903 | Anonymes, Montana |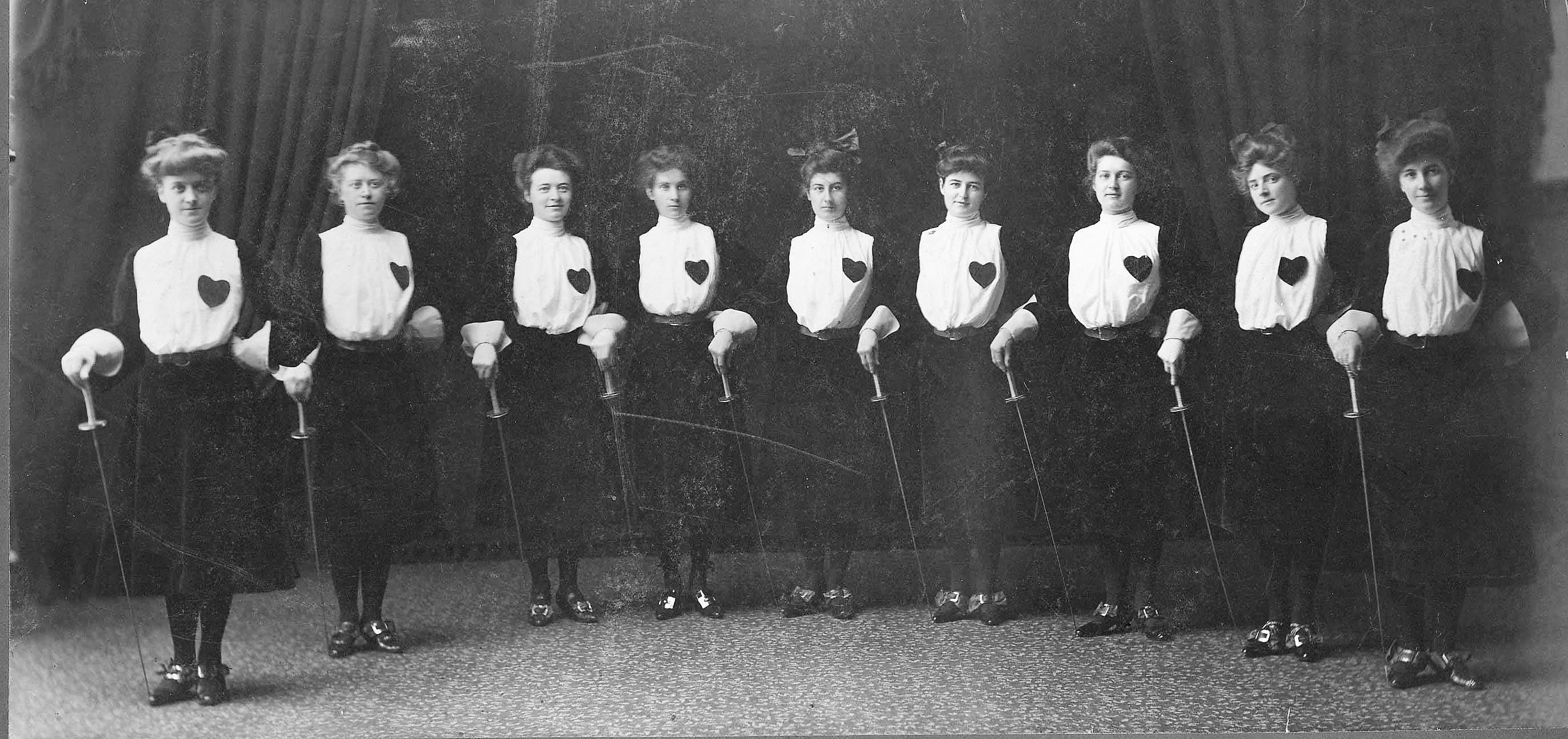 Dans les nombreux clichés anonymes de l'époque, il est difficile de faire la part entre les coquettes qui se déguisent, les professionnelles qui s'exhibent et les authentiques membres de clubs d'escrime.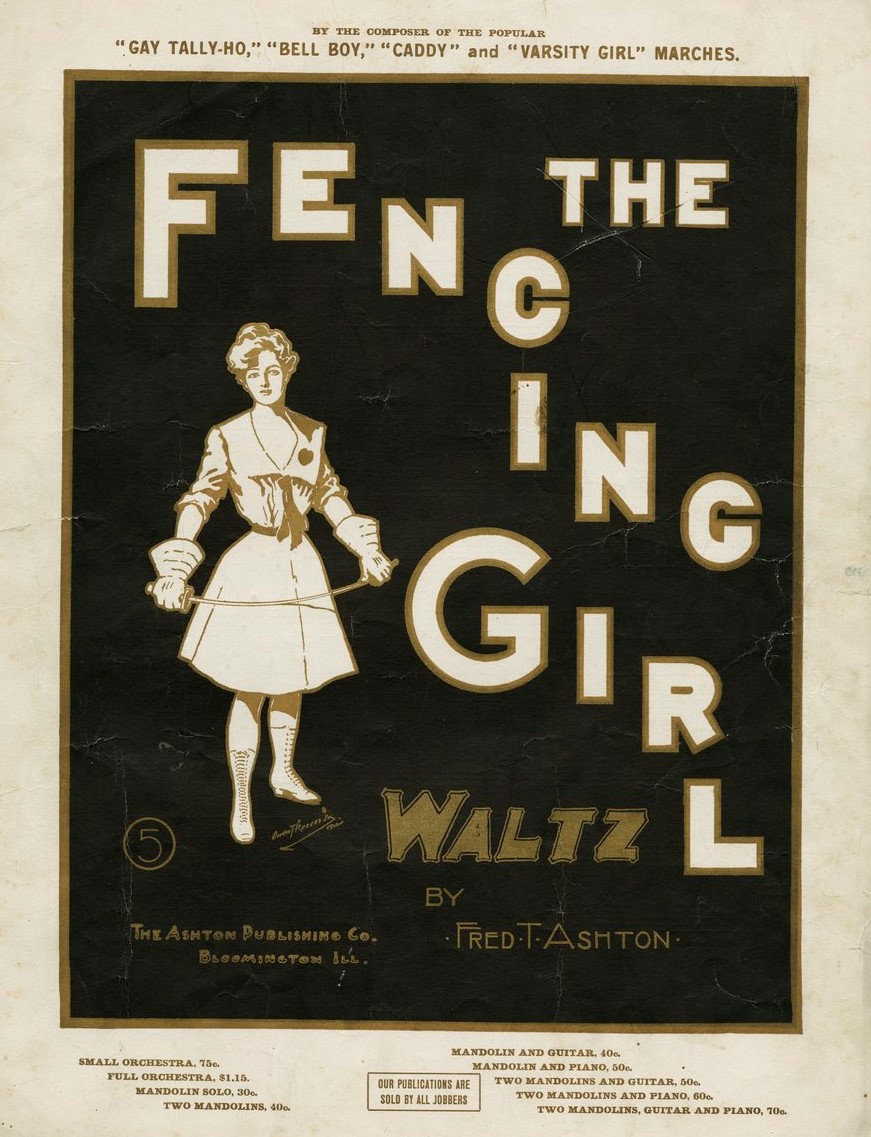 1902, The fencing girl, Valse, Bloomington, IL, The Ashton Publishing co
Le même est si connu qu'on peut inverser le noir et le blanc.
| Ziegfeld Follies, 1908 | La Ziegfeld Girl Grace Jones, dite « The Fencing Girl, » vers 1916, Campbell Studios NYC |
| --- | --- |
Le costume est recyclé par Ziegfeld en 1908 et une seconde « Fencing Girl » est lancée en 1916.
L'exploitation du même

La formule ne se propage pas en Europe, mais vit sa vie aux Etats Unis pendant un bon demi-siècle.

Calendrier Alton
En 1903, un calendrier propose « quatre poses gracieuses »...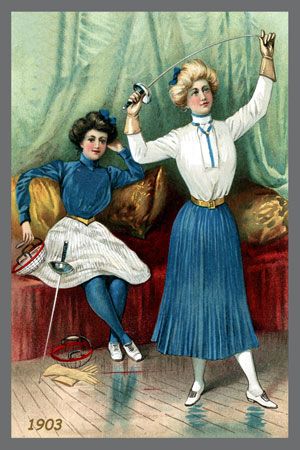 Yale women
…mais les vraies sportives de Yale dédaignent le petit coeur.
Vers 1904, cartes postales « Yes or No ? »
L'escrimeuse est implacable…
… ou vénale…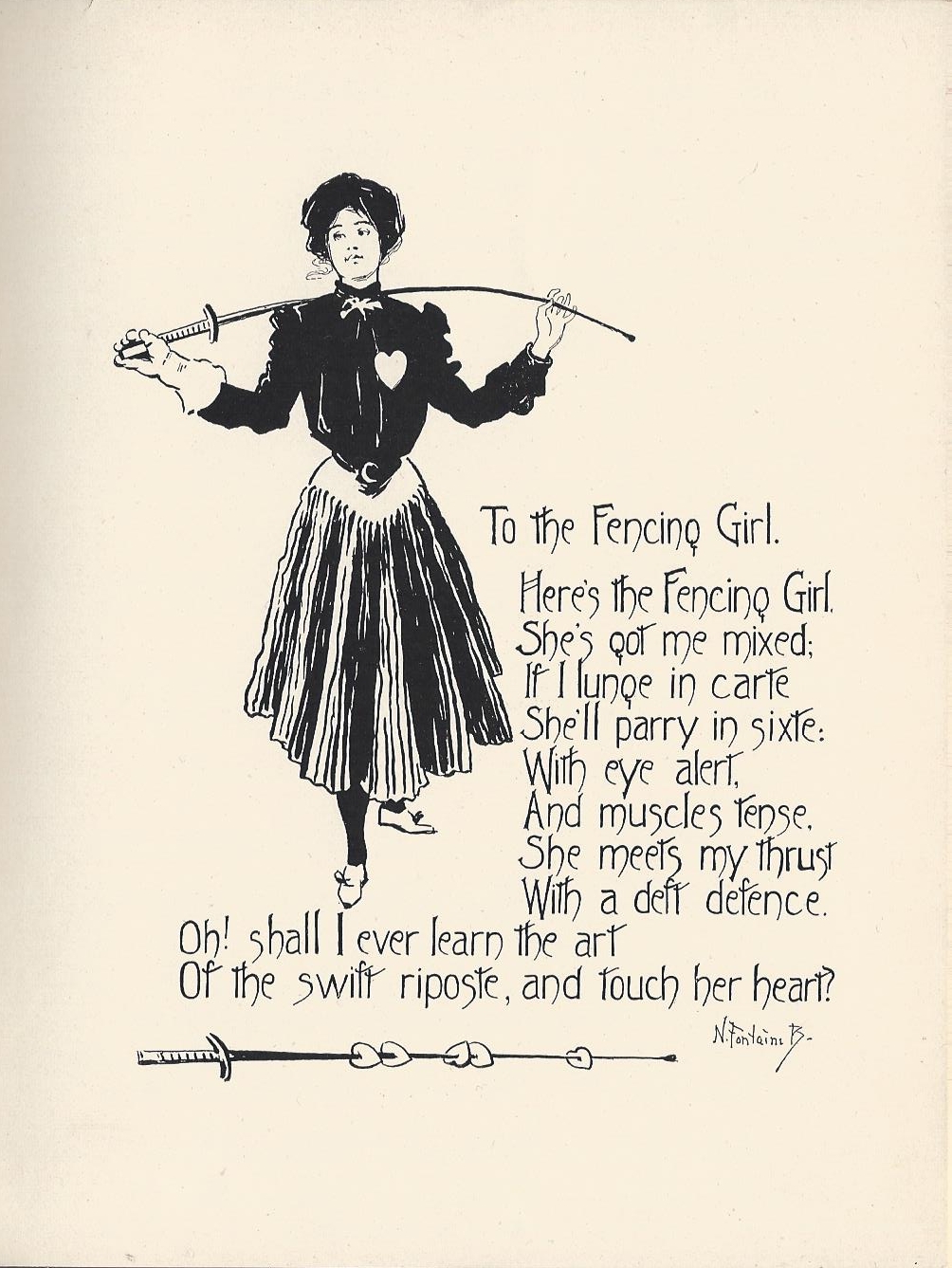 To the fencing girl
1904, Toasts for the Times in Pictures and Rhymes, par John William Sargent [10b] .
…enjeu poétique : « Apprendrai-je un jour l'art de la réplique rapide, pour toucher ton coeur ? »
| 1907, Phila card | date inconnue |
| --- | --- |
…dangereuse…
| En garde | L'escrimeuse |
| --- | --- |
1907, dessins d'Archie Gunn
…tirée à quatre épingles…
| « To my Valentine » Carte postale | 1907 UK London Magazine (inversée) |
| --- | --- |
…mais elle a quelquefois bon coeur (ou beaucoup d'amoureux, au choix). La carte postale US recopie l'illustration du London Magazine.
Dans la prude Albion, le même ne prend pas : on a beau rajouter un coeur sur le corsage de cette pirate (la jeune actrice Ethel Oliver), le bicorne ne cadre pas avec le masque.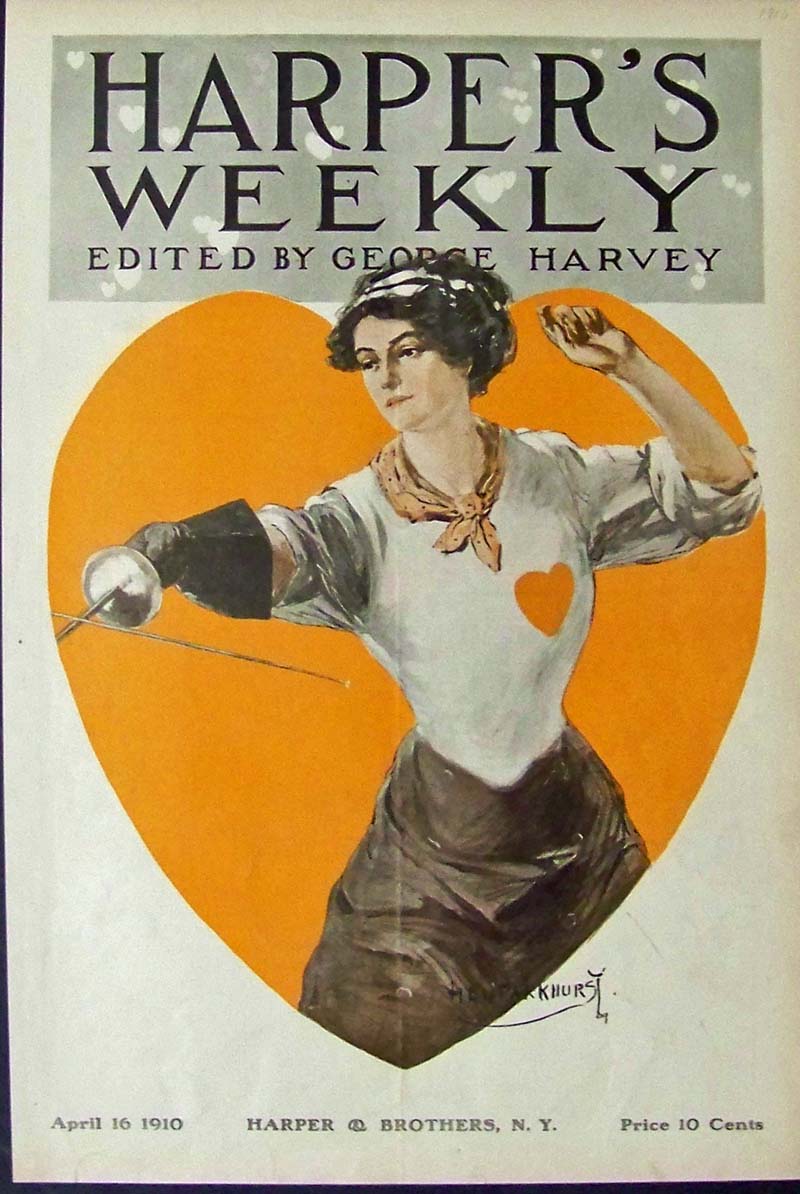 Couverture par Henry L. Parkhurst, Harper's Weekly, 1910
Le grand coeur autour du petit est comme le fleuret en hors champ par rapport au fleuret visible, suggérant que le combat sportif est aussi un combat amoureux.
| Couverture par Charles Cole Phillips, Life 1er septembre 1910 | Calendrier par Earl Christy, 1917 |
| --- | --- |
Le petit coeur  fait des résurgences épisodiques : lorsque l'escrimeuse est au repos, son  côté sentimental prend le dessus. Dans la couverture de Life, le coeur apparaît à l'insu de la sportive, révélant la midinette qu'elle cache.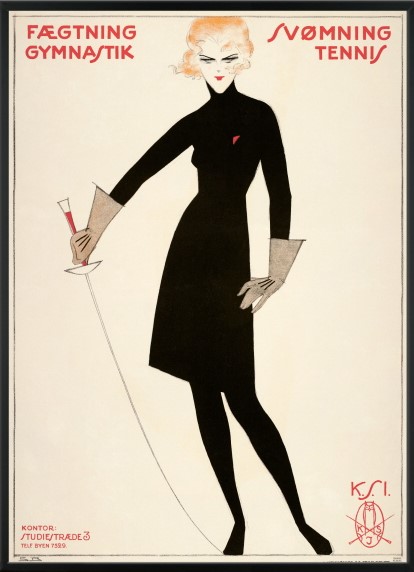 1919, Women's Student Sports Association, Danemark
A l'inverse, cette affiche art déco réveille le côté dangereux de l'escrimeuse, avec son coeur réduit à une tâche minuscule et la lame interminable qu'elle courbe à ses pieds – telle un désir inassouvi.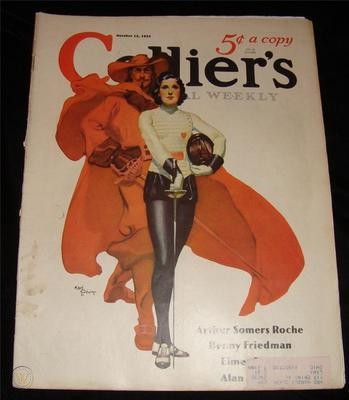 Couverture de Karl Godwin, Colliers Magazine, octobre 1932
Ici l'image développe la vaillance de mousquetaire que dissimule le coeur rouge.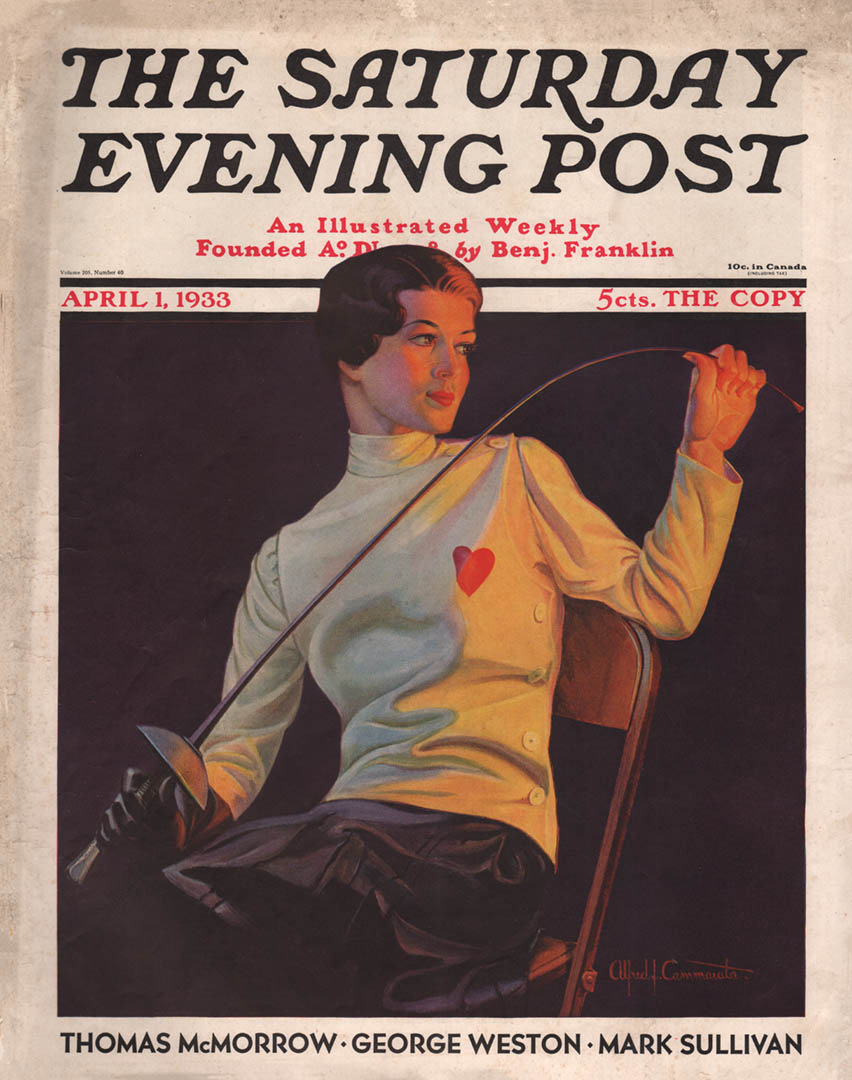 Illustration de Alfred F. Cammarata
1er Avril 1933, couverture du Saturday Evening Post
Dans cette image en apparence irréprochable, le contraste main nue / main ganté flatte les deux parties de la lame, rigide puis courbée. Ce détail des mains dissymétriques, négligé par leurs prédécesseurs, va désormais devenir le petit secret des graphistes américains.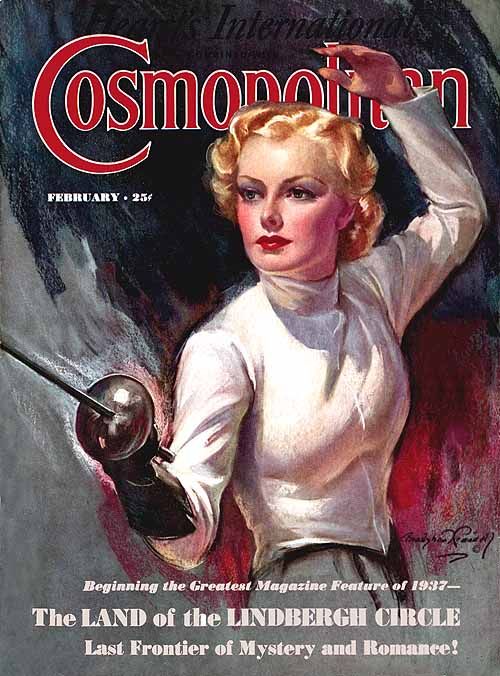 Couverture de Bradshaw Crandell, Cosmopolitan, 1937
Pour mettre en avant la main droite, le dessinateur a escamoté le sein gauche, et renoncé au petit coeur. Cette blonde platinée, très ambivalente, semble prête à vous blesser de sa main gantée puis à vous caresser de sa main nue.
| Verna Knopf photographiée par Laszlo Willinger, Août 1941 | Bettina Bolegard photographiée par Paul D'Ome, Novembre 1943 |
| --- | --- |
Couvertures de Coronet, photo www.westcoastfencingarchive.com
Avant et après Pearl Harbour, la cover girl glamour qui mime l'escrimeuse, et celle au regard grave qui présente son arme et son coeur au spectateur, sont les témoins inconcients du basculement dans la lutte.
| 1948, L'actrice Colleen Townsend | Vargas, 1942 |
| --- | --- |
Colleen Townsend invoque subliminalement la pinup de Vargas dans cette pose très sophistiquée. L'opposition verticale jupe noire / corsage blanc est ici retravaillée horizontalement, entre le gant blanc qui tient l'épée et le noir qui laisse à l'adversaire le choix de la cible : ceinture, coeur, lèvres, ou noeuds dans les cheveux.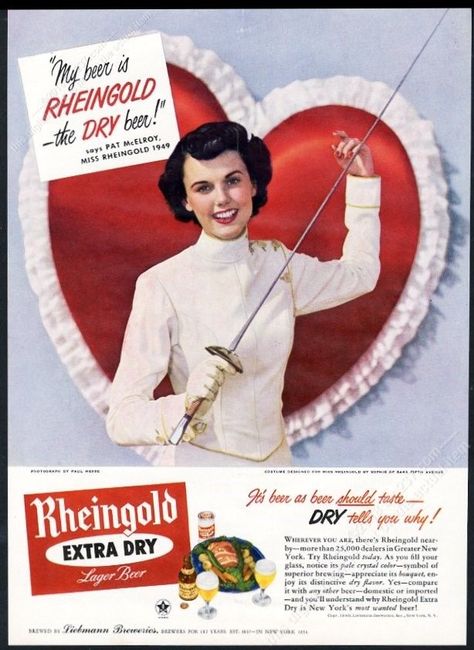 1949, publicité pour la bière Rheingold
Recyclage, en version mousseuse, de la main gantée et de la main nue. Le coeur a quitté le corsage pour envahir l'arrière-plan, faisant voir combien la virginale Pat Mc Enroy, élue miss Rheingold 1949, n'aime personne comme sa bière.
Article suivant : 3 L'escrimeuse chez les pin-ups