Guignols

Rarement la Femme Fatale lâche ses fils et fourre directement sa patte dans la gaine : contact direct qui annihile la domination distinguée et fait de la Marionnettiste la complice, plutôt que la maîtresse de sa Chose.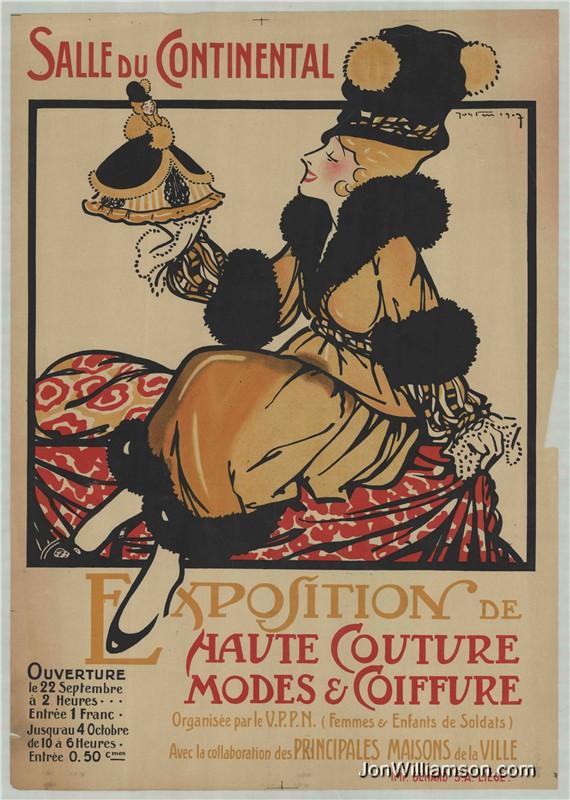 Exposition de Haute Couture, Liège, 1907
La marionnette est vêtue dans le même style que l'élégante, mais pas identiquement : manière de dire que la Haute Couture satisfait à la fois le désir de suivre la mode et celui de rester unique.
La Femme au Pantin
Victor Mignot, 1904
A en croire la petite Tour Eiffel qui clipse  le rideau, cette lithographie embarrassée doit vouloir représenter une Parisienne mettant en extension les membres supérieurs d'un vieux Beau. L'air furibard  de la marionnette s'oppose à toute interprétation extatique. A moins qu'il ne faille comprendre que, justement, elle se plaint de ne pouvoir dresser que les bras.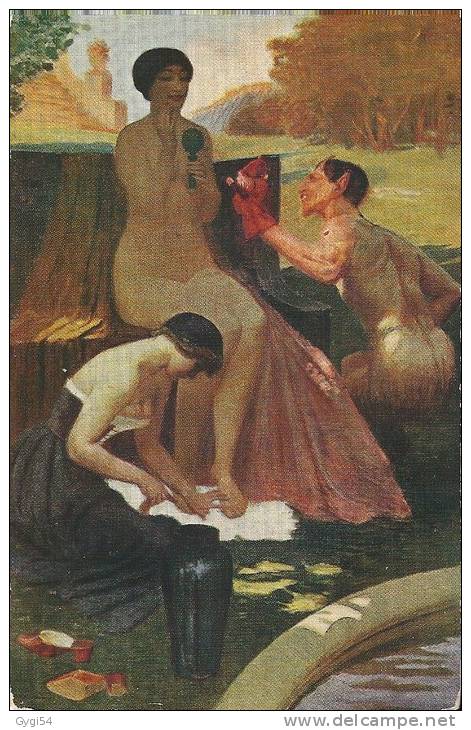 La femme et le Pantin
Leymarie, Salon de 1911
Ici encore, l'artiste a du mal à maîtriser son sujet. A la Beauté absorbée dans la contemplation de son miroir tandis qu'on la pédicure, un Faune soumet un pantin rouge, bras dressés, qui doit bien représenter quelque chose. D'autant que les chaussures vides du premier plan, ainsi que l'urne qui passait par là, soulignent la disponibilité de la Dame.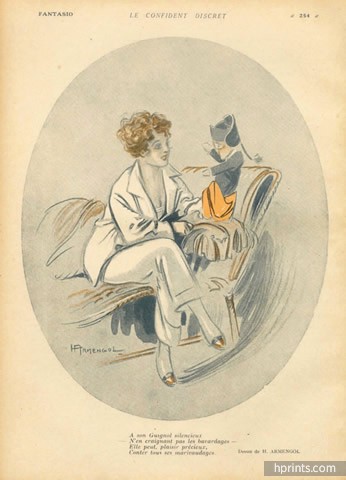 Le Confident discret
H.Armengol, Fantasio, 1918
« A son Guignol silencieux,
N'en craignant pas les bavardages,
Elle peut, plaisir silencieux,
Conter tous ses marivaudages »
Au premier degré, cette illustration gentillette a au moins le mérite d'assigner au  pantin un rôle cohérent  : celui du confident discret ;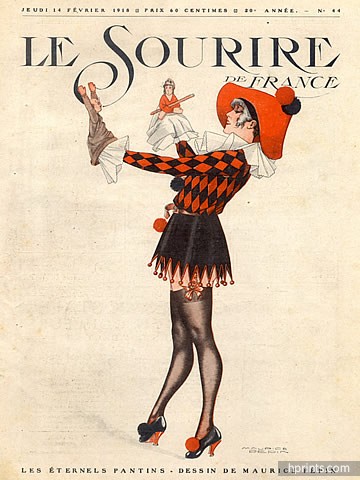 Les Eternels Pantins
Maurice Pépin, le Sourire, Février 1918
Où se confirme une nouvelle fois la valeur érectile des bras levés : la belle femme fait manifestement de l'effet à la marionnette mâle, tandis que sa femelle l'attend avec son gourdin.  Les couleurs noir et rouge des pompons du chapeau et des chaussures reprennent celles du couple de créatures : accessoires parmi d'autres de l'Eternel Feminin.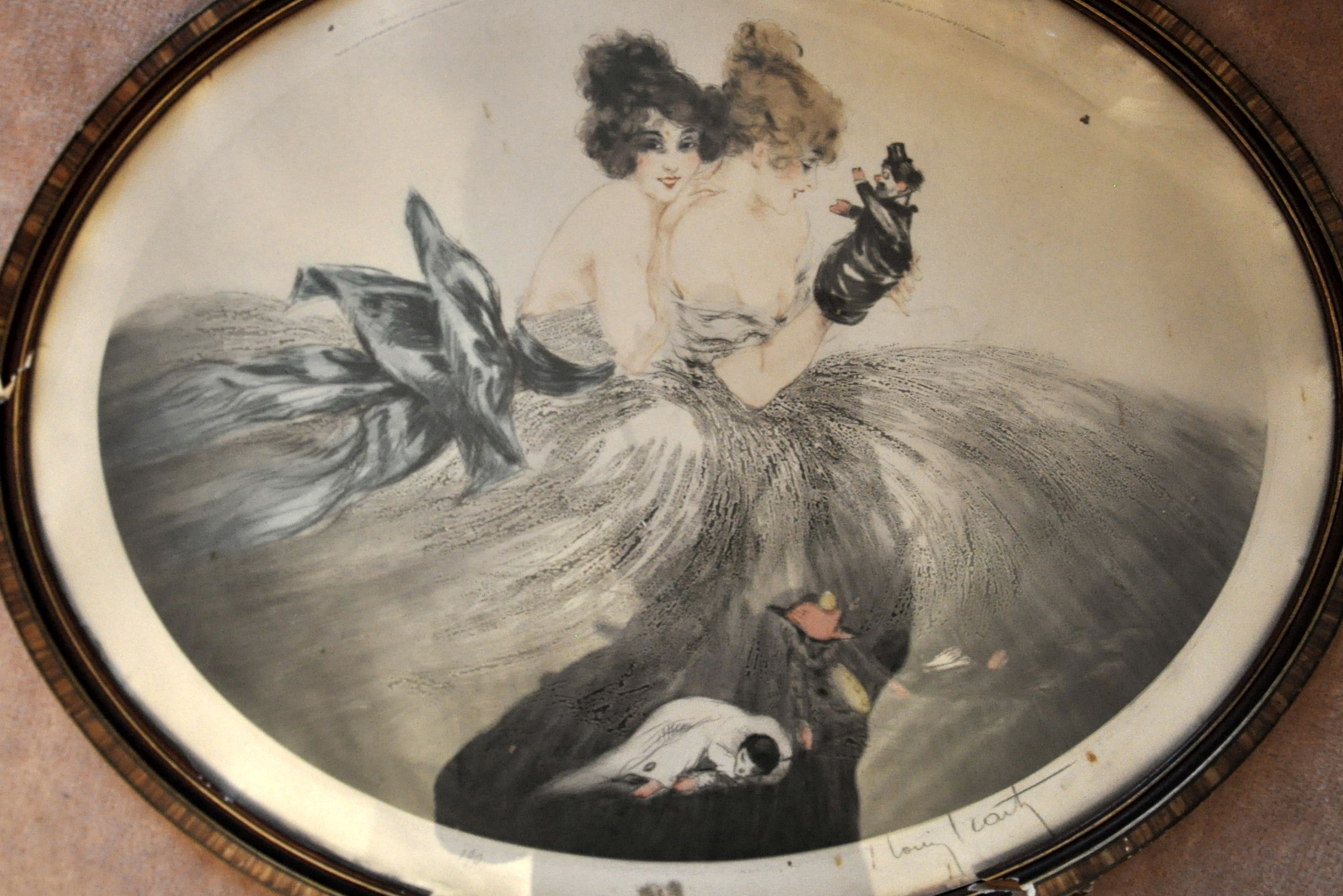 Les deux amies et les marionnettes
 Icart, 1921
Après avoir épuisé  Pierrot, le Gendarme et Guignol (reconnaissable seulement à son chapeau noir), les deux amies s'en prennent à un Gnafron qui a tout du richard en goguette : il s'agit probablement d'un clin d'oeil  d'Icart à Thomas Couture, puisque ces quatre types de victimes correspondent exactement à ceux de La Courtisane moderne (voir 1 Les pantins précurseurs) : la Poésie, le Courage, la Jeunesse et la Richesse.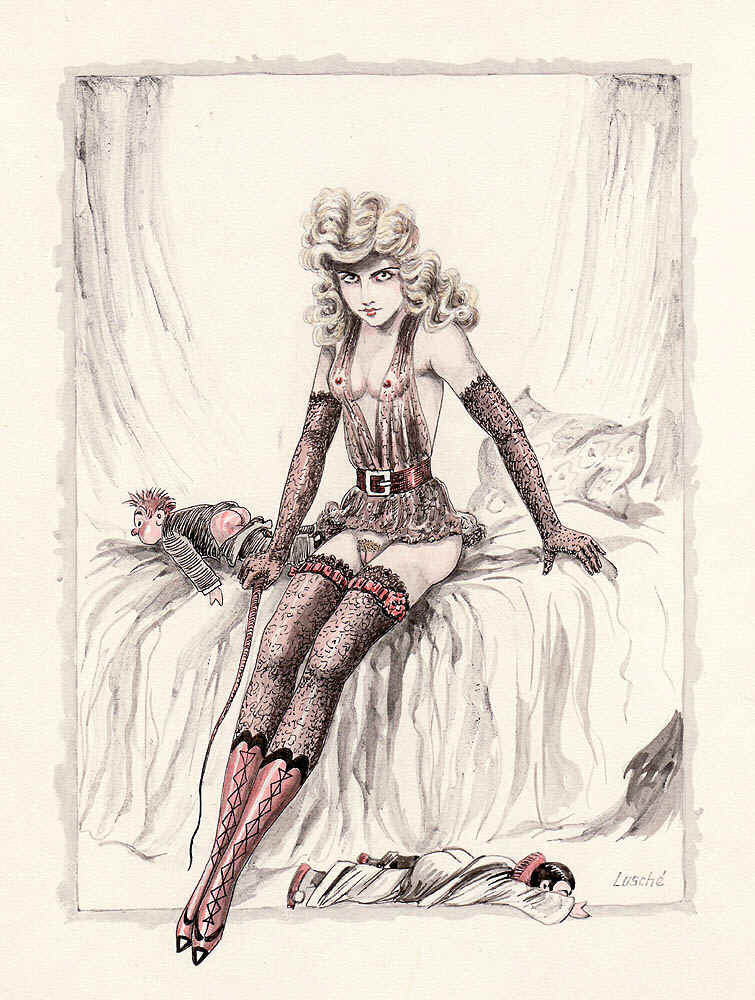 Encre de Lusché, vers 1930.
Même thème en plus explicite, réduit à deux victimes consentantes : le Clown blanc et l'Auguste.

Poupées

Sous la Femme Fatale, la Femme-enfant. Et sous le Pantin, la poupée...

Rassenfosse
| Le joujou, Rassenfosse, 1892 | Affiche pour le Salon des Cent, Rassenfosse, 1896 |
| --- | --- |
Ces deux illustrations très ropsiennes datent d'avant le livre de Pierre Louÿs.
A gauche, une prostituée soumet le  pantin à l'érection simultanée des quatre membres. A droite, la Folie examine à la loupe une femme moderne, comme pour s'assurer que cette miniature d'elle-même est fidèle à l'original.
Il suffit de les comparer  avec l'oeuvre qui suit pour comprendre comment le livre a pu cristalliser en un thème chimiquement pur ce qui était jusqu'alors le sujet de fluctuantes variations symbolistes.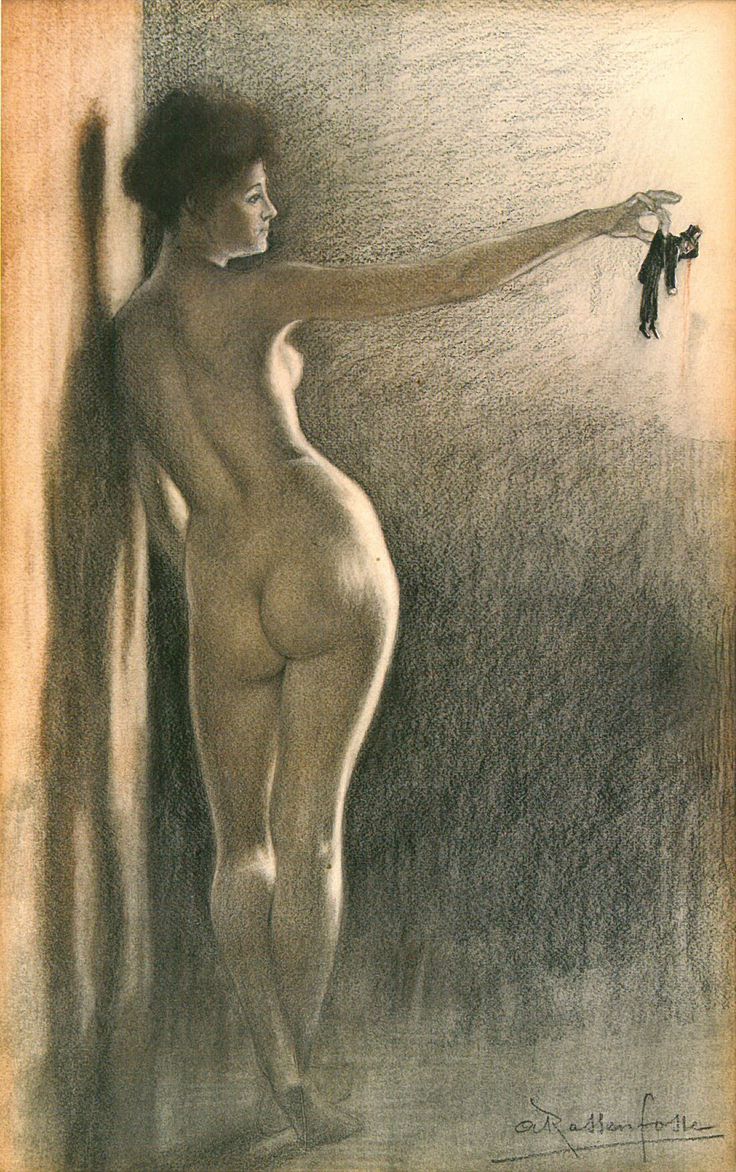 Illustration pour La femme et le Pantin, Rassenfosse, 1898
Dès cette toute première exposition sont mises à jour toutes les oppositions binaires du thème   :
femme géante contre homoncule,
nudité contre habits de soirée,
posture fière contre avachissement,
chatte contre souris.
Les effets de lumière accentuent le suspense théâtral : la femme blanche à l'ombre noire va-t-elle laisser choir le pantin, du halo lumineux où elle l'exhibe vers l'obscurité du sol qu'il n'aurait  pas dû quitter ?



L'homme aux poupées
Jean Veber, Salon de 1896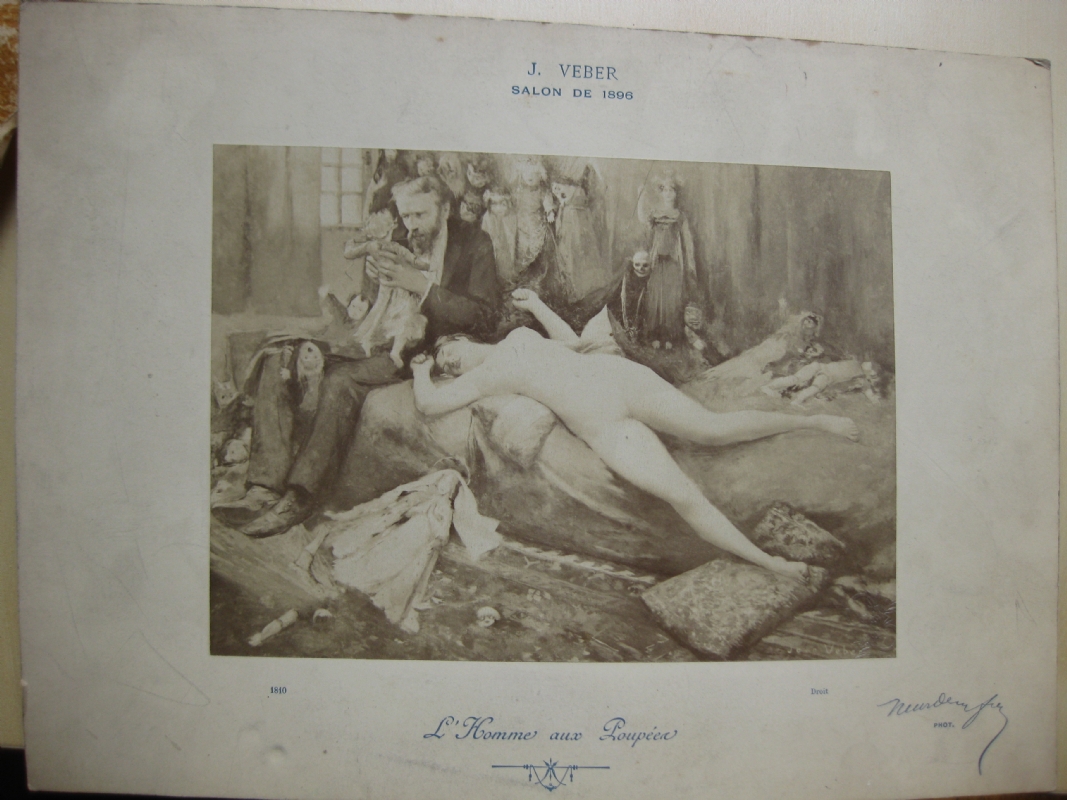 Cet étrange tableau, aujourd'hui disparu, rendit perplexe les commentateurs du Salon :
« L'enseignement moral de cette allégorie, en tout cas le morceau capital c'est l'insolente nudité d'une grande fille qui s'étale, jambes ouvertes, près de notre rêveur de chimères, sans qu'il daigne y jeter les yeux. Revanche, appel, ironie de la réalité méprisée ? Mystère. » [3]
Le mystère ne s'expliquera qu'en 1899, avec la parution de « L'Homme aux poupées », de Jean-Louis Renaud, avec quinze illustrations par Jean Veber.[1]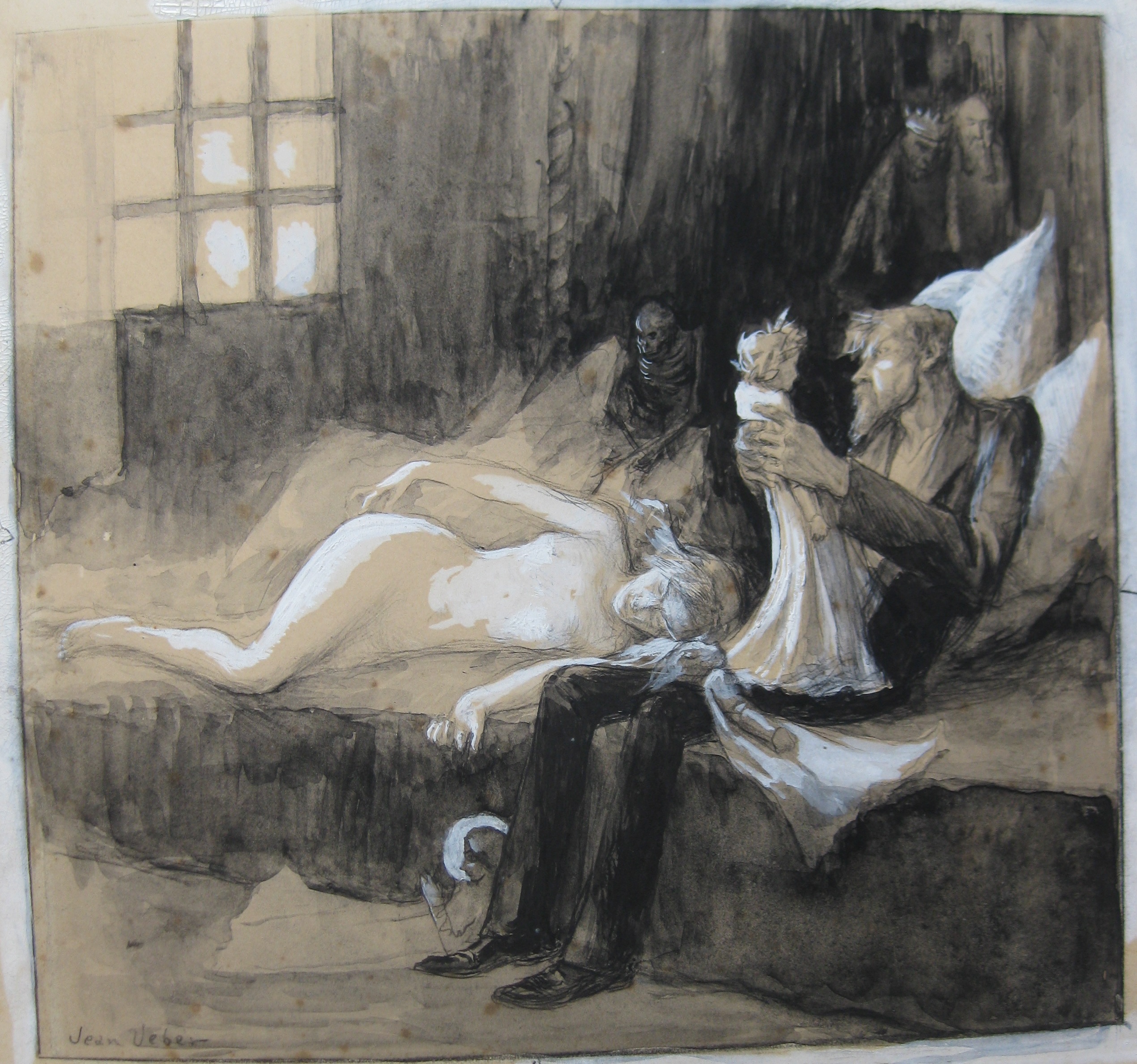 Illustration pour « L'homme aux poupées »
Jean Veber, 1899


Voici l'histoire dans ses grandes lignes   :
Le héros, « Menzel a une manie, qu'il satisfait à heure fixe. Chaque jour, à deux heures de l'après-midi précises, il entre dans une pièce plongée dans la pénombre et habitée par un petit peuple nombreux : ses poupées… Son plaisir est de les contempler, de les caresser, de les ranger. De les réparer aussi… Car cet excentrique s'est mis en tête que ses poupées ont, sinon une âme, du moins une sensibilité, qu'elles aspirent à vivre, qu'elles vivent, même, sous son regard et de son amour… Plus rien d'autre ni personne n'a d'importance à ses yeux, et certainement pas cette femme, Yane, actrice rencontrée un soir à l'opéra et qui l'importune, depuis, de ses assiduités. Elle est belle, pourtant, Yane, à faire tourner les têtes…. Comme la douceur et l'humilité n'ont pas l'effet escompté, elle passe à la vitesse supérieure et se dévêt devant lui, qui n'a d'yeux que pour une poupée, nue elle aussi. Alors, « humiliée, vaincue », prise à son tour de folie, une folie homicide, voilà qu'elle met en pièces le peuple des poupées sous les yeux effarés de leur roi, étrangement inerte… Prise de pitié et de remords, Yane prend alors pour le consoler l'apparence d'une poupée, ou d'un automate, le rôle d'Olympia des Contes d'Hoffmann d'Offenbach dans lequel Menzel l'avait vue la première fois, à l'opéra. » Résumé par Laurent Martin  [2]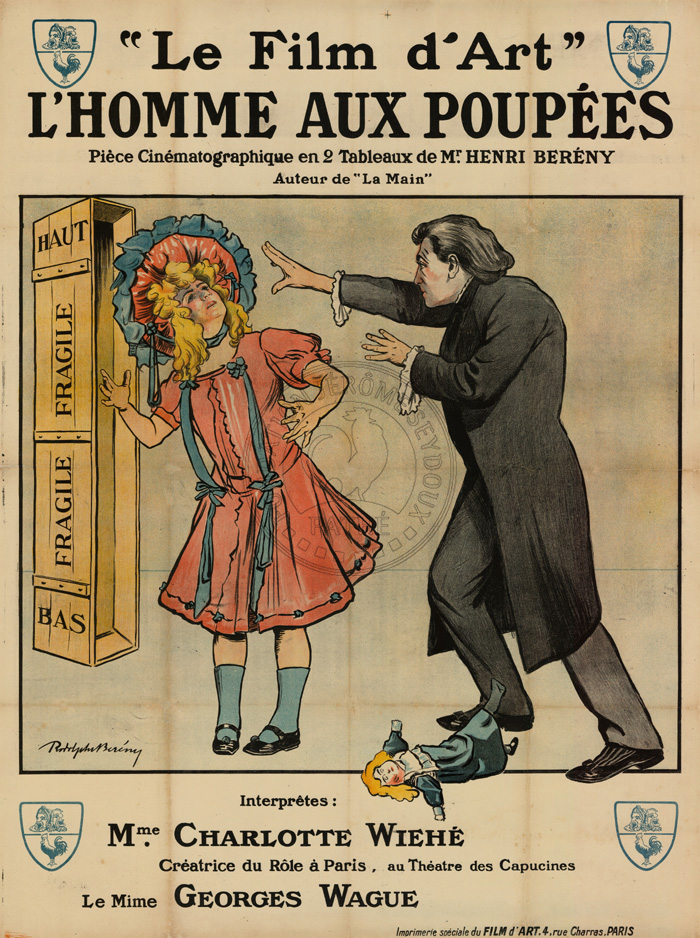 Affiche pour le fim « L'Homme aux poupées »,
Rodolphe Berény, 1909
Voici le stade final de cette transformation. A noter que, malgré le mode d'emploi détaillé (Haut-Bas-Fragile),  l'opulence de la Femme Début de Siècle  rend problématique sa chosification, à laquelle se prêtait  mieux l'exsangue Femme Fin de Siècle.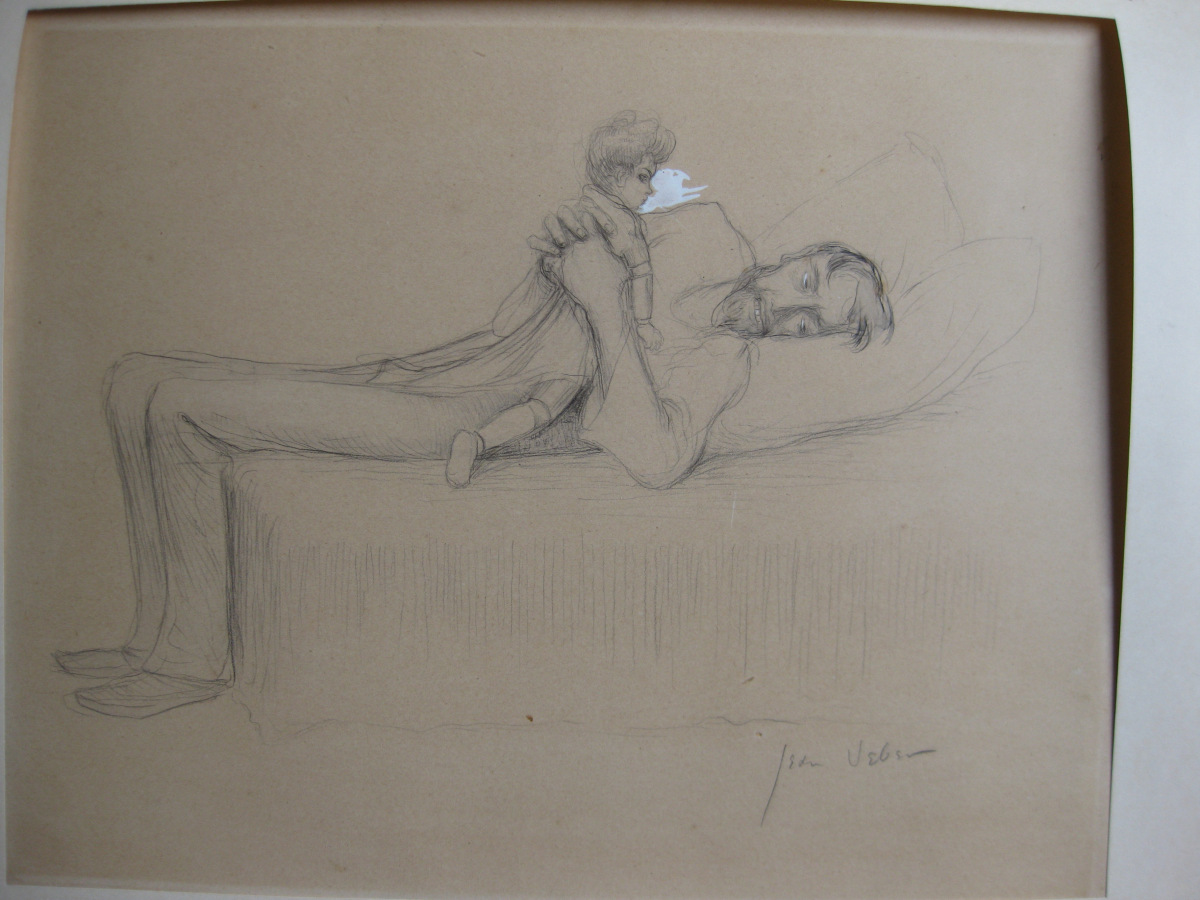 Illustration pour « L'homme aux poupées »
Jean Veber, 1899
Cette précoce apparition du thème de la femme-objet flirte avec le fétichisme masturbatoire, mais relève également du fétichisme au sens religieux, selon l'analyse passionnante de Laurent Martin :
« La poupée, a fortiori l'automate en laquelle Yane doit se muer pour attirer l'attention de Menzel, est un être ambigu, matière inerte modelée à la semblance de l'humain, double sublimé du corps organique, qui participe de la matière et de l'esprit, à mi-distance de l'animé et de l'inanimé, mais aussi du profane et du sacré, à la fois jouet et idole. » [2]

La reine du Bal,
F.Bac, 1902
Le lilliputien
Wilhelm Schertel, date inconnue
Ces deux versions illustrent toute la richesse stylistique et métaphorique de la Belle Epoque : tandis que la femme-liane attire dans son cercle solaire, du bout de son éventail,  son Admirateur minuscule, la Garçonne dépoitraillée se moque gentiment de son Adorateur.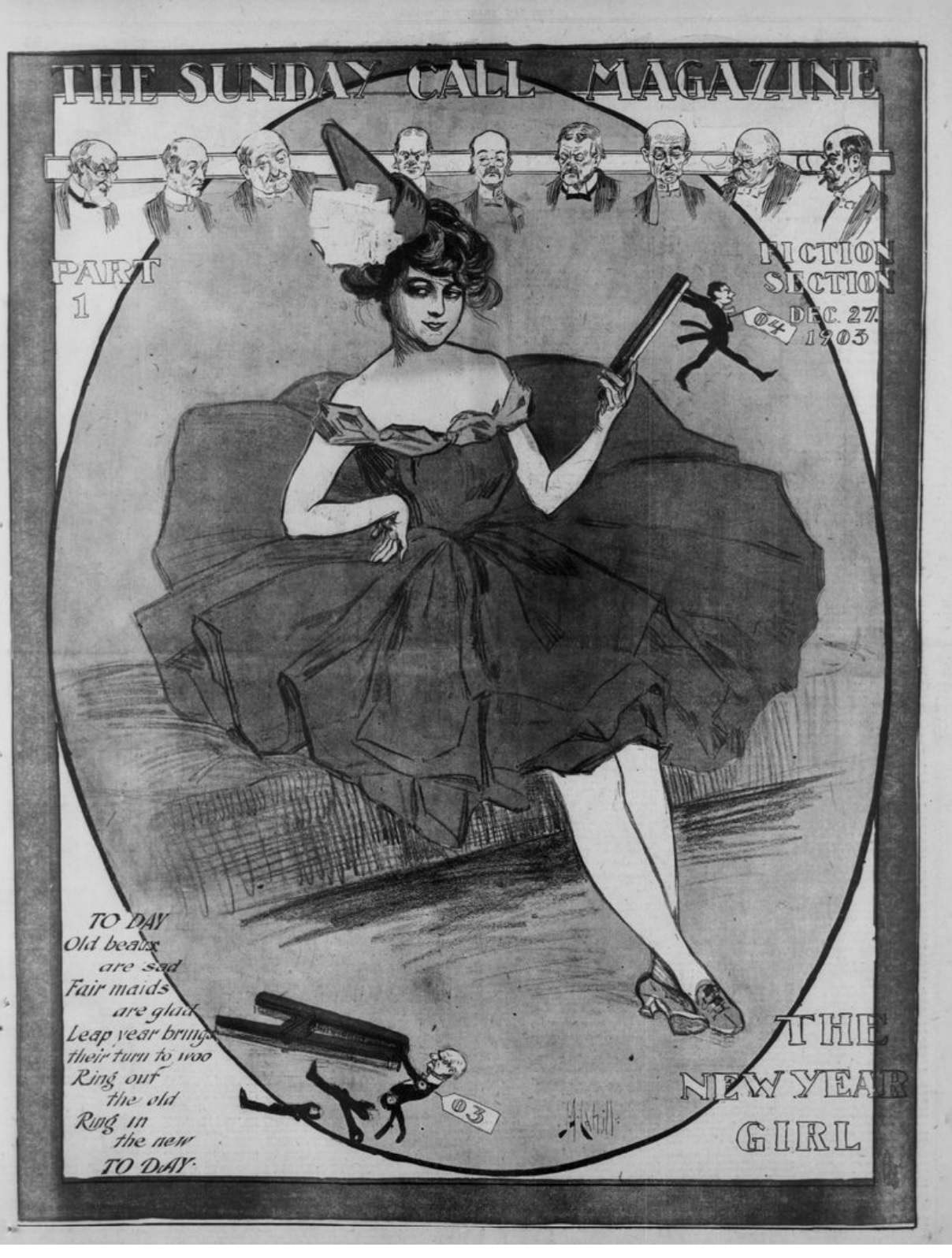 The San Francisco call, 27 décembre 1903 
Au nouvel an, la fille moderne laisse tomber le vieux beau de l'année d'avant, démantibulé, pour en prendre un tout neuf, qu'elle va pouvoir faire tourner entre ses deux baguettes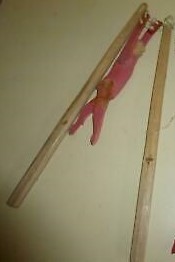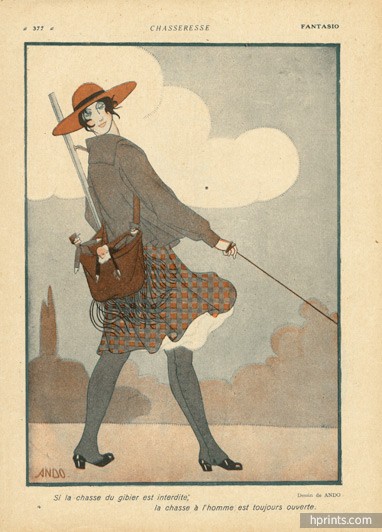 Chasseresse
Ando, Fantasio, 1917
« Si la chasse du gibier est interdite, la chasse à l'homme est toujours ouverte ».
Plutôt culotté, en pleine guerre mondiale, de tirer au pigeon des barbons et des généraux : manière de dire que c'est tout ce qui reste à l'arrière ?




| Marion Davies par Henri Clive, Ziegfeld Follies, 1917 | Bessie Love,Vargas,1919 |
| --- | --- |
Deux idoles de l'Epoque, chacune avec son pantin mâle : la blonde a choisi le noir, la brune  préfère le blanc.




| Carte postale, vers 1920, Chicago | Carte postale, vers 1920, Chicago |
| --- | --- |
Même fille et même poupée : seuls changent le tissu de la robe et la hauteur du portage.




| Carte postale, vers 1920 | Barbebleuette, Profiteuse, Del Marle, 1920 |
| --- | --- |
Jouer avec leur poupée intéresse encore les grandes filles. Certaines n'en ont qu'un, d'autres en un plein placard (numérotés de un à six comme les femmes de Barbe-Bleue).




| La Femme et le Pantin, Maurice Milliere, 1922, La Vie Parisienne« Et maman qui dit que je suis trop grande pour jouer à la poupée » | « Tu l'as bien dans le tiroir, cette fois ! » |
| --- | --- |
L'expression est attestée dès 1867… http://www.languefrancaise.net/Bob/5147
| Rivalité, Fabius Lorenzi, 1924 | La femme et ses pantins, René Vincent, La Vie Parisienne, 1925  |
| --- | --- |
| Koister, Les fétiches à la mode, Carte postale, 1929 | |
Le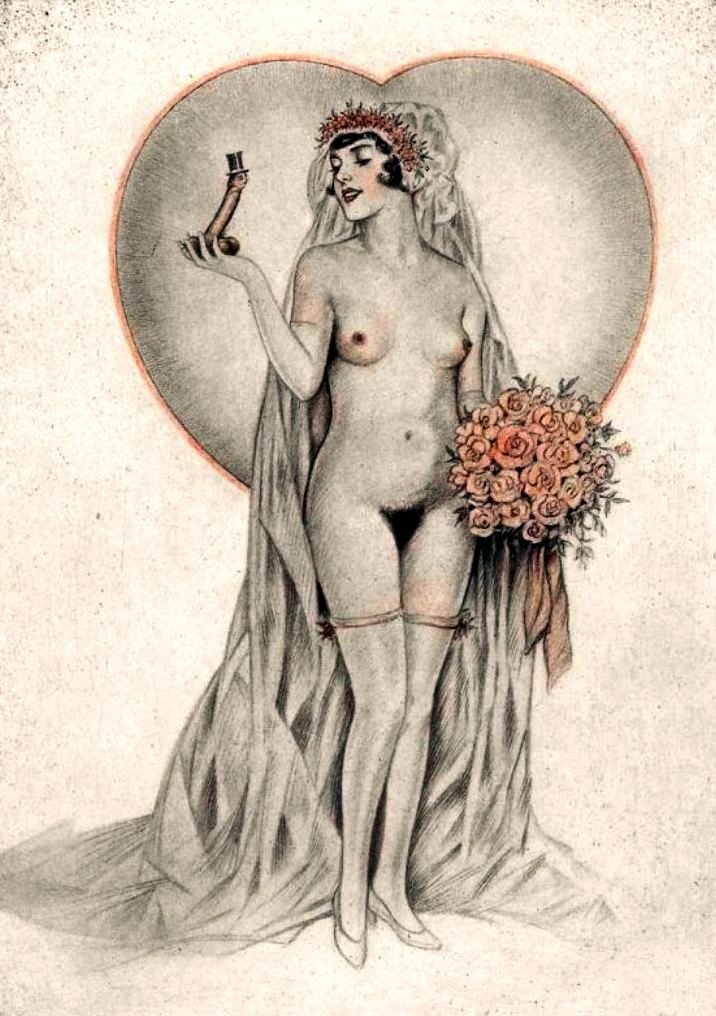 La mariée, Eugène Reunier, années 20
Auréolée par un coeur ambigu, cette mariée réduit à l'essentiel son jouet en haut de forme.


La Femme et le Pantin, Maurice Millière, 1929
La ménagerie de Line
Zaliouk, 1922
Cherchez le Pantin ou cherchez le Singe : la réponse est dans le cadre.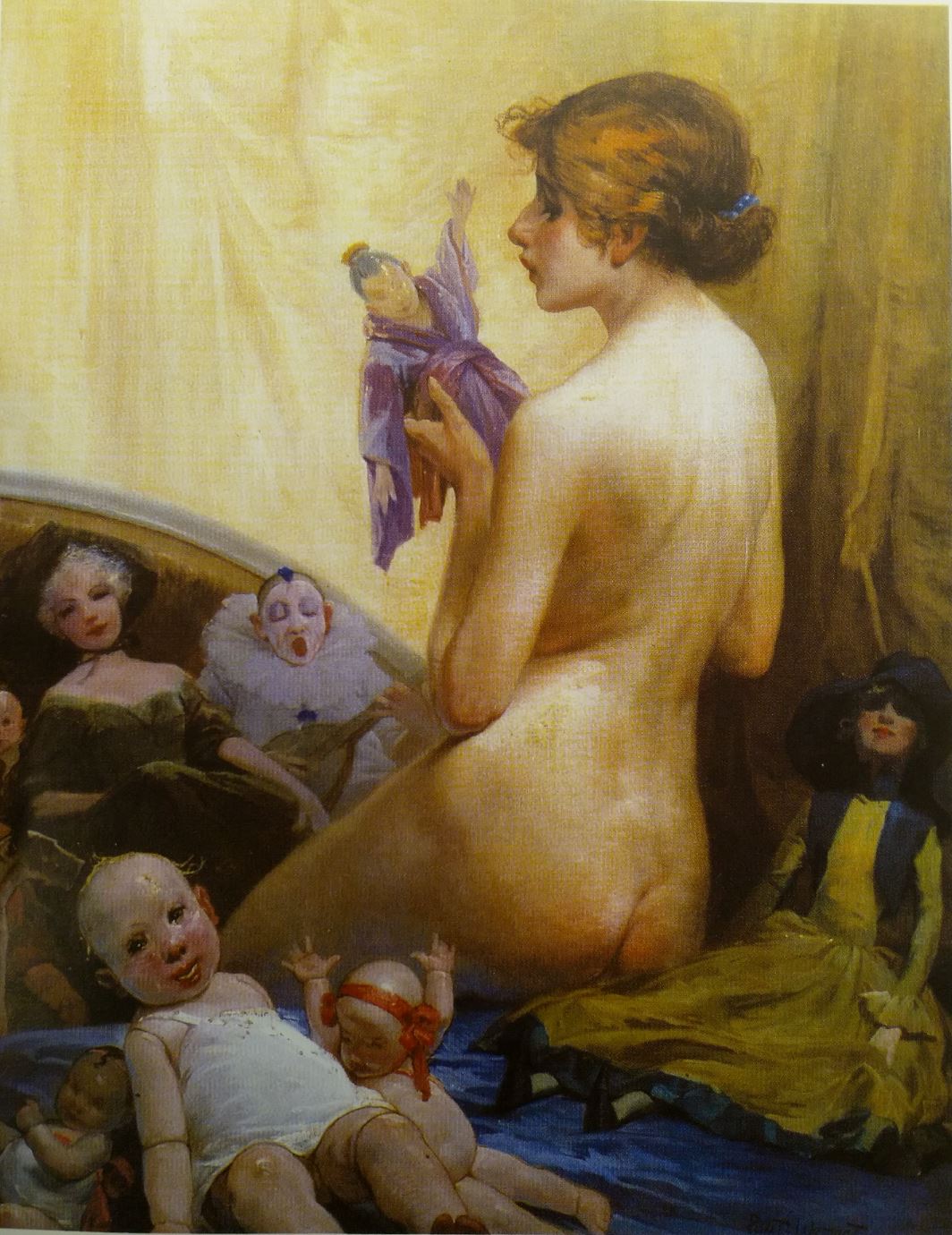 Jeune femme nue aux poupées
Privat Livemont, 1931, collection privée
Lassée des poupons, de la mode et de la Commedia dell'Arte, la grande fille se consacre désormais à l'exotisme.
L'homme idéal (Dream Man), Earle K. Bergey,  Couverture pour La Paree, Octobre 1935
Ils sont faciles à manier (They're Easy To Handle),
Pinup de Edward Runci,1953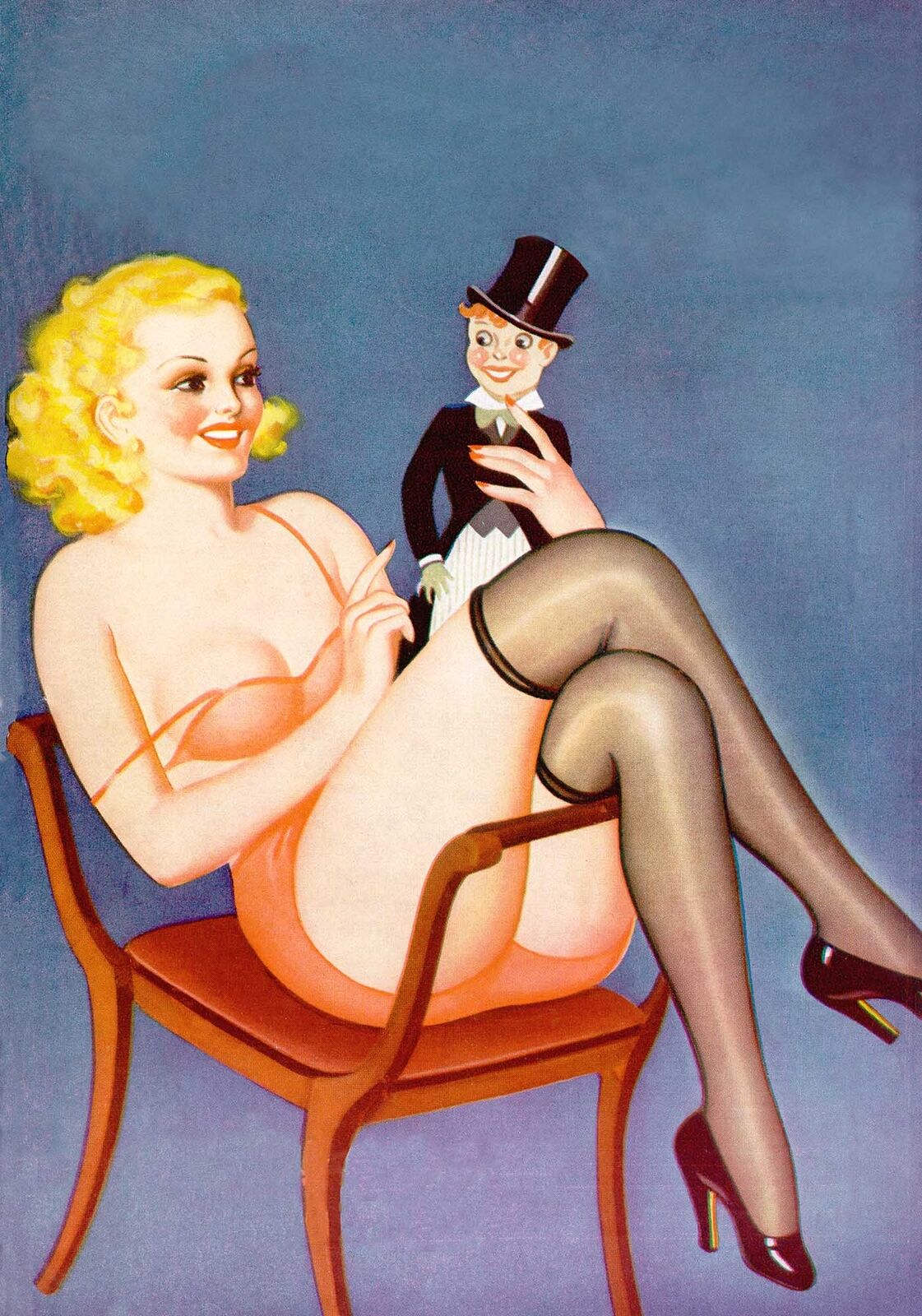 Peter  Driben, 1938
Qu'il ou elle soit de papier ou de chair , toujours la Femme domine ses pantins.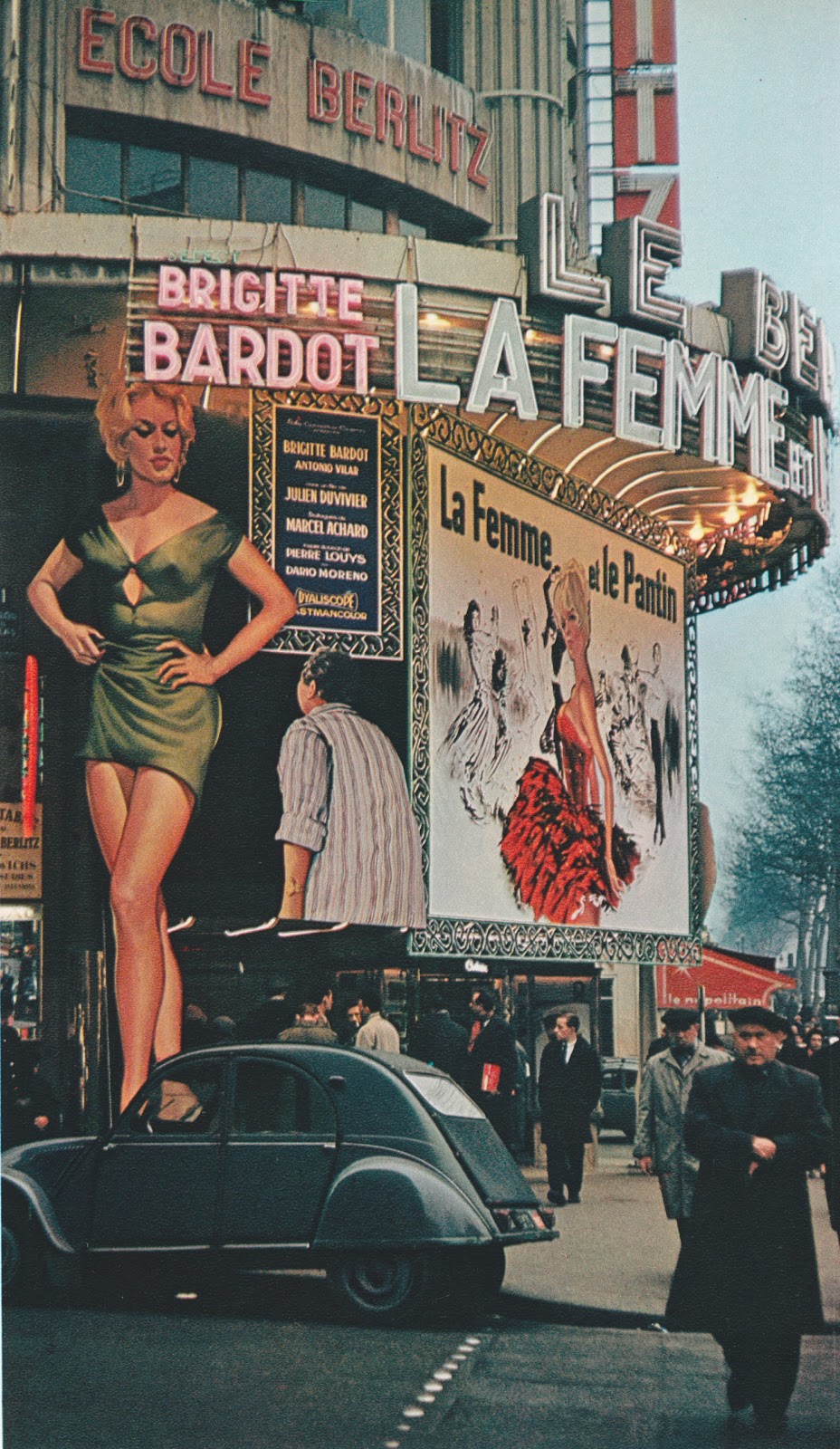 Brigitte Bardot dans  « La Femme et le Pantin »
Phtographie de Robert Doisneau, Paris, 1958
Masques

La Femme et le Masque est un thème ancien et très large, qui  évoque la Comédie,  le Mensonge,  la Duplicité, la Comedia del Arte, la Fête Vénitienne etc…

Nous n'aborderons ici  que le  cas très particulier où le masque, par synecdoque, constitue le stade ultime du Pantin, décapité et évidé, réduit à une face vide.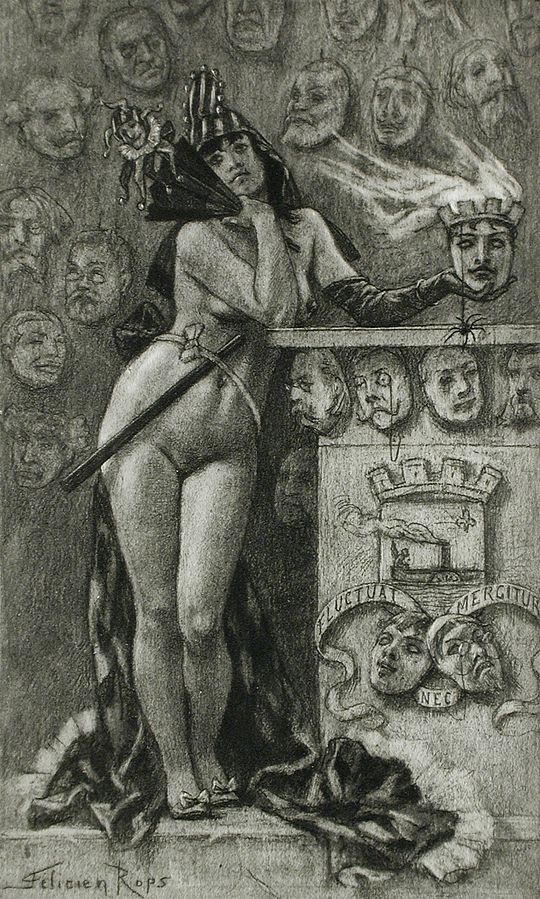 Rops, Héliogravure (avant 1870) reprise en 1889 comme frontispice pour les « Masques Modernes » de Felicien Champsaur
Le thème de la femme nue brandissant un masque a été décliné par Rops dans sa série des Naturalia (voir 2 Les pantins de Rops). Mais la particularité de cette gravure est l'étalage de masques en trophées. En voici une description d'époque :
« Une aimable et plantureuse Folie, nue, debout, de face, doublement accoudée sur un entablement, supporte de sa main gauche gantée une tête coiffée de créneaux et panachée de flammes vives qui n'ont pu brûler le fil retenant à son crâne une grosse araignée. A ce signe distinctif, il est impossible de ne pas reconnaître le cerveau de Paris. Un bonnet phrygien, une marotte montée en éventail, un soupçon de ceinture maintenant à peine une batte, et un grand manteau dont les plis se couchent moelleusement à ses pieds composent le costume sommaire et suffisant de la belle fille.
Le socle de l'entablement porte des armes fantaisistes de Paris avec la devise : Fluctuat nec mergitur, enlaçant deux masques de personnages connus. Puis, au-dessus et dans le fond, accrochés, les masques d'Alexandre Dumas fils, Sarcey, Déroulède, Alphonse Daudet, Émile Zola, Aurélien Scholl, Charles Garnier, etc.  » Supplément au catalogue de l'œuvre gravé de Félicien Rops, par Erasthène Ramiro, 1885
L'auteur n'insiste pas sur la « batte » passée à la ceinture, instrument de dompteuse et attribut viril capturé.
Une explication visuelle (SCOOP !)
Les armes gravées sur le socle ne sont pas que fantaisistes : on y voit un bateau à aubes (modernisme) piloté par un amour ailé, et dont la vapeur, en sortant de l'écusson, fait écho à la flamme de la torchère.
Ainsi le sujet du socle – des parisiens jeunes et vieux réduit à des masques et gouvernés par l'Amour – explique la gravure dans son ensemble, mais en inversant les tailles : le grand écusson aux quatre créneaux devient le petit masque-torchère, et le petit Amour devient la grande dompteuse avec sa batte-gouvernail.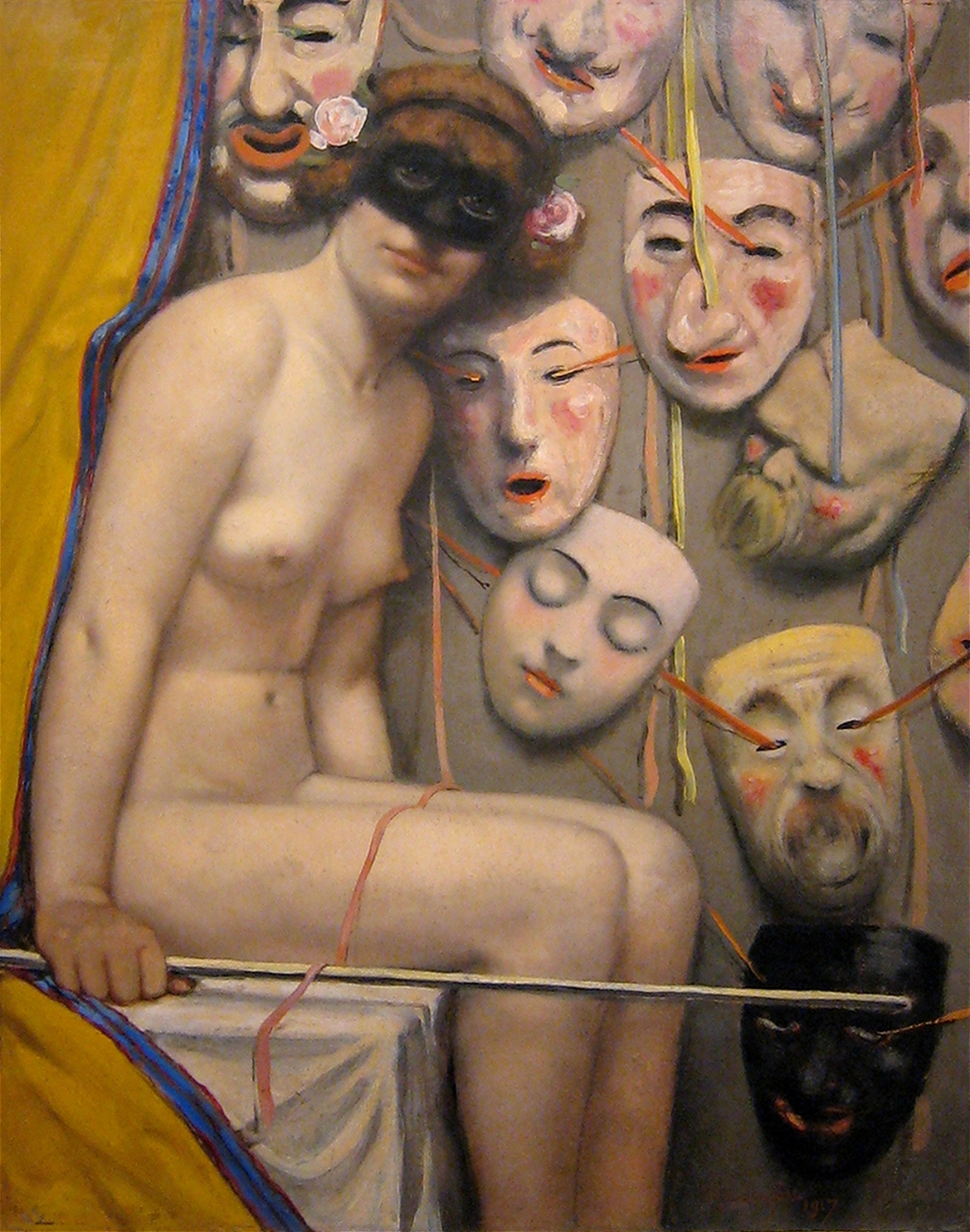 La marchande de masques
Rassenfosse, 1917, Collection privée
Transposant l'idée de Rops, Rassenfosse transforme la dompteuse en montreuse, sur un théâtre de foire : tous ces masque de porcelaine sont ceux des hommes, jeunes ou vieux, beaux ou laids, qu'elle a mené à la baguette et dont elle a tiré les ficelles.   Tandis que tous ont les yeux clos, elle est la seule à les ouvrir, derrière son loup de velours.
La marchande de masques, Etude
Privée de son loup, la marchande de hasard redevient une Liégeoise ordinaire…
Pour un bon aperçu de l'oeuvre  de Rassenfosse : https://fr.pinterest.com/jeanjacqueswolf/armand-rassenfosse/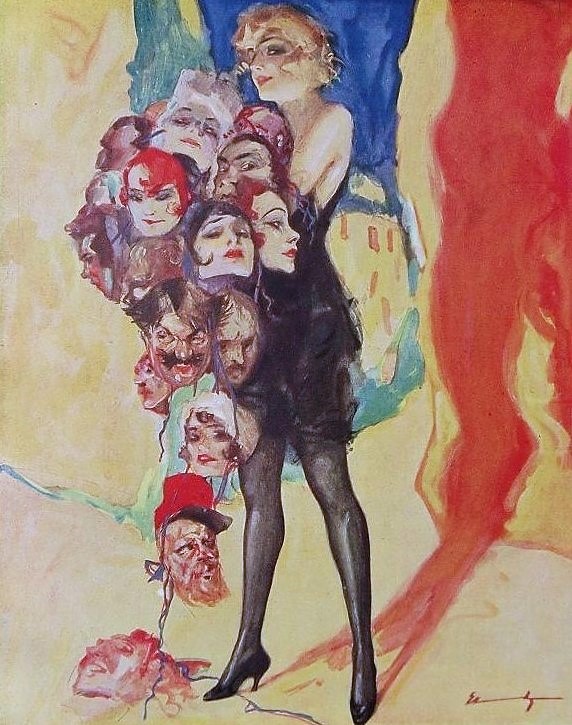 Masques, Ludwig Lutz Ehrenberger, 1922
Ehrenberger importe le thème de Rassenfosse dans la Vienne des Années folles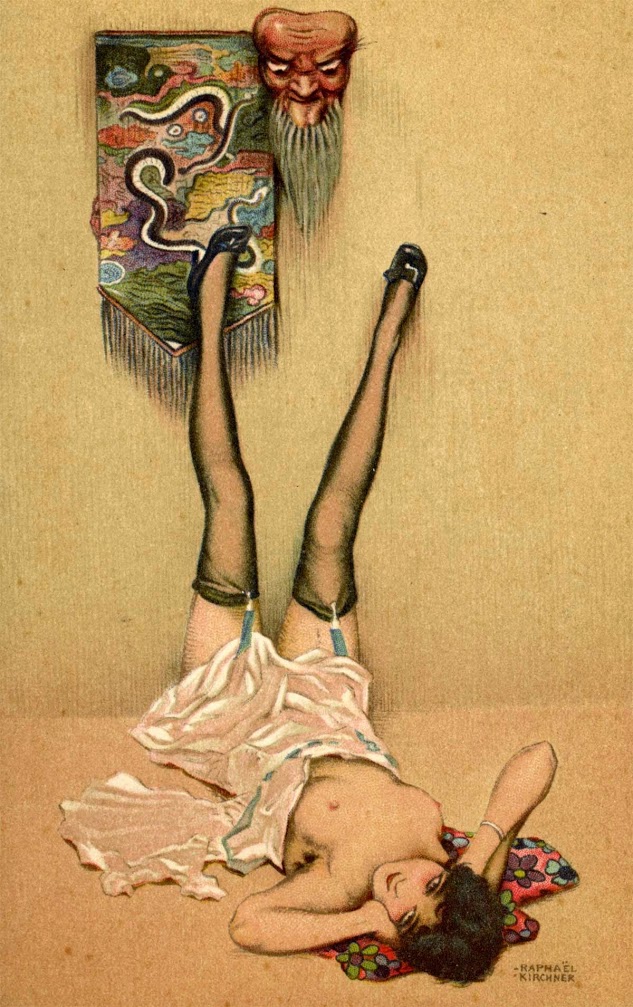 Le Masque Japonais
Kirchner, 1916
La barbe et les yeux du drapeau redondent ceux du masque, pimentant le thème de l'impuissance par celui du voyeurisme. Comme souvent chez Kirchner, le japonisme fait passer l'érotisme.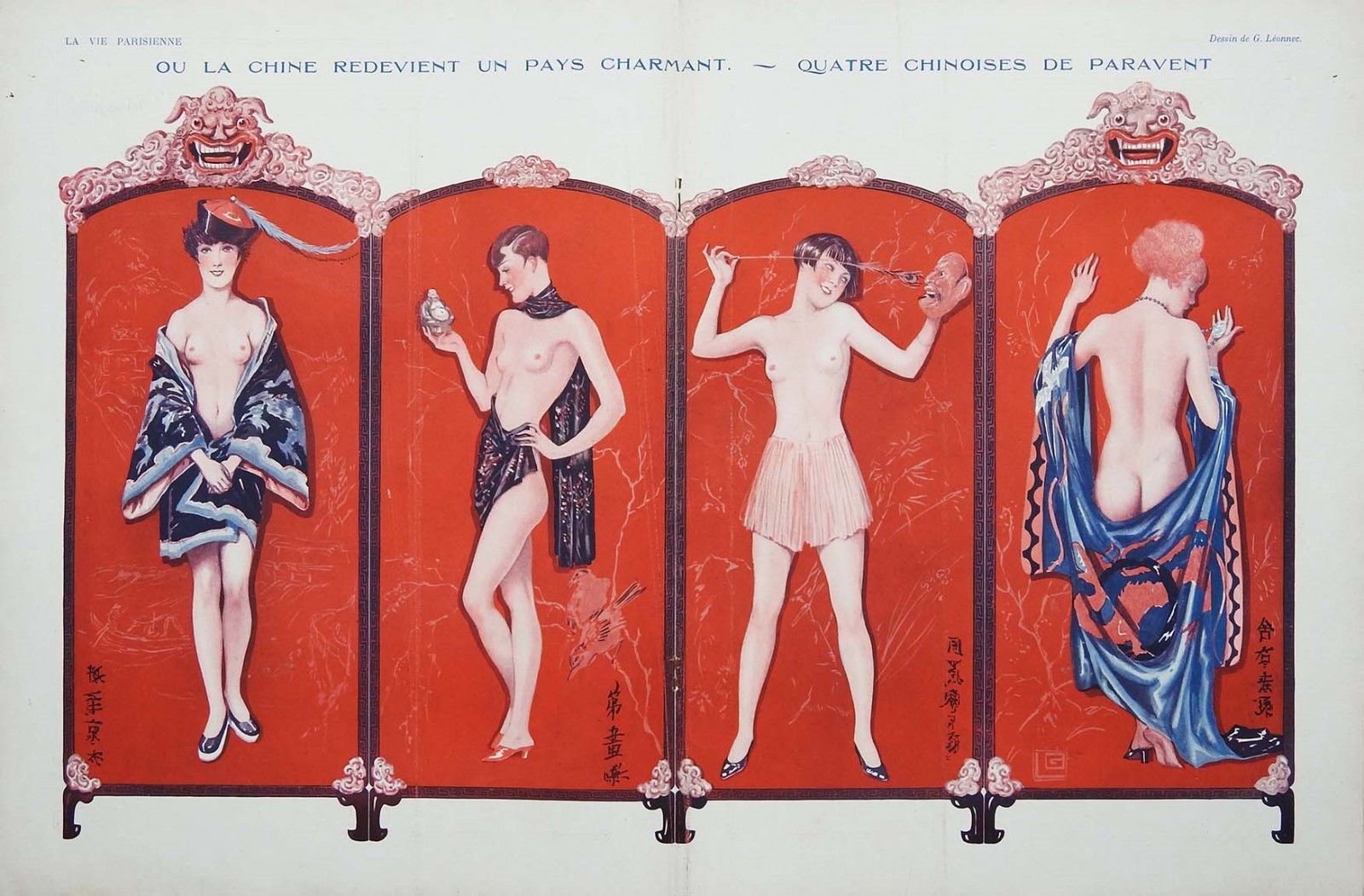 Quatre chinoises de paravent
Léonnec, la Vie parisienne, 1920
C'est ici au titre de la chinoiserie que le masque vient se faire titiller par la fille du troisième panneau.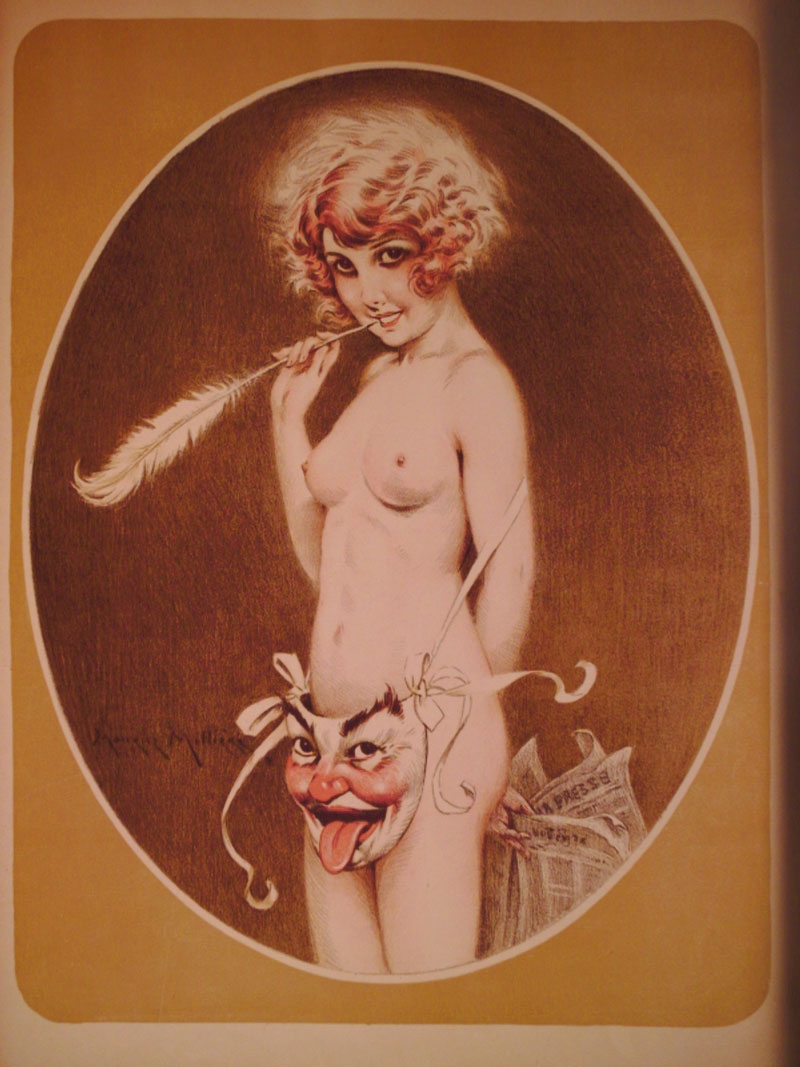 Maurice Millière, Fanny, vers 1930
La modèle emblématique de Millière, Fanny, est  ici mise à contribution dans une oeuvre aux sous-entendus multiples, illustrant des expressions variées : tailler une plume, servir de cache-sexe, torche-cul : au final, il semble que la Presse ne soit pas particulièrement flattée.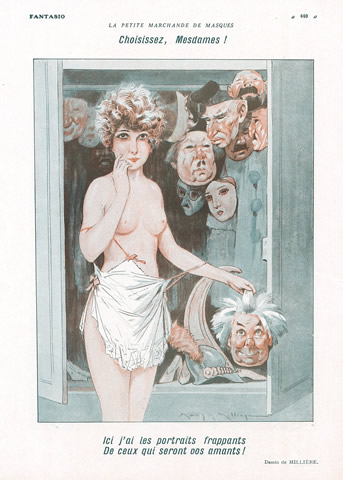 Choisissez, Mesdames !
Maurice Millière, 1930
 Ici j'ai les portraits frappants
De ceux qui seront vos amants.
Même thème, en plus explicite et en moins classieux.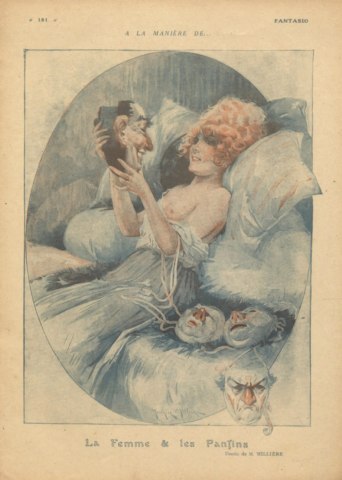 La femme et les pantins
Maurice Millière, 1918
Même thème : la cocotte admire sa dernière acquisition, qui lui sourit, tandis que les précédentes font la gueule.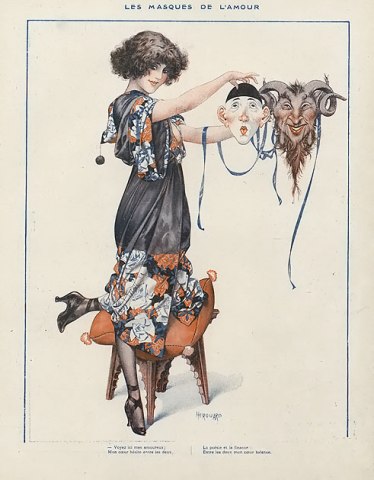 Les masques de l'Amour
Hérouard, 1919
« Voyez-les mes amoureux
Mon coeur hésite entre les deux
La poésie et la finance :
entre les deux mon coeur balance ».
Même thème, réduit par la Garçonne à un choix binaire entre le Lunaire et le Lubrique.
| Photographie de Mary Wesson, vers 1920 | Portrait de Mary Wesson, vers 1920 |
| --- | --- |
| | The Glorified American Girl, calendrier Brown and Bigelow , 1932 |
| Femme avec poupée, couverture du  Saturday Evening Post , October 31 , 1925 | La marionnette, 1925-30 |
Charles Gates Sheldon
Photographe de charme et dessinateur de pinups, Charles Gates Sheldon a abusé des poupées, masques et marionnettes pour occuper les mains de ses girls.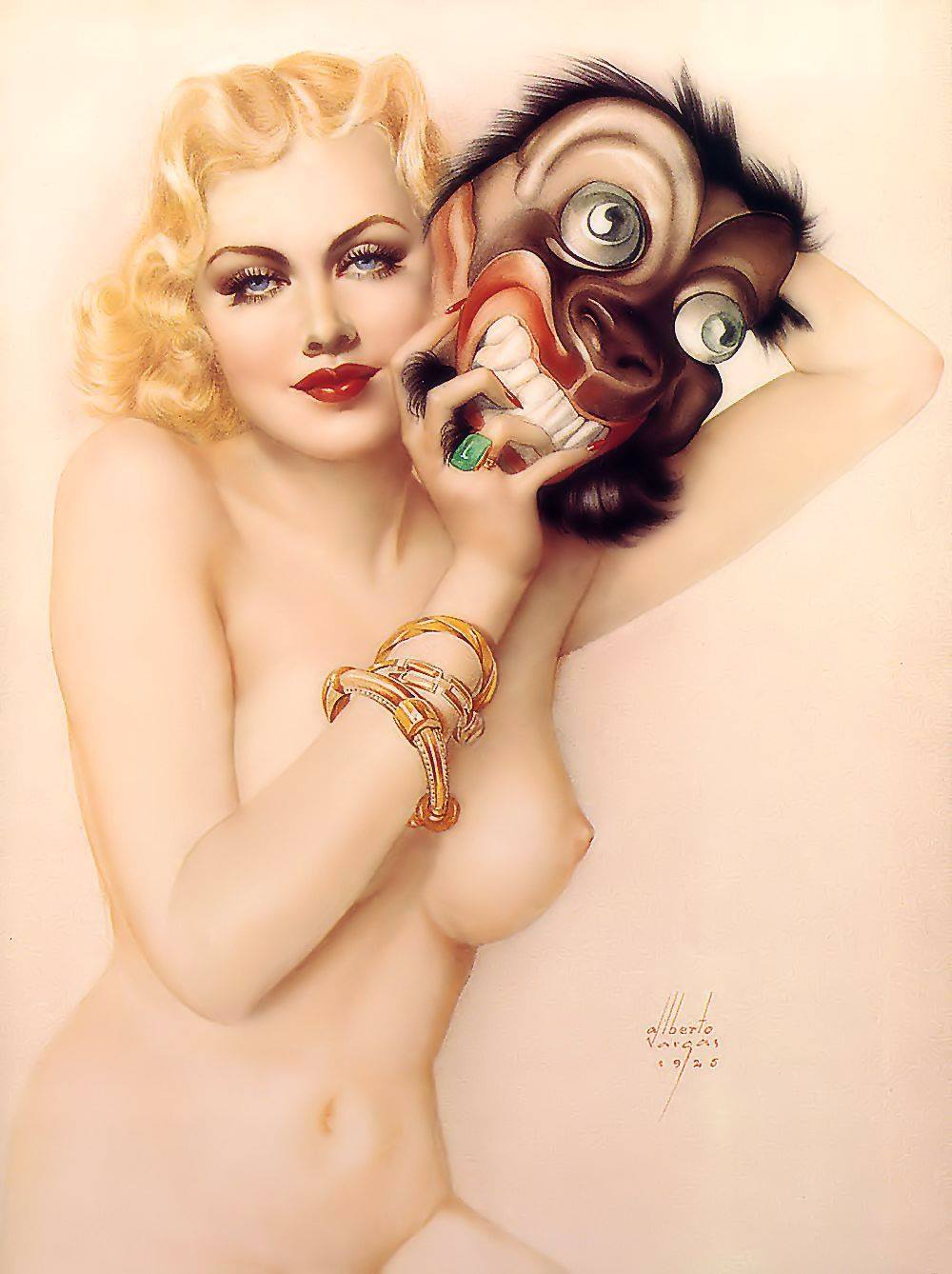 La Belle et la Bête
Vargas, 1925
Ici, il ne reste plus que le dernier choix. Cinq ans avant King Kong, la Blonde n'a pas peur de faire enrager le Gorille.
div class= »encadrement » style= »text-align: left; »>Références :