Le format double page permet de présenter simultanément deux images qui ne sont pas liées ra un rapport d'opposition, mais plutôt de complémentarité :

le haut et le bas ;
la partie et le tout ;
deux concepts proches ;
deux lieux ;
le recto et le verso ;
le rêve et la réalité
la vedette et le spectateur.

1 Le haut et le bas

Cette astuce permet à un portrait en pied de rentrer dans un format deux pages.

1967, Maintenant, il se passe dans la cabine d'essayage…plus qu'un soutien gorge Bali
Le slogan réveille le voyeur qui sommeille en suggérant que la scène se passe dans une cabine d'essayage, dont le rideau dévoilerait d'abord le haut, puis le bas : le but étant de promouvoir la gaine qui complète le soutien-gorge.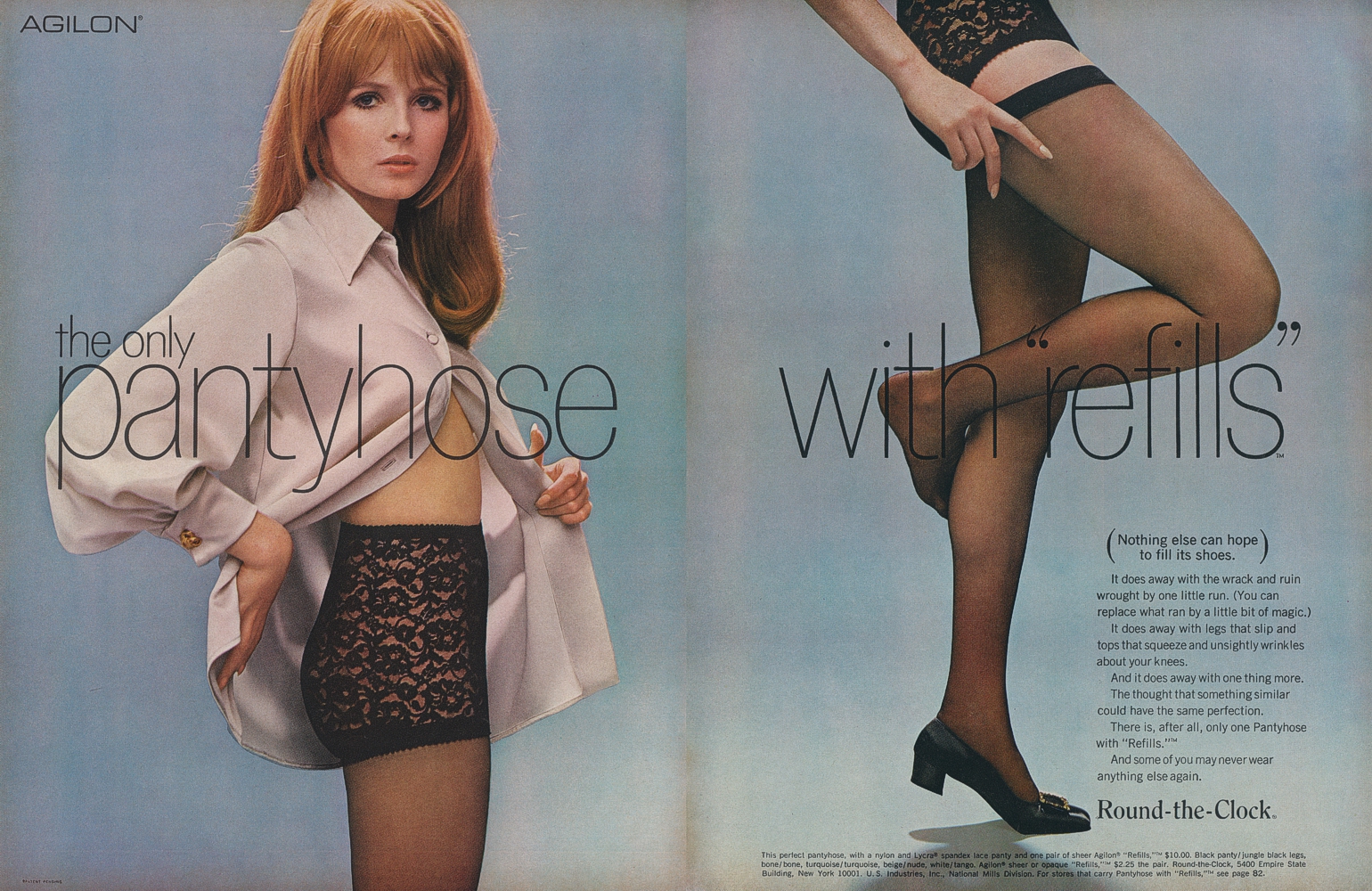 1968, Round the Clock
Ici encore, la découpe n'est pas gratuite, puisqu'il s'agit de promouvoir une innovation (« pantyhose plus refills ») : un ensemble panty plus bas
1969, Round the Clock
L'année suivante, la marque reprend la même promotion, puis étend la formule haut-bas à un produit qui ne la justifie pas : un collant tout à fait normal.
1970, Round the Clock
L'année suivante, le « pantyhose plus refills » est passé à la trappe, mais la marque continue à utiliser la même formule, devenue signature visuelle, en prétextant d'autres innovations : le collant qui tient aussi bien qu'un bikini, ou le collant qui montre les orteils.
Rosy a créé le collant sans aucune couture
1974,  Après le collant sans aucune couture, Rosy crée une nouvelle collection de soutien-gorge, Rosy
La symétrie de la formule permet de cibler deux publics :
les femmes qui portent déjà des soutiens-gorge Rosy, pour les convaincre d'adopter le collant sans couture (une boîte en haut à droite) ;
celles qui sont intéressées par le collant sans couture, afin de les concaincre d'acheter le soutien-gorge (deux boîtes en haut à droite) .
2002, Dirk Bikkenbergs
Astucieusement, la mise en page fait croire d'abord à un Haut / Bas de la même image, puis à un Avant / Après montrant deux étapes du déshabillage. En fait, il s'agit de montrer le plus possible.de produits.
2018, Toujours belle en Well, Well
La découpe visuelle accompagne la structure binaire du slogan.
2 Le tout et la partie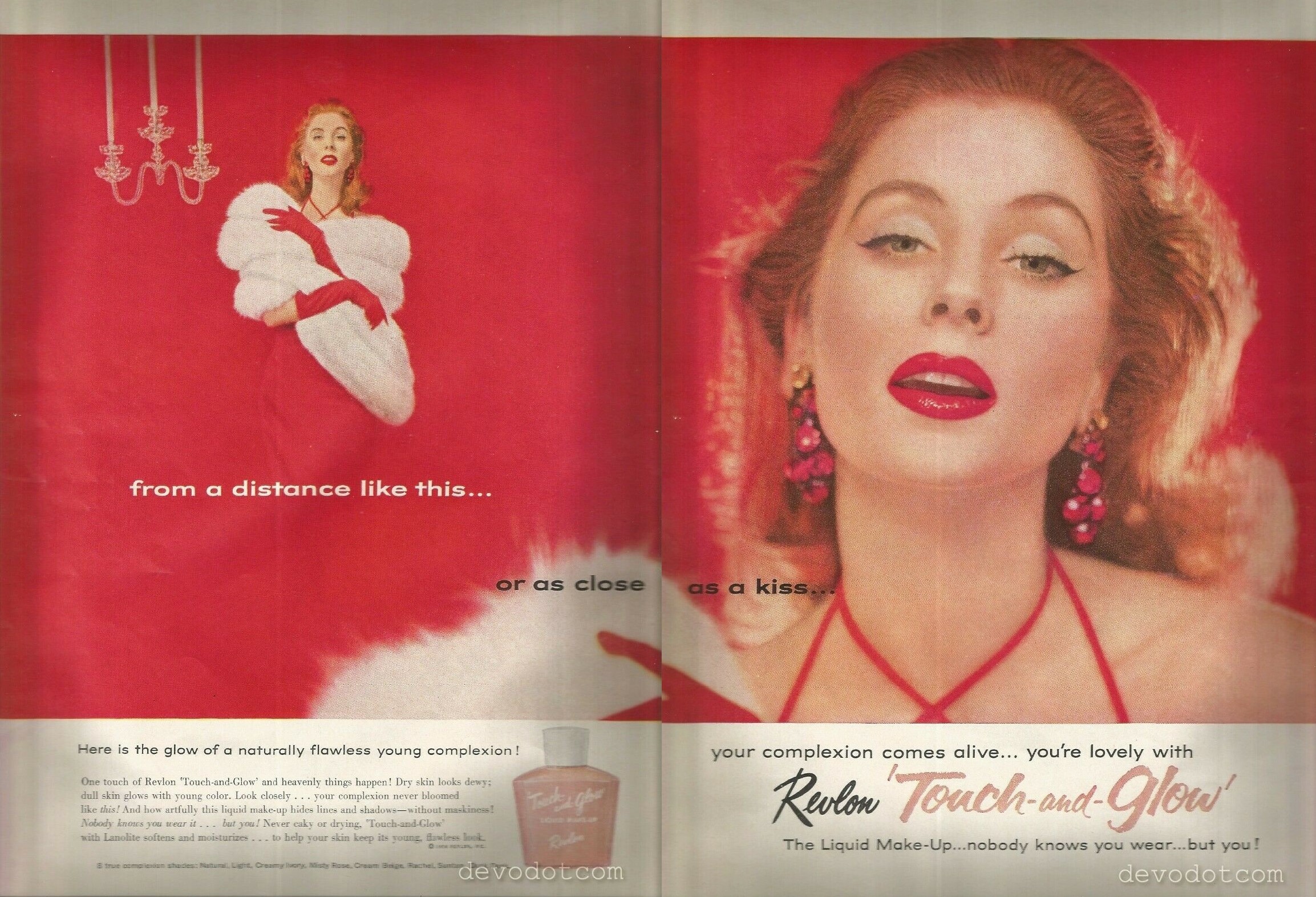 1956,  Vue de loin… ou à la distance d'un baiser, Maquillage liquide Revlan, avec Suzy Parker
Au départ, la formule a pour but de montrer l'effet d'ensemble et l'effet de détail.
1980,  J'ai choisi de vivre en Dim
Puis elle fait autre chose : ici elle se sert de l'effet d'accroche du visage pour attirer l'oeil sur l'ensemble. Le contraste noir-couleur sert le slogan en deux parties : rationnel (« j »ai choisi« ) et passionnel (« vivre en Dim »).
1985, Round-the-Clock avec Catherine Oxenberg
Dans cette tentative en monopage, le même procédé produit un effet comique involontaire.
1989, Dim, museumhosiery.com
L'effet de fascination du regard, augmenté d'un recto verso diabolique.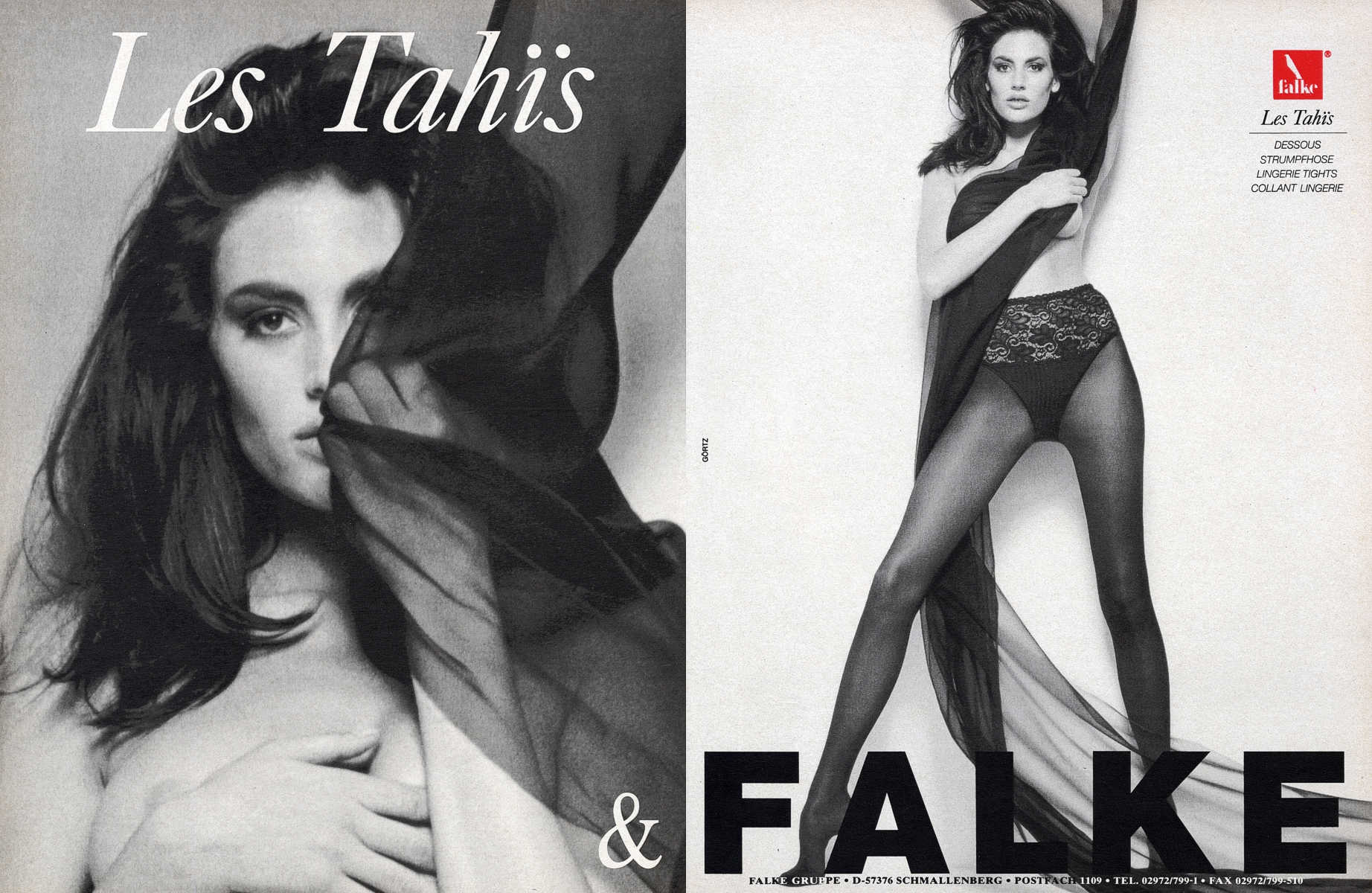 1994, Les Tahïs, et Falke, Collants Falke, Museumhosiery.com
Le regard voilé prélude au dévoilement.
| Laissez les garçons transpirer, et Falke |  La beauté, et Falke |
| --- | --- |
1994, Collants Falke, Museumhosiery.com
La même année, Falke ruse avec son propre procédé en faisant entrer l'homme sur une page, ou sur les deux.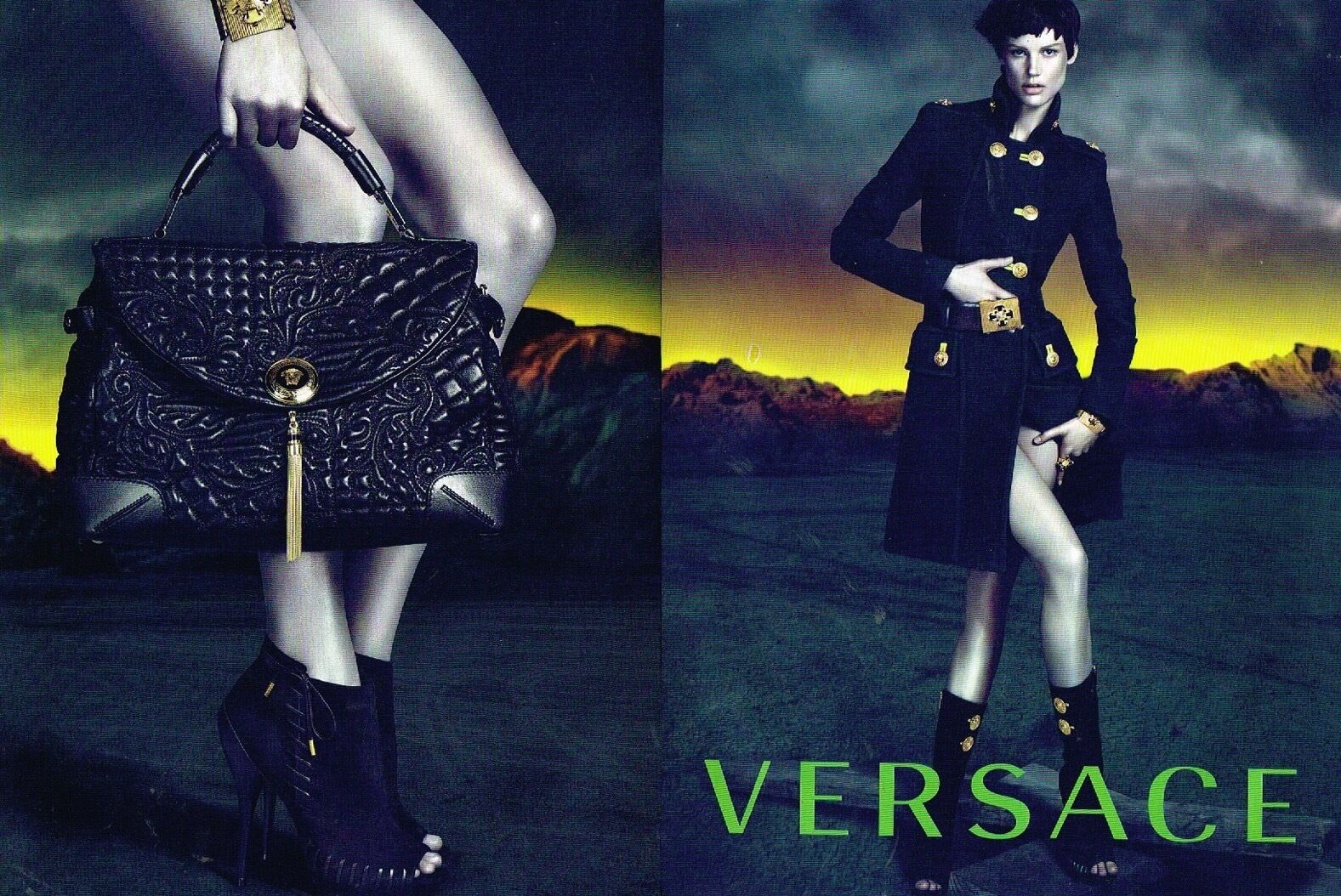 2011, Versace
Ici le détail accrocheur n'est plus deux yeux, mais deux cuisses. Le paysage de l'arrière-plan rajoute une continuité mystérieuse.

3 Deux concepts

| 1931, Huile Mobiloil Artic | 1964, PYROFLAM, le plat pleine Flamme |
| --- | --- |
La même huile permet de démarrer par temps froid et de protéger le moteur par temps chaud.
Le même plat passe sans problème de la glace à la flamme.


| Yep ! Les dimettes | Youpee ! Le dim slip, modèle Janice Dickinson |
| --- | --- |
1975, collants Dim, photographe Jean-Loup Sieff, museumhosiery.com
En monopage, les deux poses sont justifiées par les deux temps du slogan.
| Youpee ! Le dim slip | Hohhh ! Les dims color |
| --- | --- |
Les mêmes images sont été reprises en double page, la seconde pose s'associant désormais au cadeau.
| Wow ! Le dim voile | Ummm ! Le dim beauté |
| --- | --- |
1975, A chacun sa mode, collants Dim
Les produits ont été ensuite regroupés deux par deux, selon une logique de voisinage :
le juvénile avec le pratique,
le raffiné avec l'aguichant.
1977, Double renfort, double confort, Chantelle
La double pose se justifie ici par le slogan à double concept, qui permet de faire entrer trois produits différents dans le même moule visuel.
4 Deux lieux

| 1965, Renault | 1981, pneu pluie Uniroyal |
| --- | --- |
| 1969, Renault Dauphine | 1994, Landrover |
| --- | --- |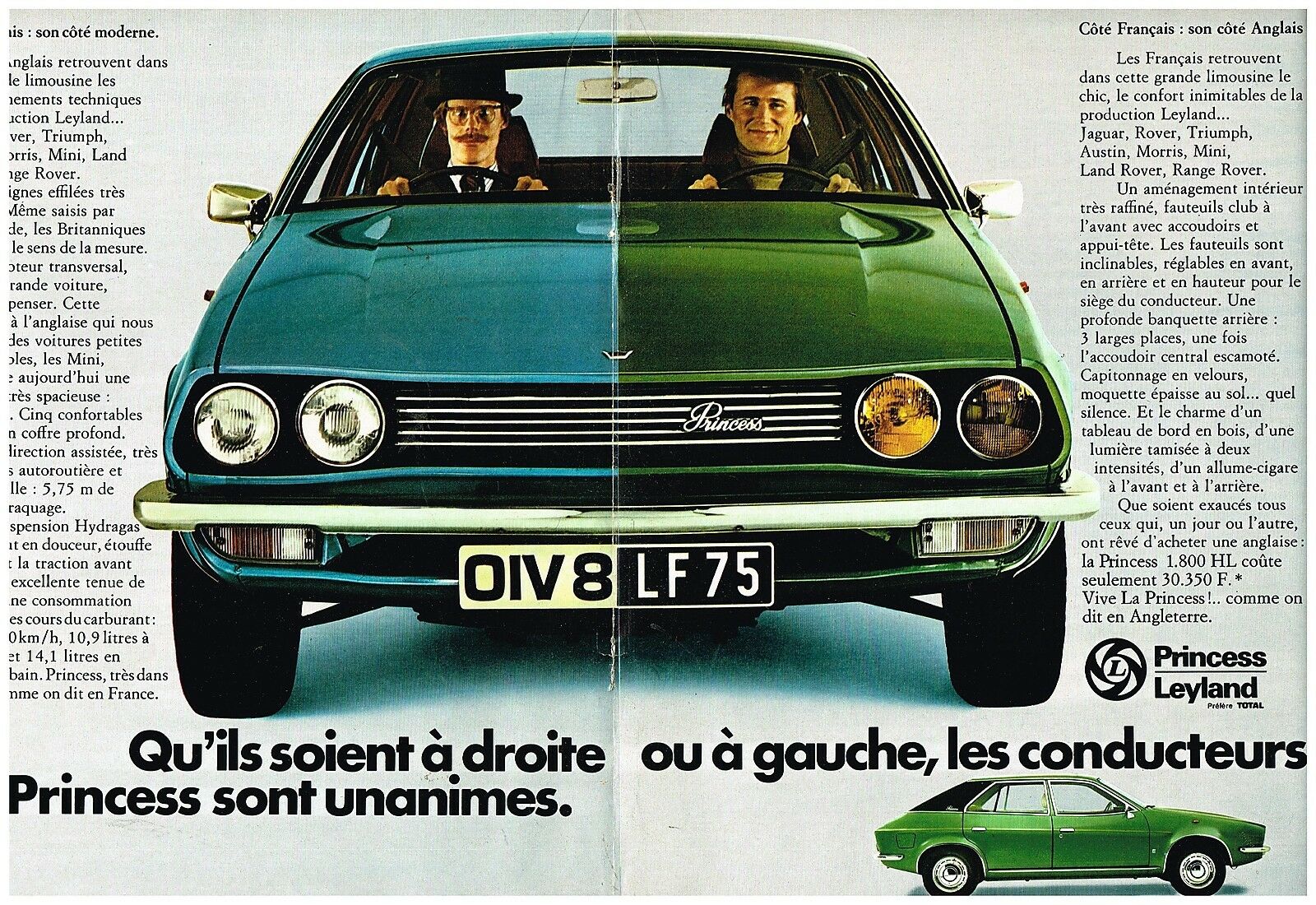 1977, Leyland Princess
| 1991, Camping gaz . | 2001, Tefal barbecue électrique |
| --- | --- |
| Quand nos gars de Montélimar appellent les Bleus de Bresse | Quand Betty de Cambrai appelle son petit moutard de Dijon |
| --- | --- |
| Quand un savant de Marseille appelle la mage d'Epinal | Quand le petit blanc de Savoie appelle sa marraine d'Oléron |
1987, PTT Communications
1987, L'Europe commence avec le train, Eurocity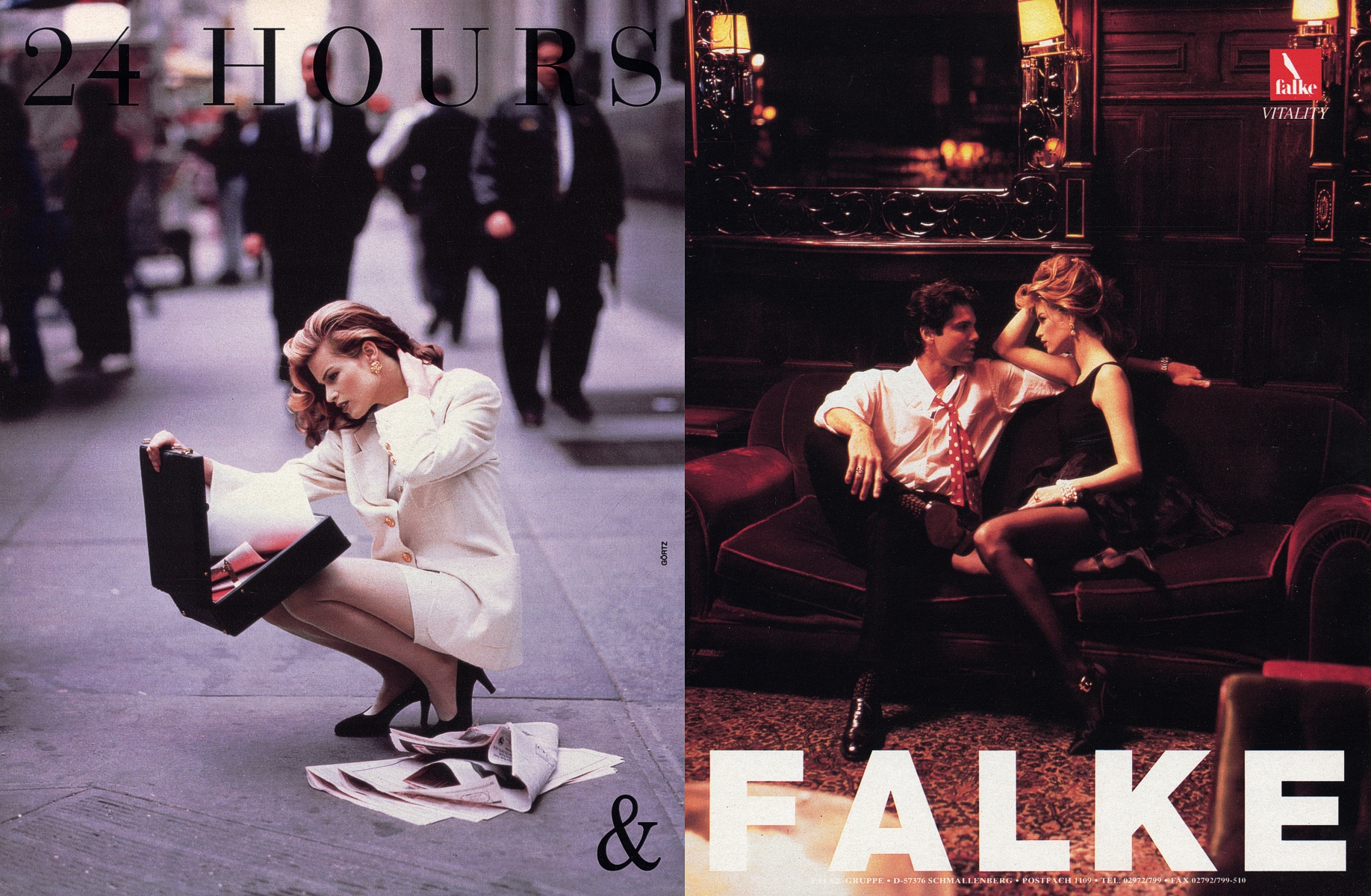 1994, 2H heures et Falke, Collants Falke, museumhosiery.com
5 Recto / Verso

Pour les pendants équivalents en peinture, voir Recto-verso.

L'accessoire

| 1929, Chapeau canotier Knox | 1976, Porcelaines Bernardeau |
| --- | --- |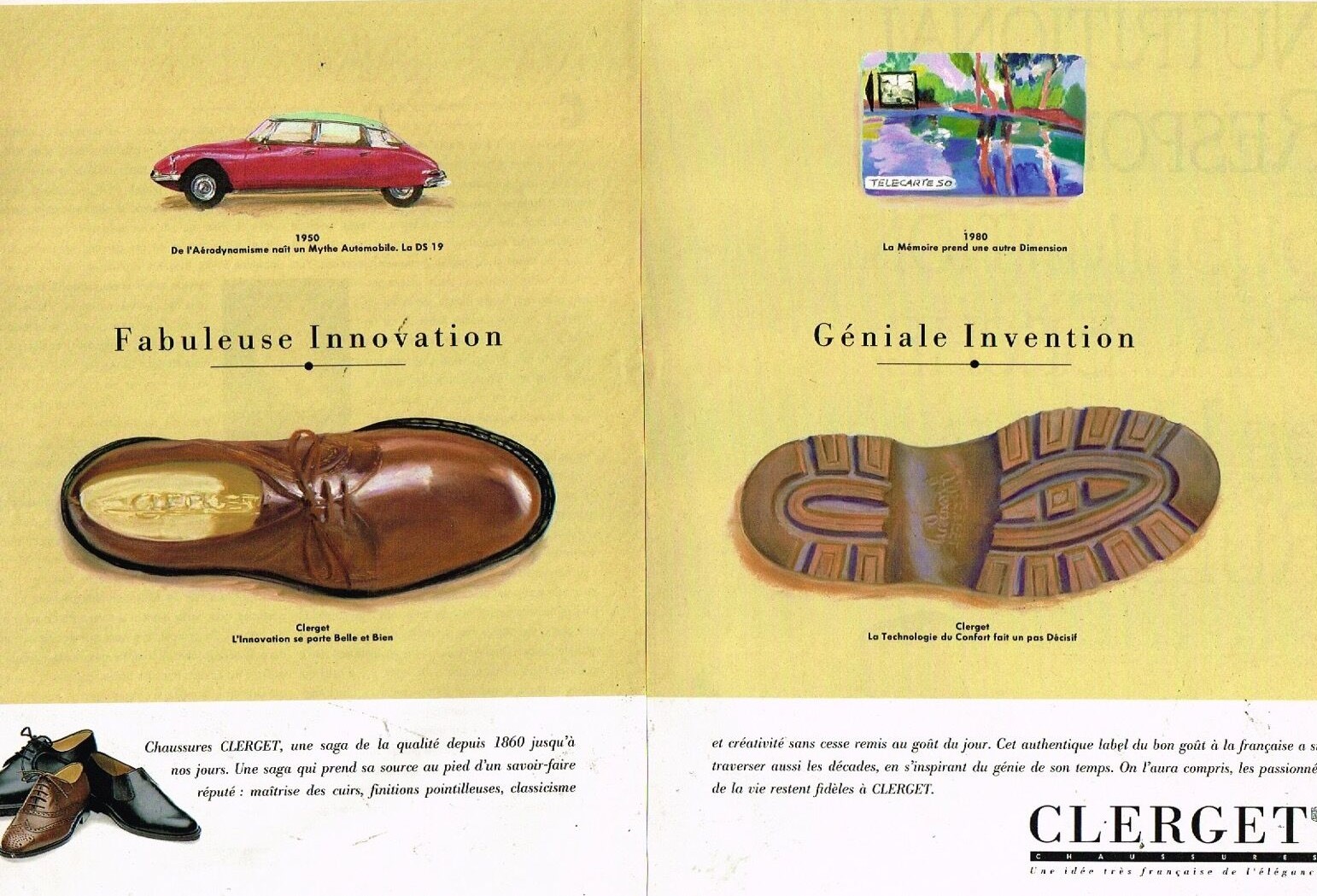 1991, Mocassins Clerget.
La voiture

| 1950, Dodge | 2011, Mercedes Benz classe C break |
| --- | --- |
| 1980, Peugeot 305 Break | 1994, Peugeot Utilitaire Boxer |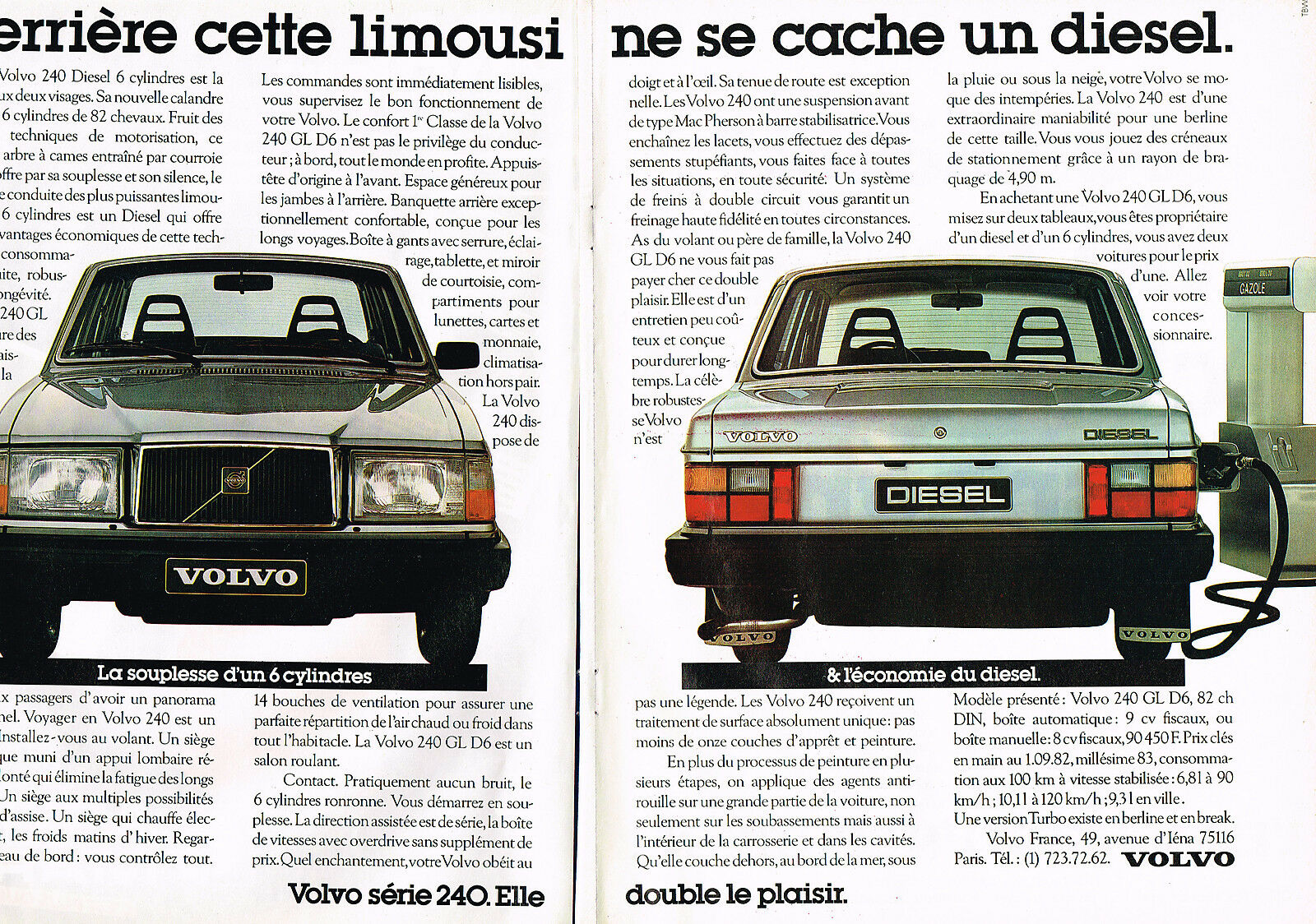 1982, Volvo 240 GL D6
La femme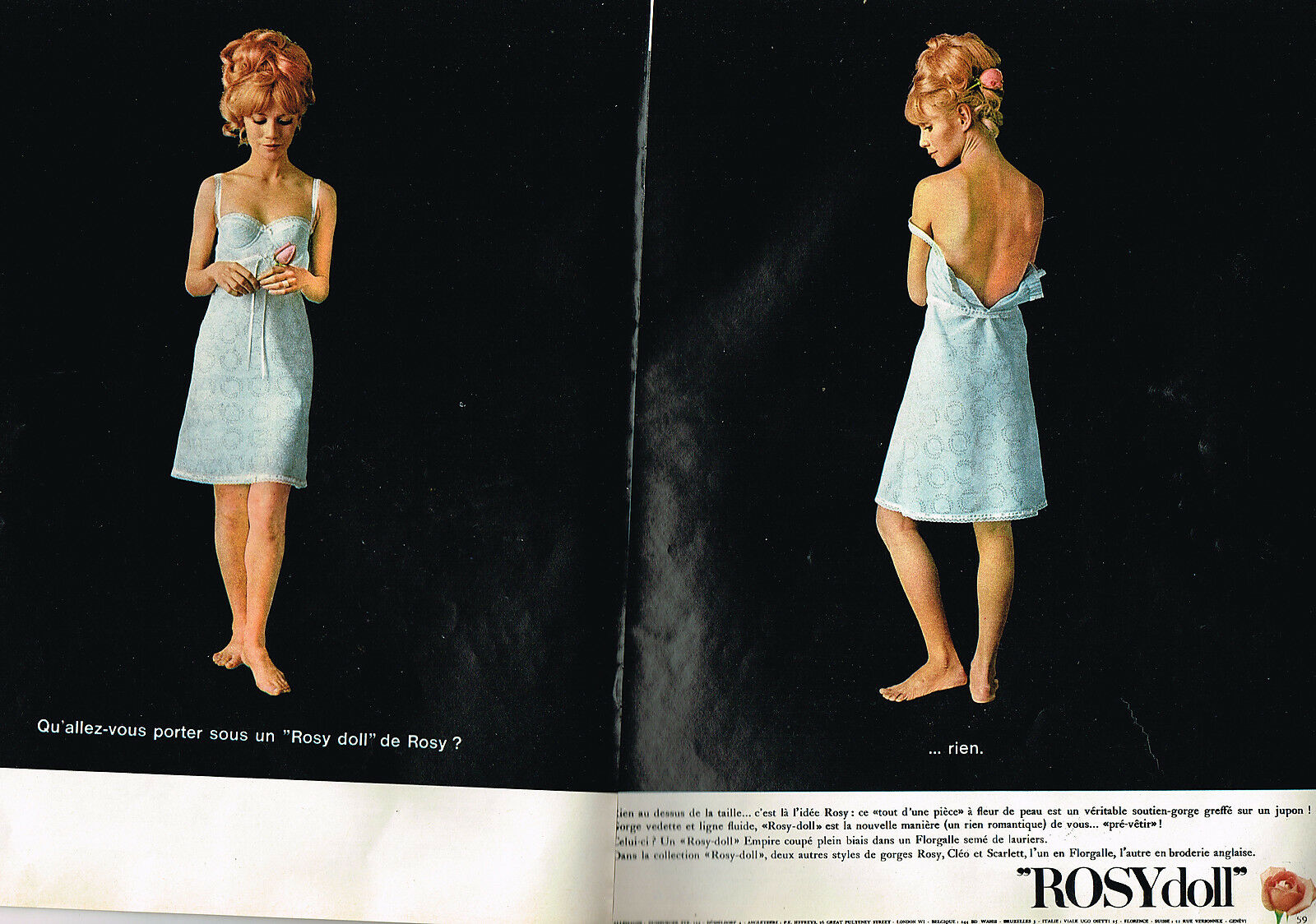 1965, Rosy
Plat devant, rond derrière (pages 1 et 4)
Pages 2 et 3
1973, Dim
1989, Dim, Museumhosiery.com
| 1996, Demi Moore pour Donna Karan, photographe Peter Lindbergh | 1998, Givenchy Parfums Amarige et Extravanganza avec Eva Herzigova, photographe Michel Comte |
| --- | --- |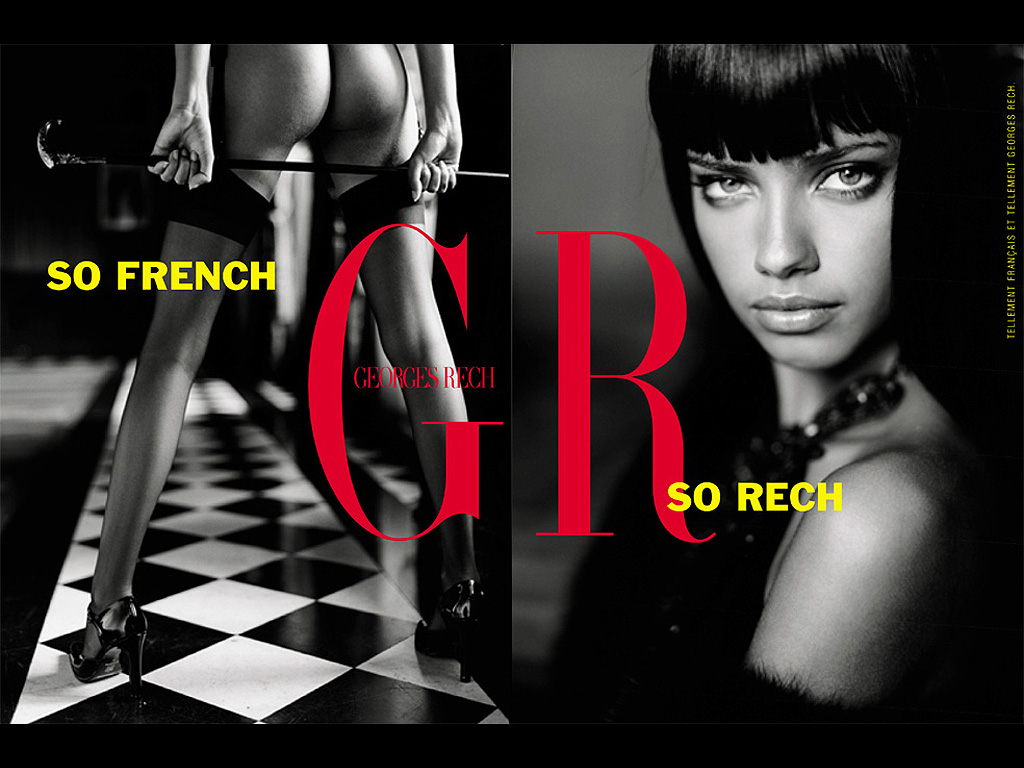 2000, Georges Rech
La femme et la voiture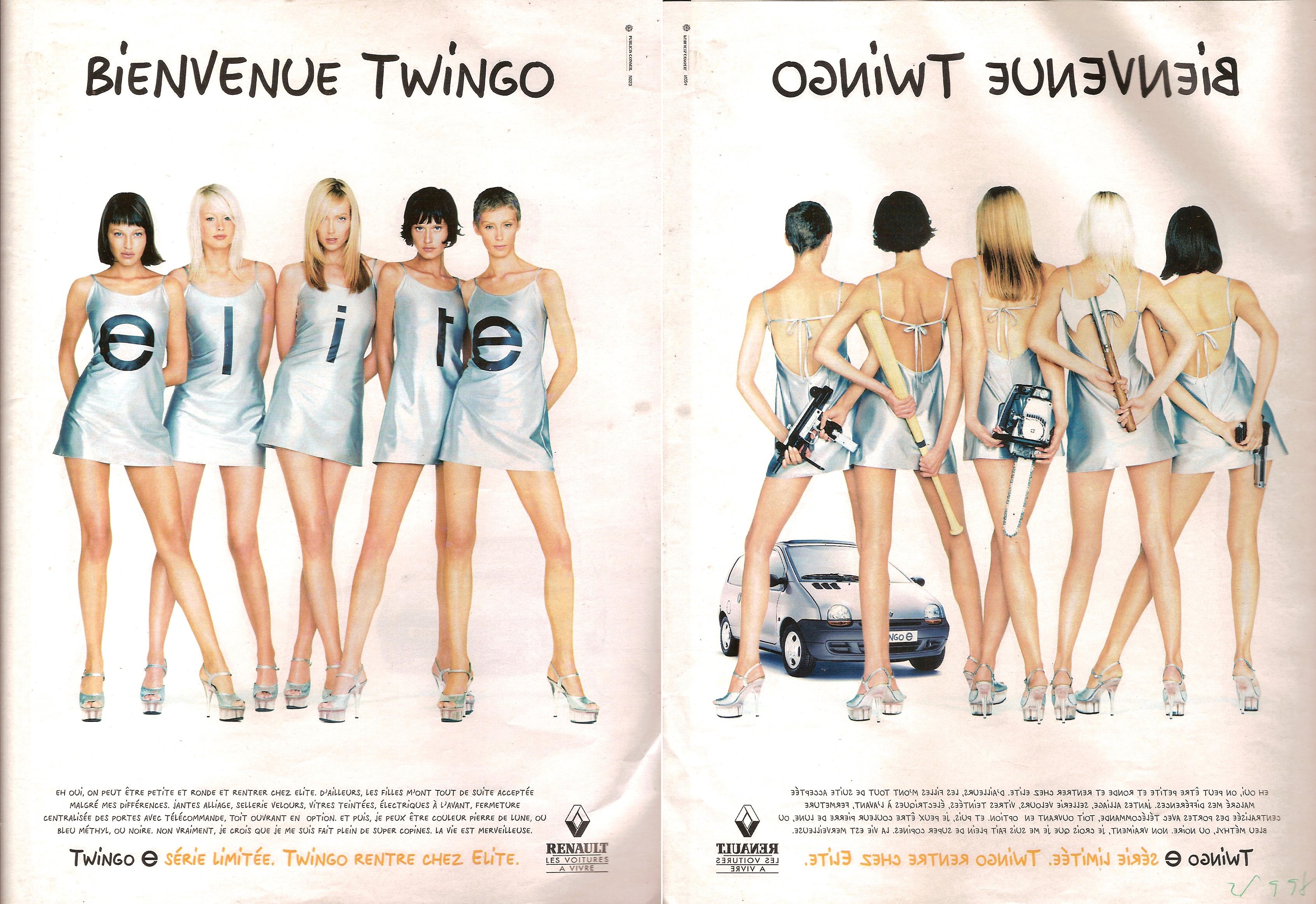 1998, Renault Twingo
L'homme

| 2000, NIKE avec André Agassi | 2003, Armani Jeans |
| --- | --- |

6 Rêve et réalité

Cette mode, de courte durée, a frappé exclusivement les produits technologiques

L'inventeur : Sony
| 1989, Sony, Camescope Handycam | 1990, Sony, Camescope TR55 |
| --- | --- |
| 1990, Sony, Ampli Passion 3300 CD | 1990, Sony, téléviseur Trinitron |
J'en ai rêve, Sony l'a fait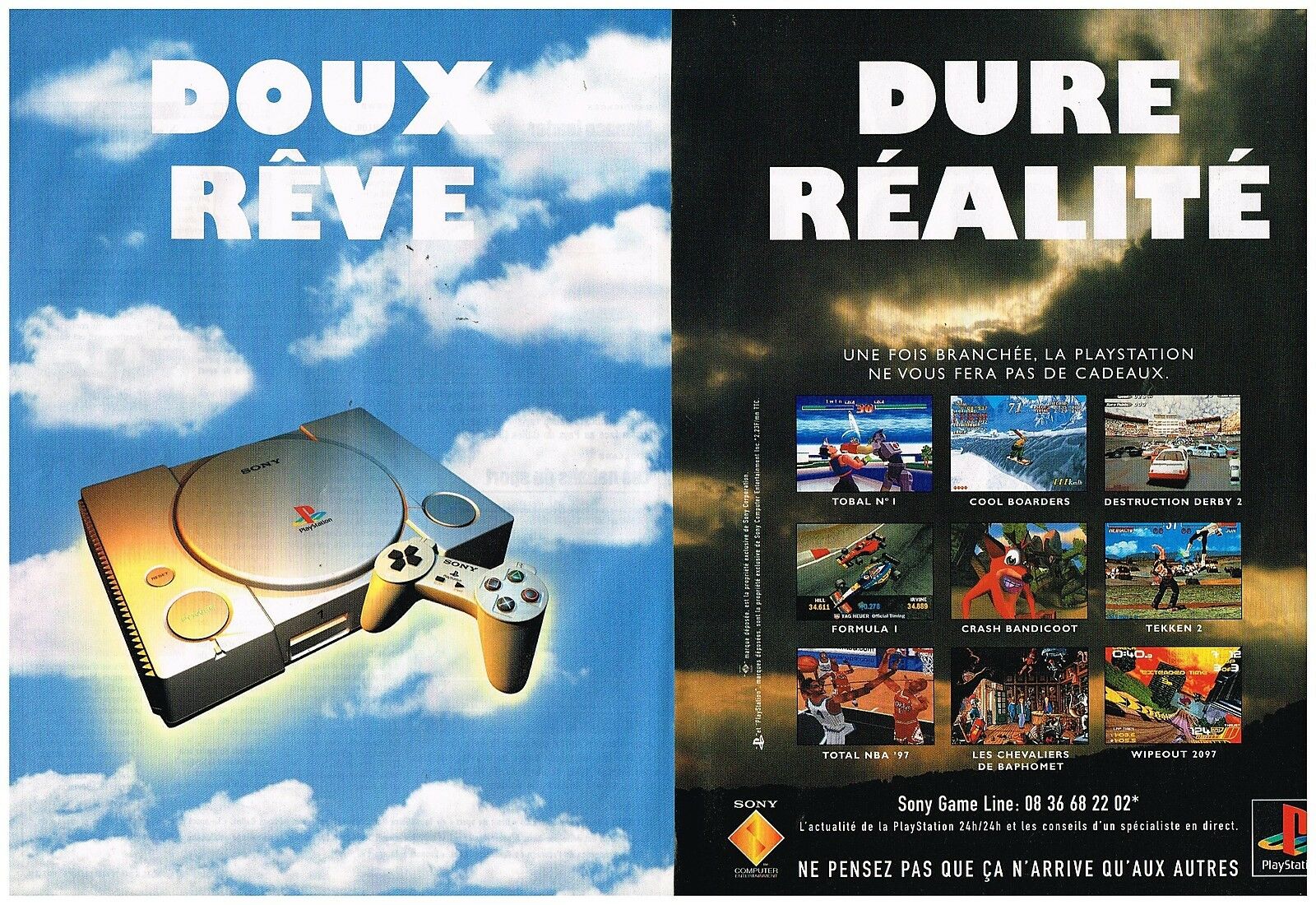 1997, Doux rêve, dure réalité, Sony, Playstation
Les imitateurs : les constructeurs automobiles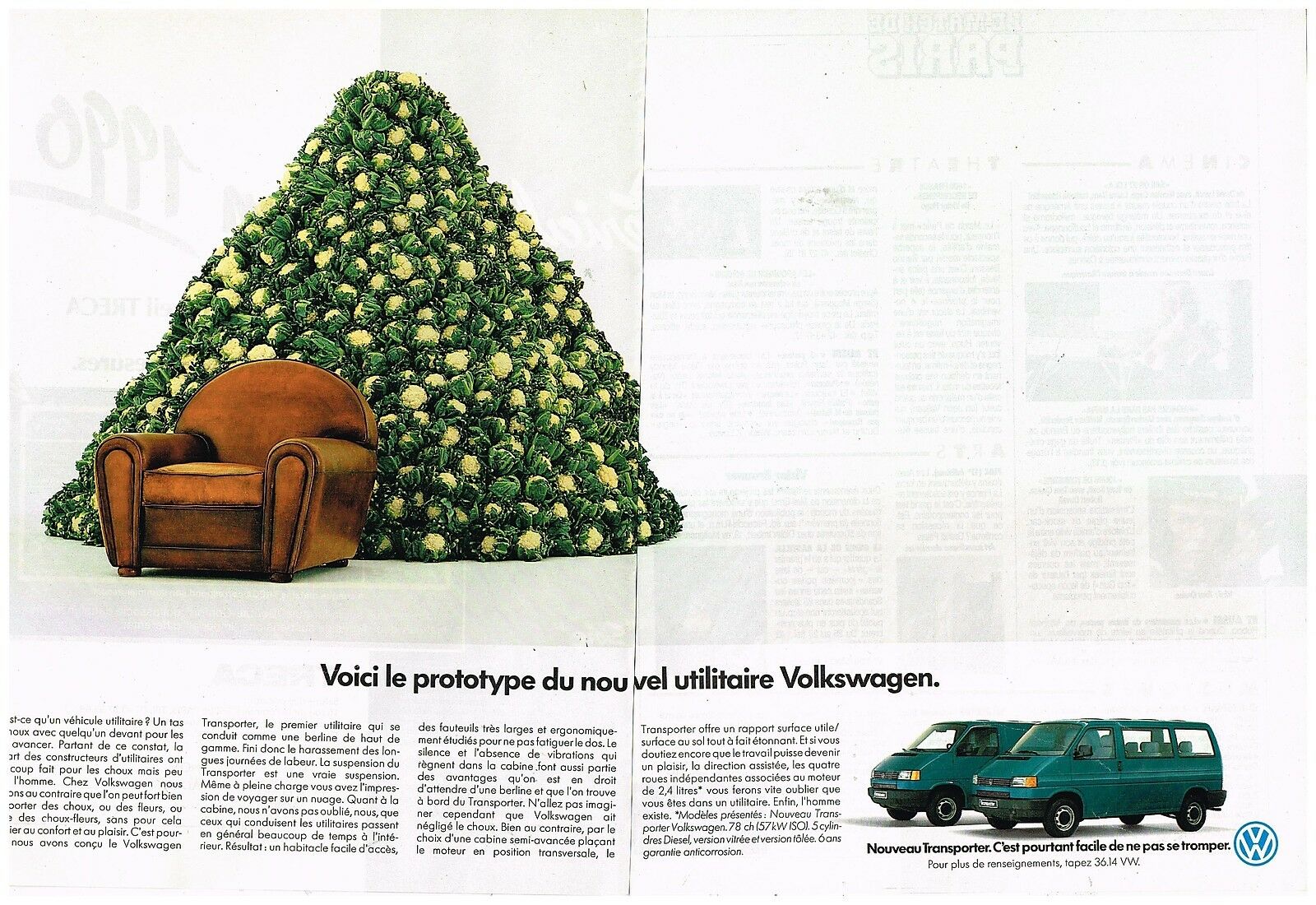 1990, Volkswagen utilitaire Transporter
Une parodie pleine d'humour, bien dans le style frondeur des pubs Volkswagen
1995, Tous les rêves qu'on a dans la tête tiennent maintenant dans une voiture
Citroën Xantia
1997, Les rêves c'est beau, la réalité c'est joli aussi
Fiat Punto
1997,C'est comme cela que vous l'imaginiez, dites-vous que nous aussi.
 Renault Scenic
1998, C'est l'image que vous avez de la sécurité, dites-vous que nous aussi.
Renault Scenic Aïda

7 Vedette et fans

En plaçant une femme en situation d'admiration, cette formule outrepasse la situation d'égalité entre les sexes que prône la publicité depuis l'après-guerre. Elle est donc rare, et toujours présentée sous couvert d'humour.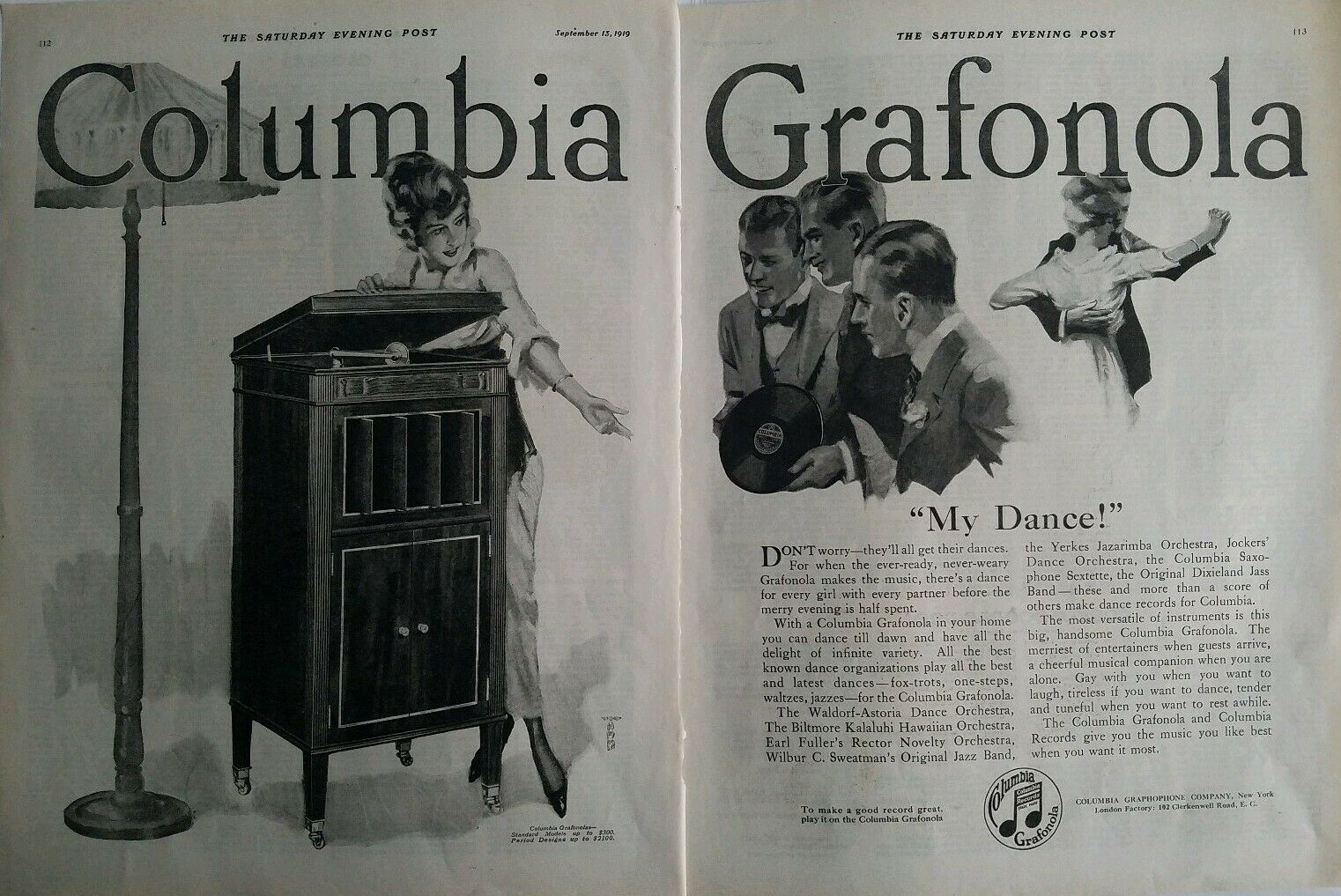 1919, Columbia Grafonola
L'admiration des garçons va-t-elle à la machine ou à la fille ? Come le précise le texte, l'une accepte tous les disques et l'autre tous les partenaires.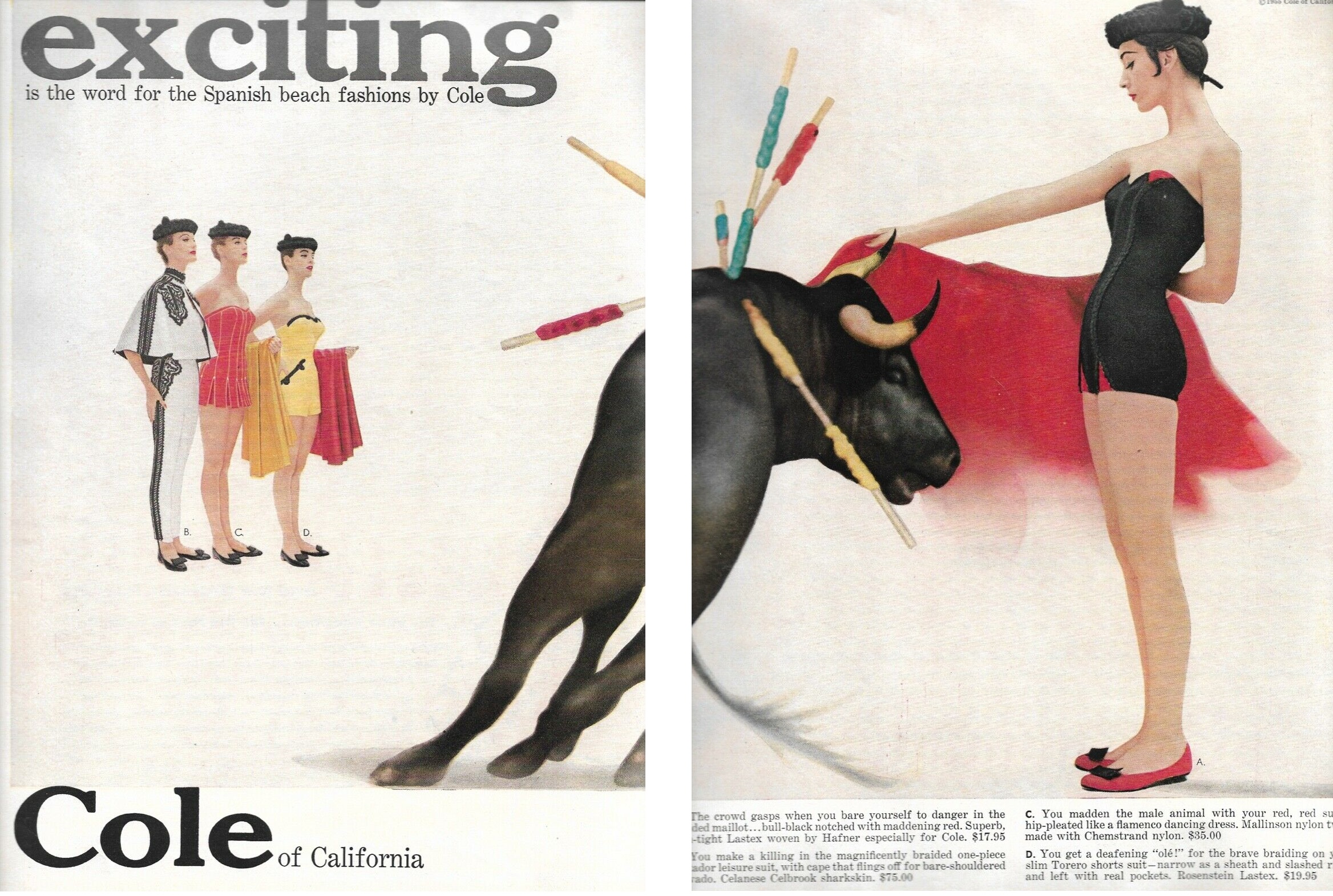 1955, Maillots de bain Cole of California
Le côté transgressif (la femme prenant la place du torero) et sexuellement dangereux (les cornes menaçant le ventre) est équilibré par la présence statique des modèles B, C et D, qui fait bien voir qu'il ne s'agit que d'une présentation de mode dans le style espagnol.
1962, 1962, Photographie Jean Servant, Photographie Robert Doisneau
Pellicules Ferrania
L'homme dispose, la femme pose.
1979, Concert de Vivian Reed
La gestuelle excessive et le torse nu des admirateurs renvoient au côté torride du spectacle. Mais visuellement, ils répondent au geste triomphal et au costume demi-nu de la vedette, dans un mimétisme qui traverse la césure.
1995, Lacoste
Ici au contraire, l'absence d'interaction entre la fille et les quatre hommes suggèrent que leurs sourires ne se répondent pas, mais répondent à ce qui les réunit : leur amour pour la collection Printemps été 1995 de Lacoste.
2012, Dolce et Gabbana
La situation de drague aggravée en réunion, théoriquement condamnable, est déminée par les sourires exagérés, qui nous font comprendre que ceci n'est qu'une parodie