La célébrité de l'affiche de Kitchener fait que, pendant une bonne cinquantaine d'années, le geste de l'index tendu fera office de stimulus automatique dès qu'il s'agit de recruter, aussi bien en temps de guerre qu'en temps de paix.
Première Guerre mondiale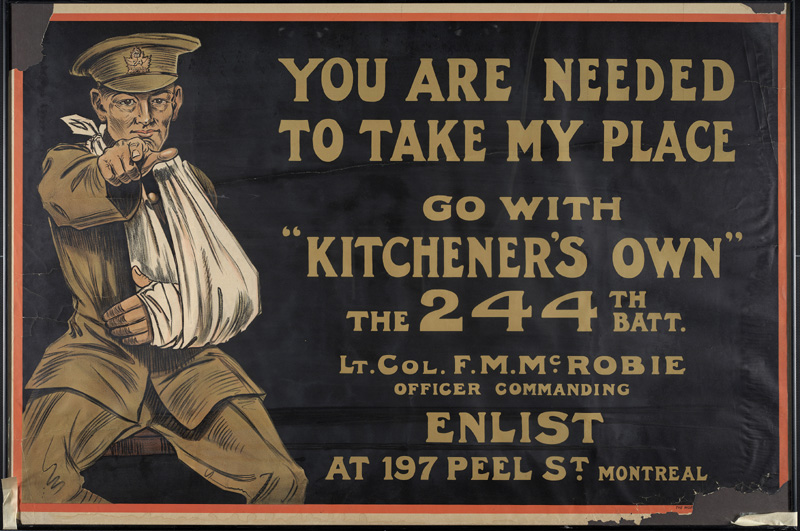 Needed to Take My Place
Canada, 1916
Tout en reprenant la pose du célèbre field marshal, cette affiche de recrutement pour « les vrais de Kitchener » remplace la hautaine figure par celle d'une camarade blessé : après deux ans de guerre, la ficelle de la fraternité est plus efficace que celle de l'autorité.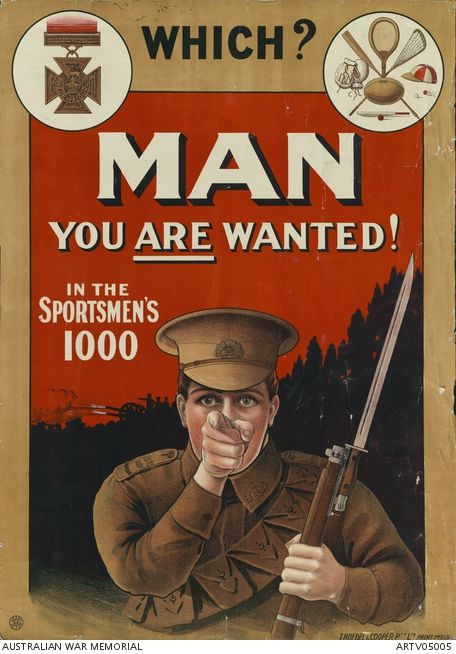 You are wanted in the Sportsmen's 1000.
Australie, 1917
Cette affiche destiné à recruter des sportifs pour un bataillon d'élite leur promet d ajouter la gloire militaire aux trophées qu'ils possèdent déjà. [1]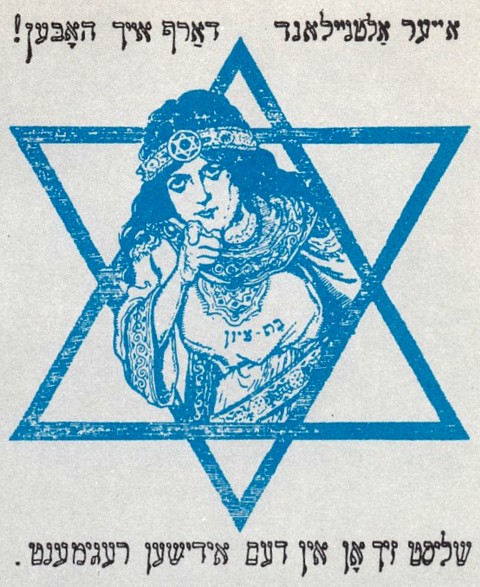 Bat Zion, Your Old New Land must have you! Join the Jewish regiment
La Légion juive, intégrée de 1917 à 21 à l'armée Britannique, fait référence à la « Fille de Sion » pour personnifier la « Vieille Terre Nouvelle » qui appelle ses fils à venir combattre en Palestine contre l'empire Ottoman .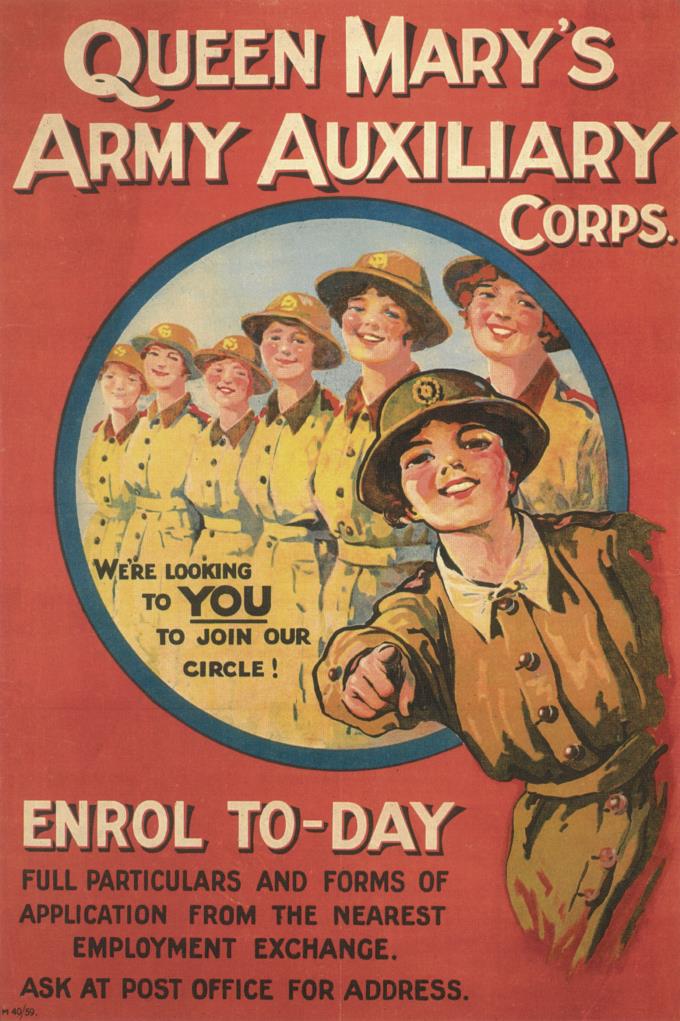 Affiche de recrutement pour les auxiliaires féminines
Grande-Bretagne, 1917
Pour recruter les auxiliaires féminines, l'appel aux nobles sentiments est superflu : la promesse d'une bande de filles sympathiques suffit.
| I want you for the Navy | Gee!! I wish I were a man, I'd join the Navy. Be a man and do it ! |
| --- | --- |
USA, 1917, affiche de Howard Chandler Christy
Aux USA, la bienséance commande aux jeunes filles de ne pas montrer du doigt, mais le slogan bien connu « I want you » supplée au geste absent. Contrairement aux apparences, l'affiche de gauche ne s'adresse pas aux hommes, mais a pour but de lutter contre le manque de personnel dans les bureaux de la Navy en recrutant des « yeomen » féminines.
En revanche, à droite, c'est bien pour attirer des hommes que le même affichiste déguise une femme en petit matelot souriant, qui met au défi leur virilité : « Si j'étais un homme, je rejoindrais la Navy. Sois un homme et fais le ! » Le « I want you » provoquant est ici remplacé par un « Do it » tout aussi équivoque…
| It's up to you. Protect the nation's honor. | You are wanted by the US Army |
| --- | --- |
USA-1917-1918
L'appel aux vertus chevaleresques n'est pas non plus à dédaigner : à gauche, l'Oncle Sam invite à protéger « l'honneur national », personnifié par une demoiselle en détresse. A droite le général Pershing se contorsionne sur son destrier géant pour attirer l'attention du chaland.
On voit combien, surexploité en quatre ans de propagande, le même kitchenérien s'est considérablement affaibli dans le monde anglosaxon.
Conflits de l'Entre Deux Guerres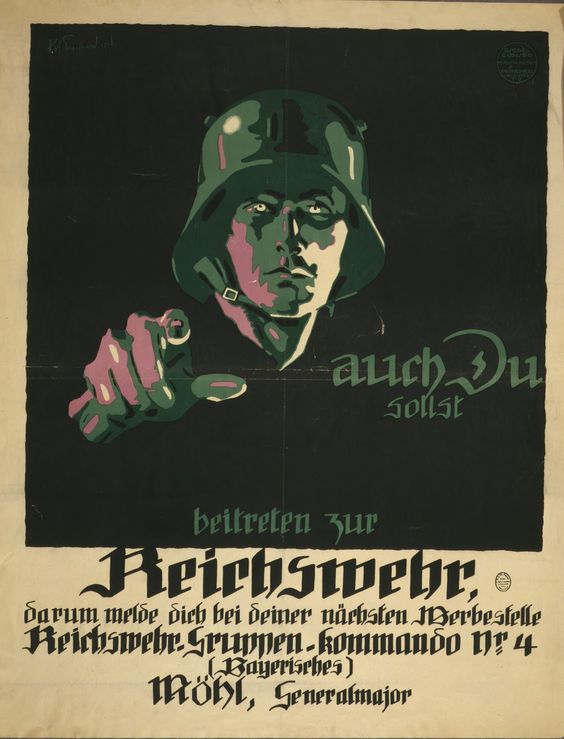 Toi aussi tu dois t'engager dans la Reichswehr
Allemagne, 1919, affiche de J. U. Engelhard
Il débarque en revanche avec toute son efficacité dans l'Allemagne de l'immédiate après guerre, pour aider à constituer la petite armée de la République de Weimar.
| Toi ! Pourquoi n'es-tu pas dans l'Armée ? 1920, affiche de l'Armée Dénikine | Toi ! As-tu signé avec les volontaires ? 1920, affiche de D. Moor (Dimitry Stakhiyevich Orlov) |
| --- | --- |
En Russie en 1920, Rouges et Blancs sont d'accord au moins sur la méthode et sur le but : culpabiliser pour recruter. Il y a cependant des différences :
L'image des Blancs est calquée sur une affiche italienne d'Achille Mauzan (voir 4 Appel de fonds) : sur fond d'attaque, le soldat nous interpelle de l'index gauche , le fusil dans la main droite.
Dans l'image des Rouges, sur fond d'usine, Trotsky nous interpelle de l'index droit , en tenant dans sa main gauche un fusil dont la baïonnette se perd pudiquement en hors champ : nous sommes à l'arrière, et il ne s'agit pas d'effrayer, mais d'entraîner. Cette affiche mythique, pendant russe de l'Oncle Sam, sera tout autant récupérée et parodiée [2].
Guerre d'Espagne
Les milices ont besoin de toi
Espagne, 1936, Généralité de Catalogne, Affiche républicaine de Arteche
Camarade, enrôle-toi dans le bataillon du Barrio Martinez
Espagne, 1937, affiche républicaine de J. Sanchis
Durant la guerre civile, on ne trouve d'affiche de recrutement que dans le camp républicain.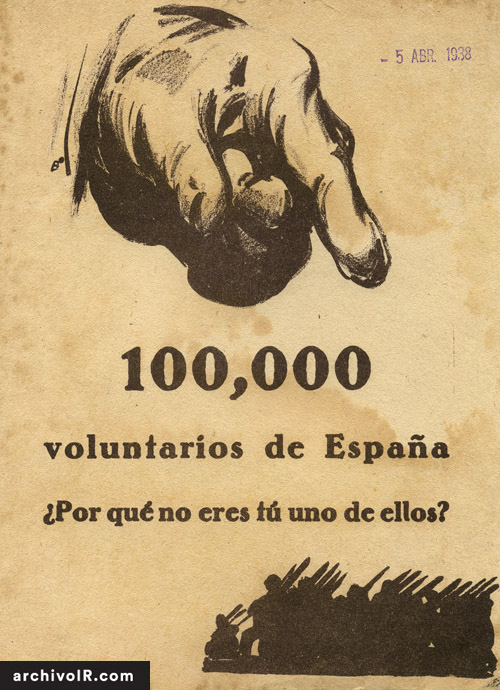 100000 volontaires d'Espagne. Pourquoi n'es-tu pas un d'entre eux ?
Espagne, 1938, affiche républicaine de Bardasano, recrutement pour la campagne de l'Ebre
Révolution brésilienne
Tu dois faire ton devoir. Demande à ta conscience
Brésil, 1932 , Affiches de recrutement en faveur de la Révolution Constitutionaliste
La première affiche est la seule où l'index pointé est le gauche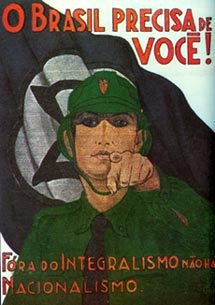 Le Brésil a besoin de toi. Hors de l'intégralisme, pas de nationalisme
Brésil, 1937, Carte postale du Parti integraliste pro nazi (Camisa Verde)

Seconde Guerre mondiale

| | |
| --- | --- |
| | The army needs you tradesmen, Canada |

Tu peux m'aider à construire un avion/un bateau/un fusil. 
Tu peux apprendre vite et travailer pour la victoire.
En Angleterre comme au Canada, la conscription limite désormais le geste kitchenérien au recrutement de catégories autres que les soldats, des professionnels pour l'industrie de guerre.

Remakes
Dans le monde anglos-axon, on tente quelques remakes d'affiche de la première guerre mondiale, de manière très marginale.
Uphold the Flag of Zion, enlist as one of the 10,000 Heroic Jews. Fight in Palestine with the Jewish Legion of the British Army
Version précédente
Come on, lad ! Make history as I did in the Navy
USA, Affiche de Julius « Cozzy » Gottsdanke
Version précédente
If I Was A Man,I'd join the Navy.
Be a man and do it !
USA, 1942
Version précédente
Dans le dernier cas, en guise de symbole phallique, le canon remplace avantageusement l'index tendu.
Toi ! Comment as-tu aidé le Front ?
URSS, 1941, affiche de D.Moor
En URSS, D.Moor modernise lui-même sa célèbre affiche de la Révolution.

Côté fasciste
Toi aussi tu dois te battre pour la Lettonie
Lettonie
Toi aussi tu peux le faire
Hongrie, 1942
Et toi camarade. Engage-toi dans la Vlaamse wachtbrigade(SS-Freiwilligen-Grenadier-Division Langemarck), Belgique
Toi aussi, tes camarades t'attendent
France, 1944
Dans l'autre camp, dans les pays occupés par l'Allemagne , le même est utilisé de manière très stéréotypée, sous sa forme la plus intimidante.
La Decima t'appelle
Recrutement pour la brigade Decima MAS de la République de Salo
Italie, 1944, affiche de Boccasile
C'est dans l'empire mussolinien réduit à un confetti que l'index recruteur fera sa dernière apparition sur la scène mondiale de la propagande, ridicule, entre les aigles romaines, la drapeau à tête de mort marqué « Pour l'honneur » et la mitraillette en bandoulière derrière le glaive.
 En temps de paix
Le doigt tendu est récupéré par les partis politiques et les syndicats pour l'équivalent civil de l'enrôlement : l'adhésion.
C'est le plus souvent la version empathique du procédé (un semblable appelant un semblable ) qui est utilisée

Toi, prends ta part à la coopérative, affiche de D. Zhukov
URSS, 1927
Si tu n'es pas encore membre de la cooperative, inscris-toi !
URSS,1928
Lors de la campagne pour la collectivation, un vieil ouvrier ou un vieux paysan invitent leur semblable à les rejoindre.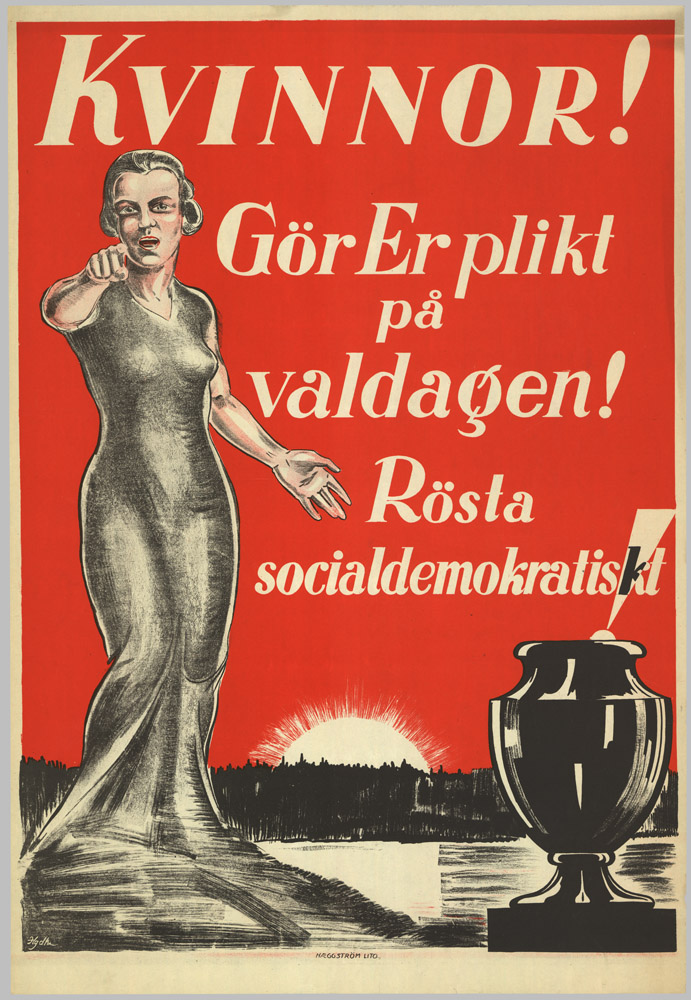 Femmes, faites votre devoir le jour des élections. Votez pour les sociaux-démocrates
Suede, 1928
En Suède, le droit de vote des femmes est depuis longtemps acquis lorsque cette statue de la Liberté, relookée années 30, appelle ses semblables à bien voter devant l'aube rouge du socialisme.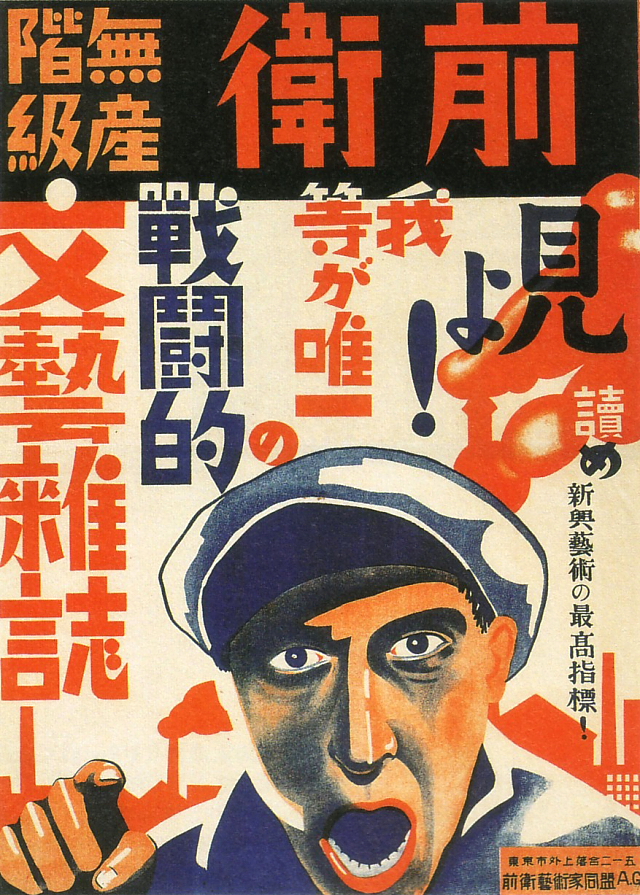 Ecoutez ! Travailleurs de toutes les nations
Japon 1931
Dans cette affiche impressionnante et énigmatique, la fumée rouge des usines semble se transformer dans le ciel en une grande main préhensile. Explications bienvenues !
Pourquoi n'êtes-vous pas encore dans l'organisation ? Vous êtes catholique et bénéficiez aussi de notre travailAffiche de AC Verhees pour l'Union Catholique des Métallurgistes Pays-Bas 1927
Adhérez maintenantAffiche de Jan Rot pour le Syndicat des travailleurs d'usine
Pays-Bas 1927
Camarade ! Envoie ton bulletin de participation a GROOTE TRIBUNE ACTIE
Affiche du Parti Communiste
Pays-Bas, 1931
Vous avez besoin de la NVSH
Affiche pour la Nederlandse Vereniging voor Seksuele Hervorming, association pour les libertés sexuelles
Aux Pays-Bas, quelle que soit la cause, on ne rencontre que la version empathique du même.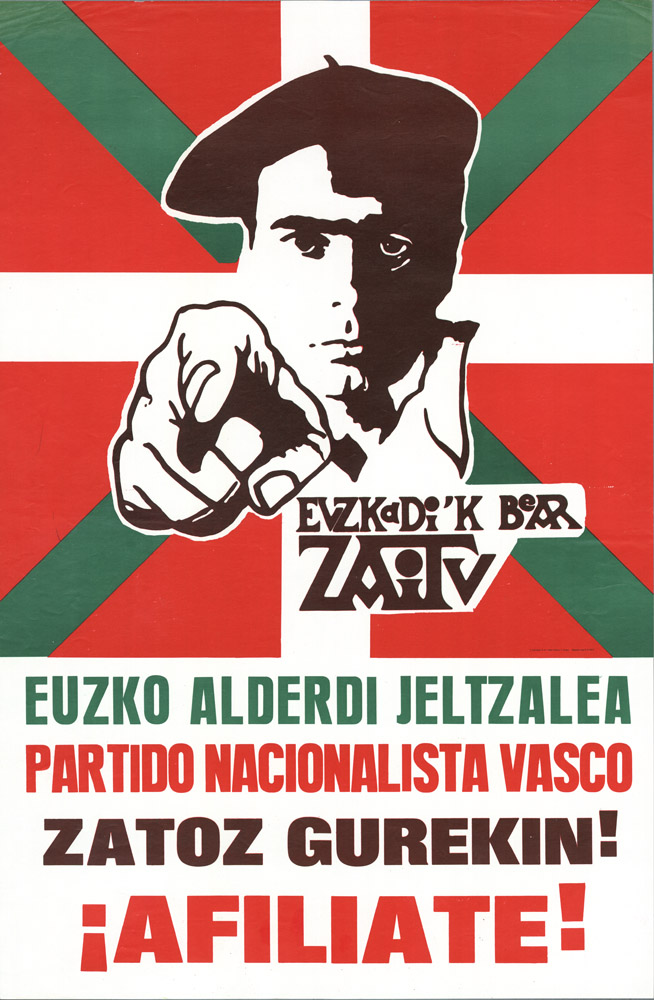 Adhere au PNV (Parti nationaliste basque)
Espagne, 1977
Au Pays Basque, un Basque s'adresse aux Basques sur fond de drapeau basque.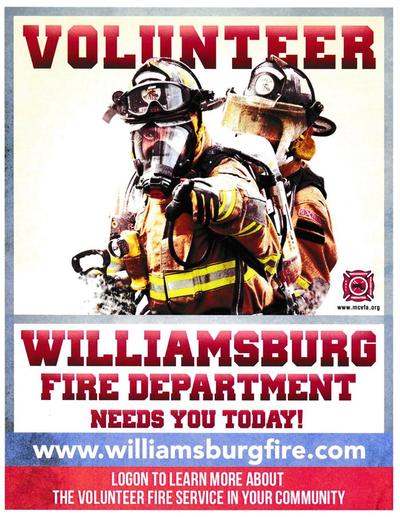 Recrutement de volontaires pour le Williamsburg Fire Department
USA, vers 2010
En politique, on rencontre également la version autoritaire de l'index tendu, incarné soit par une personnalité incontestée, soit par une abstraction.

Affiche pour les journées de Pâques des Jeunes Communistes à Chemnitz
Allemagne, 1928
Donne ton vote seulement au DDP, car seule sa politique permettra la libération de la Patrie :
Allemagne, années 1920
A gauche, en plus d'interpeller le spectateur, la main de Lénine semble bénir le poing tendu du travailleur qui, juste en dessous, menace le banquier cossu.
A droite, l'affiche du Deutsche Demokratische Partei (parti libéral) se contente d'appeler à la libération nationale.
Et toi, as-tu déjà choisi ? Non ? Alors un seul choix : la liste Luppe
Allemagne, 1919, affiche du DDP
Toi, vote social-démocrate !
Allemagne 1932
Surgi du ciel des idées qui nous dépassent, on comprend que le doigt qui interpelle n'est pas loin du poing qui frappe. A noter qu'en Allemagne, les femmes ont le droit de vote depuis 1918 : le poing masculin ici montré joue donc bien sur l'autorité, non sur l'empathie.
Bizarrerie graphique : la main du parti de droite est une main gauche, et réciproquement…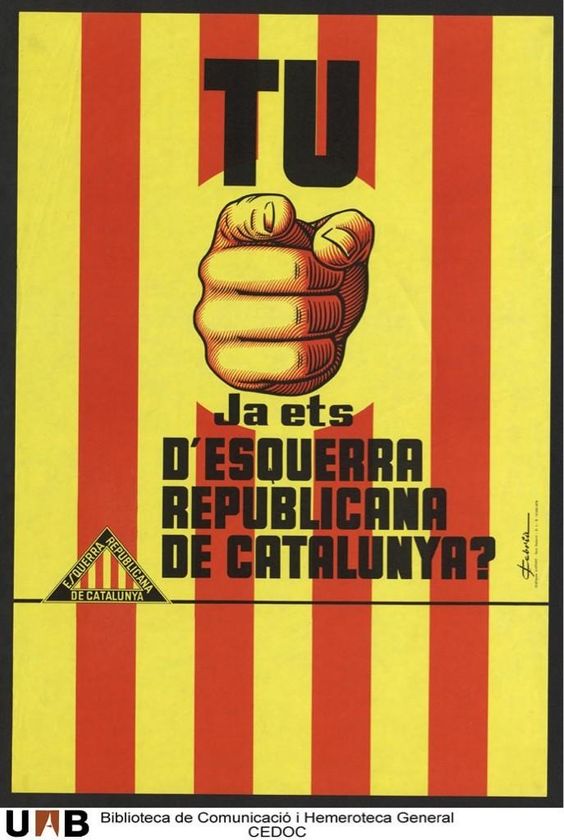 Tu es déjà de l'Esquerra Republicana de Catalunya (Gauche républicaine de Catalogne)
Espagne 1978
Pour les premières élections de l'après-franquisme, le même poing transperce le drapeau espagnol transformé en grille de prison.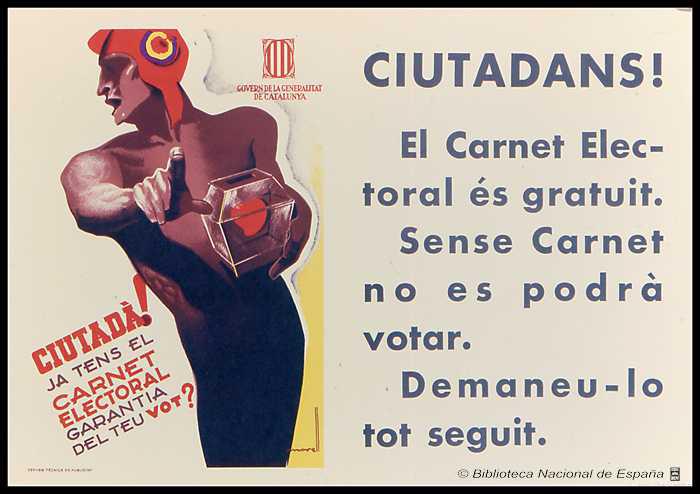 Citoyen ! As-tu déjà le carnet électoral qui garantit ton vote ?
Espagne, 1935, affiche de Morell
Coiffée d'un bonnet phrygien avec sa cocarde aux couleurs nationales, la République Espagnole incarnée fait campagne pour la transparence du vote, en révélant son coeur qui bat dans l'urne. Son index montre ici la direction du progrès, et son regard se tourne vers les citoyens qui la suivent.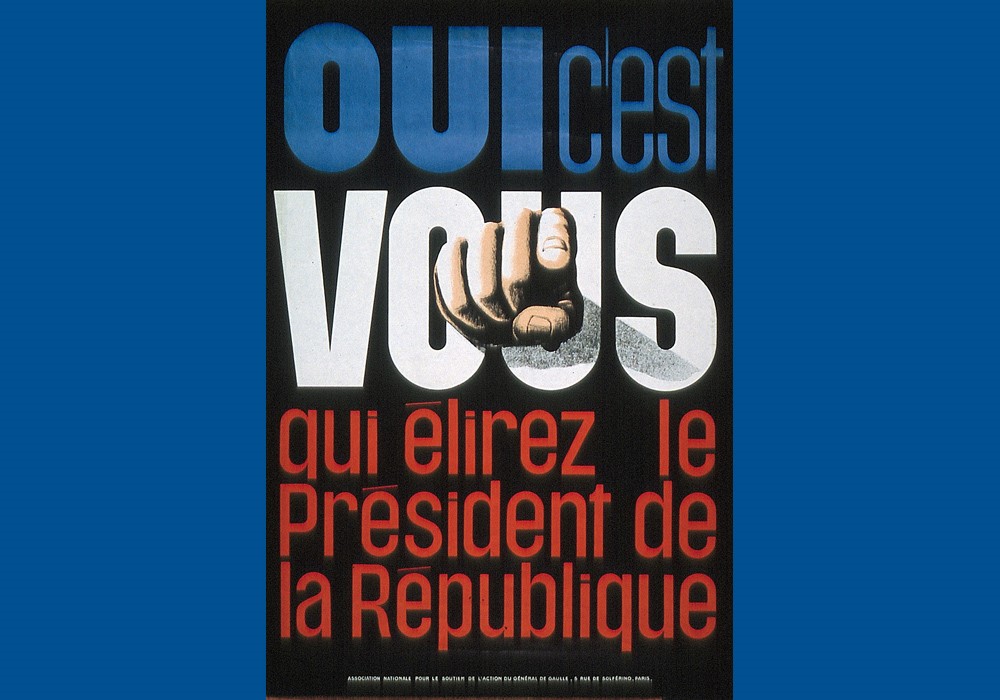 Affiche réalisée à l'occasion du référendum du 28 octobre 1962, pour l'élection au suffrage universel du Présent de la République française
De la même couleur que le mot « VOUS », l'index se mer au service de la nouvelle autorité suprême : l'ensemble des citoyens coalisés pour désigner leur chef.
| Affiche Gaulliste UD-Vème Législatives 1967 | La Majorité c'est vous, photographie de Robert Maltête |
| --- | --- |
A la première élection législative de la Vème République, le parti gaulliste présente l'index unique comme symbole de la volonté de tous : aporie bien notée par le photographe Robert Maltête (on remarquera également l'ironie des deux autres affiches : « Fini de frotter » et  » Vente d'une maison ».)
| Recrutement pour l'armée, Malaisie, 1951 | Recrutement pour l'Université Isaac Brock, Canada, 1987 |
| --- | --- |
La figure d'autorité, magnifiée par le drapeau, trouve sa légitimité dans le passé national : homme en costume traditionnel malais ou colonel anglais, héros de l'Indépendance du canada lors de la guerre contre les Etats-Unis.
 En temps de guerre, il serait ridicule de brandir son doigt devant l'ennemi.

Mais en politique, rien n'empêche de pointer du doigt l'adversaire.

SFIO
France, 1936
SFIO, Elections Législatives du 2 janvier 1956
France, 1956
Le prolétariat prend ici forme humaine pour dénoncer un ennemi de classe indéfini. Dans la version d'après-guerre, la flèche rouge qui pointe vers le sigle SFIO, suggérant une colonne en marche, est un rappel subliminal du logo du parti d'avant-guerre, les trois flèches, symbole de la lutte contre le fascisme.[3]
[2] On trouvera des exemples dans http://www.netlore.ru/node/11064
[3] « L'histoire des trois flèches, dont Serge Tchakhotine a revendiqué la paternité, est bien connue. C'est ce théoricien de la manipulation des foules qui les a introduites en France. Marceau Pivert et les équipes de propagande de la fédération de la Seine réussissent très rapidement à les imposer. Elles ont été conçues au départ pour barrer la croix gammée des nazis sur les murs : on peut aussi y associer des mots d'ordre ternaires du genre  » pain, paix, liberté « , ce qui ajoute à leur emprise. À partir de 1936, elles signent les affiches, les tracts et l'essentiel du matériel de propagande diffusé par la SFIO, essentiellement dans la fédération de la Seine » Office Universitaire de Recherche Socialiste http://www.lours.org/archives/default153e.html?pid=212